The Yankees signed a free agent infielder. He's been an All-Star and has won Gold Gloves, and there are considerable differences of opinion over how much he might be worth, but the Yankees found the player for whom it was worth going over the competitive balance tax threshold. That player is not Manny Machado. Signing DJ LeMahieu will cost the Yankees $24 million. Not per season, but total over the next two years, per Jack Curry and Ken Rosenthal.
The Yankees' infield is an intriguing one. With shortstop Didi Gregorius set to miss some of next season, the team signed Troy Tulowitzki to play shortstop. Tulowitzki has barely played the last two seasons and at 34 years old, it isn't clear he has much left, but with Gregorius coming back at some point and Gleyber Torres able to play short, the team didn't necessarily need Tulowitzki to earn a starting role. The club still has Miguel Andujar penciled in at third base with some hope that he will improve his defense, while over at first base, the team has late-season wonder Luke Voit and perpetually hurt Greg Bird.
The logic for adding Manny Machado was pretty sound. Beyond his obvious talent at the plate, the Yankees had a potential hole at shortstop and a long term opening there after next season. This year, Machado could have played third base, with Andujar moving to first base, designated hitter, or another team. That would leave Torres at second base, and first base as is. It would also likely provide the team a five-win upgrade over its present situation. As to how things will fit with LeMahieu, Jack Curry provides some insight.
The Yankees plan to use LeMahieu as a versatile player around the infield. They will use him at second base, first base and third base.

— Jack Curry (@JackCurryYES) January 11, 2019
LeMahieu has started 882 games in the field in his career and 857 of those have come at second base. He's started 24 games at third base, the last one coming in 2014, and he also started one game at first base for the Cubs during the 2011 campaign. It would seem that this signing is an insurance policy of sorts for the shortstop situation. If Torres needs to move to short, the organization doesn't have anyone capable of playing at an average level at that spot. If Andujar completely bombs out on defense at third base, the team could move LeMahieu or Torres there and hope to get decent play. Of course, LeMahieu is a very good defensive second baseman, and it would be odd to move him from that spot given how well he fits there.
There's also the question of LeMahieu's bat. The now-former Rockies' second baseman has played essentially six full seasons in the majors and been above-average offensively in exactly one of them. In 2016, Leamhieu posted a double-digit walk rate, a strikeout rate of just 13%, an ISO of .147 and a sky-high .388 BABIP on his way to a 130 wRC+. The last two seasons, his walk rate has dropped to 8%, his strikeout rate increased slightly to 14%, his ISO has been .123, his BABIP .326, and his wRC+ has been 10% below league-average. Combined with solid defense, this has made him a roughly average player. Jeff Sullivan noted that LeMahieu does have some hidden upside as a player who hits the ball hard and makes a lot of contact, and used the graph below to illustrate those two skills, with LeMahieu's spot highlighted.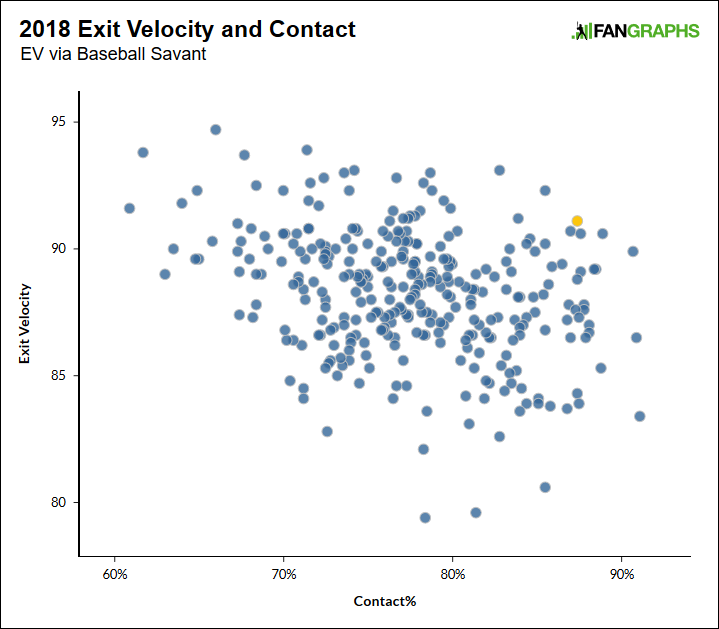 If LeMahieu could take that hard contact and put it in the air more often, he might hit for more power and have better overall numbers. As Sullivan (along with Travis Sawchik) noted, there might have been some attempts by LeMahieu to achieve a change. In 2018, he posted a GB/FB rate below 2.0 for the first time in his career, while his 30% pull-rate was a career-high. It likely helped cause his career-high .152 ISO. If that power came at the expense of hits — LeMahieu had a career low .298 BABIP, as well as fewer walks, with just a 6% walk rate — it isn't clear the trade-off has helped yet.
The problem for LeMahieu is that he just hasn't been able to translate his hard ground balls into hard fly balls. On ground balls last season, LeMahieu put up an average exit velocity of 89.6 MPH, well above the 84.5 mph league average and in the top 10% in all of baseball. On fly balls, LeMahieu put up an average exit velocity of 91.3 mph, which is harder than his grounders, but below the league average of 91.6 mph last year. His exit velocity ranks so highly overall because he hits balls on the ground very hard, which is generally what allows him to post high BABIPs and come close to a league-average player. This is what his spray chart looked like last year.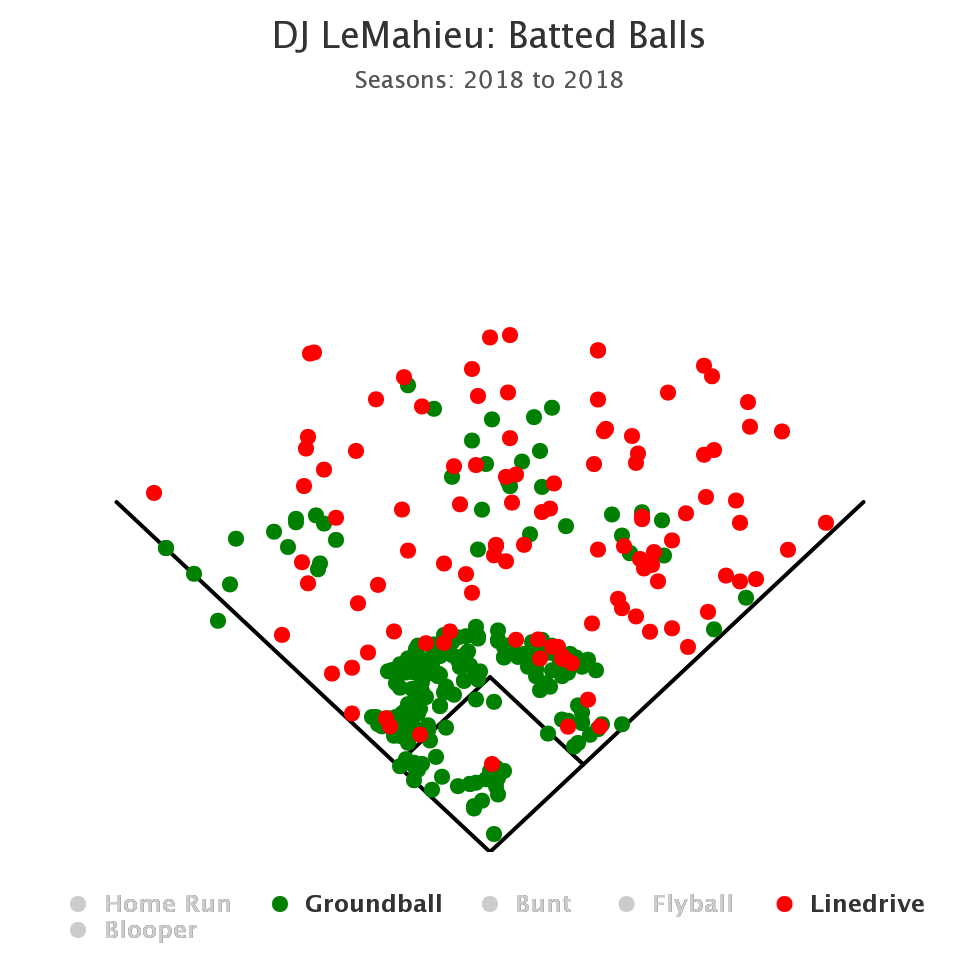 That's a lot base hits from a player who can't be effectively shifted against. LeMahieu might have some untapped power, but he hasn't yet been able to get to it. At 30 years old, he probably isn't getting any better than the useful player we see right now. In any event, the Yankees aren't bringing LeMahieu in for his untapped power. They are bringing him in to raise the team's floor should their other infield options fail to work out, and to add a solid glove with good contact ability.
In a world where LeMahieu was one of very limited options, the move would make sense, albeit not all that much sense if LeMahieu is a utility player. We don't live in that world, though. We live in a world where Manny Machado exists, wants to play in New York, and doesn't seem to have a whole lot of bidders for his services. By signing LeMahieu, the Yankees are essentially committed to going over the competitive balance tax next season. The last time the Yankees passed on a $200-plus million infielder who really wanted to play for the Yankees, the team missed the playoffs in two of the next three seasons and didn't play in a playoff series during that time. Robinson Cano averaged five wins per season over those three years in Seattle, as the Yankees opted to spend their money on Jacoby Ellsbury, Brian McCann, and Carlos Beltran. The Yankees should be better the next three seasons than they were from 2014 to 2016, and D.J. LeMahieu should help them, but it's easy to see how the Yankees might end up regretting passing on a 26-year-old star so they can save a little money. Unless they still sign Machado, in which case the last paragraph is moot.
Craig Edwards can be found on twitter @craigjedwards.