While the baseball world has waited for the Yankees to become involved in the Manny Machado sweepstakes, they re-signed CC Sabathia. They traded for James Paxton. They re-signed J.A. Happ. They signed Troy Tulowitzki. They re-signed Zach Britton. They signed DJ LeMahieu. And now, on Thursday, they've signed Brooklyn native Adam Ottavino. You can say that Machado would still be a fit — indeed, Machado would still be a fit — but you can't accuse the club of inaction. Brian Cashman and his staff have been busy.
Ottavino is signing for three years, with a $27-million guarantee. While so far we've seen just two contracts of three or more years given to position players, this is the fourth of the offseason for a reliever, with Ottavino joining Britton, Joe Kelly, and Jeurys Familia. At 33 years old, Ottavino counts as the elder statesman of the group. Teams now tend to be disinclined to give such multi-year guarantees to players entering their mid-30s. But the thing about Ottavino is that he's great.
About the headline: The Yankees' bullpen is now laughably absurd. Not only will Ottavino join Britton — he'll also join Aroldis Chapman, Dellin Betances, and Chad Green, to say nothing of Jonathan Holder. Now, in fairness, the Yankees already had this bullpen last summer, only swapping Ottavino for David Robertson. It's not as if this is a new concept the Yankees are putting together. But it's hard to look this extremely good for more than a short blip of time. And there's a hell of a contrast between the current bullpen of the Yankees and the current bullpen of the Red Sox.
Just how silly is this? I took a look at the current position-by-position WAR projections. Taking those projections, I then calculated, for every team, the number of standard deviations they are away from the positional average. Here are the top five projected positions by that method:
Angels, center field, +4.2 standard deviations (Mike Trout)
Red Sox, right field, +3.4 (Mookie Betts)
Astros, second base, +2.7 (Jose Altuve)
Yankees, bullpen, +2.7
Indians, shortstop, +2.6 (Francisco Lindor)
You see the Yankees bullpen, tied for third place. And the thing is, that's *before* factoring in Ottavino. The Yankees were already tied for third, here. Then they signed one of the very best relievers available on the market. Nobody wins a World Series on a bullpen alone — you might've noticed the Yankees weren't the 2018 world champs — but this is an overwhelming assortment of weapons. The burden on the rotation will again be reduced, and the pitching staff as a whole is already built to dominate in the playoffs.
What's the deal with Ottavino? In 2017, he wasn't very good. Prior to that, he had been good, and he'd also undergone Tommy John surgery. He came out in 2018 with his hair on fire. In the end, there were 147 relievers who threw at least 50 innings. Ottavino ranked eighth in park-adjusted ERA, he ranked 17th in park-adjusted FIP, and he had a top-ten strikeout rate. According to Statcast's expected wOBA metric, Ottavino finished fourth among all pitchers, behind only Edwin Diaz, Josh Hader, and Blake Treinen. He was great because of his strikeouts, and he was also great because, even when he allowed contact, he allowed some of the worst contact in either league.
As for that latter point, I wouldn't yet put too much stock in it. Weak-contact pitchers and hard-contact pitchers tend to regress pretty heavily in those departments. But then, they don't tend to regress all the way, and besides, the key is the strikeouts. Let me show you the pitch that Ottavino's known for:
That's the breaking ball, and it's one of the sweepiest breaking balls around. It's a slider that's really more of a curveball, and it should tell you something that Ottavino was able to throw it with confidence in Colorado. Still, Ottavino has had that pitch for a while. That pitch on its own doesn't explain the 2018 resurgence. Part of that was simply mechanical, as Ottavino had been throwing too much across his body in 2017. But then there's the matter of his repertoire, and what he chose to do with it.
One could point to the fact that Ottavino created a new cutter last offseason. He threw it about a tenth of the time, the idea being that it would be something in between his fastball and his breaking ball. The cutter certainly helped, but then there was also something else: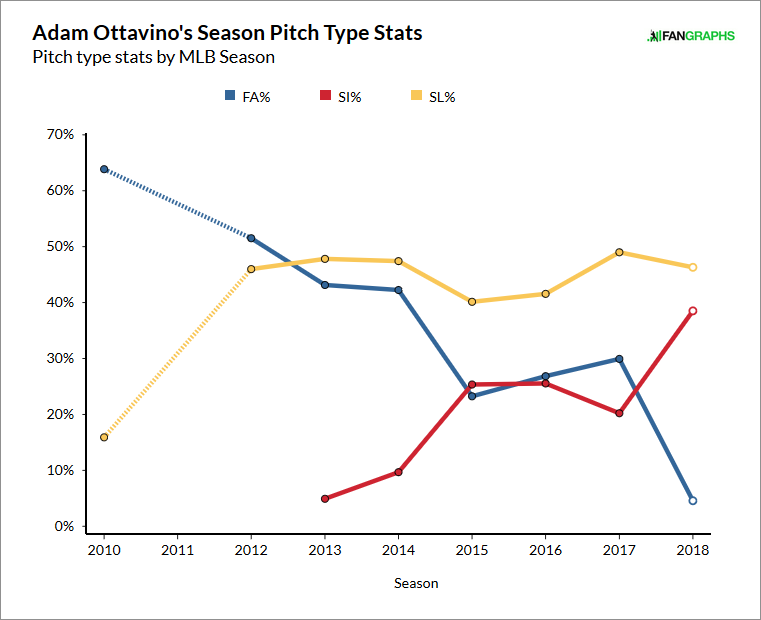 Last season, Ottavino threw a higher rate of two-seam fastballs than ever. He also nearly eliminated his four-seam fastball. In general, four-seam fastballs tend to pair well with up-down curveballs, and two-seam fastballs tend to pair well with side-to-side sliders. That's not always true, but the concept going in was that Ottavino's two-seamer looked the most like his other pitches. One can't argue with the results.
So that's a change. There was also another. When you see a breaking ball like Ottavino's, you envision it being thrown in two-strike counts. Chase counts, getting hitters to expand out of the zone. And yet, in 2018, Ottavino took to pitching backward: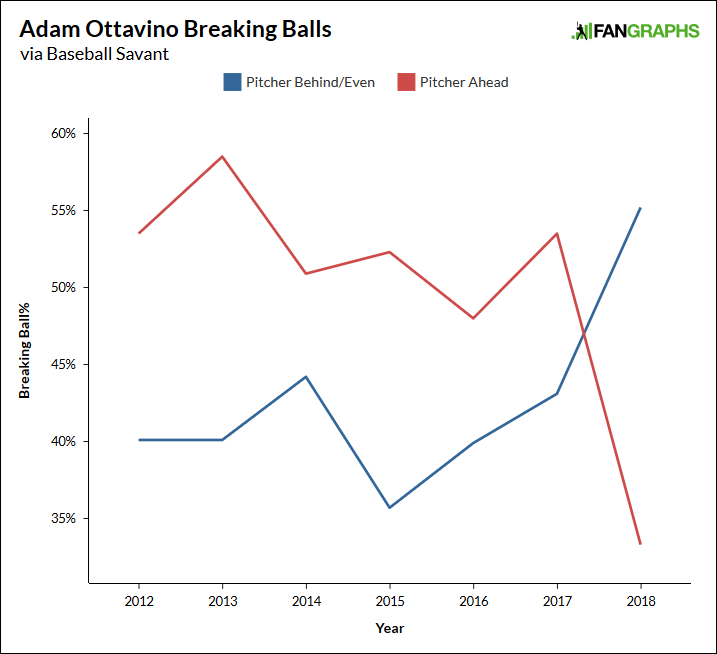 The year before, Ottavino threw 54% breaking balls when ahead in the count, and 43% breaking balls when behind or even. This past year, those rates moved to 33% and 55%, respectively. Ottavino's usage was 22 points higher, in the opposite direction. Just how unusual is that? There were nearly 400 pitchers who threw at least 250 pitches while ahead in the count, and also while behind or even. Here are their breaking-ball rates, with Ottavino in yellow: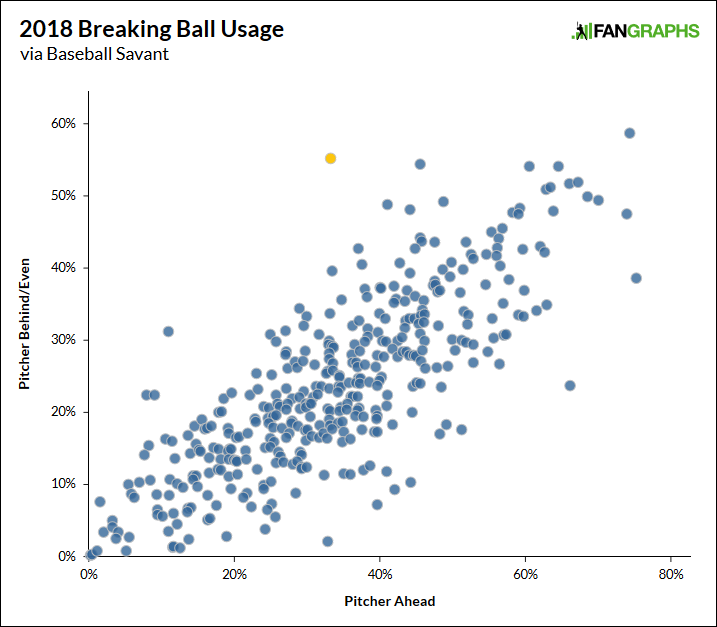 No one had a bigger difference, in the same direction, than Ottavino's 22 percentage points. Both the average and median are +10 percentage points when ahead in the count. Ottavino was 32 points away from that mark. Hitters would face Ottavino, keeping that big sweeping breaking ball in the back of their mind. Ottavino used that expectation to his advantage. In 2017, Ottavino generated 15 strikeouts on fastballs, and 46 on breaking balls. In 2018, those numbers were 59 and 48. He turned things around, and as a consequence, he…well, he turned things around.
If there's one somewhat negative thing I can say, it's that hitters might've partially adjusted. Ottavino attracted plenty of attention with an incredible April, and those first impressions stick around. Through the end of April, Ottavino had a K-BB% of 47%. From the beginning of May onward, he had a K-BB% of 20%. Still good, but not eye-popping. Ottavino threw more balls. Opponents took more balls. Ottavino didn't finish as strong as he started.
But it was an overall wonderful season, and Ottavino has demonstrated that he's willing to work, and work hard, to stay on top of his game. Even the more diminished, second-half Ottavino was a quality reliever, and the Yankees won't be looking for him to be more than he is. He's signing on to be another face in the crowd. It's a crowd of lockdown relievers who're going to get opponents looking at the scoreboard as early as the third and fourth innings. Have fun, everybody.
Jeff made Lookout Landing a thing, but he does not still write there about the Mariners. He does write here, sometimes about the Mariners, but usually not.