Ryan Zimmerman gave the best of himself to Washington Nationals teams that were not yet ready to produce moments big enough for him. By the time the talent surrounding him began to live up to his own, he had crossed over into a more treacherous, injury-marred phase of his career. Over the course of 15 years, Zimmerman's fortunes and those of the Nationals have rarely been in harmony. But on Monday night, staring down elimination on its home field, Washington pulled back the curtains once more, and its first-ever star stole the show.
Zimmerman walked to the plate with a 2-1 lead in the fifth inning, watched Los Angeles right-hander Pedro Báez hurl a high fastball toward him, and crushed the pitch over the center field wall for a three-run homer that powered a 6-1 victory over the Dodgers in Game 4 of the NLDS. Nationals ace Max Scherzer was brilliant in seven innings of one-run baseball, striking out seven and allowing four hits and three walks, before turning the ball over to Sean Doolittle and Daniel Hudson for the final six outs.
With their help, the Nationals preserved themselves for another game against the Dodgers, this time in a decisive Game 5 slated for Wednesday night at Dodger Stadium. Washington will likely send Stephen Strasburg to the bump, while Los Angeles is expected to counter with Walker Buehler. Both starters were dominant in their first games of the series, with Buehler tossing six shutout frames in Game 1 and Strasburg dealing seven shutout innings in Game 2. It will be the fourth time in eight years the Nationals will play Game 5 of the NLDS. They have lost all three of their previous tries.
Monday's bottom of the fifth inning began with a small-ball sequence from yesteryear. With the game tied 1-1, Washington shortstop Trea Turner lined a single to left field against new Dodgers reliever Julio Urías, and advanced to second on a sacrifice bunt by Adam Eaton. Anthony Rendon then smacked a single to center that scored Turner, and two batters later, advanced to third base on a single by Howie Kendrick. With two on and two out, Los Angeles summoned Báez — a right-hander with a 3.10 ERA and 3.52 FIP in the regular season — to try and keep the game where it was. Báez got ahead with a strike. Ahead 0-1, he elevated a fastball where he thought Zimmerman couldn't reach it. He was wrong.
For Báez, it was the right pitch to throw. The four-seamer has been his primary offering this season, as well as his best one, with opponents notching just a .224 xwOBA according to Statcast (his changeup and slider graded better by wOBA). Hitters know where to expect it from him, and but Báez still knows where he can beat them.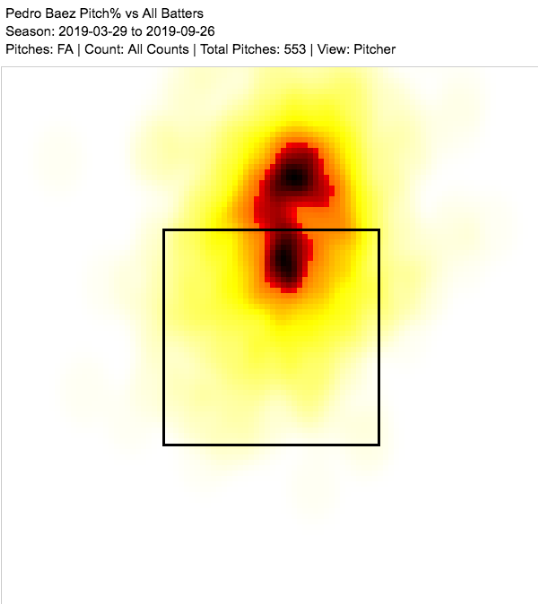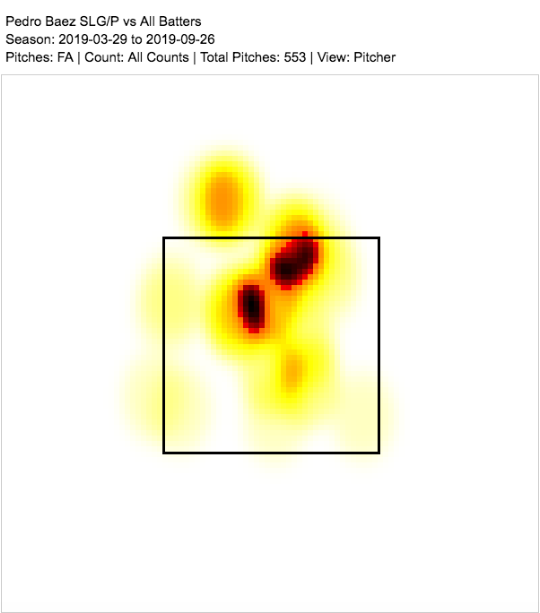 According to Statcast, 36.1% of all Báez's pitches in the regular season finished outside the strike zone high, high and outside, or high and inside. Opponents slugged just .086 against those pitches, with no homers. It was a pitch Zimmerman had no business hitting anywhere. And yet.
The Nationals already had good odds at closing this one out after Kendrick's single, with our calculations giving them a 70.5% chance to win at the time. After Zimmerman's homer, those odds skyrocketed to 91.5%, and continued to climb as Scherzer laid on the accelerator. Just three days removed from striking out the side in order in a relief appearance in Game 2, the 35-year-old landed himself in hot water early when he surrendered a two-out solo homer to Dodgers third baseman Justin Turner in the first inning. Corey Seager delivered another punch with a leadoff double to start the second, but Scherzer sat down each of his next two hitters before intentionally walking catcher Will Smith and striking out Los Angeles starting pitcher Rich Hill. After that, Scherzer was dominant. Over his next four innings of work, he allowed just one baserunner on a single by center fielder Cody Bellinger while striking out five, including all three hitters he faced in the fifth.
Three consecutive Dodgers reached with one out in the seventh thanks to a single and a pair of walks, but with a somewhat comfortable lead, Scherzer was given the chance to escape the jam, and he did just that with a strikeout and a groundout. He finished with 109 pitches thrown, and induced 15 swinging strikes, with six of those coming against his slider.
Hill never found the same groove. He escaped the first two innings unscathed, but found trouble in the third inning when the Nationals loaded the bases with one out on a single and two walks. Rendon tied the game on a sacrifice fly and Juan Soto walked, prompting Dodgers skipper Dave Roberts to replace his starter with right-hander Kenta Maeda with the bases loaded and two outs. Maeda got the job done, stranding the runners and subsequently working a scoreless fourth, but the relievers who followed him weren't as lucky.
Instead, fortune found the bat of Zimmerman, and for tens of thousands of Nationals fans who packed into their home stadium Monday, it couldn't have picked anyone more deserving. He was the franchise's first draft pick in its first season after moving from Montreal in 2005, a fourth overall selection out of the University of Virginia. He debuted in the majors that same year, hitting .397/.419/.569 in 62 plate appearances for a Nationals team that was respectable at 81-81, but still the worst of the five National League East teams. When he followed that up by finishing second in Rookie of the Year voting the next year, Washington backslid into a 70-win season. When he was worth 6.6 WAR in each of the 2009 and 2010 seasons, his teams went a combined 128-196.
The Nationals eventually became competitive, but not in time for Zimmerman to be the centerpiece of their first playoff team. He was a four-win player when the team won its first division title in 2012, but played in just 61 games when it won the NL East for a second time two years later. From 2014-16, Zimmerman produced just 0.5 WAR, battling a long list of injuries to his hamstrings, ribs and thumb, along with plantar facsitis. He rekindled his health and his pop for a bounce-back 2017 season, only to lose it the following year. He played just 52 games for this year's Nationals squad. He hit six home runs. He was worth a tenth of a win. That he's even on the team's NLDS roster likely says more about what he means to the organization than it does about what real baseball-hitting ability he still has. But there he was on Monday, 15 seasons into a beloved career in Washington, hitting the bejesus out of a ball just the way he did when he was a young man, playing on 100-loss teams in front of fans still learning how to love their weird new team. They sure didn't look great, but the mere presence of this young stud third baseman suggested maybe they'd eventually be okay. All those years ago, Zimmerman became Their Guy. On Monday, he showed why he still is.
Tony is a contributor for FanGraphs. He began writing for Red Reporter in 2016, and has also covered prep sports for the Times West Virginian and college sports for Ohio University's The Post. He can be found on Twitter at @_TonyWolfe_.