Last Wednesday, the Athletics were eliminated from the playoffs at the hands of the Rays and the long ball in the American League Wild Card Game. Yandy Díaz homered twice, Avisaíl García and Tommy Pham each added homers of their own, and the Rays cruised to a 5-1 victory.
Despite the losing effort, it was an A's player who impressed me the most. Jesus Luzardo, who came on to pitch the sixth, seventh, and eighth innings, had quite the postseason debut. In those three frames, he did not surrender a run, and only allowed one hit and two walks to go along with his four strikeouts. At just 22 years and two days old, Luzardo became the youngest pitcher to throw three or more shutout innings in a postseason game since Madison Bumgarner in 2010:
Youngest Pitchers With 3+ Shutout Postseason IP Since 2000
| Pitcher | Date | Age (YY.DDD) | Round | IP | H | R | BB | K |
| --- | --- | --- | --- | --- | --- | --- | --- | --- |
| Jesus Luzardo | 10/2/2019 | 22.002 | ALWC | 3 | 1 | 0 | 2 | 4 |
| Madison Bumgarner | 10/31/2010 | 21.091 | WS | 8 | 3 | 0 | 2 | 6 |
| Phil Hughes | 10/7/2007 | 21.105 | ALDS | 3.2 | 2 | 0 | 0 | 4 |
| Francisco Rodriguez | 10/20/2002 | 20.286 | WS | 3 | 0 | 0 | 0 | 4 |
SOURCE: Baseball-Reference
"The three innings Luzardo pitched are three of the most impressive innings I've seen out of anyone, let alone someone that young," A's starter Brett Anderson told Susan Slusser of the San Francisco Chronicle.
Luzardo is a rookie. He was promoted to the majors in September as the A's looked to fortify their bullpen for the stretch run. The experiment succeeded. Their No. 2 prospect threw 12 innings, allowed just two runs, and struck out 16 of the 46 batters he faced. His performance earned him a spot on the Wild Card roster, and he made the most of his opportunity. As much as I'd love to say that Luzardo stole the show on Wednesday, that's not really true, at least in the greater context of the game. His effort to keep the game close, however, should not go unnoticed, especially as the Athletics turn their attention to 2020. He projects to be in their starting rotation on Opening Day, so the maximum effort stuff we saw might not rear its head for some time, if ever again. Let's gawk at it while we still can.
During the regular season, Luzardo's fastball sat around 97 mph, maxing out at 98.7 mph on September 15: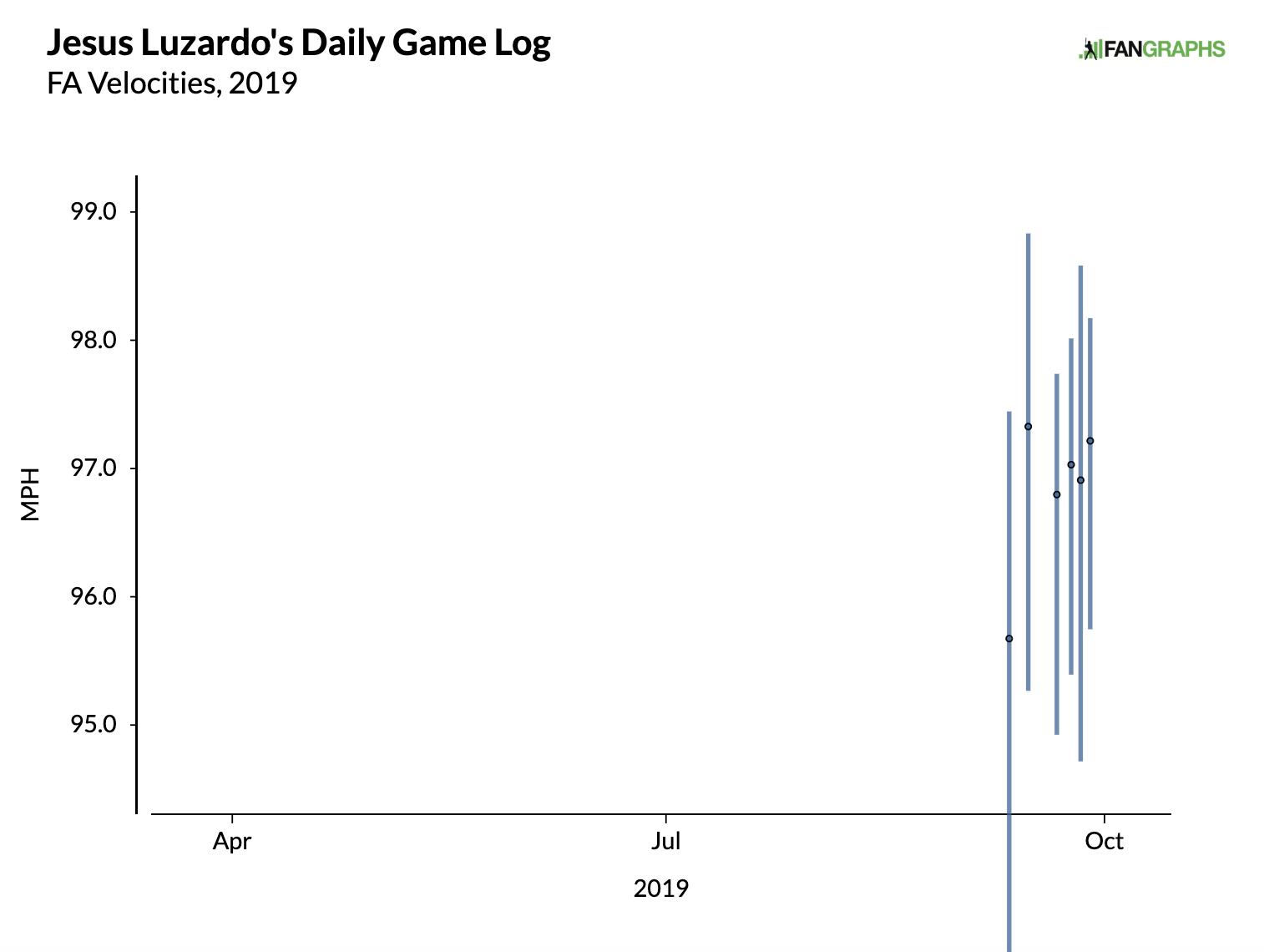 Last Wednesday, however, Luzardo was amped. His four highest velocity fastballs in the Wild Card game represented the four fastest pitches he's thrown this season. This one, painted perfectly on the corner low-and-outside, sent Brandon Lowe back to the dugout, looking. It registered at 98.7 mph, tying his regular season-high:
Luzardo was understandably hyped.
"I definitely let a couple loose to see where I was at," Luzardo told Slusser after the game. "The adrenaline, the situation, helped out."
It wasn't just the fastball velocity that made Luzardo's performance so electrifying, however. In fact, during the regular season, Luzardo's four-seamer was his worst pitch by run value. Arguably more exciting is his curveball, which generated a whiff on 68% of swings. Here's the hook to the very next batter, García. He doesn't stand a chance swinging at this 2-2 pitch:
Why would a professional hitter such as García swing at such a poor pitch? Just take one look at the prior offering, a 2-1 quick-pitched changeup that García fouls off:
Despite looking so different, Luzardo's 2-1 and 2-2 pitches appeared quite similar at García's decision point. We can see that visualized here, courtesy of Baseball Savant, with the red circle representing the two pitches at García's commit point. If García was going to swing at the 2-1 pitch, he definitely was going to swing on 2-2, especially because he now had to protect the plate: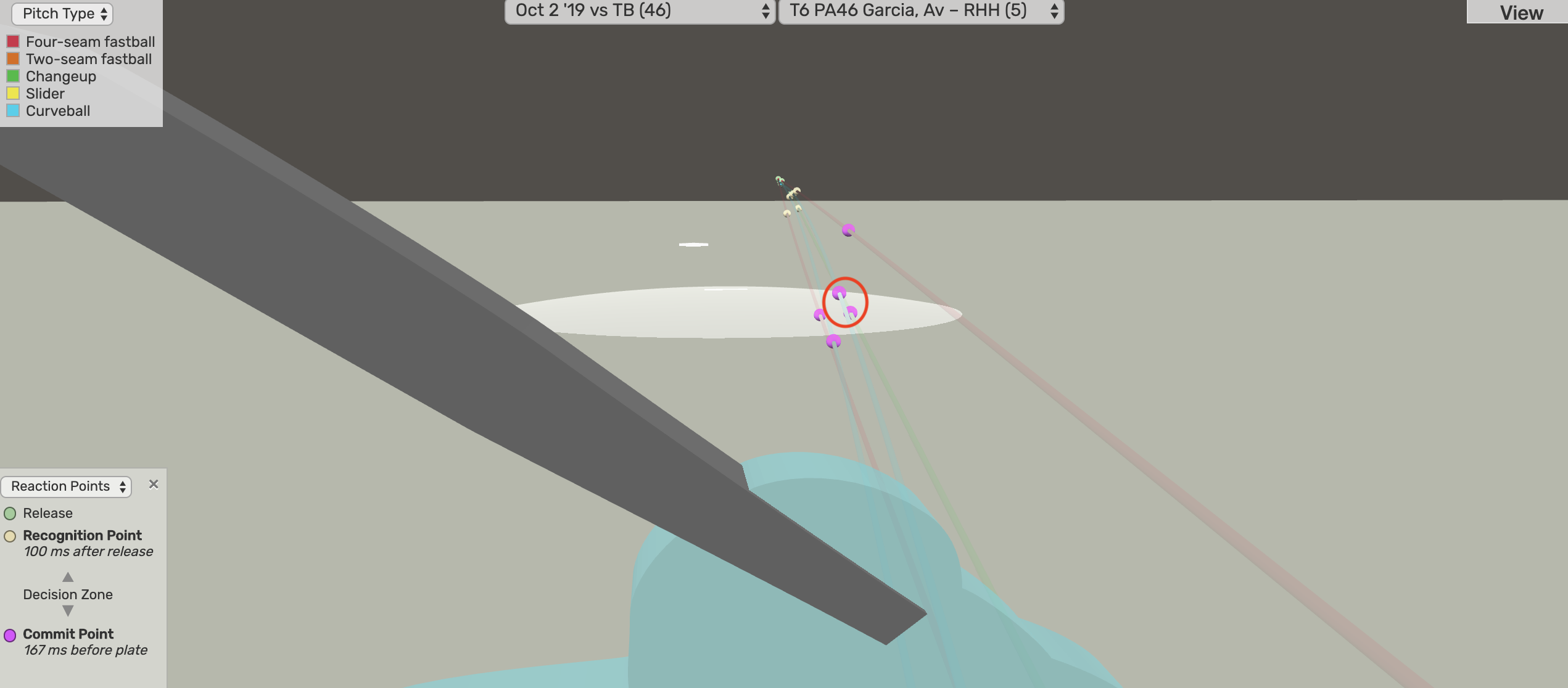 Luzardo's first inning went by without much trouble. In the seventh, however, he was faced with a minor jam, after a walk and a single put runners on first and second with two outs. It wasn't enough to rattle him, though, and an inning-ending groundout extinguished the Rays' threat. To Luzardo, it seemed like no big deal:
In the eighth, Luzardo again made quick work of the Rays without much trouble. A leadoff walk to Austin Meadows raised some concerns, but a subsequent fielder's choice, strikeout, and this lineout — the only 95 mph-plus exit velocity batted ball allowed by Luzardo all night — again kept the Rays off the scoreboard:
Luzardo would finish the evening with the three scoreless innings, easily the best performance by an Athletics pitcher that night. He generated eight swinging strikes, five of which came on the curve. All told, Luzardo excelled. He did so with a mix of all five of his pitches, though he relied most heavily on his curveball (37.0% usage) and his four-seam fastball (35%), an approach that wasn't always present during the regular season. In fact, in just one outing, on September 15, were his curveball and his four-seamer his two most utilized pitches in that order: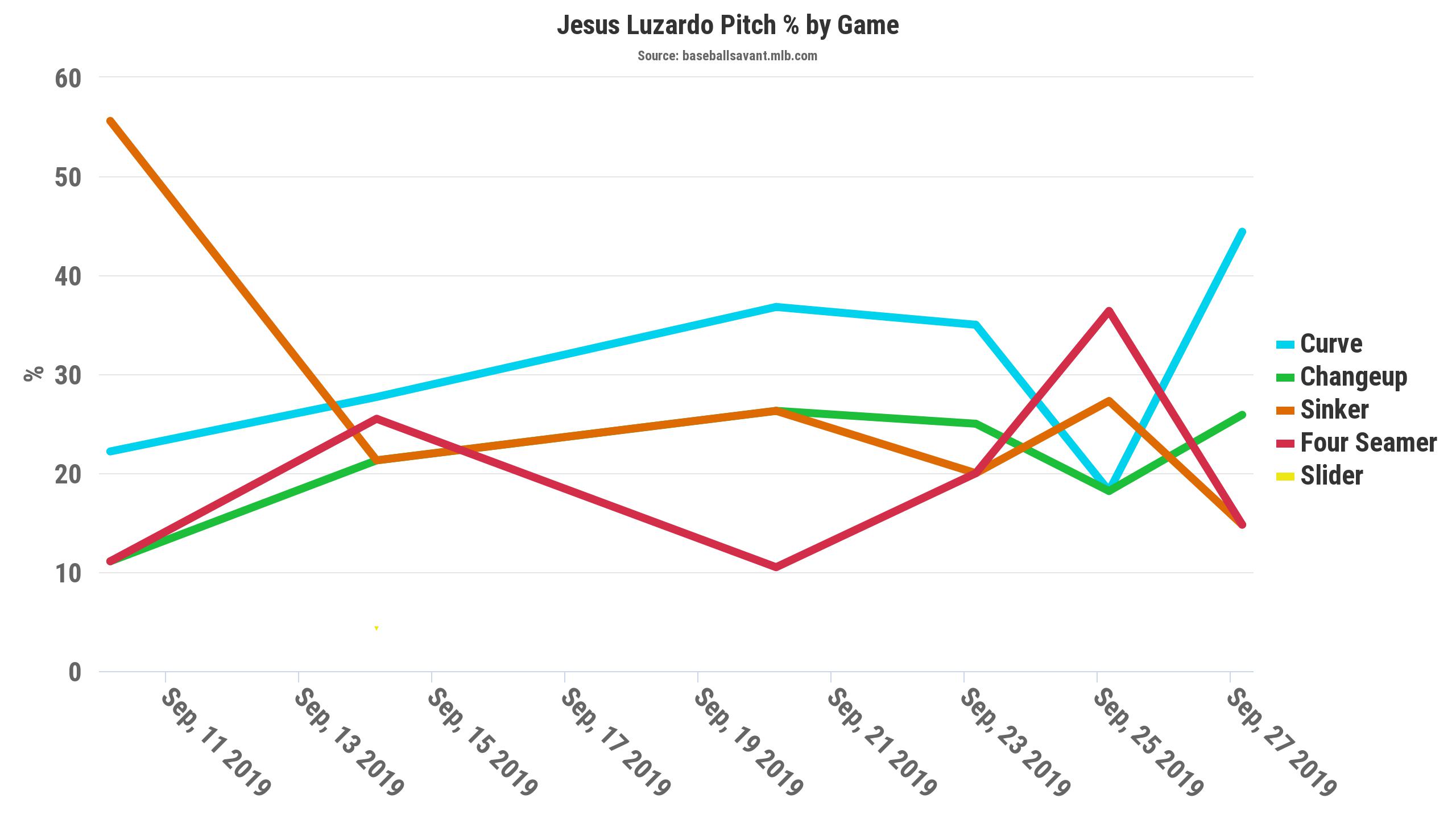 In the AL Wild Card Game, Luzardo demonstrated the poise and talent an elite pitcher, with the results to match. While the Athletics could not overcome their elimination game woes, they must be pleased with their prized pitching prospect, who looks to be a mainstay on their roster for many years to come.
"We have a lot of young talent here, a good mix of young and experienced," Luzardo told Slusser. "We're definitely excited for the future and hopefully, we'll do a lot of big things."
If everything goes right in Oakland, this won't be the last time we see Jesus Luzardo's passion and ability on display in October. It was certainly a tantalizing start.
Devan Fink is a Contributor at FanGraphs. You can follow him on Twitter @DevanFink.