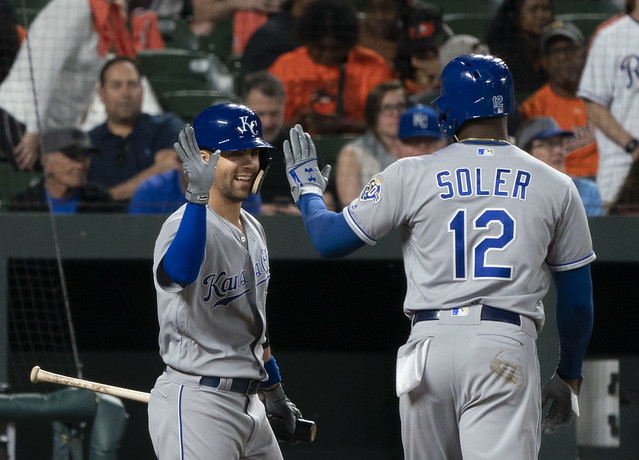 "I don't do anything with my life except romanticize and decay with indecision." – Allen Ginsberg
There's no team harder for me to get a read on than the Kansas City Royals. The afterglow of the 2015 World Series has long faded, and attendance is falling back towards levels you might expect for a baseball team playing in Florida. Given the team's inconsistent statements concerning the organization's present — and the accompanying moves in harmony with that theme — I'm not sure whether Kansas City is incompetently rebuilding, incompetently retooling, or incompetently competing. Short of a sudden change in organizational focus, the Royals' main task is to mark the time between the end of one Pat Mahomes season and the start of the next one.
The Setup
After two years of treading water post-championship, 2018 was the year that everything came crashing down. That that season was going to be a dreadful one was largely preordained, prophesied by the team's contract situations. After winning 80 games in 2017, players worth more than half of the team's WAR (13.0 wins out of 24.7 total) hit free agency, and there was little hope of one of the league's weakest farm systems or a fat ownership wallet making good on those losses. Mike Moustakas returned to Kansas City after receiving scant interest in free agency and Alcides Escobar was re-signed for no fathomable reason, but there was little reason to believe that these moves were enough to keep the team wild card pretenders into August.
The 2018 Royals finished with 104 losses and it seemed as if they were finally ready to embrace a full-blown rebuilding process. After all, the Royals spent the summer trading most of their veterans who could fetch some kind of player in return; Moustakas, Kelvin Herrera, Jon Jay, Lucas Duda, and Drew Butera were all dealt. A rebuilding team hardly needs a dedicated pinch-runner and Terrance Gore was traded to the Cubs. Even Escobar started to have his playing time curtailed in just his third consecutive year of near replacement-level production. Sure, players like Alex Gordon and Ian Kennedy stayed put, but they were largely immovable anyway.
But the Royals proceeded to have a rather puzzling winter, one that was more consistent with a team that believes themselves to be in contention. Signings such as Billy Hamilton, Chris Owings, Duda, or Jake Diekman seemed more fitting for a team headed for an 85-77 record trying to fill holes on the roster. Martín Maldonado was brought back to mentor the team's young pitchers and Homer Bailey was brought in to do something or other.
The Royals didn't pick up a single young player in a trade, whether a top prospect, a fringe prospect, or even someone vaguely interesting in their mid-20s. In one of the more confusing moves made by a team this offseason, the Royals placed Brian Goodwin on waivers to make room on the roster for Duda, a 33-year-old first baseman/DH who last had a league-average season in 2015 and spent 2018 putting up a dreadful .241/.313/.418 combined triple-slash for the Braves and Royals. I won't lie and say I expected him to hit .286/.346/.511 for the Angels (nor did ZiPS), but Goodwin, a .246/.315/.456 hitter in 2017-2018 who could at least fake being a center fielder, had far more upside than the washed-up Duda, whose most compelling strength at this point is the ability to make headlines with Big Lebowski puns.
Clearly, the Royals intended to flip players like Billy Hamilton after a successful 2019 season, but I was skeptical about this approach. Nobody wanted Hamilton last offseason; what was he going to do after four seasons of zero development to change teams' minds?
The Projection
It will hardly be shocking that the ZiPS projections did not greatly depart from my pessimism about the 2019 Royals, which could be described as "black as the universe after its eventual return to thermodynamic equilibrium." ZiPS was perhaps a little sunnier, and projected a 0.10% chance of the Royals making October and a final median record of 68-94. I found the scenario in which the Royals could make the playoffs to be much murkier than that of the Detroit Tigers; the Tigers had just as poor a roster, but they also had enough talent in the upper-minors they could be interesting if absolutely everything broke the right way.
The Results
The 2019 Royals hit their high-water mark before April even started by winning the first two games of the season against the Chicago White Sox and temporarily holding first place. The team then proceeded to lose 10 games in a row and fell into the AL Central basement. It took the Tigers three months of their best efforts to seize control of last place. Curiously, rumors flew that the team had an internal belief that they could make a run at the second wild card something that would have been too out-of-whack for even me to buy if it hadn't been reported by the impeccably sourced Ken Rosenthal:
The Royals are talking internally about making a run at the second wild card, and the idea, at least according to the math, is not as crazy as it sounds — the team, while owning the worst record in the AL, faces just an eight-game deficit. More realistically, the Royals will just continue building, and possibly return to contention sooner than expected.

I'd personally argue that the math was, in fact, as crazy as it sounded considering how difficult it is to be eight games out of a wild card spot in mid-May. In fact, on the date the article was published, 28 of the 30 teams in baseball were within eight games of a playoff spot, with the Miami Marlins being the only other exception.
Whether the Royals truly believed this is unknowable, but the team certainly didn't act as if they were a rebuilding team. They continued to play Billy Hamilton every day and seemingly only realized in May that playing their star second baseman, Whit Merrifield, in right field to make room for Chris Owings to start was perhaps not an optimal lineup. The team's desire to see if Frank Schwindel had discovered something in the minors in 2017 (.329/.349/.541) and 2018 (.286/.336/.506) only lasted four starts. It took them three months to wonder if Tim Hill, who had a 2.12 ERA for the Triple-A Storm Chasers and who put up a 3.51 FIP on the actual major league team in 2018, deserved more than four innings to prove he could upgrade one of the league's worst bullpens.
Perhaps the most controversial decision the Royals made was not trading Merrifield at the deadline. While the team didn't categorically refuse trade offers, all indications were that the ask for Merrifield was astronomical. Multiple sources indicated the Royals insisted on multiple "win-now" pieces, a curious ask to make of the teams in contention that would be most interested in acquiring him. Similarly, after rehabbing Ian Kennedy's career as a closer, the Royals allegedly refused to eat any of his contract in a trade, preferring to have a 35-year-old closer on a 90-loss team in 2020 than the prospects they could add instead.
That's not to say 2019 was all doom and gloom. Adalberto Mondesi has real weaknesses in his game that will likely prevent him from being a superstar at short, but a .265/.294/.423 line is enough for him to be in All-Star territory given that his defense is legitimately All-Star level, and he could likely steal 60 bases over a full year. Hunter Dozier's headed for a four-WAR season and Jorge Soler has passed the 40-homer pole thanks to staying completely healthy for the first time in his career. The starting pitching wasn't as dreadful as it could have ended up being, and trading a catcher they didn't need for Mike Montgomery and letting him start full-time was an excellent notion and one of my favorite Royals moves in recent years.
As the season closes, the starting lineup looks more like it ought to have at the beginning of the year. As with Brian Goodwin, I'm extremely skeptical about the futures of Brett Phillips and Bubba Starling, but giving them regular playing time is infinitely more productive in the context of the future of the team than trotting out Billy Hamilton every night. Nicky Lopez has disappointed in the majors, but unlike Owings, there was enough upside for the Royals in Lopez working out to make playing him worthwhile. Nor am I yet convinced that Lopez is a lost cause; a 24-year-old shortstop with a .296/.378/.403 career minor-league line is a player any rebuilding team should take seriously.
What Comes Next?
I remain deeply pessimistic about the future of the Kansas City Royals. While I appreciate the stated commitment of the new ownership group, led by local businessman and part-owner of the Indians John Sherman, to treat the Royals at least partly as a community asset, the apparent commitment to signing general manager Dayton Moore to a long-term extension doesn't fill me with hope.
And yes, the 2015 Kansas City Royals won the World Series. There is an unsettling number of predestination arguments when it comes to the Royals, as if winning the World Series validated all the moves that happened before winning the World Series. The 2015 Royals were a very good team, but they were also a team that enjoyed a lot of good fortune on their way to the championship. It's odd to evaluate a front office by World Series victories; Dayton Moore would not be the slightest bit inferior if Will Harris could have held a lead in a single October game. A front office can only build a consistent winner and hope for the best, and the Royals have not been consistent winners over Moore's tenure. Going back to Moore's first full season in 2007, only the Marlins and Orioles have won fewer games than the Royals.
Flags fly forever, but fan interest doesn't. Short of a miracle, Kansas City's attendance will decline for the fourth straight season. Even knowing that they would have trouble keeping the team together after 2017, the Royals did not aggressively keep the team competitive, something that separates the team from the 1975-1990 Royals that created an entire generation of fans, the legacy of Ewing Kauffman, who was arguably the best team owner in professional sports. After winning the World Series in 1985, Kansas City's average attendance didn't drop below their 1985 level until a third straight out-of-contention season in 1992. The 2014-2015 Royals created fleeting moments rather than a new fanbase.
The Royals claim to be repeating the blueprint of their World Series victory, but this rebuilding has started even more haltingly than the previous one. There's no Zack Greinke to trade to kickstart the next generation. Whit Merrifield's a nice player and all, but he has nowhere near the trade value that Greinke had back in the day. Mondesi's still young, but a lot of Kansas City's "young" core isn't actually young enough to build around. Merrifield is already 30, Dozier just turned 28, and Soler will be 28 in 2020 and a free agent after 2021. Years of incompetent drafting — Merrifield, taken in the 2010 draft, is the most recent Royal draftee to amass five WAR for the Royals — have left contention a long time in the future, short of unexpected developments. By Eric and Kiley's rankings on THE BOARD, KC's farm improvements this year have only bumped them from the 29th-best farm system to 26th. Contention is a long way off. More than any team other than perhaps the Colorado Rockies, the Royals could have used a completely new direction, starting with a clean sweep of the organization.
The Absitively, Posilutely, Way-Too-Early ZiPS Projection – Adalberto Mondesi
OK, I've been characteristically grumpy about the Royals. So, let's end with some fan-service, with the sweet, sweet projections of the aforementioned Mondesi.
ZiPS Projection – Adalberto Mondesi
| Year | BA | OBP | SLG | AB | R | H | 2B | 3B | HR | RBI | BB | SO | SB | OPS+ | DR | WAR |
| --- | --- | --- | --- | --- | --- | --- | --- | --- | --- | --- | --- | --- | --- | --- | --- | --- |
| 2020 | .256 | .289 | .435 | 527 | 72 | 135 | 26 | 10 | 16 | 71 | 25 | 155 | 50 | 92 | 10 | 3.2 |
| 2021 | .256 | .292 | .454 | 504 | 72 | 129 | 26 | 10 | 18 | 72 | 26 | 153 | 44 | 98 | 10 | 3.4 |
| 2022 | .253 | .292 | .457 | 506 | 73 | 128 | 26 | 10 | 19 | 74 | 28 | 159 | 44 | 98 | 10 | 3.4 |
| 2023 | .250 | .290 | .466 | 504 | 73 | 126 | 26 | 10 | 21 | 75 | 29 | 164 | 41 | 100 | 10 | 3.5 |
Yes, the plate discipline is…interesting. But Mondesi's a fun player who gets value in a different way than the prototypical 2019 player. A player who gets most of his offensive value from triples and stolen bases and can legitimately make an All-Star roster is a variety that's lacking at times in today's game. Even I can't have tacos three meals a day, seven days a week.
Dan Szymborski is a senior writer for FanGraphs and the developer of the ZiPS projection system. He was a writer for ESPN.com from 2010-2018, a regular guest on a number of radio shows and podcasts, and a voting BBWAA member. He also maintains a terrible Twitter account at @DSzymborski.