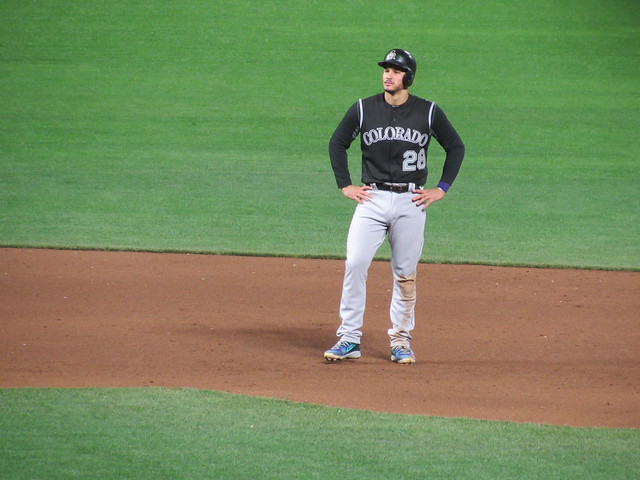 "If you don't know where you're going, you might not get there." – Yogi Berra
In 2017 and '18, for the first time in franchise history, the Colorado Rockies made the playoffs in consecutive seasons. The team didn't play deep into October in either season, but for an organization that hadn't even had back-to-back winning seasons since the mid-90s, it was a wonderful result. Problem is, the team gave little thought as to how they got there or the weaknesses that could prevent them from doing so again in the future. The strengths Colorado rode in 2017 and 2018 were absent in 2019, and left the team high-and-dry with no real Plan B.
The Setup
The Rockies clearly believed that 2019 would be another year of contendership. But I'm not sure they realized how dependent they had been on the production of a few stars every season. 91 wins are nothing to scoff at, but to get to the point of barely making the playoffs, the Rockies had to have two legitimate MVP contenders and two legitimate Cy Young candidates. All told, Colorado received 19 WAR from their top four players in 2018, an identical sum as in 2017. In both years, that figure represented more than half the team's value, a ratio far worse than every other postseason team from 2017, 2018, and now 2019.
In 2017, the Rockies made the playoffs despite an offense that ranked 26th in the league in wRC+. To fix this lack of run-scoring — the team ranked third in baseball in runs scored, but a good offense in Colorado should be crushing the league in runs, even given the most generous application of the Coors Field Hangover — the Rockies did, well, not much. They signed a 35-year-old catcher and given the opportunity to upgrade from fading veteran Carlos González, he of an 85 wRC+ and 0 WAR, decided to upgrade to…Carlos González.
The one place the Rockies actually did seek to seriously improve after 2017 was in the bullpen. Despite still having a league-average bullpen in 2017 even with the WARtributions of Jake McGee and Greg Holland removed, this was where the Rockies chose to use all of their offseason cash. Out the door went $106 million, and in the door came a returning McGee, Wade Davis, and Bryan Shaw. This trio combined for 0.2 WAR in 2018. Meanwhile, the two main bullpen contributors were guys they already had, Adam Ottavino and Scott Oberg. While the Rockies simply threw money at the most prominent, name-brand relievers who would come to Colorado, Ottavino spent the offseason becoming a better pitcher on his own.
Despite this lack of planning by the team, Cy Young runs by German Márquez and Kyle Freeland and MVPish seasons by Nolan Arenado and Trevor Story made it possible for the Rockies to coast their way back to the playoffs in 2018.
But given a second opportunity to address the team's very serious flaws, the Rockies didn't do much of anything after 2018. The team banked on a bounce back season from Daniel Murphy, who spent much of 2018 injured, to fill the void at first base. That void, more commonly known as Ian Desmond, was shifted to create a new void in center field, guaranteeing that the Rockies would receive no benefit from the realization that Charlie Blackmon is better suited for a corner outfield spot.
And that was it. Colorado's second-biggest signing was Mark Reynolds, a player whose most recent one-WAR season was 2014. The team didn't make a significant trade until late March when they sent Mike Tauchman to the Yankees. I fussed a lot about this move at the time, not because I thought Tauchman might be a superstar, but because two consecutive .900 OPS seasons, even in the Pacific Coast League, should have merited a longer look than the six starts the Rockies gave him in 2018. When you run a baseball team-slash-jobs-program-for-sub-replacement-veterans, I guess sacrifices have to be made occasionally.
Would the Homer Simpson-esque plan for the Rockies work out in 2019? Let's find out!
The Projection
The projections did not herald doom-and-gloom for the Rockies. ZiPS projected Colorado to drop slightly below .500, forecasting a 79-83 record for the team and a 9.0% chance at making the playoffs. One thing unseen in the base projections was that the Rockies' projections had a very unusual distribution. Sure, their 50th-percentile projection was two games worse than the Padres and two better than the Diamondbacks, but ZiPS projected a significantly lower floor and lower ceiling for the team. The Padres projected to have a much better shot at 95 wins than Colorado (5.0% vs. 0.8%) did, while the Diamondbacks much longer odds of finishing under 70 wins than the Rockies (7.2% vs. 14.1%).
Having superstars is great, but surrounding them with nothing simply cancels out their value. The Rockies projected as nearly a .500 team, but thanks to having few possible sources of additional upside outside of the team's stars, they also projected as an incredibly fragile one.
The Results
As the second team eliminated from the playoffs in the National League and the first realistic preseason contender to get the axe, it's not a stretch to say Colorado ended up with one of their downside scenarios. The team kept their heads above water for much of the season, sporting a .500 record as late as July 15. They started their slide by allowing 40 runs while getting swept in four games at the hands of the San Francisco Giants. Since then, the Rockies have gone 22-43, dooming any long-shot playoff run by the trade deadline.
As they often have, the Rockies maintained their .500 status largely by relying on the team's stars. Through July 14, the Rockies had three hitters with a .900 OPS (Blackmon, Arenado, Story) and a fourth, David Dahl, who was near that mark and the healthiest he'd been in years. One of 2018's heroes, Kyle Freeland, lost the plot in 2019, but Jon Gray took up his mantle and combined with Marquez to be worth 5.2 WAR and post a FIP on the sunny side of four.
The team's starting pitching was one of its strengths when making its playoff runs, with the 2018 squad peeking into the top tier in WAR in ninth place. Through the team's high-water mark in mid-July, the rotation ranked 17th in baseball in WAR. If they had repeated 2018's success, those four extra wins would have been enough to make them a 50-42 team, one that would have been a serious contender, perhaps enough of one to have inspired them to actually take an aggressive approach and add a Marcus Stroman or Trevor Bauer at the deadline, a needed change from the previous two lackadaisical trade seasons.
The lineup, even with the stars at the top, were unable to compensate for the starting pitching dropping back to average and certainly were unable to do so when the rotation combined for a 6.12 ERA and -1.0 WAR, as they have since July 14. The offense has actually improved in the second half, or at least been less woefully inadequate, putting up a wRC+ of 89 after a first-half wRC+ of 85.
At the trade deadline, the Rockies showed little indication that a change in direction was forthcoming. The team's biggest move in the summer months was signing Yonder Alonso, who had been released by the White Sox, thus heading off the dangerous possibility that the Rockies might do something interesting with those at-bats. The team didn't make any moves to start equipping itself for next season, as the Reds did when they traded for Bauer. Nor have they used their fall from contention as an opportunity to take an extended look at any of their more interesting fringe prospects; Roberto Ramos did not get a spot on the 40-man roster and Dom Nuñez has been out-started by hot, young prospect Drew Butera.
What Comes Next?
It's difficult to have much faith in this organization; in any front-office ranking, I can't see a way to get them out of the bottom five. The team is exceptionally loyal to their employees, and while that's a laudable approach in most cases, in this one it's keeping Colorado entrenched as a passive, moderately backwards franchise. The team's general manager, Jeff Bridich, is the team's general manager not because the organization went on a worldwide search for the best candidates, but because he was next in line when Dan O'Dowd and Bill Geivett resigned in 2014.
Now, like Bridich, I'm not a brain surgeon, but when I see the Rockies, I see a team that occasionally has strengths — at this moment, the minor league players developed in the last five years, and finding starting pitchers that can succeed in Coors — but lacks the will to build a team around those strengths or make hard decisions. It's easy to hang onto your veterans past their expiration dates and get nothing for Justin Morneau or Michael Cuddyer or Carlos Gonzalez. It's easy to continue to start a player having his third-consecutive sub-replacement season simply because you're paying him $70 million. It's easy to not go after a Bryce Harper in free agency. It's easy to not make a splash at the trade deadline.
I don't necessarily think the Rockies are at the point where they need to light the torches, burn down the roster, and start again. But I do think they need a clean sweep of the front office as is being done in Baltimore. The Rockies have a lot going for them: players to build around in Arenado, Story, and Marquez, a beautiful park in a beautiful area, little in the way of regional baseball competition, and a fanbase that has supported winners in the past. It would be nice if they had an organization that could truly take advantage of those strengths. Given the talent they've developed, there's no reason the Rockies couldn't have been Astros: Mountain Edition by now.
The Absitively, Posilutely, Way-Too-Early ZiPS Projection – Jon Gray
The Rockies did best the Astros in one way: their choice of pitcher in the first round of the 2013 draft. Of the top seven pitchers taken in the first round that year (Mark Appel, Gray, Kohl Stewart, Trey Ball, Phil Bickford, Braden Shipley, and Chris Anderson), Gray has turned out to be the only impact talent. Gray's FIP problems in 2018 (a 5.12 ERA vs. a 4.08 FIP) didn't persist in 2019, and he had a legitimately excellent season, going 11-8, with a 3.84 ERA, a 4.07 FIP, and 2.9 WAR, before suffering a stress fracture in his left foot. This injury isn't expected to be a problem in 2020, and with Freeland turning into a home run machine, the team's success will almost require a 1-2 of Marquez and Gray.
ZiPS Projection – Jon Gray
| Year | W | L | ERA | IP | H | ER | HR | BB | SO | ERA+ | WAR |
| --- | --- | --- | --- | --- | --- | --- | --- | --- | --- | --- | --- |
| 2020 | 11 | 9 | 3.59 | 165.7 | 155 | 66 | 16 | 52 | 171 | 116 | 3.1 |
| 2021 | 11 | 8 | 3.54 | 160.3 | 147 | 63 | 16 | 50 | 167 | 117 | 3.1 |
| 2022 | 11 | 8 | 3.62 | 154.0 | 142 | 62 | 15 | 48 | 160 | 114 | 2.8 |
Dan Szymborski is a senior writer for FanGraphs and the developer of the ZiPS projection system. He was a writer for ESPN.com from 2010-2018, a regular guest on a number of radio shows and podcasts, and a voting BBWAA member. He also maintains a terrible Twitter account at @DSzymborski.