After having typically appeared in the hallowed pages of Baseball Think Factory, Dan Szymborski's ZiPS projections have now been released at FanGraphs for eight years. The exercise continues this offseason. Below are the projections for the Colorado Rockies.
Batters
The 2019 Colorado Rockies ranked fourth in the National League in runs scored, which is actually a rather bleak ranking for a team that plays at Coors Field. "OMGTEHCOORSHANGOVER" has become a convenient excuse for the club's struggles — at least when they accidentally suggest they're aware there are struggles — but it's become a bit of a crutch when talking about the team. There appears to be an effect, but a minor one, unlikely to be worth more than three-to-five points of OPS for Rockies hitters. ZiPS doesn't take into consideration any "Coors hangover," and if this were a big deal, then ZiPS would be systematically too optimistic on players going to Coors and too pessimistic on players leaving. But it is not.
I feel like we've been over this story a billion times, but very little has changed in Colorado. The team's offense is largely reliant on having two-to-three players in any given season being MVP candidates, with Nolan Arenado and Trevor Story likely being those two players again in 2020. Ryan McMahon and David Dahl both receive projections that are kinda disappointing, but it's hard to forget that Dahl's injury history is long and the Rockies spent two prime development years jerking McMahon around.
The team has done a lousy job developing secondary offensive talent, and they showed little interest in a meaningless stretch drive to look at some of these fringe players, like Dom Nunez or Roberto Ramos or Peter Mooney, by giving them playing time in the majors. There was no guarantee Mike Tauchman would even be good for the Yankees in 2019, but there was certainly more of a chance he'd contribute to the Rockies than Ian Desmond. The Nationals really ought to have voted Desmond a playoff share; him turning down a seven-year, $105 million contract offer from the Washington was a big boost to that team's successful run.
Pitchers
ZiPS has long been a big fan of German Marquez, and a relatively meh 2019 hasn't really changed its silicon-based feelings. Sure, a 4.76 ERA doesn't pop out at you as a good thing, but some of this has to do with the level of offense jumping considerably in baseball thanks to home runs by the bucket. You expect a pitcher to fail to match their FIP in Coors; it's actually more of a BABIP park than a home run park. ZiPS expects Marquez's FIP vs. ERA margin to shrink and for him to have a general return to form, if not quite as shiny a projection as his 2018 line. Similarly, ZiPS projects Jon Gray to be an excellent No. 2 starter. The problem with their rotation is what comes behind them. Kyle Freeland can hardly be counted on given his 2019 season, and the depth behind him has become relatively thin. It's a team that ought to be playing in free agency.
However, it appears unlikely that the Rockies are going to open up their wallets this winter to fix the offense or the back of the rotation. Again, they've publicly identified the bullpen as their biggest problem, and while it stunk in 2019, I'd argue the problem is the pitchers the Rockies decide they want in their bullpen. Whereas most successful teams have a few relievers they identified off the scrap heap, the Rockies paid retail for established relievers, which is dangerous given the attrition rate of non-elite relievers. ZiPS is naturally suspicious of minor league pitchers, but it sees two the team let leave as minor league free agents, Matt Pierpont and Alexander Guillen, as being as interesting as any of the team's cadre of overpaid relievers. Just like with the fringe players on the offense, the Rockies couldn't have been less interested in using September to look at some of these guys at the major league level.
Prospects
One of the things that has allowed the Rockies to moderately thrive despite mismanagement at the major league level is the fact that the team's farm system was extremely productive during the mid-2010s. Sure, they avoided trading practically every veteran at the peak of their value and have spent more than $250 million in the last five years in free agency for WAR that is below zero, but when you develop/acquire Arenado, Story, Blackmon, Dahl, Marquez, Gray, etc. and don't have to pay them anything, that makes up for a lot of sins. But that group is getting more expensive and the farm system isn't producing as it once did. In terms of future value, at the end of the 2018 season, Colorado's farm ranked 28th on THE BOARD.
The team still has Brendan Rodgers, and hopefully they'll either clear a spot for him or trade him for someone they will use and not take their typical middle ground of shuffling their prospects up and down to the minors so as not to interfere with the playing time of their veterans.
One pedantic note for 2020: for the WAR graphic, I'm using FanGraphs' depth charts playing time, not the playing time ZiPS spits out, so there will be occasional differences in WAR totals.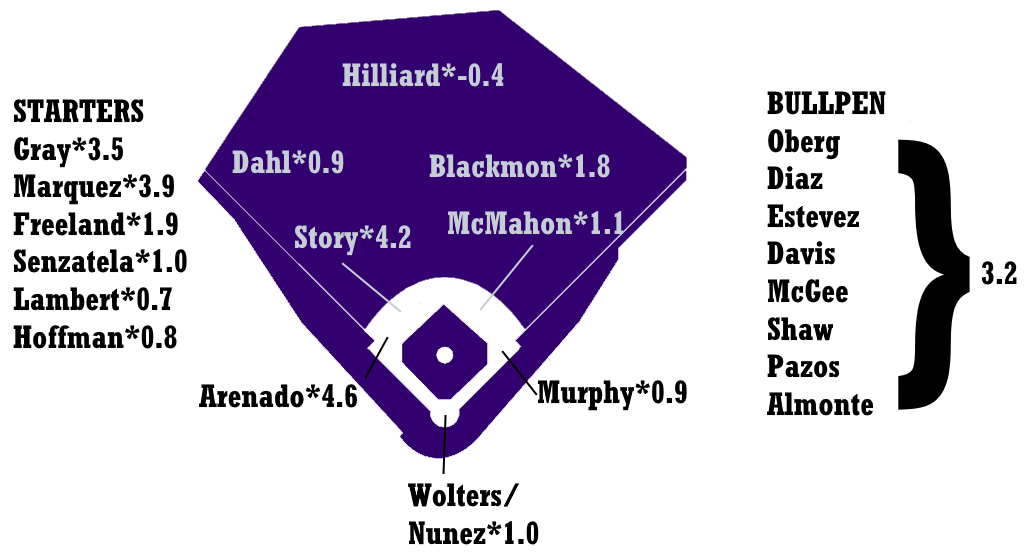 Ballpark graphic courtesy Eephus League. Depth charts constructed by way of those listed here.
Players are listed with their most recent teams wherever possible. This includes players that are unsigned, players who will miss 2020 due to injury, and players who were released in 2019. So yes, if you see Joe Schmoe, who quit baseball to form a ska-cowpunk Luxembourgian bubblegum pop-death metal band, he's still listed here intentionally.
Both hitters and pitchers are ranked by projected zWAR — which is to say, WAR values as calculated by me, Dan Szymborski, whose surname is spelled with a z. WAR values might differ slightly from those which appear in the full release of ZiPS. Finally, I will advise anyone against — and might karate chop anyone guilty of — merely adding up WAR totals on a depth chart to produce projected team WAR.
For more information about ZiPS, please refer to this article.
Dan Szymborski is a senior writer for FanGraphs and the developer of the ZiPS projection system. He was a writer for ESPN.com from 2010-2018, a regular guest on a number of radio shows and podcasts, and a voting BBWAA member. He also maintains a terrible Twitter account at @DSzymborski.