A year ago tomorrow — Wednesday, October 3, 2018 — Liam Hendriks started the American League Wild Card game for the Oakland A's. Twenty-five pitches and one Aaron Judge home run later, Hendriks hit the showers with his team down 2-0. Three hours after that, the rest of his teammates joined him there. Tonight, the A's will play in a one-game playoff for the third time in six seasons, and though Hendriks won't be starting, he's a big reason his team has a chance to prove an old saying true tonight.
"He's really been one of our MVPs," said Scott Emerson, the A's pitching coach. "Last year, it was Blake [Treinen], and this year it's been Liam. Last year when he got sent out [to Triple-A in early April], he really transformed his body and got into the long-toss program. That transformation came with a change in mindset and in approach. It didn't hurt that the velo spiked, and the breaking ball got a whole lot better, too."
The results have been spectacular. Hendriks was an All-Star in July for the first time in a nine-year career, bringing a 1.22 ERA and 2.06 FIP into that game, and his numbers since the break were, if anything, even better: a 1.60 FIP and a 45.7% strikeout rate. More to the point, he's found success in the second half without also carrying the 89% strand rate and 0.17 HR/9 mark that led doubters to write off his first half as a run of good luck for an otherwise average pitcher. After the break, Hendriks stranded just 78% of baserunners and allowed 1.08 HR/9 — both much more in line with his career numbers of 70% and 1.04, respectively.
And Hendriks views even that somewhat elevated strand rate as wholly explicable.
"I used to be really slow and give up a lot of stolen bases," he told me. "And teams would bring it up with me every year, and I'd always said I'm not that bad, I'm not that bad. Then I looked at the video, and I was like … yeah, I'm pretty bad. So I worked on it in spring training and it's really been a big thing for me. I've been changing my timing, I've been picking over in different counts, I've been mixing slide-steps in. I think that's been a big part of this year. If you give up a single, and he gets to second base running, a single scores him. Now, that doesn't happen as much."
There's also, of course, the simple matter of Hendrik's pitches being, well, better this year, and better-placed. Last season, as Jake Mailhot noted in July, 30% of Hendriks' breaking balls ended up outside of the zone, which meant that those pitches only generated strikes (called or swinging) about a quarter of the time, as batters learned that if they laid off they'd often earn a ball. This year, things were different. Instead of nibbling at the corner of the zone 100% of the time with breaking pitches, Hendriks threw either inside the zone or well out of it: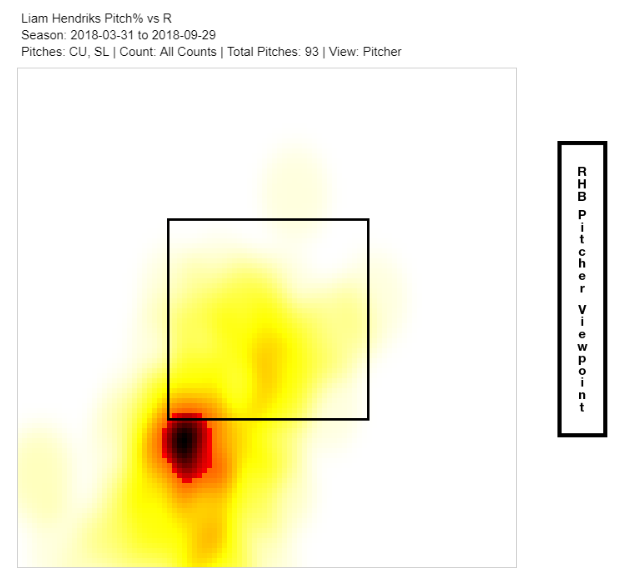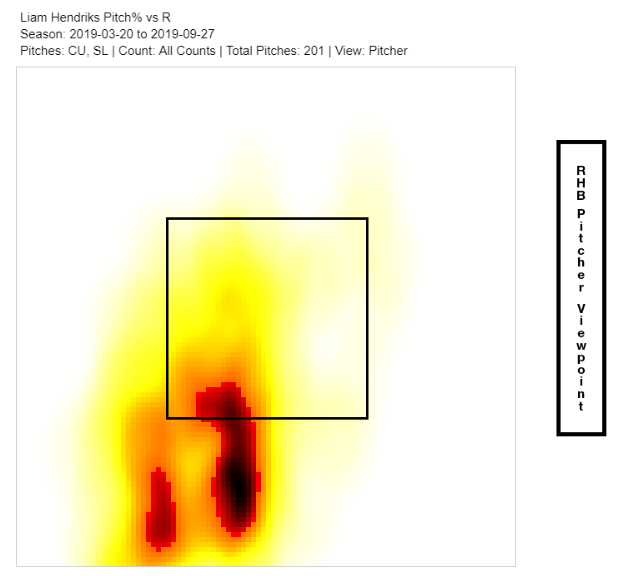 It seems to have made a difference. After lighting Hendriks up for a .312 wOBA over his career and a horrendous .360 mark last year, righties put up just a .184 wOBA against Hendriks in 2019. He improved against lefties, too, though not nearly as much. "I think he's been doing a good job of landing his breaking ball a little bit inside the strike zone this year," said Emerson. "So when it's down hard and away, especially to righties, he gets a few more swings and misses. Last year, when they swung, they missed it often. But they didn't swing that often, because he was bouncing them. This year, he's forcing the action a little bit more by getting them to guess."
It doesn't hurt that the other pitch batters saw from Hendriks this year was a four-seam fastball way up in the zone, and that that pitch gained something like an extra mile per hour of velocity between 2018 and 2019. It now sits at 96, occasionally touching 98 and 99, and it's devastating in combination with his breaking pitches. "If you can locate a breaking ball down and change eye levels up, it changes everything about the at-bat," Hendriks said. "And it means that four-seam fastballs up seem to be the way to go. You get weak contact, and when they do put it in play, it's a popup or a weak fly ball. Seems like last year the trend was a bunch of guys with good sinkers getting it done, and this year it's a bunch of guys with four-seam fastballs up."
With Blake Treinen regressing badly from a standout 2018 and Lou Trivino, too, struggling to maintain his 2018 form, Hendrik's success has been critical to Oakland's run to the Wild Card game. The A's bullpen, which last year trailed only the Astros in the American League with a 3.37 ERA, has regressed to fourth place and a 3.92. It could have been an awful lot worse had Hendriks not put up a 1.80 ERA and 1.88 FIP. And if, early in the season, you could hand wave away his performance by pointing to his abnormally low home run rates and career-high strand rates, the second half has brought with it regression to the norm on both of those figures but no meaningful decline in his overall performance.
Let's not get ourselves too excited, of course. Hendriks is a 30 year old with a career 4.22 ERA and a 3.56 FIP. You'd want to see him keep up this performance for at least another season before declaring him something other than what he has been for much of his career, which is a middling to adequate middle reliever. If you wanted to be a little less reasonable and a little more exuberant, though, you might see him for what he is right now, as well: A man in his prime who just finished up the best year of his career doing the thing he does best. We don't know for sure if he'll take the mound for Oakland tonight. But I hope he does. I want to see what comes next.
Rian Watt is a contributor to FanGraphs based in Seattle. His work has appeared at Vice, Baseball Prospectus, The Athletic, FiveThirtyEight, and some other places too. By day, he works with communities around the world to end homelessness.