As you've no doubt heard, we're living in a golden age for position players pitching. Don't believe me? Read the copious articles written about it in the past few years. At this point, you know the broad strokes of the genre. You know that position players are pitching a lot more often these days. You know that it's funny because they're not that good at pitching, but also funny because they're not as bad as you'd think.
It's gotten so common, so normal, that less than a week into the 2019 season, we've already had a game where position players pitched on both sides. That game had a little bit of everything: John Ryan Murphy was terrible, allowing seven runs in two innings. Russell Martin was perplexingly effective, setting the side down in order in his one inning of work to close out the Dodgers 18-5 win over the Diamondbacks. He was the first full-time position player to close out the ninth inning of a game since 1963.
There was one thing missing from that game, though — neither "pitcher" recorded a strikeout, and strikeouts have been, in my opinion, criminally under-reported in all the coverage of position-player pitchers. Those embarrassing-but-not-that-embarrassing pitching lines? They were compiled against real, honest-to-god major league hitters (and also occasionally pitchers pretending to be major league batters). We all know that position players pitch well enough to occasionally get strikeouts, and that's a pretty great fact. Take a minute, though, to consider this: the pseudo-pitcher's small triumph is also the batter's great failure. He just struck out, the most miserable feeling in baseball, and he did it against a guy who's out there goofing around.
In 2018, position-player pitchers struck out 22 batters. On the one hand, that doesn't sound like a lot, but on the other hand — that's a lot! Still, though, not all of these strikeouts were created equal. There's a lot of distance between Gerrit Cole striking out against a utility infielder and Eugenio Suarez going down on strikes against a backup catcher. I wanted to chronicle this, because in a year there might be too many strikeouts for it to be interesting or too few to devote an article to. I sat down and watched all 22 strikeouts and separated them into tiers of embarrassment. These guys might be multi-millionaires. They might be unfathomably strong and coordinated baseball machines, but sometimes they mess up the easiest tasks. They're just like us. Who couldn't relate to that?

Tier Zero: Two Fish Out of Water
Victims: Gerrit Cole, Alex Wood
These two strikeouts barely count as embarrassing. Cole has struck out 38% of the time he's batted in his career, Wood 53% of the time. If anything, there's probably a mutual understanding in this pitcher-batter confrontation. "Hey, that thing you're doing? I'm great at it! Terrible at this part, though." Still, you hate to look this overmatched on a 79 mph fastball:
Even at Tier Zero, if you strike out against a position player, you might make this face: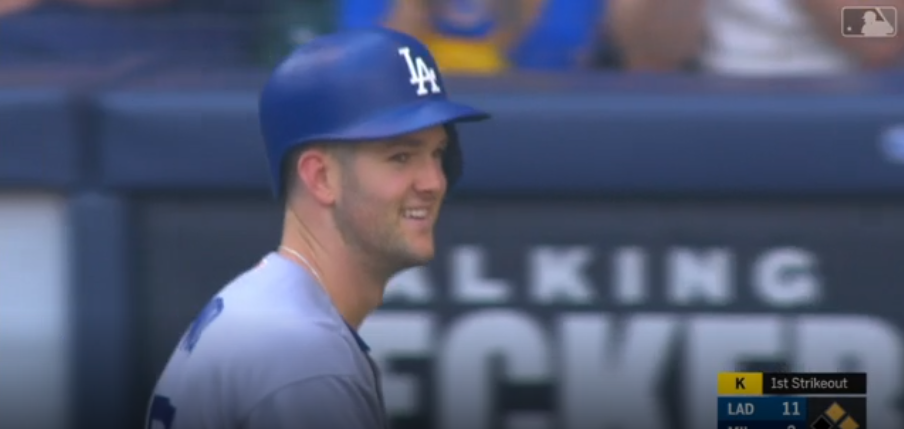 All things considered, though, this is fine. They won't be losing sleep over these whiffs. Cole pitched a shutout and Wood got a win. Life's too short to worry about little defeats.
Tier 1: This Guy Should Pitch!
Victims: Jose Briceno, Roberto Perez, Brandon Guyer, Rougned Odor, Giancarlo Stanton
We're going to end up talking about Matt Davidson here. But first, despite the circumstances, none of these five hitters should feel too embarrassed. Briceno struck out on a 93 mph fastball on the corner. Perez waved at a 91 mph fastball; Guyer at a curve that caught the top of the zone. Maybe these don't qualify as great major league pitches, but they're passable. In Davidson's case, though, they suggest something else. He looked good enough on the mound that he worked on his pitching this offseason, and the Rangers are going to let him pitch more this year. He got Odor on a 79 mph changeup that wouldn't look out of place coming from a middle reliever. The Stanton strikeout, though, was his piece de resistance. Just look at this face: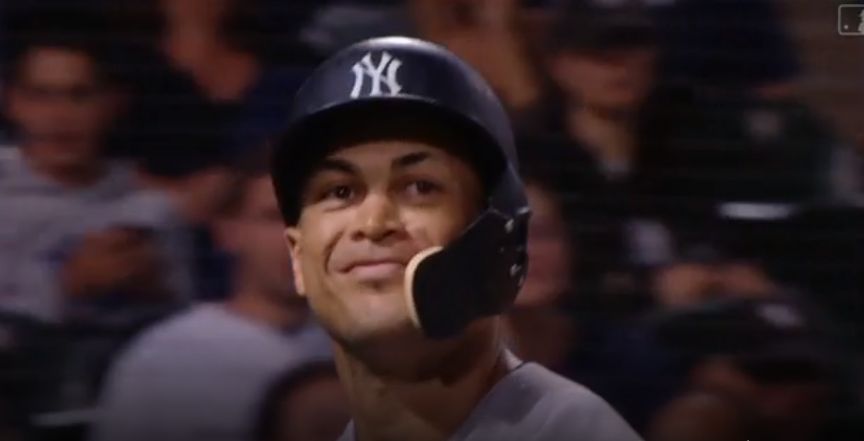 When you leave Giancarlo Stanton looking like that, something has either gone very right for you or very wrong for him. In this case, however, I think we can give Davidson credit rather than blaming Stanton. After all, this was the curveball Davidson threw:
I ran the numbers, and among 2018 pitchers, Davidson's curve most resembles those of Hyun-Jin Ryu and Mike Fiers in terms of velocity and break. No one makes a viral GIF when you strike out against Hyun-Jin Ryu; striking out against Hyun-Jin Ryu is a thing that happens. These five hitters are in the clear — no real need to be embarrassed.
Tier 2: This Game's a Blowout, Let's Go Home
Victims: Eugenio Suarez, Joey Gallo, Paul DeJong
You know how umpires can have a wider strike zone in a 3-0 count? This is basically an extreme extension of that. At the point in the game when these at-bats occur, the outcome is largely decided. Batters have an understanding of the major league strike zone, but there's no guarantee that umpires will use a regulation zone in garbage time. At some point, everyone just wants to go home. The current batter might not be on board, but everyone else is probably about ready to be done with their day of work. If you strike out looking at a pitch that's definitely out of the strike zone, how bad can you really feel? You did your job correctly! The umpire was probably just tired of crouching out there. Take a look at this Paul DeJong strikeout:
DeJong's brain has already processed that he should throw his bat back towards the dugout and take his walk before he hears the strikeout call. It's hard to argue with him on that one — that's a ball for sure. Joey Gallo took it a step further with some demonstrative body language:
I posit that no one has ever wanted a machine-called strike zone as much as Joey Gallo in that exact moment.
Still, this is yet another category in which the batter won't feel too bad. Everything in their hitting software worked as planned. They can move on with their lives — they're definitely going to win the game, and now they're one out closer to getting done with work.
Tier 3: Curveballs are Hard to Hit!
Victims: Gerardo Parra, Rhys Hoskins, Tucker Barnhart (ish)
Here's the thing. Position players are objectively bad at pitching. Batters are objectively good at hitting. But that doesn't mean you can hit a ball that's nowhere near the strike zone. You can fault yourself for swinging, but after you made the decision to swing, that was it.
You can wonder why he swung here, but Gerardo Parra was never hitting this pitch, no matter who threw it:
We've moved squarely into territory where people are going to tease you, but not in a truly devastating way. If you didn't know that was a position player on the mound, nothing would look weird about that pitch. A batter was trying to protect with two strikes, and the pitcher took advantage. Hoskins fell victim to the same fate. Barnhart is hard to categorize, but I threw him in here because his strikeout fits the same general idea. Chris Gimenez sits around 64-66 with his fastball, which is just a fun sentence to type. He reached way, way, wayyyyyy back and threw Barnhart an 85 mph fastball on the corner. There's just no way to get used to someone adding twenty miles an hour to their fastball mid at-bat. That's Space Jam territory — in real life, it's hard to fault Barnhart for being a little slow on it.
Tier 4: You Swung Through THAT?!?!
Victims: Paulo Orlando, Franklin Barreto, Christian Vazquez, Hernan Perez, Isiah Kiner-Falefa
I'm not going to sugarcoat it. If you're in this tier, you done goofed up. The vast majority of pitches that position players throw aren't the kind the previous victims listed here struck out on — breaking balls and major-league fastballs and pitches outside the zone that umpires gift out of empathy. Most of the pitches position players throw are just meatballs. They don't break, they're not fast, they aren't deceptive. Isiah Kiner-Falefa is absolutely hearing about this in the locker room:
Not one of his finer swings. As the Twins broadcasting crew remarked, "That ends it… but at least it's ended."
Not all of these hitters swung through a 58 mph pitch, but they all swung through mid-70s pitches in the strike zone. Paulo Orlando seems surprised he missed the ball, though with a wRC+ of 2 in 2018 (albeit in limited opportunities), maybe he shouldn't be:
If you strike out like this against a position player, your teammates are going to remind you of it. These are essentially batting practice fastballs, only you're supposed to try a little harder during the actual game. You can expect some good-natured ribbing, though it will be tempered by the fact that you just won in a blowout. Still, you should feel embarrassed. That wasn't a good pitch you struck out on.
Tier 5: Memes for Days
Victim: Jose Ramirez
Now we're getting to the good stuff. Whatever you do against a position player, don't do this:
I don't even know where to start. Jose Ramirez was amazing last year! He put up 8 WAR. He only struck out 11.5% of the time, for goodness sake. Everything about this swing is just amazing. Look where his knee ends up. Look where the bat goes. Look at everything! That's how you go from this face (mood: apex predator, medium-rare steak, winning)…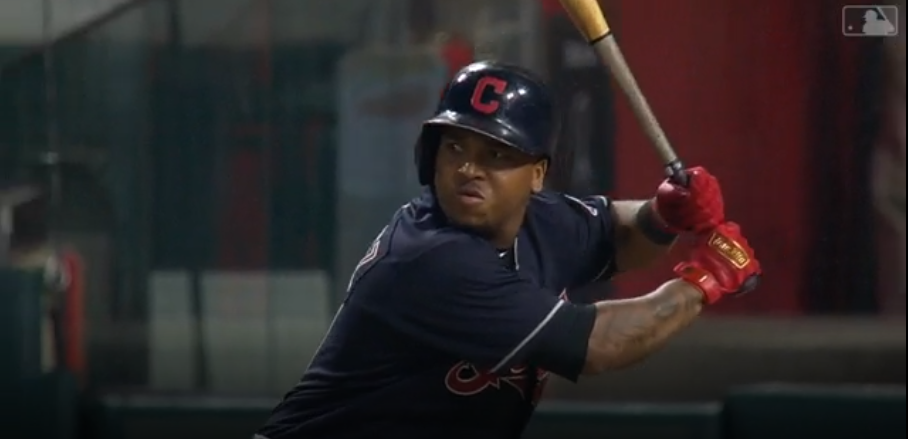 … to this face (mood: banana peels, the Hindenburg, desolation):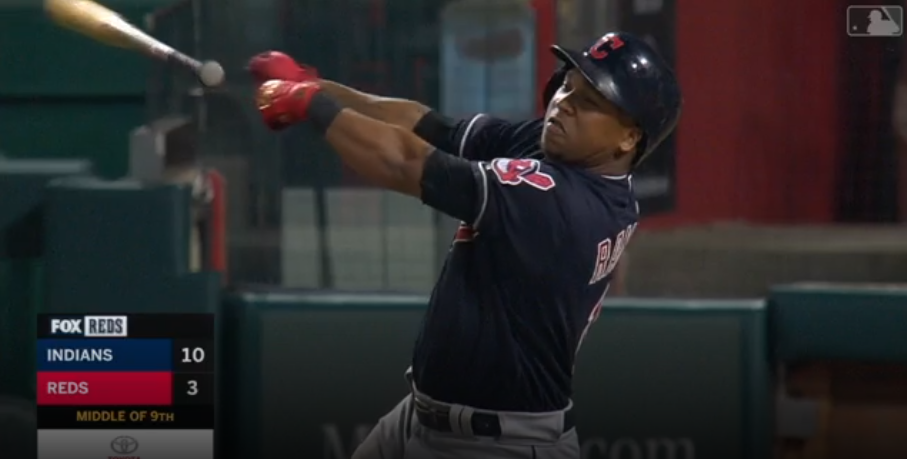 I've never met Jose Ramirez. I've never even been to Cleveland. I'm very much speculating from afar. But I can pretty much guarantee you that his friends on the club still make fun of him for this one. Sheesh.
Tier 6: Hey, Buddy, This Game is Close
Victim: Carlos Asuaje
Jose Ramirez struck out, and it was hilarious. It was also in a seven-run game with three outs left. The entire reason it's funny is because he's very good and the physical action he performed was very bad. There were no game implications. Heck, maybe he was thinking about what he was going to watch on Netflix that night, then belatedly remembered to swing. Jose Ramirez might have actually made the Indians better with that swing, because he created a light-hearted moment the team could turn to when they were sad.
Carlos Asuaje … did not do that. This was a 3-3 game, and at this point in the calendar, the Diamondbacks were in first place in the NL West. The Padres were out of it, but it's always fun to beat good teams, and the outcome of the game was very much in doubt. Striking out against a position player is always a little embarrassing, but doing it when it matters? Oof:
It's hard to imagine much of a silver lining to that strikeout. Asuaje was in a great position to help his team — he was batting in extra innings, and he got to face Jeff Mathis, who is, in fact, a catcher. This is the thousand-yard stare of despair you unleash after striking out against Jeff Mathis in a competitive situation: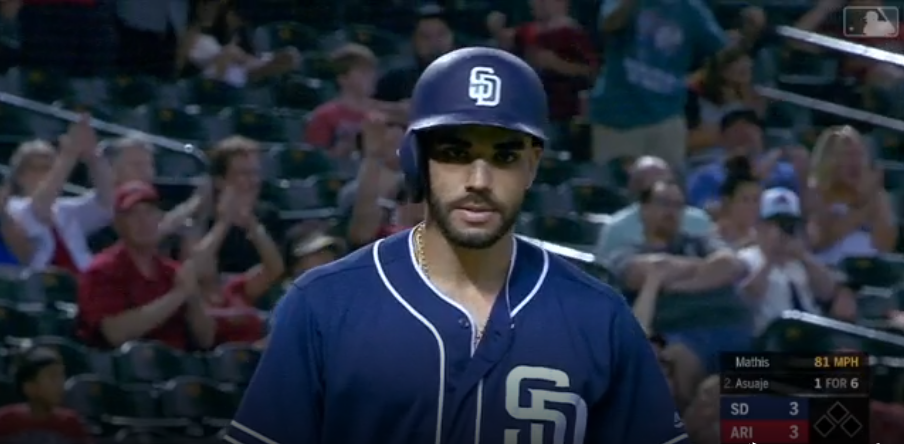 I'll be honest — I'm not really sure how the teammate teasing works when it's an important at-bat. It's all well and good to laugh at your friend for making a silly mistake when you're up ten runs. When they might cost you the game with their screw-up, though, it's fraught territory. Fortunately, Wil Myers hit a home run immediately after Asuaje struck out and the Padres won. Otherwise, it would have been an uncomfortable bus ride home.
Tier 7: Twice? Twice.
Victims: Austin Barnes, Austin Barnes
One unfair thing about striking out against a position player is that it's a momentary lapse. Maybe you forgot to swing, maybe your mind was somewhere else — it doesn't matter, it happened and everyone is going to mock you for it. For a single mistake! I put on mismatched socks this morning, and no one said anything. We make little mistakes all the time. Austin Barnes struck out looking against Erik Kratz, and on a freeze frame it sure looked like a normal baseball play: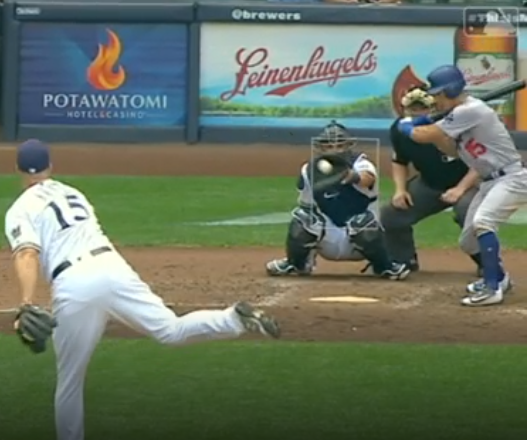 That's a strike, no doubt about it. There's no framing required — it's solidly over the plate. If I didn't tell you that the pitch was an 80 mph fastball, you'd think it was just a normal at-bat. It was still embarrassing for Barnes, obviously. Erik Kratz is not a major-league pitcher. He throws the ball up there for you to hit it. Still, the Dodgers were up nine runs. Everyone in the dugout was going to have a little laugh, but Austin Barnes swings less than almost every other player in the major leagues. Eventually he was bound to get caught looking with a position player on the mound.
When it happens once, that's an accident; twice, as they say, is a trend. When the Brewers sent a different position player to the mound in a game ten days later, Barnes got an at-bat again. This was target practice — the first five batters had reached against Hernan Perez. The margin had ballooned to eleven. On a 1-2 count, Barnes did this:
Yikes. There's really no excuse here. Strike out once against a position player? Fine. It's not the ideal outcome, but bad things happen. Strike out looking on a hittable pitch? Okay, that's bad. That's definitely bad. Strike out looking twice, on no-velo, no-break pitches that didn't even paint the corner? Hernan Perez is literally up there trying to lob the ball into the strike zone. He wants Barnes to swing. There's no deception, no anything really. Truly, striking out twice in a season against position players is the top tier of futility.
…
The numbers aren't as bad as I thought. Think of it as the mental lapses or little screw-ups regular people make. Ten of the 22 batters have nothing to be ashamed of. Some of them even did a good baseball thing, taking pitches outside the strike zone. Hard to get too upset with someone for that. It's like missing a train because the train left early, or missing a right turn only to take the next one a block later and get to your destination on time anyway. No biggie! Most of the others were embarrassing but understandable. Sometimes you just miss! Who among us hasn't sent an email only to realize we wish we could have edited it a little more? That's swinging at a Daniel Descalso slider.
Then you've got your Jose Ramirez moments. Tripping and spilling coffee all over yourself, maybe, or walking into a big meeting with your fly undone. Your coworkers are going to mock you for these, but that's okay. A little workplace levity is nice once in a while. As for the Asuaje and Barnes tiers — I'll leave it to you to decide what regular-person errors those mirror, but I hope for your sake you don't make too many of them.
Ben is a contributor to Fangraphs. A lifelong Cardinals fan, he got his start writing for Viva El Birdos. He can be found on Twitter @_Ben_Clemens.