Adam Wainwright wasn't supposed to be pitching this season. After a 13-year run that had become increasingly injury-plagued since 2015, he was contemplating retiring at the end of 2018. His five-year contract extension, which had been paying him almost $20 million annually, was expiring at the end of the year and he had spent the majority of the season on the injured list with elbow inflammation. At 37 years old with a very successful and storied career under his belt, no one would have questioned him if he had hung up his spikes.
Wainwright returned to the mound for four starts in September and rediscovered his feel for pitching, even if his results didn't exactly match. He allowed 12 runs in just over 22 innings in the final month of the season despite posting a 3.21 FIP during that stretch. Instead of a last-minute retirement tour, those four games became the building blocks for his resurgence this year.
It turns out the Cardinals weren't ready to part with Wainwright either. They re-signed him to a one-year, incentive-laden contract with a $2 million base salary. With Carlos Martinez injured and then sent to the bullpen, Michael Wacha ineffective and also relegated to relief, and Alex Reyes not yet ready for prime time, the Cardinals have had to rely on Wainwright a little more than they were supposed to.
His season started off inauspiciously, as he posted a 4.82 ERA and a 5.18 FIP through his first 10 starts of the year. But his last seven starts, beginning with his outing on May 28, have been a return to form for Wainwright. He's dropped his ERA and FIP to 2.98 and 3.31, respectively, during this stretch, backed by some real improvements to his peripherals. He's struck out 27.8% of the batters he's faced during these seven starts, accumulating six or more strikeouts in each of them save one (an outing he was removed from with hamstring tightness). A lone start against the Cubs in which he walked seven — but still held them scoreless over eight innings — is inflating up his walk rate. Ignore those seven free passes and his walk rate drops from an okay 8.1% to an excellent 4.9%. His first start after the All-Star break was his best of the season, as he held the D-backs scoreless over seven innings, allowing just five baserunners while striking out seven.
As you might expect, much of Wainwright's recent success has been driven by his signature pitch, his curveball. Throughout his career, he would throw his big breaker just over a quarter of the time. But last year, he took a page out of the Rich Hill handbook and started throwing his curveball 37% of the time.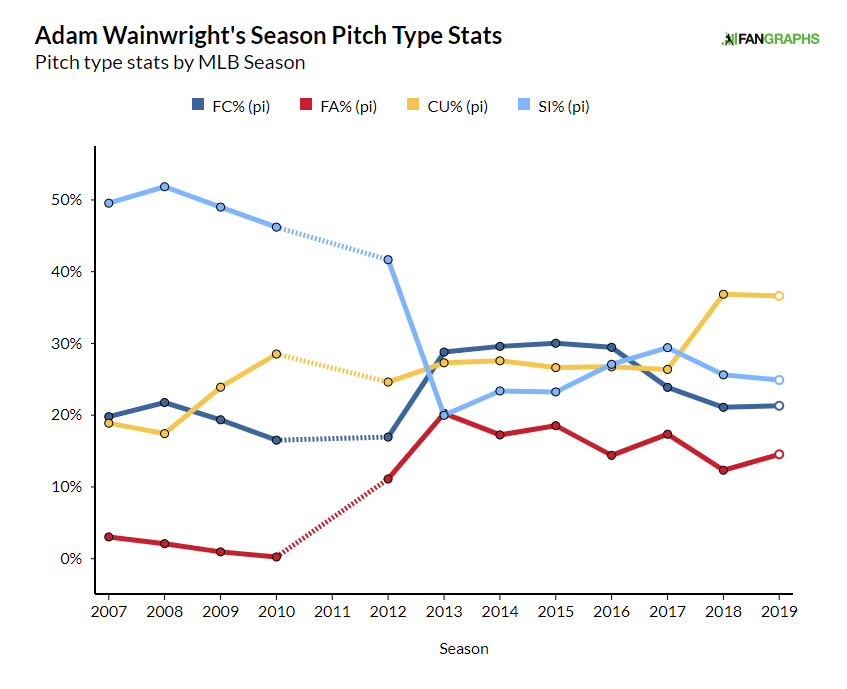 Rather than a traditional 12-6 curveball, Wainwright's has a ton of horizontal movement — the second-most in the majors according to the Baseball Savant pitch movement leaderboards. That's allowed him to generate plenty of whiffs with the pitch while still inducing groundball contact more than half the time when a batter puts it in play. With a fastball averaging just under 90 mph nowadays, leaning on his curveball more often seems like a great plan to leverage his best pitch for all its worth.
After a two-year dip in velocity, his curveball is back to averaging 75 mph again. And because he's throwing it more often, he's had to locate it in the zone to earn strikes. He's generating a swinging strike or a called strike on 34.6% of his curveballs thrown this year, a rate much closer to his heyday and an above-average rate for a major league curveball.
But his surge over the last month and a half has as much to do with his curveball as it does one of his other secondary pitches, his cutter. He dropped the usage of his cutter (along with his other two fastballs) when he started throwing his bender more often, but it's still an important pitch for him and he's finally leaning on it again. Between 2013 and 2016, Wainwright was throwing his cutter almost 30% of the time. His usage of the pitch has dropped since then to just over 20%. He started off the year with a similar usage pattern but it quickly dropped out of his repertoire as he struggled through the first part of the season.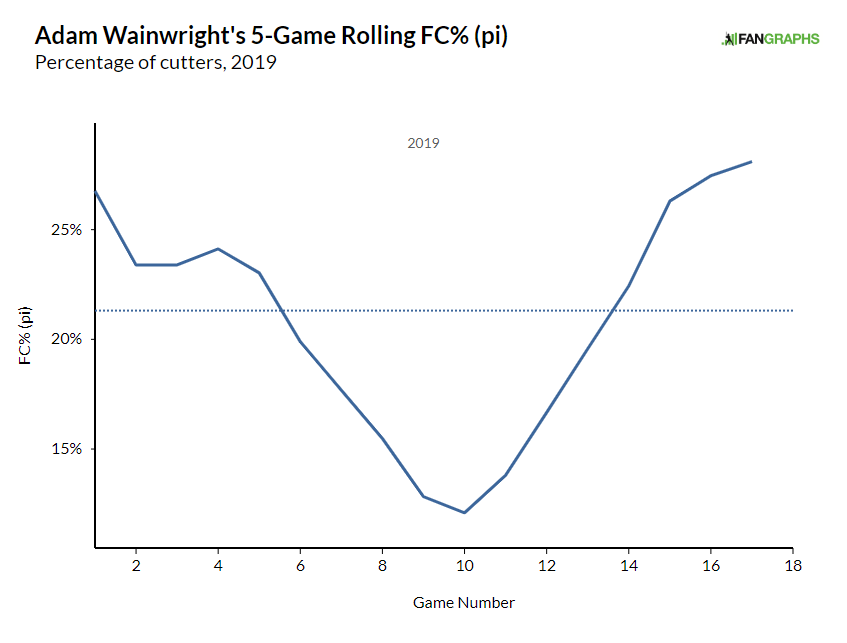 But on May 28, he threw it 20.7% of the time in his start against the Phillies, which marked the beginning of a renewed reliance on the pitch. Prior to that game, he was throwing it in even counts, or when the batter was ahead around 80% of the time. That usage pattern wasn't very effective at all. From May 5 to May 22, a period encompassing four starts, he accumulated just three whiffs total with his cutter, an ugly 7.1% swinging strike rate. Since May 28, he's run an 11.2% swinging strike rate with the pitch. That uptick in whiffs is likely due to him using it more often in counts where he's ahead and looking for a swinging strike.
He's also locating his cutter in more advantageous locations. The average vertical location of his cutter is at its lowest point since 2012, and it's a significant change from last year. This heatmap shows his cutter locations between 2016 and 2018 on the right and this season on the left.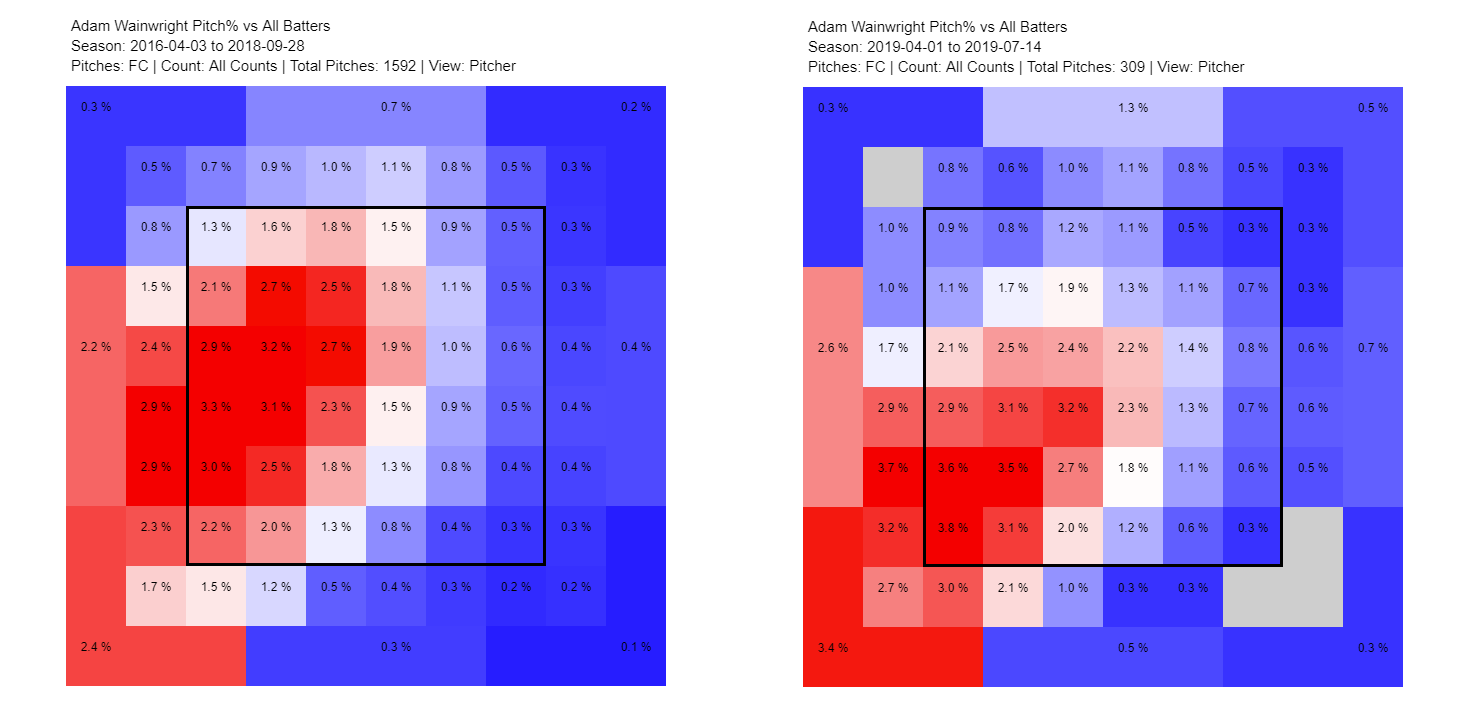 Since the NL Central is the most hotly contested division in baseball, and the two Wild Card spots are basically a toss-up between six or seven teams, the Cardinals need all the help they can get. Leaning on Wainwright to anchor their starting rotation probably wasn't in the preseason plan, but then, nothing goes according to plan in baseball. Wainwright's last seven starts have shown that he still has a little bit left in the tank, and he now has this summer and fall to write another exciting final chapter in his great career for St. Louis.
Jake Mailhot is a contributor to FanGraphs. A long-suffering Mariners fan, he also writes about them for Lookout Landing. Follow him on Twitter @jakemailhot.