It's been a strange couple of weeks for Francisco Cervelli. The 33-year-old Pirates catcher, who hasn't played since May 25 due to a concussion, was quoted as saying earlier this month that he was giving up catching due to the toll of multiple concussions, but on Saturday, he refuted that report. Either way, his career appears to be at a crossroads, and his situation serves to remind us just how vulnerable catchers are to such injuries.
Cervelli — whose surname means "brains" in Italian, hence the nickname "Frankie Brains" — began the season in a slump and was hitting just .193/.279/.248 when, in a game against the Dodgers, Joc Pederson's broken bat struck him in the mask:
The Catcher who can't catch a break. Francisco Cervelli takes a Joc Peterson follow swing to the head. Forced to Leave the game again. pic.twitter.com/XsEzuoDMBi

— Bob Pompeani (@KDPomp) May 26, 2019
He was placed on the seven-day injured list, and after undergoing several rounds of tests, wasn't cleared to resume baseball activities until late June. It was the sixth documented concussion of the catcher's 11-year major league career; he suffered one with the Yankees in 2011, two with the Pirates in 2017, and two last year. While he served primarily as a backup during parts of seven seasons (2008-14) with New York — a period that included a near-full season exile to Triple-A and a 50-game Biogenesis-related PED suspension — he's been the Pirates' primary backstop since arriving in a November 2014 trade for reliever Justin Wilson, one that rates as quite the heist given that Wilson's 1.5 WAR in his lone season in the Bronx (though Yankees general manager Brian Cashman did flip him to the Tigers for Chad Green and Luis Cessa, a move that's still paying dividends).
Indeed, Cervelli has blossomed in Pittsburgh. He hit a combined .270/.368/.384 (110 wRC+) while averaging 3.0 WAR per season over a four-year run (2015-18) as a starter. Thanks in part to his above-average work in framing pitches (21.2 framing runs during that stretch, including 20.8 in 2015), his 11.8 WAR for the period tied J.T. Realmuto for fourth among all catchers, behind only Buster Posey (20.1), Yasmani Grandal (19.6), and Tyler Flowers (12.8). Last year, after a swing change led to his hitting more fly balls, he batted .259/.378/.431 with a career-high 12 homers en route to 125 wRC+ and 2.6 WAR, marks that ranked fourth and fifth respectively among all catchers.
Those strong 2018 numbers came in just 104 games; Cervelli served two concussion-related stints on the DL, totaling 28 days, in late June and July, stemming from his taking a foul tip off his face mask on June 9. Though he initially passed the MLB-mandated concussion-related tests and returned to action on June 13, he reported symptoms to the club medical staff, and after being examined by an independent neurologist was placed on the seven-day concussion DL.
He hasn't been so lucky this year, the final one of a three-year, $31 million extension, and one can understand why he might be frustrated. On July 7, Dejan Kovacevic of the subscription-based DKPittsburghSports, reported that Cervelli told him he would cease catching in the wake of his latest concussion, saying, "That's enough. This time is different. I can't live like this." Per Kovacevic, Cervelli said he'd suffered additional concussions at different levels of the game, some from home plate collisions and three by being hit in the head by pitches. "I'm ready to do anything," Cervelli told Kovacevic of his plans to change positions. "Wherever I am in the field, I'm still catching the ball, right?"
While Pirates general manager Neal Huntington told Kovacevic that the team had discussed a position change with the catcher, he said that the team wasn't "ready to make a public statement" on Cervelli's status.
On July 12, via his own Instagram account, Cervelli refuted Kovacevic's report, writing in part, "Saying that I quit from my catcher responsibilities is inaccurate. My hope is to catch again."
Per the Pittsburgh Post-Gazette's Jason Mackey, Cervelli described what he believed to be an off-the-record conversation, one in which his words were either misquoted or mischaracterized: "On Sunday, I never said that I don't want to catch. That was a misunderstanding. It never came from my mouth. That's why I posted what I did [Friday]. It's very clear."
"I never had an official interview," he added. "If you come to me with your cell phone recording, that's an interview. We never had an interview… I believe if you do something more than one minute, you don't have a computer in your head. You're not going to use the right words."
Kovacevic stood by his report and suggested that Cervelli had changed his mind about his course of action, "Which is his right."
All of which makes for a strange sequence of events, but one secondary to the matter at hand: Cervelli's health. The catcher-for-now told Mackey, "I haven't felt normal in a long time. I don't [remember] normal. I'm not saying that I feel bad. You think the way you feel is normal, and it's not. I can be better than this. If I get to the goal that I set, I'll be behind the plate."
Unfortunately, catchers are especially vulnerable to concussions and subconcussive impacts due to foul balls, backswings, and collisions, which is of great concern given the long-term effects of such injuries. One need only look at the grim spectacle of former football players suffering from dementia, depression, and other symptoms induced by chronic traumatic encephalopathy, the repeated injury of the brain by blows to the head. While baseball can (and has) taken steps to reduce the number of collisions between players — though the recent one which concussed Jonathan Lucroy and fractured his nose while sending Jake Marisnick to a two-game suspension (and a retaliatory plunking) was particularly jarring — it can't prevent the multitude of foul balls off the mask that a catcher endures over the course of a season or career. Better equipment can help; a 2018 Duke University study found that hockey-style masks distribute the forces from such impacts better than other types of catchers masks, though the limitations of the study prevented any direct correlation to traumatic brain injury.
Using the Pro Sports Transactions database and the help of colleague Jeff Zimmerman, I found over 300 instances of documented concussions dating back to 2002; here I'll note that such injuries have no doubt been underreported and underdiagnosed, particularly before a 2011 change in MLB policy that I'll detail below. In an attempt to count the number of DL/IL stints attributable to such injuries, I vetted the list to exclude concussions for which a player was merely listed as day-to-day, and to avoid double-counting transfers from one list to the next (say, from the 7-day list to the 10-, 15- or 60-day lists); I did count September absences that were of similar severity (either season-ending or with an absence of at least seven days) to DL/IL stints. That winnowed the list to 200 separate absences, an average of 11.4 per year (counting 2019 as 58% of a season based upon the total share of games played). I assigned each affected player a primary position based upon his games played for that particular season, though I did lump all outfielders together. The results were unsurprising, but sobering nonetheless:
Catchers accounted for 35% of the documented concussion-related absences, sustaining more than all infielders combined, a relationship that holds even if I count pitchers in that group. Their count exceeded that of all outfielders combined as well. They also accounted for 18 of the 56 concussions (32%) suffered by players who were listed day-to-day and did not serve a DL/IL stint.
In 2011, MLB introduced both a 7-day DL specifically for concussions and a league-wide protocol for managing potential concussions and returns to action. Counting since that point using the same guidelines as above, there were a total of 168 such injuries, an average of 18.4 per year (again, with adjustment for the partial 2019). The same relationships held; catchers accounted for 37% of such injuries, a higher share than either the infielder/pitcher and outfielder groups. While the average for that period is higher — more likely due to an awareness of the issue and the existence of a protocol rather than a sudden epidemic that requires renewed levels of intervention — the year-to-year distribution is rather uneven: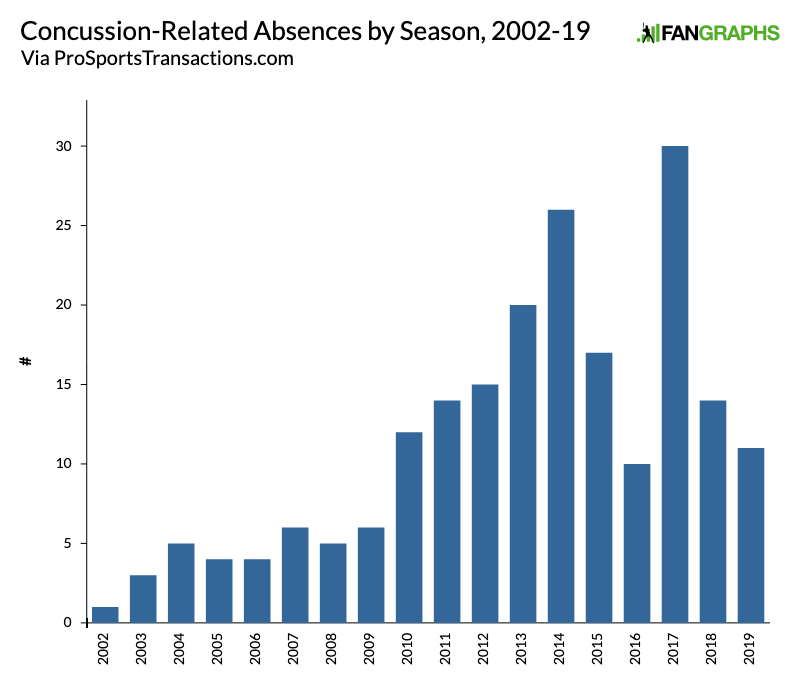 As it turns out, Cervelli's total of six documented absences due to concussions is the highest of any player. Since-retired catcher David Ross ranks second with five, while first basemen Brandon Belt and Justin Morneau each have four, and outfielder Denard Span three. Marrying up this information with counts of days missed via the subscription-based Baseball Injury Consultants database, Cervelli has missed 130 days thus far due to those injuries, which is more than Belt (126), Ross (111), or catchers Hector Sanchez and John Jaso (both 103), but well behind Morneau (252), second baseman Brian Roberts (203), or catcher Robinson Chirinos (192 — all of 2012). Not that this is a contest, or even a comprehensive comparison; it's just for illustrative purposes.
If Cervelli is indeed forced to cease catching due to the cumulative effect of his concussions, he'd hardly be the first. Jaso, Jason LaRue, Mike Matheny, Joe Mauer, and Jorge Posada similarly shed the mask due to concussion-related issues. Matheny (2004) and LaRue (2010) were both forced into retirement, the latter after suffering multiple kicks to the head by Johnny Cueto during a brawl, though that was merely the last of perhaps 20 concussions (his estimate) during his life to that point.
Posada, whose potential removal from catching I wrote about at Pinstriped Bible in February 2011, spent one unhappy season (2011) as a designated hitter, while Mauer spent five (2014-18) as a comparatively light-hitting first baseman, and Jaso three (2015-17) as an outfielder/first baseman/DH. Here it's worth noting that Posada's move was forced after just one documented concussion, suffered via a foul ball off his mask the previous September, for which he missed only two days; he later admitted that his results on two of the three imPACT tests — a comprehensive, computerized test measuring measuring attention, memory, processing speed and reaction time — administered to him during the 2010 season were subpar. Likewise, Mauer had only one documented concussion, in 2013; after his post-concussion symptoms lingered into the offseason, the Twins announced his move.
A similar reckoning for Cervelli may come, if it hasn't already arrived. He does have a bit of experience at other positions at the major league level: 13 games at first base, four at third base, and two at second, though the last two of those total only eight innings and two defensive chances. If he can handle multiple positions while approximating his career 104 wRC+, he might be able to extend his career as a reserve player, particularly in these days of 13- or 14-man pitching staffs and shortened benches. If he chooses to stay behind the plate, here's hoping he can stay healthy. The last thing Frankie Brains needs is another head injury.
Brooklyn-based Jay Jaffe is a senior writer for FanGraphs, the author of The Cooperstown Casebook (Thomas Dunne Books, 2017) and the creator of the JAWS (Jaffe WAR Score) metric for Hall of Fame analysis. He founded the Futility Infielder website (2001), was a columnist for Baseball Prospectus (2005-2012) and a contributing writer for Sports Illustrated (2012-2018). He has been a recurring guest on MLB Network and a member of the BBWAA since 2011. Follow him on Twitter @jay_jaffe.