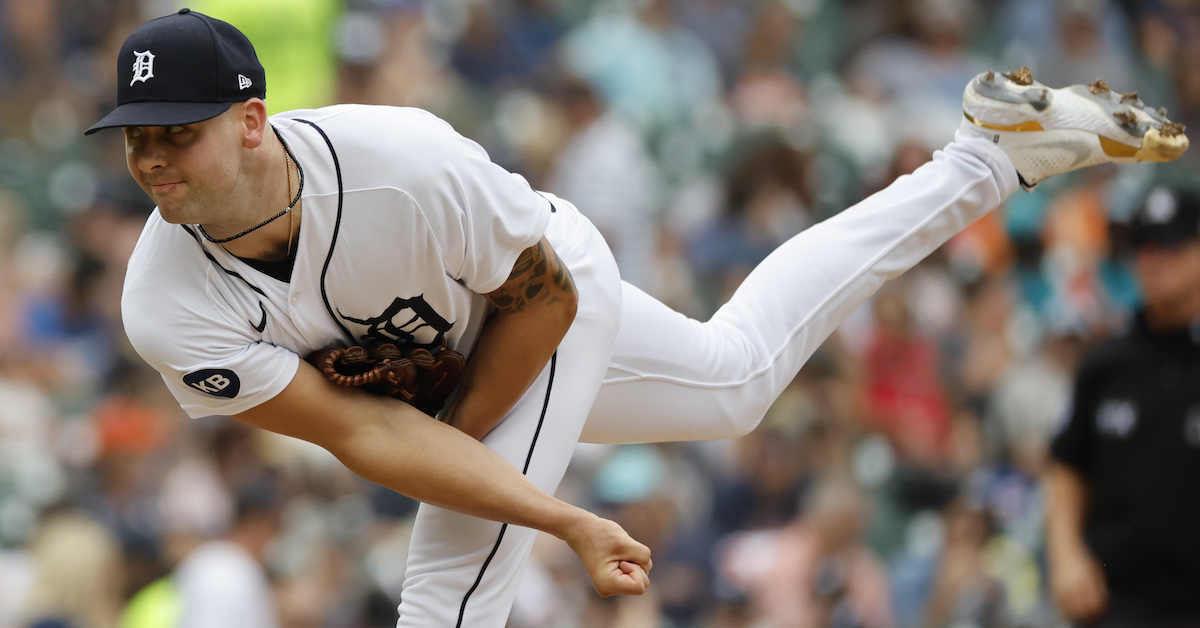 The role of the closer is diminishing every year, but it seems like no one told the Tigers. Only five different Detroit relievers recorded a save last season, tied for the lowest total among all 30 teams. Over the past five years, only 13 Tigers have earned a save. No other team has had fewer than 17 different pitchers save a game in that time; the Rays have had 35. In the last ten years, the Tigers have had only 28 players save a game, still the lowest total in the sport. The Rays, for comparison, have had 57 different pitchers record a save since 2013.
In part, this is because Detroit hasn't been very good. When save situations are few and far between, there is less need to spread around the closing opportunities. Yet it's not all about the wins and losses. For the past decade, the Tigers have had a go-to closer nearly every year. From veteran relievers like Joaquín Benoit, Joe Nathan, Joakim Soria, and Francisco Rodríguez to younger arms like Shane Greene and Bryan Garcia, the Tigers have shown a tendency to name a singular closer and hand him the ball in the ninth.
It seemed like this trend might finally have come to an end when A.J. Hinch took over as manager, but Gregory Soto recorded the majority of his team's saves in 2021 and prompted Hinch to name him the closer that October. In 2022, the Tigers had one of the deepest bullpens in baseball and easily could have opted for a closer-by-committee, but Hinch stayed true to his word. Soto earned 30 of their 38 saves and took the mound in the majority of save situations.
Of the many arms that gave Detroit's bullpen such depth, several have since left the organization. Michael Fulmer was traded to the Twins at the deadline. Andrew Chafin declined a player option and chose free agency. Joe Jiménez was dealt to Atlanta this December. Most recently, the Tigers sent Soto to the Phillies, leaving Hinch without an incumbent closer.
That's where Alex Lange comes in. Lange is set to play a major role in the Tigers bullpen after a breakout season last year, in which he appeared in 71 games and put up a 3.41 ERA. His ERA estimators were similarly impressive: a 3.25 FIP, 3.23 xFIP, and 3.29 xERA. He greatly outperformed his ZiPS projections, which saw him posting a 4.83 ERA in 44 games.
The secret to Lange's success was his curveball. He has been accused, in the past, of using his curveball like a crutch; in college, it was so devastating that it hid his flaws as a pitcher. It seems he decided to lean into that in 2022 and see if he could succeed with a curveball as his primary pitch, throwing it 48.8% of the time, far more than any other weapon in his arsenal. The year before, he threw a curveball for 39.3% of his pitches and a four-seam fastball for 45.2%. That's still a ton of curveballs, but there's a big difference between using a breaking ball as your go-to secondary pitch and turning it into your primary offering. Lange's unorthodox approach worked wonders: he held opposing batters to a .250 wOBA on his curve, and its 57.8% whiff rate was tops among those who threw the pitch more than 100 times:
Top Curveball Whiff Rates (min. 100 pitches)
SOURCE: Baseball Savant
Among full-time relievers last season, no one threw the pitch more often. Lange tossed 510 curves, 33 more than second-place Matt Moore. On a rate basis, he led qualified relievers in curveball percentage by a wide margin. Even if you drop the threshold down to 20 innings, only two pitchers, Joe Kelly and Dany Jiménez, threw curves at a higher rate.
Most relievers who toss that many curveballs are two-pitch pitchers — guys who pair their breaking ball with a heater and rarely throw anything else. Jiménez is a perfect example, as are the likes of Clay Holmes, Taylor Rogers, and Emmanuel Clase. Lange, however, was not a two-pitch pitcher. His curve was his primary pitch, and he used a sinker and a changeup as his secondary offerings:
Alex Lange's Pitch Mix (2022)
| Curveball | Sinker | Changeup | Four-Seam |
| --- | --- | --- | --- |
| 48.8% | 28.5% | 19.5% | 3.3% |
SOURCE: Baseball Savant
According to the pitch tracking data from Baseball Savant, only four relievers threw more curveballs than fastballs in 2022 (min. 500 pitches): Lange, Kelly, Scott Barlow, and Matt Barnes, who threw a grand total of seven more curveballs than fastballs. Had a few at-bats gone slightly differently, he might not be on this list at all. Barlow, meanwhile, is a different kettle of fish entirely. His primary pitch is a slider, which he complements with a curveball and a four-seam. Thus, out of 473 pitchers to throw at least 500 pitches, the only one with a comparable repertoire to Lange was Kelly:
Lange and Kelly Pitch Arsenals (2022)
| Pitcher | Curveball | Sinker | Changeup | Four-Seam |
| --- | --- | --- | --- | --- |
| Alex Lange | 48.8% | 28.5% | 19.5% | 3.3% |
| Joe Kelly | 51.9% | 38.0% | 8.5% | 1.6% |
SOURCE: Baseball Savant
Certain sources will categorize some of Kelly's curves as sliders or sweepers, but the comparison still stands. Like Lange, Kelly threw curveballs for most of his pitches, but he also had a fastball and a changeup that played essential roles in his pitch mix. Lange and Kelly also had similar results in 2022, aside from the latter's garish ERA — the result of a ridiculously high BABIP and low LOB%. Both Kelly and Lange are high-strikeout, high-walk guys who succeed by limiting home runs and hard contact in general:
Lange and Kelly 2022 by the Numbers
| Name | K/9 | BB/9 | HR/9 | HardHit% | xERA | FIP | xFIP |
| --- | --- | --- | --- | --- | --- | --- | --- |
| Alex Lange | 11.65 | 4.41 | 0.71 | 35.3% | 3.29 | 3.25 | 3.23 |
| Joe Kelly | 12.89 | 5.59 | 0.49 | 31.9% | 3.15 | 3.06 | 3.16 |
But the comparison between Lange and Kelly falls apart once you take a closer look at their individual curveballs. Kelly's curve has all the glamor stats. It was the fastest curveball in baseball last season, averaging 88.1 mph. It ranked in the 91st percentile for curveball spin (2,880 rpm) and had significantly more movement — both vertical and horizontal — than average. It moves, it spins, and it speeds; it's easy to explain why it's such an effective pitch.
Lange's version of the pitch, on the other hand, is a little more unusual. It's still fast, clocking in at 85.5 mph last season, but it's not otherworldly like Kelly's. Its spin rate is in the 13th percentile, its vertical movement is below average, and its horizontal movement is practically non-existent. In an era when "spin" and "break" are such popular buzzwords, Lange's curveball doesn't fit the mold — something he talked about with David Laurila ahead of his rookie season:
The spin efficiency [on my curveball] is anywhere from 45% to 55%, and when you think of a breaking ball, or a curveball, you're like, 'Nah, that's not very good.' The depth on it is negative-10 to negative-12 inches of vertical break, so you're like, 'Nah, it's not very good.' But when it's thrown hard with the spin axis being as close to six as it gets sometimes, that's where we're getting the swings-and-misses and takes on it.
Comparing Lange and Kelly also highlights another unusual quality of Lange's curveball. Take a look at these location heat maps: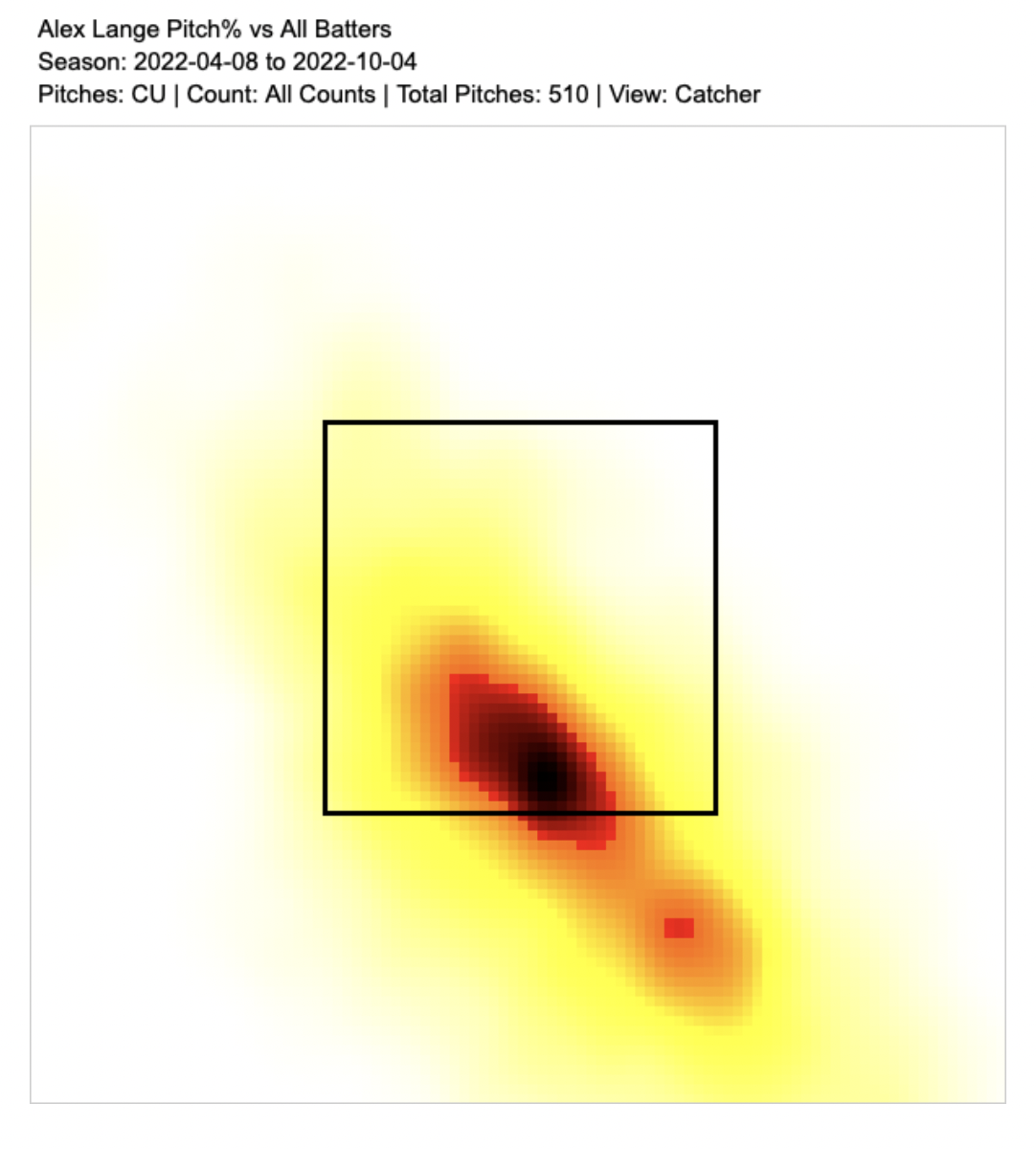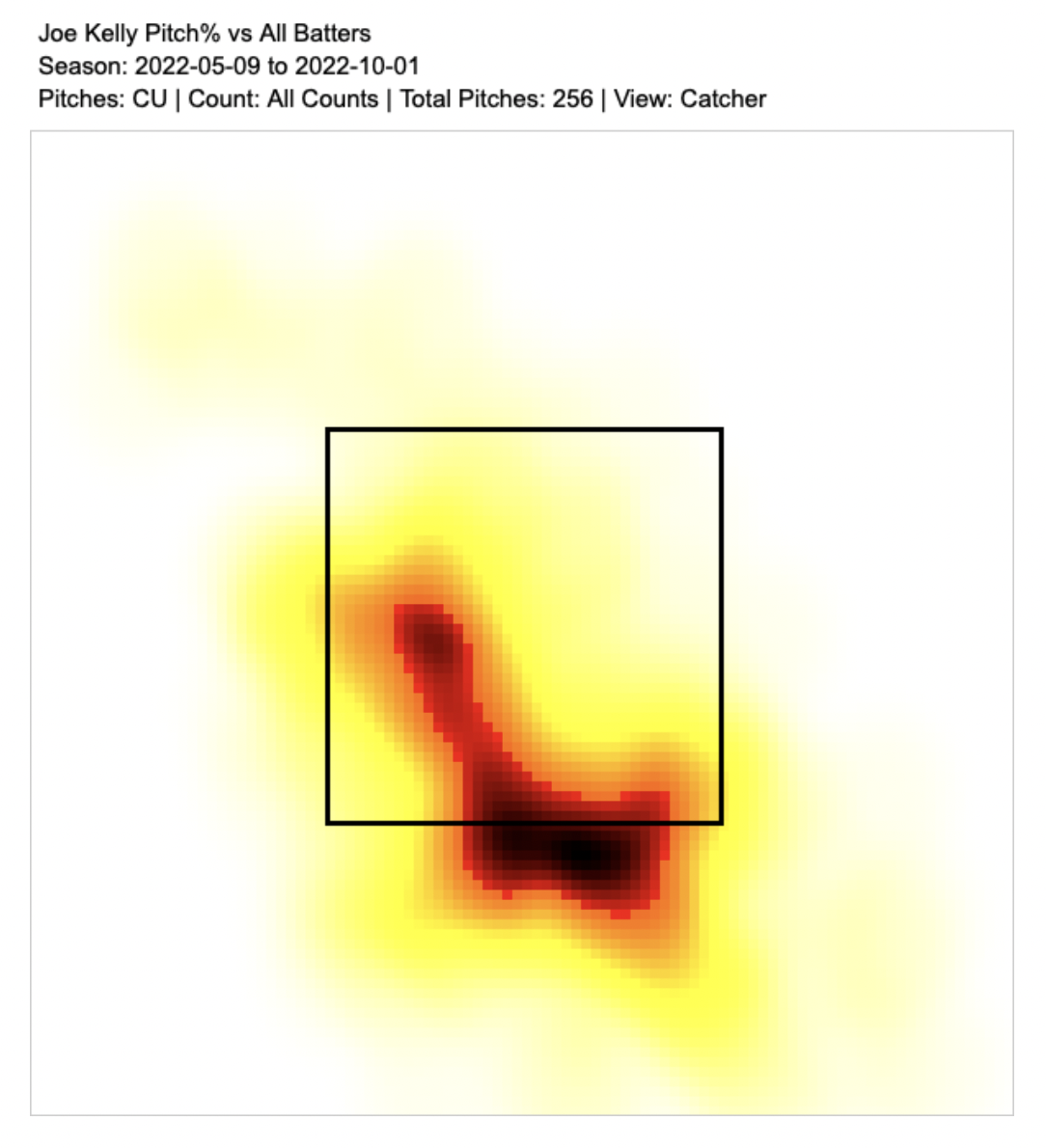 The patterns aren't totally dissimilar, but Lange's looks more like two discrete clumps inside and outside the strike zone, whereas Kelly's has a cluster toward the upper left and another along the bottom edge. The difference is more pronounced when you split up the heat maps into pitcher's and hitter's counts: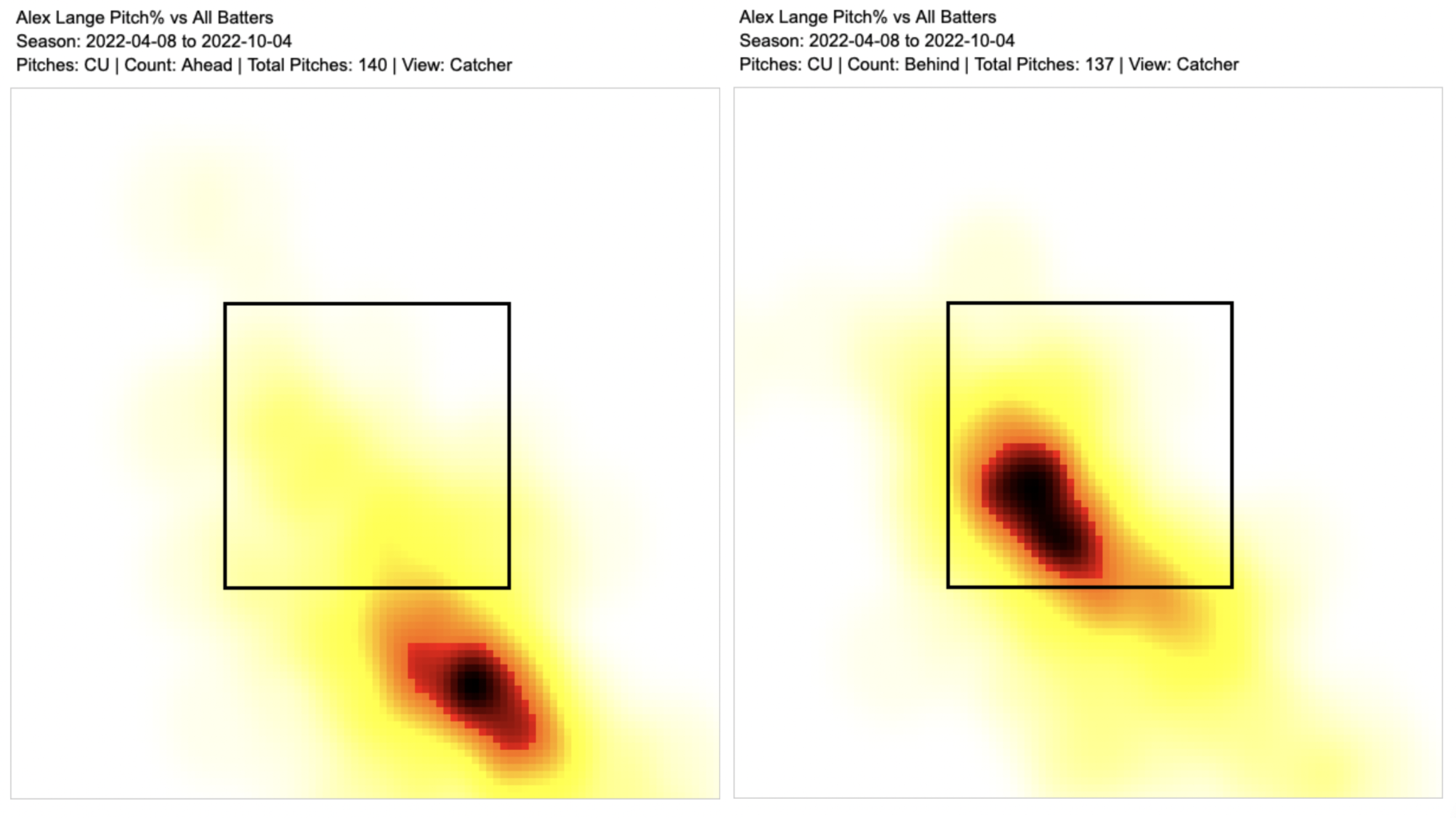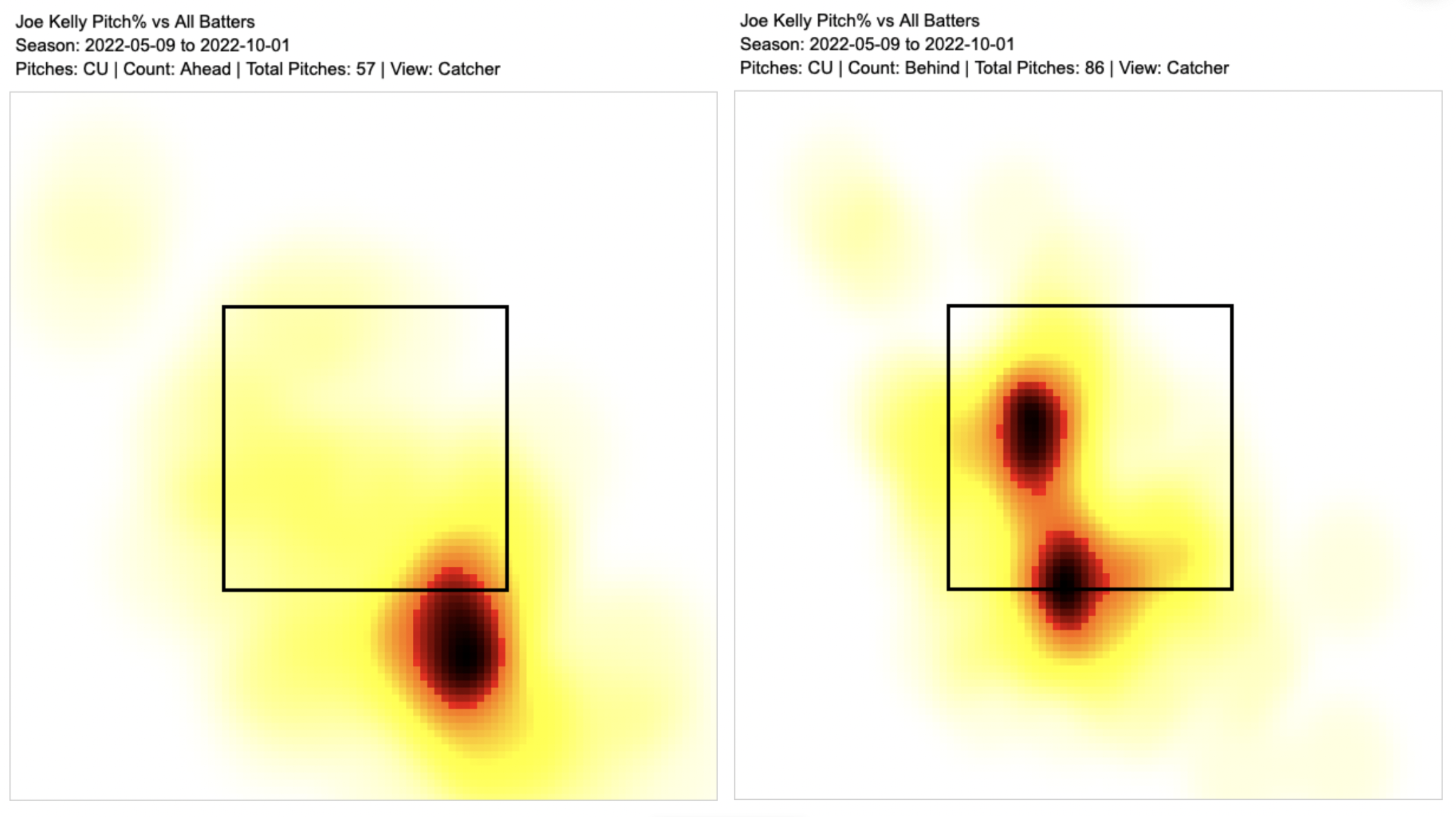 As you can see, Lange avoids the edges of the strike zone. When he wants to throw a strike, he throws it clearly in the zone. When he wants the hitter to chase, he makes sure to throw it way outside. His edge rate on curveballs was 37.8%; Kelly's was 46%.
There isn't necessarily an ideal edge rate. A low edge rate could suggest poor command on a pitcher's part, or it could indicate he has a high degree of confidence in where he locates his pitches. Either way, Lange's edge rate is noticeably low compared to pitchers who throw a lot of curveballs and pitchers who have a lot of success with curveballs:
Edge% for Top Ten Pitchers by CB%
SOURCE: Baseball Savant
min. 500 total pitches
Edge% for Top Ten Pitchers by Curveball RV/100
SOURCE: Baseball Savant
min. 100 curveballs
So why the low edge rate? As the heat maps demonstrate, Lange used his curveball to serve two different purposes. When he had the opposing hitter where he wanted him, he threw way outside to prompt a chase. When he couldn't afford to throw a ball, he threw his curve cleanly in the strike zone instead. That meant finding a way it could be equally effective as a first pitch, a put-away pitch, and everything in between.
Most pitchers use a fastball when they want to put one in the zone, and that's what Lange did two years ago. Indeed, his success that year relied on a four-seam fastball that closely mirrored his curveball, so opposing batters never knew what they were looking at. But in 2022, he decided to worry less about tricking his opponents and instead just threw his best pitch more often, trusting that hitters wouldn't be able to keep up. The results speak for themselves:
Lange's Curveball
| Situation | wOBA | SwStr% | CStr% |
| --- | --- | --- | --- |
| Batter Ahead | .313 | 20.4% | 25.5% |
| Batter Behind | .205 | 36.4% | 4.3% |
SOURCE: Baseball Savant
After so much success with his curveball-heavy approach, expectations for Lange are a whole lot higher this season. ZiPS thinks he'll have the lowest ERA on the Tigers and lead the team in appearances once again. If Detroit is planning to select a new closer — and history indicates that it will — Lange is the obvious choice.
Even as the significance of the closer diminishes throughout the sport, it's still a meaningful accomplishment to earn that title. With it comes increased name recognition, which could give Lange a sizable advantage when the Commissioner's Office (presumably) has to select Detroit's All-Star representative this summer. He was deserving of that nod last season, but Soto had the saves and the more famous name:
Lange vs. Soto
| Name | IP | K/9 | BB/9 | HR/9 | ERA | FIP | xFIP | WAR |
| --- | --- | --- | --- | --- | --- | --- | --- | --- |
| Alex Lange | 32.0 | 11.81 | 4.22 | 0.28 | 1.97 | 2.49 | 3.05 | 0.7 |
| Gregory Soto | 30.0 | 9.30 | 4.50 | 0.30 | 2.70 | 3.48 | 4.62 | 0.4 |
Stats through July 9, 2022
Beyond the attention and appreciation, becoming closer means higher-leverage outings for Lange. For the rest of us, it means finding out how his unorthodox approach plays in bigger spots and on a bigger stage. He has an unusual pitch mix, featuring an unusual curveball that he deploys in unusual locations and unusual situations. Some people will tell you that relievers are a dime a dozen in today's game, but there truly isn't anyone like Alex Lange.
Leo is a writer for FanGraphs and an editor for Just Baseball. His work has also been featured at Baseball Prospectus, Pitcher List, and SB Nation. You can follow him on Twitter @morgenstenmlb.