September call-ups, both high-profile and totally innocuous, have been trickling in over the transaction wire for the last several days. As always, there are some that will have real impact on the playoff race, some that are interesting for the purposes of player evaluation, such your usual spare lefty reliever and catcher (by far the most common types of September additions), and some teams with no new names at all. Below I've compiled notes on every player brought up by National League teams since the start of the month, no matter how inconsequential, and I slip some rehabbers and August 31st acquisitions in here, too. It's a primer for you to get (re)acquainted with players who might impact the playoff race or seasons to come.
Contenders' Reinforcements
Atlanta Braves — INF Johan Camargo, RHP Chad Sobotka, RHP Jeremy Walker, LHP A.J. Minter, RHP Bryse Wilson
Camargo didn't hit with the big club at all this year, not even in late July or all of August when he was handed pretty regular at-bats filling in for an injured Dansby Swanson. But he hit .483 over the few weeks he was down in Gwinnett after Swanson returned and Camargo was optioned. He'll be a versatile, switch-hitting bench piece for the stretch run, and he projects as that sort of premium bench player long-term.
Sobotka and Walker were optioned to make room for the multiple relievers Atlanta acquired at the deadline. Sobotka, who sits 94-98 with life and has a plus, 2900-rpm slider, posted a 16-to-2 strikeout to walk ratio at Triple-A since being sent down. You may see him pitching big innings this month. Walker has been throwing 25-pitch, 2-inning outings with three days of rest in between. He may be on mop-up or long relief duty.
Wilson ranks 5th in a top-heavy Braves system and 72nd overall among prospects despite a lackluster showing in a measly 20 big league innings. We're still on him as a No. 4 starter. Minter was disconcertingly wild during his big league time this year but he walked just one batter throughout all of August in the minors.
Los Angeles Dodgers — SS Gavin Lux, RHP Josh Sborz, LHP Julio Urias
Lux was ranked 23rd on our preseason overall prospect list and is currently ranked 9th. Josh Herzenberg wrote his call-up piece here, if you want to go deep on Lux's background. I'll be watching him throw this month. His arm has been of concern to scouts for a little while now, starting around the same time his offensive profile started to shift. I put a 40 on his arm during Fututes Game in & out. He clearly doesn't throw with exceptional zip, but he hasn't constantly short-hopped first base in a problematic way, either. It's probably not a long-term issue — this is a big offensive talent who will play somewhere up the middle, in all likelihood — but it might cost the Dodgers an out once in a while.
Sborz projects as a middle reliever whose short-term roster flexibility will likely see him shuttled back and forth from LA to Triple-A next season. Urias, back from a 20-game domestic violence suspension, seems like a candidate to piggyback with Kenta Maeda or one of the other staff righties with starting experience.
St. Louis Cardinals — SS Edmundo Sosa, C Andrew Knizner, 1B/OF Rangel Ravelo, RHP Junior Fernandez, LHP Genesis Cabrera, RHP Daniel Ponce de Leon, RHP Mike Mayers, C Joe Hudson
All hands on deck here as St. Louis' last 16 games are against teams currently in the playoff mix. Junior Fernandez (12th on the Cardinals list) may be huge down the stretch, if he can throw strikes. Upper-90s heat, a dastardly changeup that sometimes has 15-mph separation from his fastball, and a hard-cutting slider comprise a good relief repertoire.
Sosa (14th-ranked prospect) instantly becomes the best infield defender on the roster not named Kolten Wong. He projects as a utility man whose physical tools (55 bat, 45 power, 50 run and throw, plus defensive hands and actions) are undermined by a feckless approach at the plate (between 3%-6% walk rate at every level since 2016).
It's hard to see a path to September playing time for Knizner, who we still very much like as a prospect due to his ability to pass at catcher and make a lot of contact. He's currently ranked third among prospects in the system, and he'll be in the high 45/soft 50 FV mix for Kiley and I this offseason.
Ravelo will be a competent, right-handed bench bat who might be a superior situational option to other, more strikeout-prone bench bats like Tyler O'Neill, if the game state wants a ball in play.
Cabrera (ranked 10th) has been starting at Triple-A for the last six weeks, and he could act as a long relief option who enables St. Louis to turn the tables on opponents whose starting lineups rely heavily on platoon advantage against the Cardinals' all-righty rotation. Ponce de Leon and Mayers are long/mop-up options. Hudson is on his third organization in as many years as a depth catcher of repute.
Wild Card Impact
Washington Nationals — C Raudy Read, OF Andrew Stevenson, INF Adrian Sanchez
Read's kept hitting for power even after his early-2018 PED suspension. Per a source, his average exit velocities in the minors (about 89 mph) are way up above those of Washington's primary catchers (Yan Gomes is at 87, Kurt Suzuki at 85), but Read is often too aggressive at the plate for it all to play, and he's not nearly as good a defender as the other two. He should play late in games when Washington is behind to give the vets a blow, and also because he has a better chance of running into one and getting you back in the game.
Sanchez, who spent 10 years in the minors before finally seeing big league time in 2017, and Stevenson are both late-inning defensive replacement types.
Chicago Cubs — RHP Adbert Alzolay, UTIL Ben Zobrist
Alzolay pitched as a starter all throughout August, but unless he needs to fill in for Yu Darvish should his forearm issues persist, he'll likely pitch in long relief, perhaps in tandem with Tyler Chatwood. In his three previous big league outings, Alzolay threw his flat, tailing changeup much more than I expected given his pitch usage in the minors, but an 11-inning sample isn't all that telling. To me, his release point looks lower than it did before his injury, which might be hindering his ability to create depth on the breaking ball, which is why he's worked more with the change. But I don't have 2018 minor league release point data to know for sure.
There's now way of knowing what Zobrist will be capable of. He played about three times per week as he climbed the minor league ladder in August.
New York Mets — RHP Tyler Bashlor, LHP Daniel Zamora, UTIL Sam Haggerty, RHP Walker Lockett, OF Brandon Nimmo, C Tomas Nido
Zamora is a low-slot lefty who throws his breaking ball nearly 70% of the time. He struck out 33% of lefty batters he faced at Triple-A Syracuse this year. Bashlor will bump 97 or 98 on occasion, but Zamora, who sits 88, may end up pitching more big spots to due lefty scarcity.
Lockett made a few spot-starts with the big league team during the summer but he's barely thrown in games over the last month and may just be an emergency arm right now.
Haggerty, ranked 17th in the Mets system on THE BOARD, is a plus-running switch-hitter who can play all over the field. He's not likely to ever hit enough to be a regular at any one spot, so the role he plays this month is likely a clear glimpse of his future role.
Nimmo (bulging cervical disk) is a great skillset/handedness complement to Juan Lagares and his return from the IL, as well as Tomas Nido's (concussion) coincided with call-ups.
Milwaukee Brewers — RHP Taylor Williams, RHP Jake Faria, RHP Freddy Peralta, C David Freitas, INF Travis Shaw, 1B/LF Tyler Austin, OF Ben Gamel, RHP J.P. Feyereisen (trade)
Williams spent most of 2018 with the big club only to become more of an up/down bullpen piece this year. He's been 93-96, up to 97, at Triple-A. It's been a similar 2019 story for Faria, who is the Brewers' de facto September lefty addition because of his changeup. Peralta threw 63% of pitches for strikes during his four-game jaunt at Triple-A, helping him punch out 17 of the 29 batters he faced during that time. Hopefully his wildness has subsided and he can be a reliable bullpen option.
Freitas will wear his third big league uniform as the team's third catcher. Austin and Gamel provide an extra right- and left-handed bat, respectively, and each may be auditioning for the last spot on Milwaukee's would-be playoff roster. Shaw may be thrust into an everyday 2B role due to Keston Hiura's injury. There are some statistical indications that his 2019 struggles may be due to, or have at least coincided with, a swing change, as his launch angle (23 degrees) is way above his career norm (16 degrees), as is his strikeout rate.
Feyereisen has been languishing away at the upper levels since 2016, when he first reached Double-A with Cleveland. He had a significant statistical breakthrough this year, as his strikeout rate went up a whopping 15 percentage points (38% this year, 23% each of the previous two) before the Yankees traded him to Milwaukee. He'll sit 91-94 and touch 96 with huge spin for a fastball at about 2600 rpm, and with a relevant spin axis that helps create plus vertical movement. But Feyereisen remains wild, having only located about 40% of his heaters in the zone this year, per a source.
Arizona Diamondbacks — RHP Jimmie Sherfy, RHP Stefan Crichton, RHP Jon Duplantier, LHP Robby Scott, C Caleb Joseph, INF Kevin Cron, OF Abraham Almonte
Sherfy rehabbed at 90-91 in the AZL recently. Crichton is an interesting matchup guy whose delivery clearly makes righties uncomfortable. The armside run on his fastball sets up front-door sliders against them. Duplantier recently tumbled out of our top 100 and down the D-backs list because his stuff was down in August big league outings. Several teams were interested in lefty Robby Scott last December when the Red Sox DFA'd him. He hasn't had a great 2019, but he becomes the extra lefty for an Arizona bullpen that has worked Andrew Chafin (66 appearances, fourth-most in baseball) to the bone this year.
Cron is the type of hitter who mashes diluted September pitching. Arizona is probably hell-bent on letting Jake Lamb play as much as possible down the stretch, but the organization's proclivity for playing matchups might lead to more Cron at-bats late in the month if they stay in the wild card race. Joseph has been up and down this year and adds to the catching depth. Almonte is a classic fifth-outfielder type who had another great year at Triple-A.
Philadelphia Phillies — INF Phil Gosselin, C Deivy Grullon, RHP Nick Vincent, LHP Cole Irvin, OF Nick Williams
Vincent (fastball/cutter) and Irvin (four pitches) are two soft-tossers who'll join a bullpen already full of them (Philly has the fourth-lowest bullpen fastball velocity in baseball). This may be the start of Grullon's audition for next year's backup catching gig, or at least to be in next spring's mix. He has plus raw power but, despite his homer totals the last two years (21 dingers each), he actually doesn't lift the ball consistently.
Williams is redundant on a roster full of left-handed hitting outfielders, including Corey Dickerson, who is just a fully realized version of Williams. Gosselin, however, provides a righty bench bat on a roster that's very left-handed.
For the Purposes of Evaluation
San Diego Padres — RHP Ronald Bolaños, RHP Javy Guerra, RHP David Bednar, CF Travis Jankowski
Guerra, a converted shortstop who was part of the Craig Kimbrel return from Boston, is the big story here, and he may be an impact bullpen piece on the next contending Padres team. He's ranked 30th in a loaded system. Bednar (38th on the Padres list) and Bolaños (39th) both project as relievers for me long-term. Bednar has the better secondary stuff of the two, while Bolaños has better fastball control, he's throwing harder this year (I have him up to 99), and he's a little younger.
San Francisco Giants — RHP Kyle Barraclough, LHP Andrew Suarez, C Aramis Garcia, LHP Conner Menez, 1B Chris Shaw, RHP Burch Smith
The Giants have been collecting Quad-A types, 40-man castoffs, and reclamation projects in droves during the early part of their rebuild. It acts (or, maybe publicly, masks) as a lightning in a bottle strategy geared to winning right now, but really, they're cycling through Michael Reed, Connor Joe, Zach Green, Mike Yastrzemski, and Mike Gerber types of players, seeing who might stick or eventually tradeable. Players like this are often available at such little cost that, even if your hit rate is fairly low, just one long-term piece or trade chip for later makes it worth it to see if you can restore or tweak someone with talent that either plateaued on their previous team or was trimmed off an overcrowded roster.
You can see some of that in these September call-ups. Smith and Barraclough have both been good or sought after at various times during their careers. But, as relievers are apt to do, they have performed unevenly. Shaw is one of many slugging corner options who will either pass or fail the contact/game power trial near the defensive spectrum. Menez is a 2019 pop-up lefty with four pitches, including a fastball that plays due to its above-average vertical movement. Suarez and Garcia are the extra lefty and catcher, respectively.
Cincinnati Reds — RHP Matt Bowman, RHP Tyler Mahle, RHP Sal Romano, LHP Wandy Peralta, RHP Keury Mella, CF Brian O'Grady, INF Alex Blandino
Romano had been pitching in relief at Triple-A Louisville all season before the Reds started stretching him out late in July. Over a 10-game stretch as a multi-inning reliever, starter, or opener, Romano struck out 38 and walked 7 in 30 innings before he got shelled in a mid-August game against Washington and was put back in single-inning relief. He profiles as a mid-90s/slider middle reliever.
Mahle spent most of the year in the big leagues and, with a reworked repertoire and strike-throwing more in line with his minor league career mark, he's back to being the league-average sort of starter we envisioned when he was a prospect.
Let's watch to see if Blandino's swing gets tweaked now that he's around Turner Ward every day, if it hasn't been already. He's spent all year at Triple-A behind a deep group of infielders. Josh VanMeter has better handedness, and has hit against big league pitching, while Blandino's ability to play a passable short doesn't move the needle when Freddy Galvis and Jose Iglesias are around. He's still probably a long-term utility piece for this club.
Mella, 26, again pitched as a starter all year at Triple-A. He has a hard sinker that has been 92-96 and up to 98 in a starter role. He should be used as a fastball-heavy reliever going forward. His secondaries are not nasty enough to miss bats when they're not well-executed, and Mella doesn't have the command to execute them regularly, so I think he should just be attacking hitters with max-effort fastballs for an inning at a time. September might give us a glimpse of what that will look like.
O'Grady has had a great year at Triple-A, slashing .280/.360/.550 with 28 homers and 20 steals, albeit as a 27-year-old. He hits the ball hard (nearly 48% of his balls in play have left the bat at 95 mph or more, per a source) and in the air (a measly 30% ground-ball rate at Louisville this year), and he began seeing time in center field again after moving off the position halfway through 2017. This is an interesting toolset in an organization that may be better at helping hitters than it had been before, so O'Grady may at least be a late-blooming platoon bat of some kind.
Peralta (lefty) and Bowman (long relief) are bullpen depth.
Colorado Rockies — RHP Jeff Hoffman, LHP James Pazos, UTIL Pat Valaika, C Drew Butera, INF Josh Fuentes, OF Noel Cuevas
I'm not sure a month of starts will help us know anything concrete about Hoffman, who at times looks positively nasty, and at others gets hit around. This is his ninth trip, up or down, of the season. Pazos is the extra lefty, Butera is the extra catcher. Valaika is slashing .300/.355/.500 since he was demoted to Triple-A in the middle of July.
I think Fuentes is a 1B/3B/OF bench type with considerable righty power, a solid role player but not a regular. He hasn't hit for power this year, probably due to a hamate injury that caused him to miss several weeks during the summer. Cuevas is a fifth outfielder.
Miami Marlins — RHP Jose Urena, SS Miguel Rojas, Tayron Guerrero
All three are coming off the IL. Urena moved to the bullpen during his rehab and his fastball velocity spiked into the upper-90s.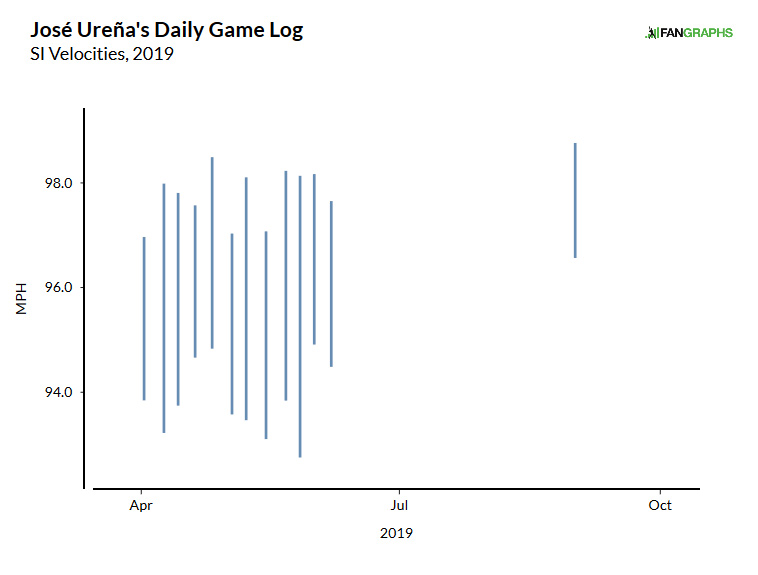 Pittsburgh Pirates — SS Cole Tucker, OF Jason Martin, C Steven Baron, RHP Yacksel Rios, RHP Clay Holmes, RHP Geoff Hartlieb, LHP Wei-Chung Wang
Tucker graduated off our prospect list as a 50 FV player, which encompasses some late offensive projection on our part. For the past two years he's been a relatively punchless, 94 wRC+ hitter at the upper levels, but he's such a great athlete with a promising frame that we think he may eventually hit for considerable power. Rios, Holmes, and Hartlieb are sinkerballing relievers. Wang, claimed off waivers on the 31st, is a three-pitch lefty bullpen piece with fringe velocity. Martin is a bench outfield prospect.
Eric Longenhagen is from Catasauqua, PA and currently lives in Tempe, AZ. He spent four years working for the Phillies Triple-A affiliate, two with Baseball Info Solutions and two contributing to prospect coverage at ESPN.com. Previous work can also be found at Sports On Earth, CrashburnAlley and Prospect Insider.