Heading into the All-Star break, the Cardinals were sitting in third place in the NL Central with an even record of 44-44. Even though they were just two games behind the division-leading Cubs, their playoff odds were sitting at just 21.2%, the seventh-best mark in the National League. Since then, they've posted the best record in the NL, winning 33 of their 49 games since the midseason break. One of the biggest reasons for their surprising turnaround has been the excellent play of Kolten Wong.
Wong has accumulated 2.2 WAR in the second half of the season alone, by far the most wins by a position player on the Cardinals in that time. His 165 wRC+ ranks 14th in the majors since the break and he's continued to flash the leather at second base. He's setting career highs across all three slash components, and is on pace to hit more home runs and steal more bases than ever before. Wong's excellence and Jack Flaherty's masterful pitching since the All-Star break have carried the Cardinals into the division lead and boosted their playoff odds to 91.0%.
I should quickly point out that Wong is running a BABIP of .434 during his hot streak. He's not really hitting for any additional power and his walk-to-strikeout ratio hasn't budged. He's simply benefitted from a ton of his batted balls falling in for hits over the last couple of months. But it's not just blind luck driving his hot streak. He's made some real changes to his plate approach that have helped him earn some of those extra hits.
Since his debut in 2013, Wong has shown a tendency to pull the ball rather than spray hits around the field. Around 40% of his batted balls have gone to right field with just a quarter getting hit to the left side. Pulling the ball isn't necessarily a bad strategy, but Wong isn't a power hitter who should be looking to hit that way. His career isolated power is .129, so he's likely benefited from a few pulled extra-base hits, but his batted ball distribution isn't ideal. Opposing teams have picked up on these tendencies and have started to shift against him much more often this year, from just 5.9% of his plate appearances in 2018 to 27.9% of them in 2019.
Now that he's seeing an additional defender on the right side a little more often, Wong has adjusted his approach to try and avoid hitting directly into the shift. Here's a brief look at how his batted ball profile has changed this season:
Kolten Wong's Batted Ball Profile
| Year | GB% | FB% | Pull% | Cent% | Oppo% | Hard% |
| --- | --- | --- | --- | --- | --- | --- |
| 2013-2018 | 47.2% | 32.5% | 40.2% | 34.5% | 25.3% | 26.9% |
| 2019 | 42.2% | 38.0% | 37.1% | 36.5% | 26.3% | 36.3% |
His rate of pulled batted balls is the lowest it's been since his rookie season. He's hitting the ball harder and elevating his batted balls a little more often.
These changes aren't just a reaction to how opposing teams are playing Wong defensively, but it's also the product of a more mature approach for him. Just a few months after making his major league debut, Wong lost his mother to cancer. In a heartbreaking video segment filmed for The Players' Tribune last year, Wong revealed how the grief of losing his mom affected every aspect of his life, including his play on the field.
No one is ever the same after losing their mother, but sharing his story last year helped him find a release for the unseen grief that had troubled him for years.
The Cardinals have seen a more focused and mature Wong this season. Here's how he explained his refined mental approach to Rick Hummel of the St. Louis Post-Dispatch:
"[Pulling the ball] has kind of been my Achilles' heel for the past couple of years — I'd get into a little groove and then I'd start trying to do too much. I gave up on that. I'm real happy now with my base hits to left. I accept that. I love that. And I'm going for it. When you buy into that. . . good things are starting to come my way."
He echoed the same sentiments in an interview with Mark Saxon of The Athletic:
"I'm thinking left field regardless of if the ball is in on my hands. I'd rather get jammed and hit a ground ball to third than get fooled by a changeup with two strikes when my whole process is not to strike out. I'm just trying to put the ball in play and make something happen."
That new approach has really paid off this year. His wOBA on balls hit to the left side is an excellent .421, almost 100 points better than his career average. This histogram shows how successful he's been based on his launch direction: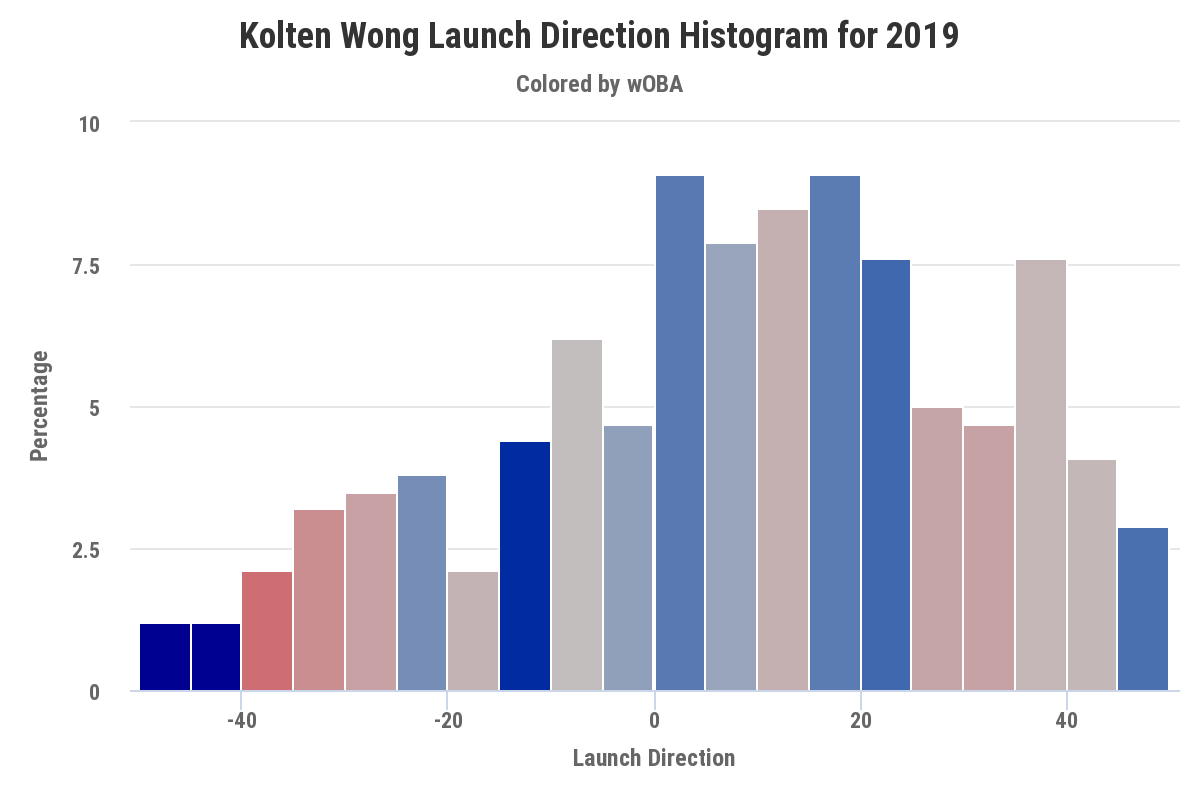 Wong is enjoying incredible success on those batted balls slapped to the left side. Many of those hits have come against the shift, taking advantage of the empty space after the shortstop moves to the other side of second base.
In addition to spraying the ball around the field, Wong has also cut his ground-ball rate to a career low. But with one of the lowest average exit velocities in the majors, he isn't thriving by hitting more fly balls. Instead, he's maximizing the contact he makes by hitting his elevated batted balls in the productive band of launch angles between 5 and 25 degrees. Like I explained with Luis Arráez, these types of batted balls are just as likely to fall in for hits no matter how hard they're hit. Here's Wong's radial contact quality chart from Baseball Savant: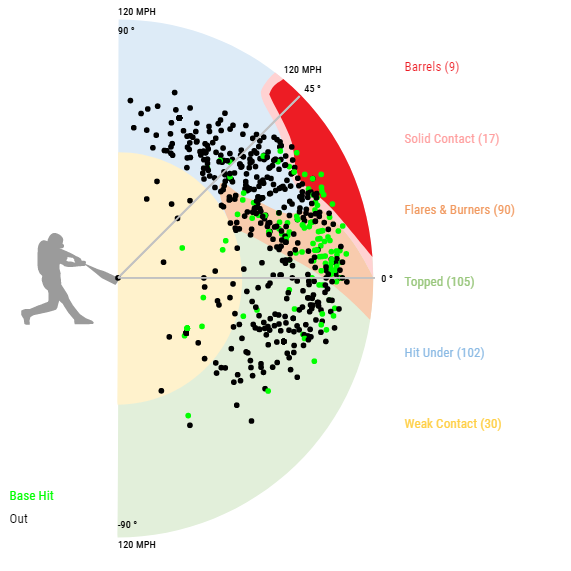 There are a ton of hits in the middle of the orange flares and burners section. Those line drives and soft fly balls are driving his high BABIP. And even though he's getting under the ball and popping up a little too often, he's making up for it with fewer ground balls pulled into the shift.
With a more mature mindset on the field and a new approach designed to maximize his contact quality, Wong has carried the Cardinals offensively down the stretch. He's shown this kind of talent for short bursts before but hasn't been able to sustain them. These adjustments have driven his hot streak for the past few months but they should also provide a new, solid foundation for him once his bat cools off a bit.
Jake Mailhot is a contributor to FanGraphs. A long-suffering Mariners fan, he also writes about them for Lookout Landing. Follow him on Twitter @jakemailhot.