Looking at this year's stat line for Nicholas Castellanos yields almost no surprises. He's putting up a .291/.340/.521 slash line good for a 121 wRC+. At the beginning of the season, our Depth Charts projected Castellanos to put up a 121 wRC+, and over the last three seasons before this one, he put up a .285/.336/.495 slash line with a 121 wRC+. His performance has gone almost exactly like we would expect it to this year, and if Castellanos were still on the Tigers, we wouldn't have even noticed what the 27-year-old outfielder has done over the last month. Since Castellanos moved from Detroit to the Cubs at the trade deadline, we have a fairly obvious demarcation for his season, and his great performance with the Cubs might lead us to believe that something with him has changed. That's a bit more difficult to show, however.
Over his first 30 games with the Cubs, Castellanos has hit 11 homers and put up a 167 wRC+ (before last night's homer brought his total up to 12 and his wRC+ to 173) thanks to those huge power numbers and a .365 BABIP. He's been one of the 20 most productive hitters in the game. A look at his results says something has changed with his ISO and BABIP way up, but his walks a little down with pretty consistent strikeout numbers compared to what he was doing in Detroit earlier this season. His plate discipline numbers in terms of swings have changed, though his contact percentage has gone down as he's whiffing on more pitches outside the strike zone. It's possible he's been more willing to make mistakes outside the zone and is instead hitting pitches in the zone harder. That could be considered a change, but it is basically what he did last season when he put up a .361 BABIP and a career-high 130 wRC+. He had a similar plate discipline profile in 2016, when he also ran a high .345 BABIP.
It's probably more important to keep in mind that the difference in walk rate with the Cubs compared to when he was with the Tigers only amounts to about two walks over the last month. While Castellanos has been very good, almost none of this is new when we isolate Castellanos' first 30 games with the Cubs compared to any other 30-game stretch. That 4.6% walk rate? He's done that a bunch of times.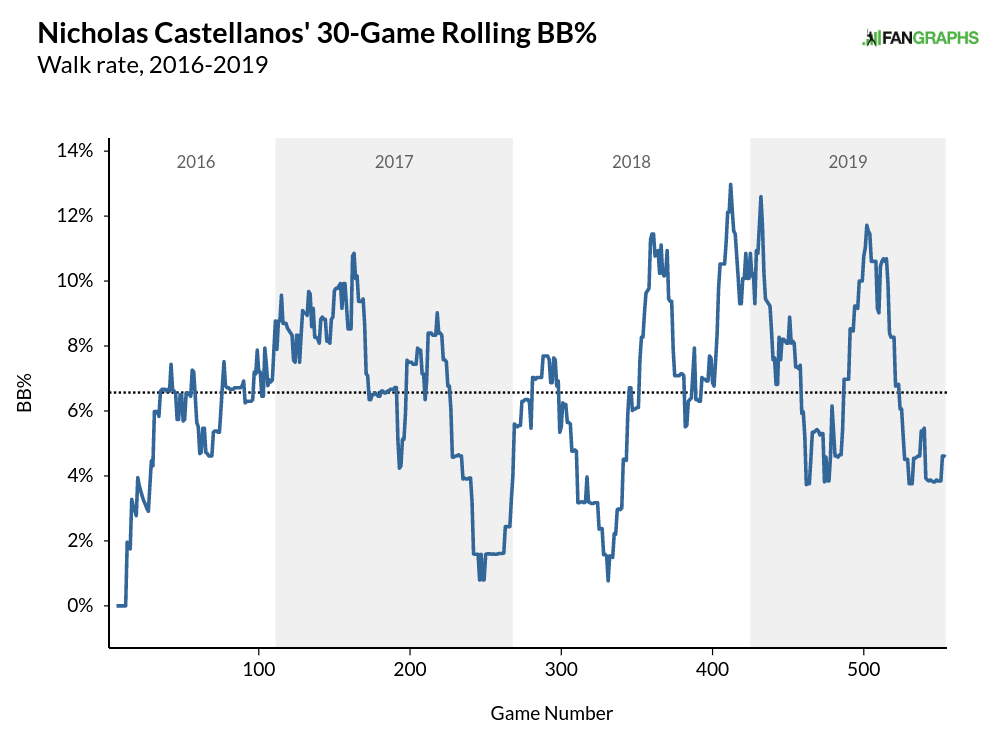 What about that .300+ ISO? He's done that about once a year for the last three seasons even when the ball wasn't juiced to these levels.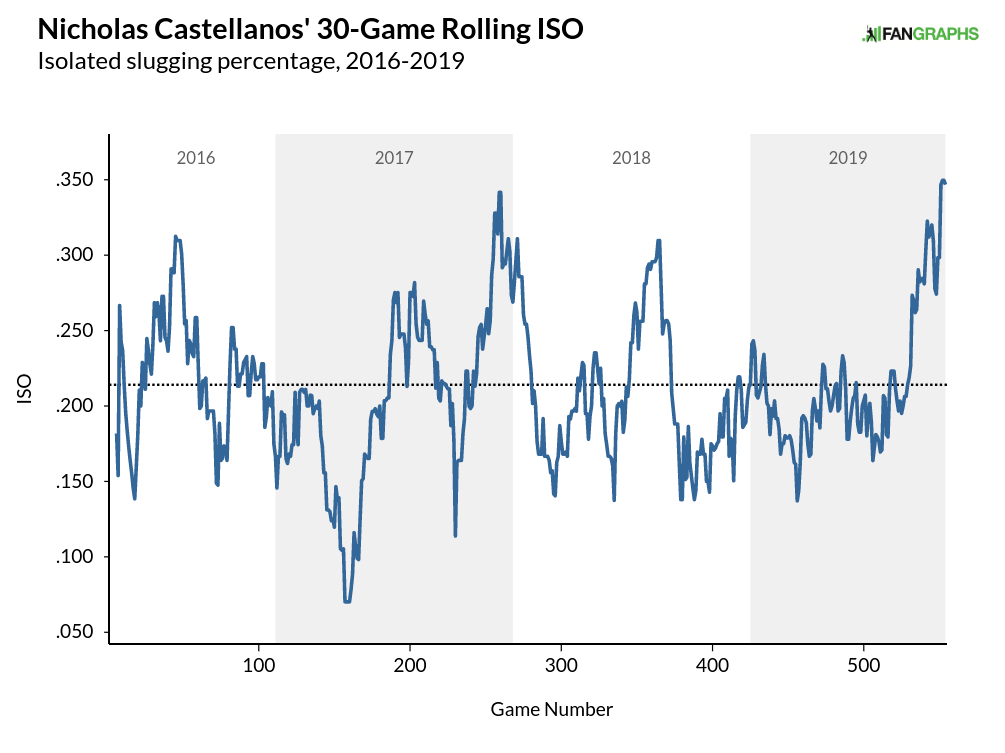 That BABIP isn't even that out of line with where Castellanos normally performs.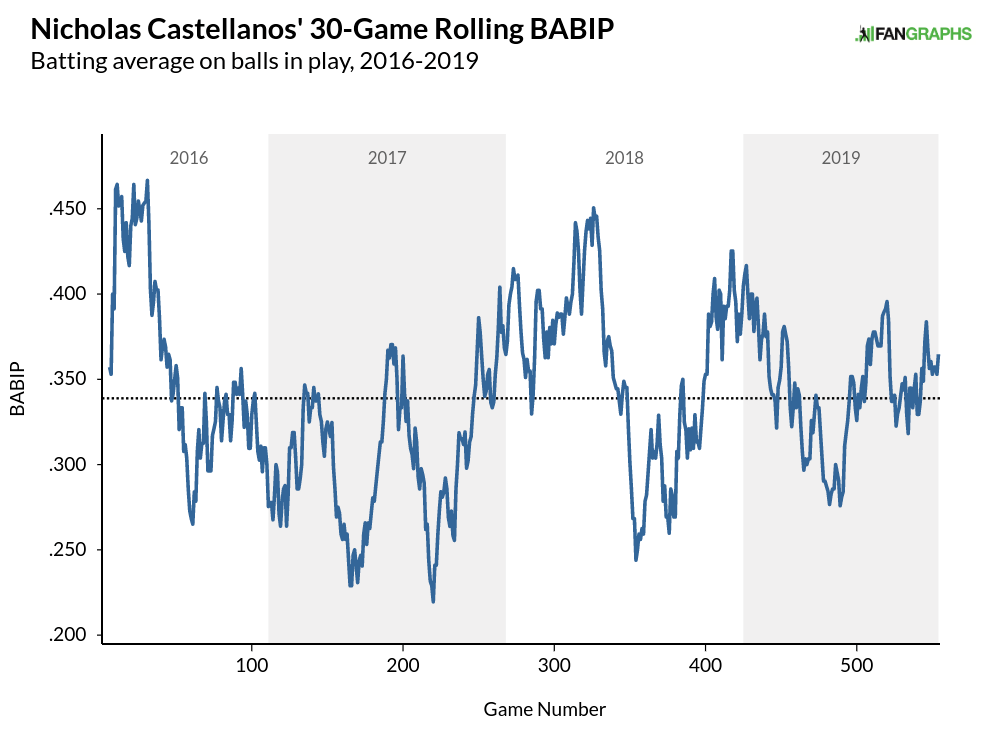 Finally, that great wRC+ is something Castellanos has already come close to earlier this season right before the trade, which he did on three separate occasions last season as well as in other seasons' past.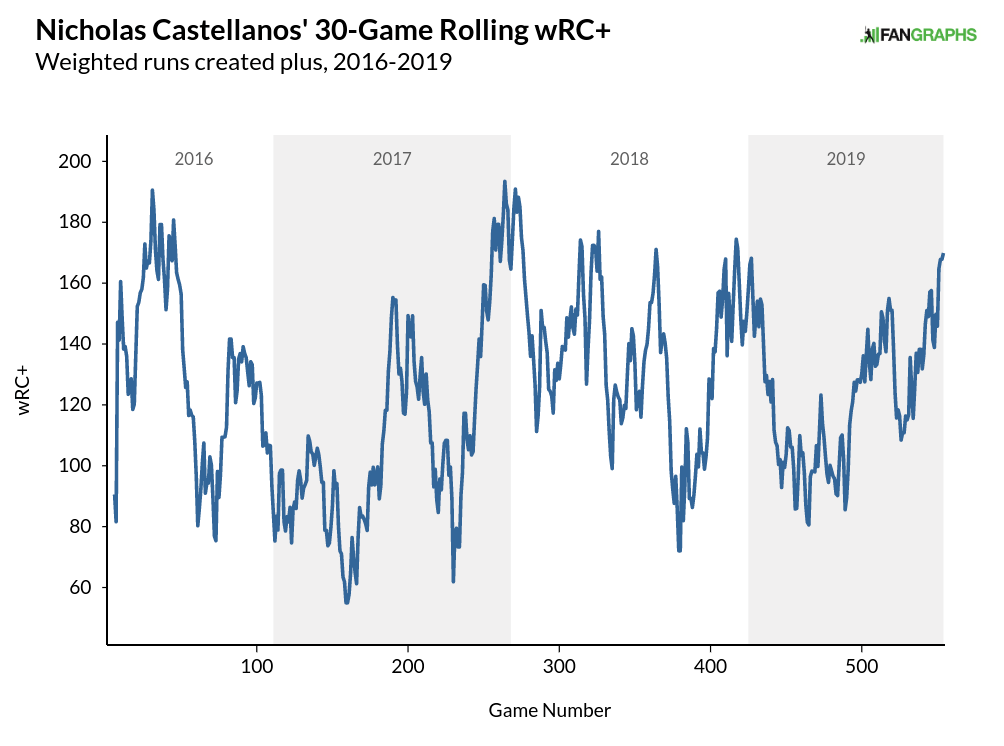 Castellanos is hitting well now because he's a good hitter and from time to time, good hitters have stretches just like this. The stretches don't come magically and are likely the result of hard work and adjustments, but these runs can be generally expected to occur. One might be tempted to look at the graph above and see Castellanos as a streaky hitter. That's really not the case.
To test Castellanos' potential streakiness, I looked at all hitters from 2016-2019 with at least 2,000 plate appearances and a wRC+ between 111 and 131 during that time to find a group similar to Castellanos' 121 wRC+ since the start of 2016. There were 26 batters total, including Castellanos. Then I split all those players' performances down by month and included only those months with at least 80 plate appearances. The result was 530 total months of performance for all the players. The standard deviation for the entire group was 36 points, but Castellanos' was less than that at 33 points, indicating the spread on his performance wasn't as great as similar hitters. Here's the totals for every player in the group.
Streaky Hitters and Nicholas Castellanos
Players with 2,000 PA from 2016-2019 and a wRC+ between 111 and 131.
For the most part, Castellanos has provided a fairly consistent performance, and one that is shaped differently from his peers. The bar chart below separates the monthly wRC+ totals for every player in the group into buckets and notes the frequency of those monthly totals. It looks almost exactly like we would expect.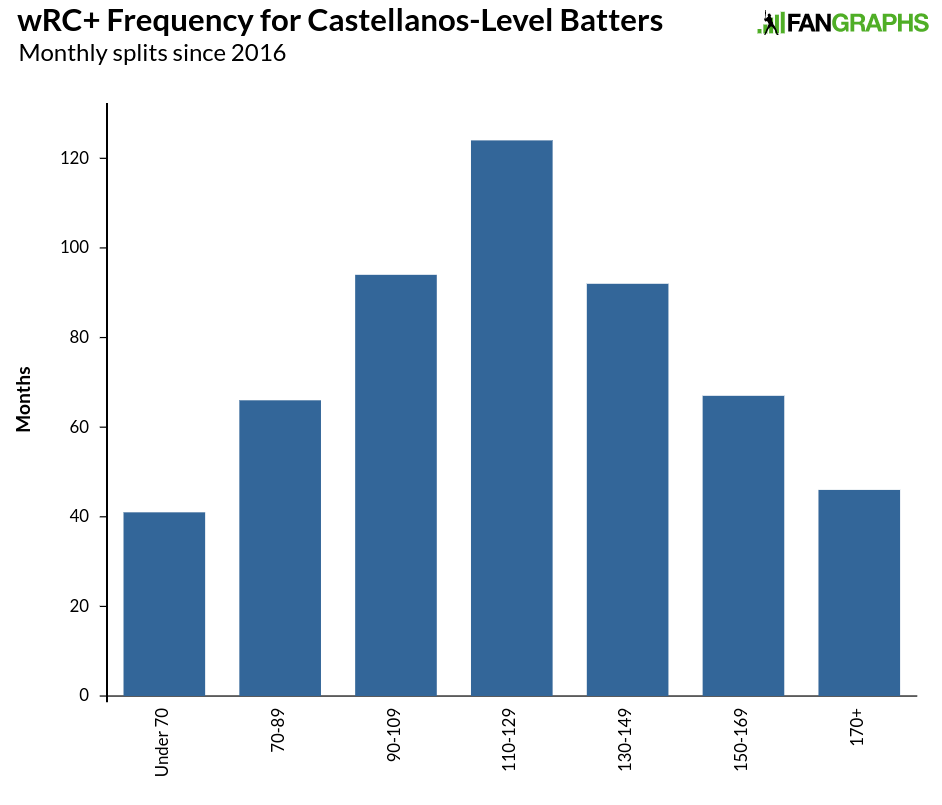 We have the most months right in the middle, and as we move away from the average, we see the number of months in each bucket drop. Here's how Castellanos has grouped his monthly wRC+ totals.
Castellanos has eight months in the 90-109 wRC+ bucket, which is strange as it's below his 121 wRC+ over that time. What makes Castellanos unusual is the lack of months below a 90 wRC+. His hot months line up pretty well with his peers and his 172 wRC+ this past month is the best month of his career, although not significantly different from four other really good months. Castellanos' standard deviation in the table above is so much lower than most of his peers because he doesn't have those wild swings. He spends a lot of time as an average hitter and a little bit of time as a really good hitter, but barely any time as a bad hitter, but going from average to great a few times a year might create the sense of a huge change in production. Castellanos is unusual in that respect. Here are the last two charts combined with the percentages of months spent at each level.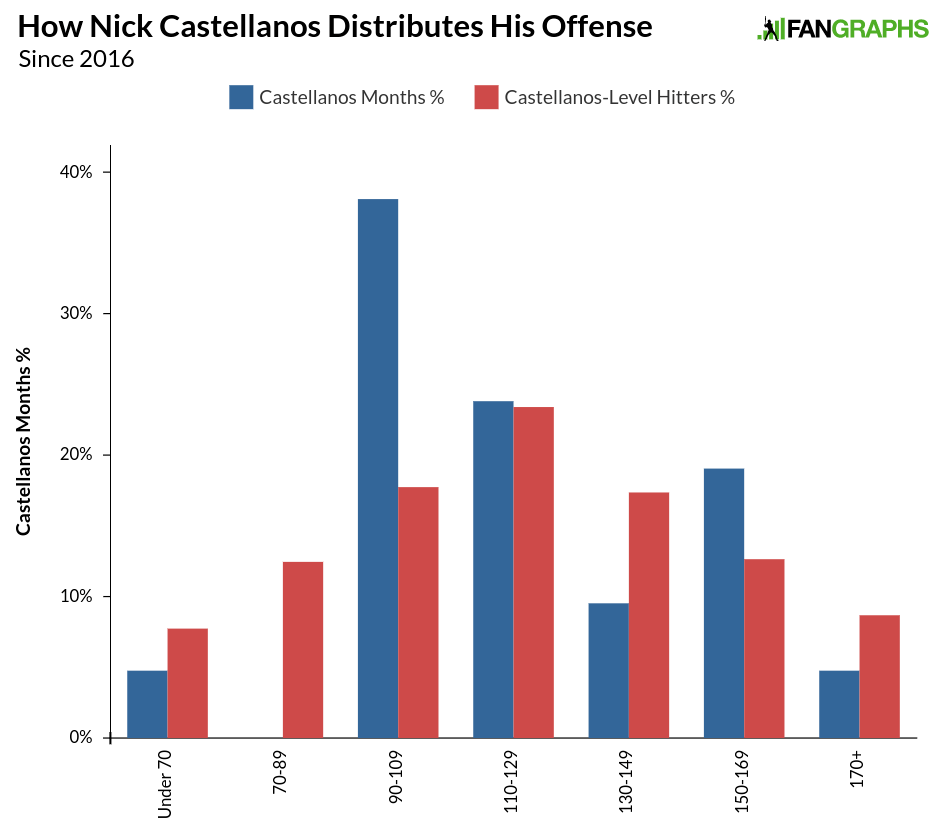 Castellanos looks like most of his peers past 150 wRC+, and the same is true in that middle 110-129 wRC+ group, but he keeps a higher floor than most of his peers. Maybe it is because his strikeout rate is a little lower than most players and it is consistent with a 3.8-point standard deviation compared 6.3 for similar players. While it might be appealing to try and chalk up Castellanos' run with a fresh approach, a new hitting environment, and the thrill of a pennant chase, Castellanos has gone on similar runs while in Detroit while taking varying hitting approaches and being way out of a pennant race. Castellanos is a good hitter and good hitters have the type of month he just had one or more times a year. The Cubs are certainly benefiting from that run happening almost immediately upon his arrival, and Castellanos stands to benefit in free agency if he leaves a good impression as the season ends.
Craig Edwards can be found on twitter @craigjedwards.