Since 2016, only one other team has lost more players to the Injured List than the Los Angeles Angels. They've cumulatively lost over 5,600 days to various injuries during the last four seasons, the second highest total in the majors behind the Padres. And a significant number of those injuries have decimated their pitching staff.
Angels Starters, Injury Days Lost
SOURCE: Spotrac
The pitchers listed above account for over 2,200 days lost to injury over the last four years, nearly 40% of the team's cumulative total. And that doesn't even take into account the relievers and other less established starters who also lost time to injuries, or Tyler Skaggs' tragic passing earlier this year (the days listed above include his 2019 IL stint, not the season days following his death). The Angels' trouble keeping their pitching staff healthy has been one of the major reasons they haven't come close to sniffing the postseason since 2014 despite employing the best player in baseball.
Signing Anthony Rendon to a long-term deal is one big step towards providing Mike Trout with a capable supporting cast, but the holes in the pitching staff still needed to be addressed. Shohei Ohtani looks to be fully recovered from his Tommy John surgery, which will definitely give the rotation a boost. Trading for Dylan Bundy was a low-risk, high-variance addition. And on Thursday, the Angels took another step towards solving their pitching woes, signing Julio Teheran to a one-year, $9 million deal.
Since his first full season in 2013, the soon-to-be 29-year-old has made the fourth most starts in the majors and has accumulated the ninth most innings pitched. He's made at least 30 starts in seven consecutive seasons and only missed out on reaching at least 175 innings pitched in all of them by a third of an inning in 2019. That kind of durability for a pitcher is rare in today's game, and of all the teams in baseball, the Angels will appreciate it the most.
Even though Teheran has been up on the mound consistently for the past seven years, the quality of those innings has waned a bit recently. From 2013 to 2016, he posted a park and league adjusted ERA 13% better than league average, though his FIP- was two percent below average. More recently, he's struggled with a rising walk rate and the homer-happy offensive environment, leading to a FIP- 14% below league average over the last three seasons.
Throughout his career, he's been able to outperform his peripherals. Much of that is due to an ability to suppress hard contact against him despite a batted ball profile that skewed heavily towards fly ball contact. That combination helped him post low BABIPs for much of his career. But with fly balls flying out of ballparks at unprecedented rates, he's really suffered in spite of the weak fly ball contact he's inducing.
On major point of concern has been Teheran's declining velocity over the past few seasons: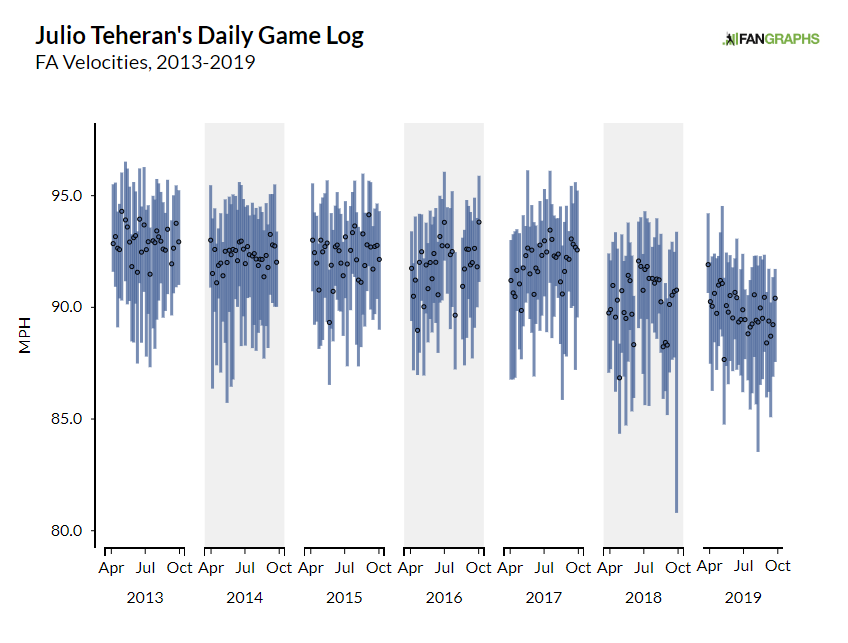 His four-seam fastball has gone from averaging 92 mph in 2017 to just under 90 mph this year. That's a discouraging trend, and might be an unfortunate side effect of his ability to stay on the mound consistently. The Braves were concerned enough about his slipping peripherals to buy out his 2020 club option that would have been worth $12 million.
With Teheran now in the fold, the Angels have four of their rotation spots filled, with the two youngsters, Griffin Canning and Patrick Sandoval, battling over the remaining slot. With Ohtani back on the mound in 2020, it wouldn't surprise me to see the Angels employ a six-man rotation for portions of the season to manage his workload. If that's the case, another starting pitcher acquisition wouldn't be out of the question. They missed out on the Gerrit Cole sweepstakes, but have been connected to a number of other upper-tier free agents. With Teheran, their starting rotation is projected to accumulate 10.7 WAR (based on our Steamer-powered Depth Charts). That total ranks ninth in the American League but fourth in the AL West behind the Astros, Rangers, and Athletics. Teheran is a good addition that gives their rotation some needed consistency, but he doesn't necessarily raise the ceiling of the pitching staff much.
Jake Mailhot is a contributor to FanGraphs. A long-suffering Mariners fan, he also writes about them for Lookout Landing. Follow him on Twitter @jakemailhot.