If the batting title race is the one you're paying attention to in the National League over the next couple of weeks, you're probably cheating yourself. The NL Central division race and wild card races are both still compelling, and Anthony Rendon has turned the MVP conversation into a legitimate three-man competition, emerging as a worthy challenger to Cody Bellinger while Christian Yelich's season has prematurely ended. Additionally, the idea of crowning someone "batting champion" for finishing first in just one offensive category is a little bit silly. But if you are zeroing in on this sort of thing in September, chances are you've gotten a glimpse of something the average baseball fan very likely hasn't: that Pittsburgh Pirates shortstop Kevin Newman has absolutely caught fire over this final stretch.
Newman, a 25-year-old rookie, has spent the last three weeks doing nothing but terrorize opponents. In his last 90 plate appearances, he's hitting .420/.478/.654 with six doubles, two triples, and three homers. His 196 wRC+ in that time trails only Eugenio Suarez, Rendon, and Ketel Marte in the National League, and it's brought his season batting line up to .317/.363/.451 and his season WAR to 2.4. He's now sixth in the NL in batting average, 15 points behind league-leader Rendon. Is that gap surmountable with just 11 games left to play in the Pirates' season? Almost certainly not. But it's still gives us a good excuse to talk about Newman's quietly productive year.
Newman made his MLB debut in 2018 but did not produce encouraging results. He hit .209/.247/.231 over 97 plate appearances, good (?) for a wRC+ of just 28. Over the last offseason, Eric and Kiley ranked him just the 13th-best prospect in the Pirates system — partially because of his age (he ranked as highly as fifth just two years before), partially because of his lackluster debut, and partially because he just wasn't seen as having that high of a ceiling. He had good contact rates and was serviceable in the field, but he had no power to speak of and didn't have any other outstanding tools to make up for that.
Newman's play in 2019 has done little to refute that analysis; he's just gotten better results from it than you might initially anticipate. He's been an aggressive swinger, one of just 39 qualified hitters in MLB to swing at at least 50% of pitches offered to them, but he has also made a ton of contact, with his 87% rate ranking eighth in the majors, right between Mookie Betts and Jose Ramirez. That hasn't led to particularly good contact, however, with Newman's soft contact rate of 20.7% ranking ninth-highest in the majors and his .134 ISO clocking in at 17th-lowest.
In other words, you don't have to dig too far into Newman's data to find things you may have qualms with. Aggressive swingers with little power need to minimize the amount of weak contact they make to compensate for the lack of hard contact. When fellow contributor Jake Mailhot examined Twins rookie Luis Arraez — a hitter with better plate discipline tendencies than Newman, but even less power — he discovered that Arraez was producing a substantial number of what Statcast defines as flares and burners: Line drives with an exit velocity between 70 mph (flares) and 110 mph (burners), which have some of the best chances of falling for hits. At the time the piece ran, Arraez was hitting more flares and burners than any other type of batted ball, helping fuel a batting average that has only climbed since then. I decided to look into whether Newman was doing something similar, but that turned out to not be the case.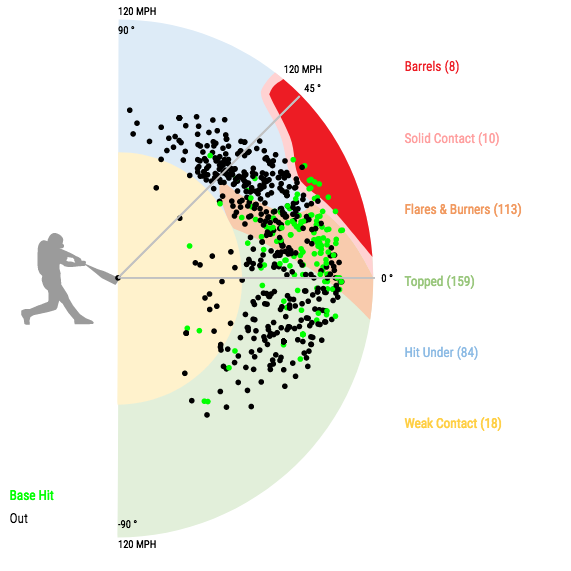 Newman hits on top of the ball much more than he does anything else, while also getting too much under the ball more often than Arraez does. He is squaring up the ball a fair amount though, well enough for his xBA of .292 to very nearly match Arraez's .295.
While there are issues with Newman's hitting profile, there is some evidence that he is beginning to reign in some of his more troublesome tendencies over his most recent hot streak. In the past few weeks, for example, he's maintained a relatively steady swing rate against pitches inside the strike zone. His chase rate, meanwhile, has fallen precipitously, down to its lowest point of the season.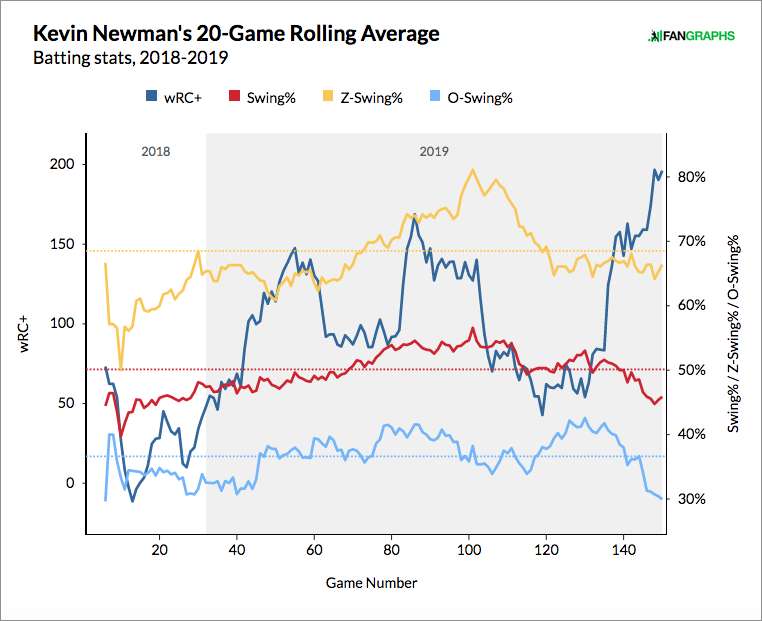 He's also locked in as far as where the ball leaves his bat. Remember the difference between the balls he's topped and the balls he's squared up in that first Statcast chart? Here's how the same image, but only with data from the past 20 games.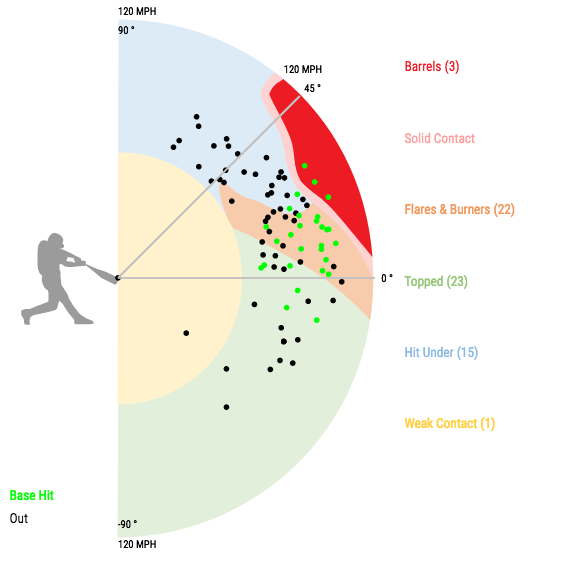 Here we see a much better rate of line drives to grounders, and that's not all. Of his 18 instances of weak contact this season, just one has come in the past 20 games, and of his eight barrels, three of them have come in the same time span. There is no doubt that some of Newman's .431 BABIP over this hot stretch has to do with luck, as well as a small sample size, but this is still roughly one eighth of a season we're talking about. Instead of the league figuring out how to beat this rookie hitter without a lot of pop, the opposite is happening. Newman is locking in, both in terms of what pitches he swings at and what his point of contact should be, and he's executing at a high level. He no longer looks like a hitter whose numbers are a mirage.
Newman's success in maintaining a high batting average this season is interesting on its own, but it is especially so because he isn't the only rookie doing so on his team. At the same time that Newman is sixth in the NL in batting average, his teammate Bryan Reynolds is fourth, currently sitting at .322. Reynolds is both a better walker and a better power hitter than Newman, but both share the designation of being a breakout contributor in 2019 that few people anticipated. While Eric and Kiley ranked Newman as the No. 13 prospect in the Pirates system entering the season, Reynolds was ranked No. 9.
In fact, high batting averages have been a theme for the Pirates' offense all season. They lead the NL with a .267 average, buoyed by the two rookies, along with other high-average contributors such as Starling Marte, Adam Frazier, and Josh Bell. It's difficult to call leading the league in batting average anything but a positive, considering that Pittsburgh's counterpart in the AL is the almighty Houston Astros, with other offensive powerhouses like the Twins, Yankees, and Red Sox all in that same mix, but the Pirates also represent an interesting case study in the pitfalls of batting average as a tool for evaluating offense. While Pittsburgh leads the NL in batting average, it is just ninth in runs scored and eighth in wRC+. Batting average might tell you the Pirates get a lot of hits but conceals the fact they walk at the second-worst rate in the league and hit for the third-worst isolated power, leading them to middle-of-the-road on-base and slugging figures and, subsequently, middling run production.
Such is the story of the 2019 Pirates, but it doesn't always have to be the story of Kevin Newman. While his 5.4% walk rate this season is mediocre, he did once carry rates above 8% and 9% at varying levels of the minors. He has less of a track record for power, but fortunately for him, the ball currently thrown to him at the major league level makes it quite easy to hit for power. Newman might have only averaged four homers per year in the minors, but Freddy Galvis averaged only three homers per year, and he's wrapping up his second 20-homer season in four years in the big leagues. There's plenty of time for Newman to grow into a more exciting all-around player, but what he's done as a rookie should be enough to fend off challengers for the starting shortstop job in the near-term future.
Tony is a contributor for FanGraphs. He began writing for Red Reporter in 2016, and has also covered prep sports for the Times West Virginian and college sports for Ohio University's The Post. He can be found on Twitter at @_TonyWolfe_.