Last year, Josh Hader headlined an excellent relief corps in Milwaukee, helping the Brewers win their division and make the postseason for the first time since 2011. While Hader drew all the headlines with his ridiculous 46.7% strikeout rate, their bullpen was incredibly deep, making up for a lackluster starting rotation. Corey Knebel, Jeremy Jeffress, and Joakim Soria all excelled in high-leverage situations, and Corbin Burnes and Brandon Woodruff gave them plenty of length to bridge the gap from the starter to the back end of the 'pen.
Fast forward one year and Hader is the lone reliever left from that group. Soria left via free agency, Knebel underwent Tommy John surgery in early April, and Woodruff has been a full-time starter this season. Jeffress and Burnes have been totally ineffective, with the former dealing with a shoulder issue and eventually getting released in August and the latter demoted after getting rocked as a starter to start the year. Hader, for his part, is still striking out nearly half the batters he's facing, but he's developed a bit of a home run problem, pushing his FIP up to 3.07 this season.
Collectively, the Brewers relievers have posted a park- and league-adjusted FIP 3% better than league average, 12th in the majors, but a far cry from their fourth-ranked (87 FIP-) bullpen from a year ago. Outside of Hader, they've struggled to find effective replacements for the relievers they lost from last year's crew. Freddy Peralta has plenty of talent but his lack of control has really held him back. It was no surprise to see the Brewers attached to plenty of trade rumors in July as they looked for relief reinforcements from outside the organization. They ended up acquiring two relievers before the trade deadline, and one of them has been absolutely dominant since moving to Milwaukee.
If you include the four appearances Drew Pomeranz made out of the Giants bullpen before being traded, he's posted a 2.03 ERA and a 2.39 FIP since making the transition to relief work. In that time, he's run a 44.4% strikeout rate, just a touch below Hader's and the fourth highest among all pitchers who have thrown at least 20 innings since July 22.
As you'd expect, his stuff has played up in short appearances. His fastball was averaging 92.3 mph as a starter, but that's jumped up to 94.1 out of the 'pen. And if you look at his game log, you'll see that his velocity has continued to increase as he's settled into his new role.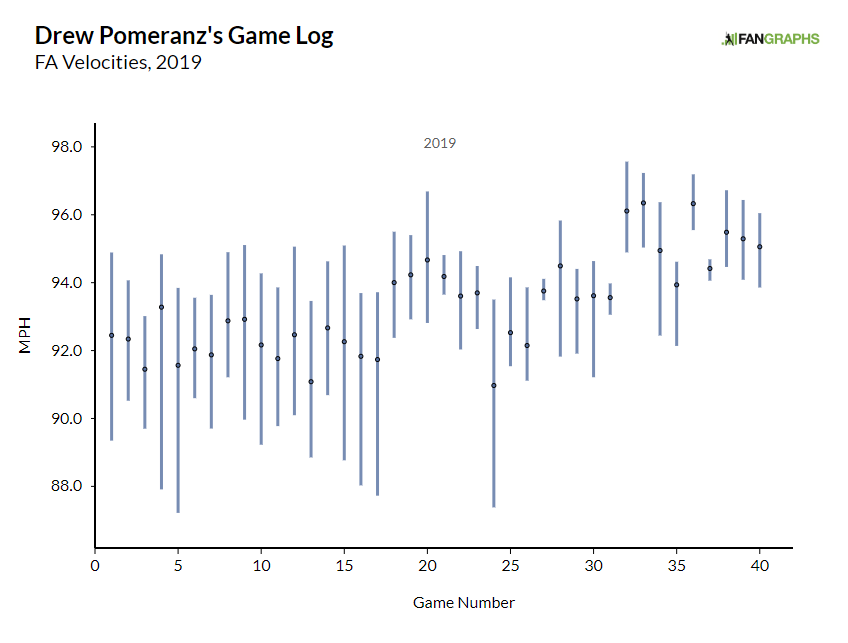 In nine September appearances, his fastball has averaged 95.2 mph, topping out at 97.4 mph. He's never been able to throw his heater this fast in his career, not even when he was working out of the bullpen with the Athletics back in 2015.
That extra velocity on his fastball has greatly increased the effectiveness of the pitch. It already has an excellent spin rate and an elite amount of ride, so adding a few ticks to it's velocity took it from a good pitch to elite. As a starter, he was generating a swinging strike rate of 12.2% with his four-seamer, above average but nothing too special. With the added velocity, batters are swinging and missing more than a fifth of the time he throws his fastball. The 20.6% swinging strike rate on his fastball is the sixth-highest among all fastballs thrown at least 100 times since mid-July.
It's even more impressive when you break down his swinging strike rate by batter handedness. Left-handed batters are swinging and missing more than a quarter of the time he throws his fastball. Here's a good look at how difficult it is for lefties to pick it up.
Pomeranz does an excellent job of hiding the ball during his motion. In the example above, Kyle Tucker is caught off guard by the center cut fastball and swings right through it.
With such an effective weapon at his disposal, Pomeranz has leaned on it heavily. He's throwing his fastball almost three quarters of the time as a reliever and has cut his repertoire from five pitches to two. Against left-handed batters, he's throwing his heater 85% of the time. Opposing batters can probably predict they'll see a fastball in any given count and they still can't touch it.
Against right-handed batters, Pomeranz will mix in his biting curveball a little more often. When paired exclusively with his elevated riding fastball, he's increased the effectiveness of his breaker as well. The swinging strike rate on his curveball has increased from 9.0% to 15.1% with the change in roles.
By simplifying his pitch mix down to just two offerings, his approach has been straightforward: fastballs up in the zone and early in the count, curveballs down when he's ahead. As a starter, there are so many other factors to account for when facing a batter. Sequencing and pitch selection become more important because they'll likely see the same batter multiple times in an outing. As a reliever, Pomeranz has been focused on attacking each batter, and that aggressiveness has paid off.
The Brewers are tied with the Cubs for the second Wild Card spot and just two games back of the Cardinals in the NL Central. With Christian Yelich out of the picture, they'll need all the help they can get to claim a spot in the postseason for the second year in a row. Adding Pomeranz has given them another elite relief option to pair with Josh Hader at the back of their bullpen, and that might give them enough of an edge to sneak into the playoffs again.
Jake Mailhot is a contributor to FanGraphs. A long-suffering Mariners fan, he also writes about them for Lookout Landing. Follow him on Twitter @jakemailhot.