Homer Bailey woke up Sunday morning expecting to start a game between two teams going nowhere, but instead discovered that he would be joining a playoff chase. Kansas City shipped the righty to the Oakland A's in exchange for 23-year-old shortstop Kevin Merrell.
Bailey, 33, has been a cromulent arm for KC this season, with a 4.80 ERA and 4.47 FIP in 90 innings. His 1.1 WAR is his best figure since 2014, while his 8.10 K/9 is his best mark since 2013.
Merrell, the 33rd overall pick back in 2017, ranked 20th on Eric and Kiley's list of Oakland's top farmhands before the season. Speed is Merrell's calling card, but his 80-grade wheels haven't had much chance to shine this year in Double-A, as he's sporting a meager .246/.292/.339 line in 82 games.
Oakland will be Bailey's fourth organization in the last eight months. After a 12-year stint with the Reds, he was shipped to the Dodgers in a seven-player swap that sent Yasiel Puig, Matt Kemp, Alex Wood and Kyle Farmer to Cincinnati in return for prospects Jeter Downs and Josiah Gray. Bailey's inclusion in the deal was motivated entirely by finances, however, as the $22.45 million he was owed in 2019 was a close match with the $21.75 million owed to Kemp; the structure of Bailey's contract made it more luxury tax-friendly to the Dodgers. One day after the trade was completed, Bailey was released by Los Angeles, and in February, he signed a minor league contract with the Royals.
While he rarely lived up to his billing as a top prospect, Bailey was a pretty good starter early in the decade, when he accrued 6.3 WAR from 2012-13 while throwing more than 200 innings each year. The Reds rewarded Bailey, then 27, with a six-year, $105 million contract extension. Twenty-three starts into what appeared to be another good season in 2014, he was shut down with an arm injury. He underwent Tommy John surgery, made just a combined eight starts from 2015-16, and in parts of four seasons following his injury, held a 6.25 ERA and 5.13 FIP in 231.2 innings.
It isn't difficult to see why two playoff aspirants didn't have room for Bailey. Just seven months later, however, another win-now team was willing to part with a top-20 prospect to add him to their rotation. What changed?
Well, for one, it's always been somewhat difficult to differentiate between Good Bailey and Bad Bailey. His average fastball velocity in 2012 was 93.2 mph. In 2018, it was 93.0 mph. His chase rate in 2013 was 34.5%. In 2018, it was 33.0%. His swinging strike rate, pitch usage, and ground ball rates were consistent as well. And yet he'd gone from a solid No. 2 starter to nearly unemployed.
Bailey's numbers in many of those areas haven't changed much this season, either. His average four-seamer is 92.8 mph. His chase rate is just a couple ticks lower than last season. His groundball rate is up three points, and his swinging strike rate has climbed modestly as well.
There is, however, one big difference in Bailey's repertoire. His career fastball percentage sits around 60%. In years after his surgery, it was 55%. This year, it's down to 49.3%. His slider percentage, 17% a year ago, is down more than four points. Those missing fastballs and sliders have turned into splitters: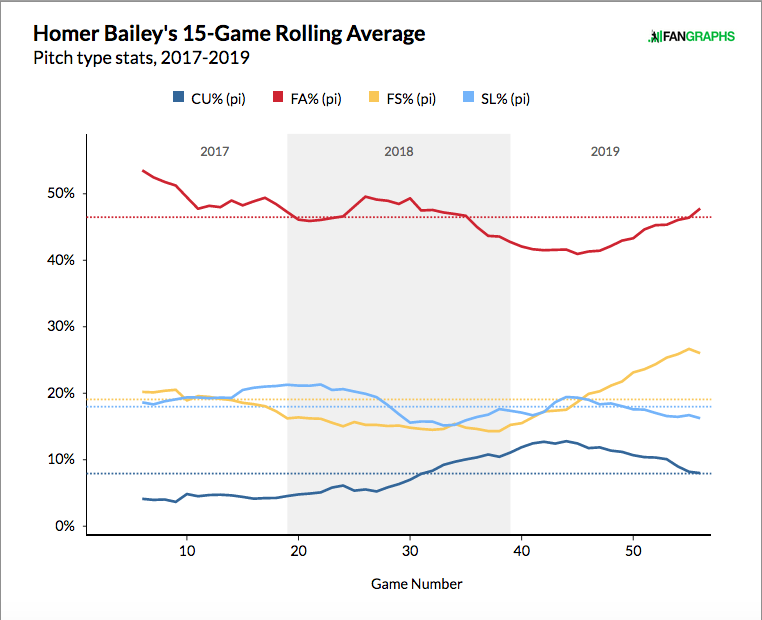 Bailey's thrown his splitter on 27.3% of his offerings in 2019, more than eight points higher than any other season of his career. It's a great pitch for him to lean on: According to Statcast, opponents have just a .195 xBA .250 xSLG against the split, and their actual numbers aren't exceeding those estimates by much. Of the five pitches Bailey has used in 2019, three of them have an xwOBA above .350. Finding a pitch as reliable as the splitter has been vital for him, and as he's thrown it more, he's been more effective. In his last five starts, he's thrown 29 innings and posted a 2.48 ERA.
That was good enough for Oakland to add him to its starting rotation. The A's have weathered Frankie Montas' suspension well, but they still need rotation help. Montas had a 2.70 ERA and 2.9 WAR in 90 innings before receiving an 80-game suspension on June 21. Since then, Oakland starters have accumulated 1.7 WAR, good for seventh-best in baseball, though their 4.85 xFIP suggests they've been a bit fortunate.
Mike Fiers, Brett Anderson and Chris Bassitt have been serviceable starters, but all three are outperforming their FIPs by a wide gap. Tanner Anderson and Daniel Mengden are passable options, but the rotation is clearly Oakland's weakest part of the roster. Critically, Oakland's internal prospective reinforcements all have question marks. Jharel Cotton and Sean Manaea are on track to rejoin the team in August, but they're both returning from serious injuries: Manaea hasn't pitched this year and Cotton has been out since 2017. The two top pitching prospects in the organization in A.J. Puk and Jesus Luzardo, meanwhile, have thrown only a handful of innings this season, and probably aren't realistic options to contribute down the stretch. The A's need an arm or two, and they got a cheap one in Bailey.
Because the Dodgers are paying $22.45 million in salary owed to Bailey for the 2019 season, Oakland is on the hook for just the remaining $250,000. As far as prospect cost, a top-20 prospect isn't nothing, but Merrell has a long road ahead of him. As Eric and Kiley wrote back in March, a move to the outfield is likely in his future, and there isn't much power at all in his bat. His speed makes him interesting, but he'll need to take a big step forward to profile as a regular.
That's all that it cost to bring Bailey to Oakland, an organization that has done well with similarly beleaguered pitchers recently. Last June, they signed Edwin Jackson — a pitcher who hadn't posted an ERA under 5.00 since 2015 — and watched him spin 92 innings of 3.33 ERA ball the rest of the year. They also coaxed 110 splendid innings out of Trevor Cahill's oft-injured and sporadically-effective right arm. The A's have been a good home for pitchers who once seemed over the hill, and perhaps Bailey will continue the pattern. Just seven months ago, he was a cast-off. But in Kansas City, he showed he wasn't done. Now, in Oakland, he can show how much more he has left.
Tony is a contributor for FanGraphs. He began writing for Red Reporter in 2016, and has also covered prep sports for the Times West Virginian and college sports for Ohio University's The Post. He can be found on Twitter at @_TonyWolfe_.