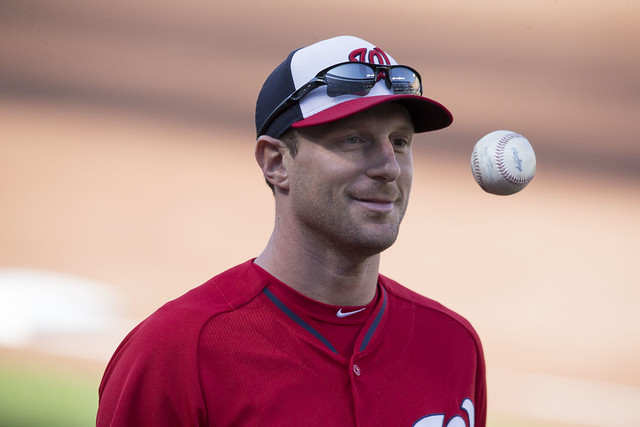 As is the annual tradition at FanGraphs, we're using a week around the All-Star Game — when the industry pauses to take a metaphorical breather — to take stock of the top-50 trade chips in the sport. For more context on exactly what we're trying to do here, see the Honorable Mentions post linked at the top of the page.
For this post and the four to follow, I'll present a graphic (by way of the wizard Sean Dolinar) breaking down each player's objective skill level (represented, in this case, by a five-year WAR projection from ZiPS), contract/team-control details, rank in last year's series, and then year-by-year details of age, WAR, and contract through the end of 2023, although a couple players have control beyond those five years, and some, you'll notice, show projections for fewer years to reflect when those players reach free agency. For those readers who are partial to spreadsheets rather than blocks of text, I'll also include all of the players we've ranked so far in grid format at the bottom of the post.
It should be noted that the ZiPS WAR forecasts influenced the rankings a bit. For players who were bunched together, it acted as an impartial tiebreaker of sorts, but the industry opinions I solicited drove the rankings.
With that said, let's get to the bottom 10 spots on this year's Trade Value list.
Castillo stands in his own category, and won the toss up for the 50th spot that came down to the top of the Honorable Mentions' "Long-Term Control of Young and Solid Everyday Bats" (Eloy Jimenez, Alex Verdugo, Austin Riley, Andrew Benintendi, Austin Meadows), the top of the non-Wander Franco prospect list (Royce Lewis, Jo Adell, Bo Bichette), the next-best-short-control star hitter (Mookie Betts), the next-most-similar controllable starting pitcher, but with a Tommy John and less of a track record (Lucas Giolito), and the next-best star with a huge contract who's still really good (Chris Sale).
Ultimately, Castillo is due the least (or very close to it) of all of these players and, aside from Sale, projects to be worth just as much over the next 4.5 seasons as anyone else in this group. Each player had some support from industry sources, though a few also received notable negative feedback: some think Sale's contract eliminates 10-plus clubs from pursuing him, some thought Jimenez's contract was too rich for what he's done in the bigs thus far, and some wonder if Riley will strike out too much. I feel fine taking an established, durable mid-rotation starter with premium stuff who's 26 and is trending up, instead of taking on $150 million and crossing my fingers, or gambling on one of those hitters having the value in 2024 and beyond to make the difference to a club's playoff chances.
On last year's list, I had Olson at 51; he sneaks onto the list this year, even with one less season of control. He did so by somehow hitting for even more power this season despite breaking a hamate bone in Japan in March, an injury that typically saps power for months, if not a year. Olson is a good candidate for the game where you show a friend the resumes of two players but obscure their names, and your pal realizes the hyped, sexy, up-the-middle prospect actually has clearly worse numbers than the other player (Olson in this case) who isn't any of those things and often plays in a smaller market. Olson has put up 7.1 WAR in a little less than two full seasons of playing time. You could argue he's been just as good as Rhys Hoskins over that span, but with much less fanfare. If you normalized for playing time, his performance would put him among the top five first baseman in the game; more than a few teams have noticed, even if the average fan likely hasn't.
Mondesi was tough to grade as a prospect because the Royals did things that made it tricky, like putting him in High-A as an 18-year-old, where he played the entire season and posted a 69 wRC+, which is #nice but not nice; he wasn't much better the next year as a teenager in Double-A. Then he played 52 games in his age-20 season and had a brutal cup of coffee in his age-21 season, a letdown after having had a bit of a breakthrough campaign at Triple-A until then. Last season, he had a really strong 75 game big league look as a 22-year-old, which has continued this year. If you take Mondesi's 2018 and 2019 big league performance and give him the playing time of the top shortstops in baseball (which adds roughly 450 more PA), he's either the fifth or sixth best shortstop in the game over that span, behind Francisco Lindor, Javier Baez, Xander Bogaerts, Manny Machado, and Trevor Story. That sounds awfully similar to what I said about Olson, and while ZiPS projects Olson for slightly higher WAR, Mondesi is an insane athlete with all kinds of margin for error given his position and athleticism, while Olson has to keep doing exactly what he's doing exactly as well as he's doing it.
For last summer's version of this list, ZiPS projected Seager to be worth 5.5 and 5.7 WAR in 2020 and 2021. This year's updated figures are well below that, as you can see. Seager was so good before Tommy John surgery knocked out most of his 2018 that he's still an elite player, though the current version is hitting more fly balls and with less authority, while his defensive metrics are also a bit worse. Only 2.5 years of control for $20-something million through arbitration is still a really nice bargain, but Seager isn't a premium, franchise-defining piece like he once was.
Sanchez has continued to make progress defensively in the softer skills that are harder to quantify over the course of his major league career. On the quantification front, a couple of clubs noted that their 2019 framing figures for Sanchez are much more positive than ours; combining that with Sanchez's improved health and offensive bounce back mean he stays on the list despite losing a key year of control. Cubs catcher Willson Contreras hasn't made the same kind of soft skills defensive progress, so he goes just behind Sanchez, into the honorable mention tier this year.
Looking at the 2020 and 2021 ZiPS projections on last year's list and comparing them to this year's version (6.3 and 6.6, respectively) is an easy way to sum up what's happened to Correa in the interim. The steady stream of minor injuries the last three seasons have combined with his fringy shortstop defense and an offense that has settled in around the 125ish wRC+ area to make the current Correa just the more offensively impressive version of Corey Seager, with the same short window of control. Granted both looked to be perennial All-Stars and the best at their position, and they're both still in that area, but the trajectory they cut after their first few seasons has adjusted downward a bit. That said, the promise of a six-win season still remains and since that's incredibly rare to find with multiple years of cost control, they're both still on the list.
Scherzer was the hardest player to place on this year's list for a number of reasons. The extent of the deferrals in his contract makes it difficult to know exactly what he's due for the rest of his deal without some sleuthing and more than quick maths. He's an elite 34-year-old pitcher with some effort to his delivery, so you wonder when things may back up. He has produced a lot of WAR in a short period of time (all things being equal, it's preferable to have impact), while other players in this area have a similar or lesser total WAR in their controlled years over more years, a difference in player value distribution that made Scherzer's relative placement on the list challenging. He's an unquestioned ace with extra value in the playoffs compared to a hitter of the same quality (though exactly how much more isn't clear), but with three postseasons left under contract, that value can only be assumed by clubs expecting to make three straight playoff appearances. Given the big guarantee left on his deal, a significant number of teams can't even consider acquiring him. The advice I received about his ranking came mostly from those extremes, and I'm trying to capture the median.
I did an updated version of the math Dave did when Scherzer signed, and that math caused me to move Scherzer down the list from where he was initially. Scherzer's deal basically broke down into $15 million a year every year from 2015 to 2028. Other breakdowns you may see are more focused on paper amounts, when he has a salary, but since most of that money is deferred until later, that salary doesn't really reflect cash flow. For 4.5 seasons of pitching, during which he posted an absurd 31.3 WAR (behind only Mike Trout and Mookie Betts), Washington paid Scherzer just under $70 million, or at least $200 million below the market rate for that WAR. For the next 2.5 seasons, Scherzer is due just over $140 million, though much of that is deferred. Once you do an NPV calculation to account for the time value of money, Scherzer's remaining money after this season is equivalent to a two-year, $102.75 million deal.
That's a risible amount of money for a pitcher's age-35 and age-36 seasons, but it is still under market and creates surplus value in the way we typically calculate such things, even though most clubs wouldn't offer close to that figure. The quick-and-dirty calculation, using a $10 million per WAR figure and going straight off of the ZiPS projections, has Scherzer worth roughly $110 million over that term. But that ignores the rest of this season (2.9 WAR per ZiPS for just over $5 million), the additional value of three potential playoff runs, and whatever value a team may accrue from acquiring the best pitcher in baseball and preventing him from going to their competition.
There's clearly surplus value — and a good amount of it — for the big market perennial contenders, but Scherzer's value to the other 25 to 27 teams is either negative or hard to define, meaning you could make a credible argument to rank him anywhere from about 35th all the way down to 70th in this median-club-focused exercise.
EDIT: After speaking with some execs today about Scherzer's contact, it appears it's actually a little more palatable than how I understood it above. Scherzer's pay in 2019, 2020 and 2021 is in the form of a $15 million signing bonus each year, but the nature of signing bonuses (aside from tax considerations) is that it's tied to the moment the contract was signed, so the Nationals can't assign/trade that obligation. The actual salaries for 2019-2021 are $35 million each year but it's all deferred, to be paid in $15 million annually through 2028, for $105 million in total.
So, this means that if you trade for Max Scherzer tomorrow, it looks like you wouldn't pay him a dime until 2023 when his contract is up and the deferred payments for the second half of 2019 would kick in. The NPV of those obligations, if we assume this deal is happening in exactly the middle of the 2019 season (we're a little past that now), in Opening Day 2020 dollars, is a 2.5-year, $64.61 million deal, or reasonably close to the same as the $70 million he's due on paper for 2020 and 2021. All that for a ZiPS projected 13.9 WAR in the regular season, with a chance to use Scherzer in three postseasons. I'll continue to dig to fully confirm this, but in light of this new information, you could make a case to move Scherzer as high as the 20's on this list. The smallest market clubs still wouldn't take the contract, but they could if they wanted to and mid-market clubs can probably pay two players in the $20-30 million area annually. I also would advocate for a #FreeMax campaign to get your club to acquire 2.5 seasons of Scherzer for (somehow) $0 while he plays for your team. If your team goes the private equity route and declares bankruptcy after 2022, the obligation could be $0 for 14 projected WAR!
Kiley McDaniel has worked as an executive and scout, most recently for the Atlanta Braves, also for the New York Yankees, Baltimore Orioles and Pittsburgh Pirates. He's written for ESPN, Fox Sports and Baseball Prospectus. Follow him on twitter.