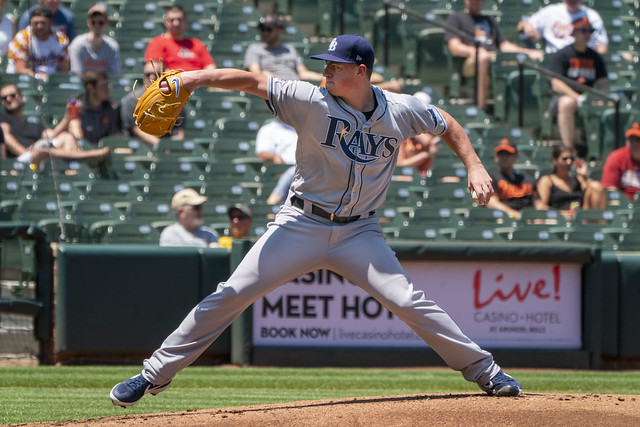 All-Star week has come and gone, which means a lot of things, like that the races for the 2019 postseason have begun to take shape (only a few seem over at this point) and also that many of those who work in baseball just finished taking rushed, abbreviated vacations. Around here, though, it means it is time for a different tradition — namely, the start of our annual Trade Value series.
The inimitable Dave Cameron conducted this exercise for 13 years, 10 of which were for this website. He's since moved on to the Padres, so FanGraphs has to settle for me in his stead, now for the second year. This list wouldn't be possible without the model established by Cameron, or the help Sean Dolinar, Dan Szymborski, and Meg Rowley provided in putting together this year's entry. A special thanks is also due to the industry friends who put up with much rougher early versions of this list, were generous with their time, and helped whip it into shape.
For those new to the series, it represents an attempt to answer the question "Who would bring back the most in trade if he were put on the market before the deadline?" What's notable about this list — as opposed to the prospect lists I assemble with Eric Longenhagen — is that my opinion doesn't matter. The goal here isn't for me to project anyone's future value but rather to capture the opinions of the industry and express how it values players in reality, right now.
I ran into some interesting quirks in industry preferences throughout the construction of this list, which I'll address as the series continues. As you might guess, however, not every player possesses equal appeal for every club. Jacob deGrom, for example — who is guaranteed nearly $130 million through the 2023 season — has a dramatically different value to the Rays than he does to the Yankees due to their respective payrolls, which inform how they build their rosters.
In response to that, I ignored what the team that currently has a player would do (negating the endowment effect) and also let the two extremes of the market-size and payroll spectrums cancel each other out, instead trying to deduce how the teams in the middle would handle this question. Clubs like Atlanta and Philadelphia have the ability to absorb that kind of money, but would also probably like to avoid doing so. They'd prefer to win this year but not at the expense of multiple future years. Those teams would also love to have Wander Franco, but for different reasons and at different costs than the clubs at the extremes.
It's impossible to know exactly how much future value was lost by the Mets and Padres when they made the competitive decision to open the season with Pete Alonso, Fernando Tatis Jr., and Chris Paddack in the big leagues, rather than leaving them in Triple-A for two weeks to get another year of club control. The ballpark estimate is $20-30 million on Alonso and Paddack, and more like $50 million on Tatis. One could argue that a player like Alonso will age quickly, likely putting his extra year of service in his decline phase, while Paddack has a Tommy John surgery on his resume and may also have an issue being a top notch contributor for seven years, making that $20-30 million figure a high estimate for them both. Tatis has the look of a perennial 4-plus WAR player who is both too good to send back to the minors for a few weeks in order to secure an extra year of control, and also the type who will age more gracefully and make San Diego regret not having his age-26 season priced somewhere in the $20-25 million salary range via arbitration rather than at multi-year market rate.
You could also argue that this pro-player, pro-competitive approach will endear these clubs to free agents, the rest of their big league roster, and to these players specifically, manifesting as either an intangible benefit, like team chemistry, or as a very real one, like an increased appetite for an extension. In 2010, the Braves pulled a similar move with Jason Heyward. His scorching hot first two weeks (a 176 wRC+ over 56 PA) generated nearly 1 WAR that a more cynical team wouldn't have gotten; the club ended up making the playoffs by one game. That said, there hasn't been an obvious case of a player who held a team taking advantage of service time rules against the club, with Ronald Acuna Jr. and Eloy Jimenez as recent examples of players who signed extensions pretty soon after being kept in the minors unnecessarily.
This isn't an exact science. The sort of player who appears on this list doesn't get traded very often, and almost never for another player who also appears here. If a contending team trades for one of the players who appears as part of this exercise over the next few days, they're likely surrendering a group of younger talents outside the top 50 or even 75 — so, again, this list doesn't really come into play in that situation.
This reality is adjacent to a vein of risk-aversion that runs through some of these rankings, as reflected in conversations I had with executives. The approach of taking multiple players when trading a top-50 asset is common now; you can't trade an elite talent for one player who, if he fails to perform in the majors, leaves you with nothing. A couple of the executives I spoke with pinned the style of a GM to the types of players that GM would target in trade. A more risk-averse, model-driven value-seeker would see Whit Merrifield as a low-risk bet with a surplus value of $50 million or more, whereas the GM of larger-market, title-focused club like the Dodgers would likely view Merrifield as a 30-year-old in decline, good for 2-3 WAR annually at a time when their player development group produces 2 WAR position players out of thin air. As such, they'd be more likely to gamble on a high upside pitcher who could dominate for four to five innings at a time but also comes with more risk, like Michael Kopech or Forrest Whitley.
Lastly, executives tend to agree that this year's list is more top-heavy with proven young hitters than in the past and possibly deeper in general, with a stronger Honorable Mention group than in prior years. A few executives also shared how they mentally break down trade targets by tier: first are the elite, four-plus win bats with four or more years of control; next come potential aces; finally come the more ordinary controllable bats, with a handful of veterans sprinkled in. With the dearth of 200-plus inning starters making the true aces who can consistently go five-plus innings in the playoffs all the more valuable, a conundrum continues for executives: GMs desperately want an ace and a dominating reliever for their staff, but as more volatile assets, many are reticent to pay top dollar to then possibly end up with a bust, whether through the draft, free agency, or trades.
To start our analysis of this year's list, we'll look at the players who were ranked a year ago but who aren't returning for one reason or another. Almost all of these players were in contention for this year's Honorable Mention section. Some players, like Realmuto, Springer, Altuve, and Rizzo, didn't really fall off the list so much as they got a year older and have a year less control, allowing other players to slide ahead of them. With few exceptions, players lose value as they gets closer to free agency. To sustain the previous year's ranking, a player either had to (a) perform better than he had the year before, or (b) sign a team-friendly extension. Naturally, the end of the list has a lot of turnover.
Players Not Returning from the 2018 List
In addition to the group of players above, there were others who were in the mix for this year's list. They may not have made the top 50, but they are very good players who merit mention, and are listed below. The number in parentheses indicates the years of club control remaining; the names in each grouping are ranked in order of preference.
Long-Term Control of Young and Solid Everyday Bats
Eloy Jimenez, RF, White Sox (7.5)
Alex Verdugo, CF, Dodgers (5.5)
Austin Riley, 3B, Braves (6.5)
Austin Meadows, LF, Rays (5.5)
Brandon Lowe, 2B, Rays (6.5)
Scott Kingery, 2B, Phillies (7.5)
Byron Buxton, CF, Twins (3.5)
Josh Bell, 1B, Pirates (3.5)
Carson Kelly, C, Diamondbacks (5.5)
Tim Anderson, SS, White Sox (5.5)
Bryan Reynolds, LF, Pirates (6.5)
Dansby Swanson, SS, Braves (3.5)
J.P. Crawford, SS, Mariners (4.5)
Benintendi, Contreras and Robles would be in this group if they weren't in the above table of players who fell off the list. This is the biggest group because the pre-arb, everyday position player with some upside is the most valuable kind of player who isn't also exceedingly rare, like potential aces or perennial All-Star position players are. Verdugo has the best contact skills, Jimenez has the most raw power, Riley has had the best 2019 debut, Lowe has the best contract, Buxton has the most upside, Bell is having the best season, Kelly has the best defense (apart from Buxton), Anderson has the best bat flips, and Swanson has the best name.
Prospects
Royce Lewis, SS, Twins
Jo Adell, RF, Angels
Bo Bichette, SS, Blue Jays
Forrest Whitley, RHP, Astros
Mackenzie Gore, LHP, Padres
Adley Rutschman, C, Orioles
Keston Hiura, 2B, Brewers
Dustin May, RHP, Dodgers
Casey Mize, RHP, Tigers
Gavin Lux, 2B, Dodgers
Brendan McKay, LHP, Rays
Yordan Alvarez, DH, Astros
There are other prospects who technically have more value than the lowest-ranked veteran player who's included in the honorable mentions, but we'll stick to the top tier of prospects as well as the best ones currently in the big leagues here. All of these prospects, given the most cynical approach to service time, have essentially 6.9 years of total control, with a handful of them (Alvarez, Hiura, McKay) having already used some fraction of a year so far. The first ten listed are in the order we have them on THE BOARD, while the next three are notable big league performers who have prospect eligibility remaining but are a bit lower in the top 50. Blue Jays RHP Nate Pearson may have the best chance to move into this group over the rest of the season if he can keep doing over longer stints what he's been doing so far this season.
Cost-Effective Starters with Control and 3-Plus WAR Upside
Lucas Giolito, RHP, White Sox (4.5)
Jack Flaherty, RHP, Cardinals (4.5)
Matt Boyd, LHP, Tigers (3.5)
Sonny Gray, RHP, Reds (4.5)
Mike Clevinger, RHP, Indians (3.5)
Jameson Taillon is a candidate for the top 50 when healthy but was a late cut from this group; Max Fried could also be in that company by next season. Syndergaard and Kluber would be in this group if they weren't on last year's list. Giolito has the most helium and could well be a top 50 member by the end of the season, while the other members of this group have more defined upside.
Veteran and/or Shorter Control Window Hitters
Max Muncy, 1B, Dodgers (3.5)
Whit Merrifield, 2B, Royals (4.5)
Christian Vazquez, C, Red Sox (3.5)
Aaron Hicks, CF, Yankees (6.5)
Michael Conforto, RF, Mets (2.5)
Haniger and Rizzo would be in this group if they hadn't been on last year's list. Muncy has continued raking, and Merrifield is a poster boy for a late-career breakout not being conducive to big career earnings. Vazquez's combination of an offensive breakout, elite glovework, health, and a team-friendly extension came together nicely for Boston. Conforto's control years seem to have passed faster than I'd remembered.
Limbo
Michael Kopech, RHP, White Sox (5.5)
Frankie Montas, RHP, Athletics (4.5)
Kopech isn't in the prospect group even though he's still eligible since his recovery from TJ will dictate his top 50 trade value status and he has a year less control remaining than the other prospects in that group. In reality, Kopech comes with five years of control, as he's scheduled for a 2020 return from surgery, while the prospects essentially come with a hair under seven years remaining. Montas would challenge to go into the top 50 if not for his PED suspension; how he bounces back will dictate his value. Severino would also be in this group.
Lots of Dollars for a Star's Decline
Nolan Arenado, 3B, Rockies (6.5)
Jose Altuve and Paul Goldschmidt just missed this group, while a half dozen recent extensions made the top 50 this year. There was some support for Arenado's deal delivering surplus value and making him a top 50 asset, but ages 29-33 all going for $35 million annually is a tough sell for many clubs, even if he projects for four-plus wins and a positive ROI. Sale would've been in this section if he wasn't on last year's list.
The Two Relievers
Josh Hader, LHP, Brewers (4.5)
Felipe Vazquez, LHP, Pirates (4.5)
Edwin Diaz fell from this group. It's still hard to rely on a reliever returning consistent, elite value over a long period unless there's an insane level of performance the moment they were called up (Hader) or a club friendly extension (Vazquez).
Short-Term Control of an Impact Bat
Trevor Story, SS, Rockies (2.5)
This is the group where a number of players who were on last year's list predictably fell off the list. Marcus Semien (1.5) just missed the honorable mention cutoff, and others from last year's list who also have 1.5 years of control remaining just missed the list (Realmuto, Paxton, Springer, Bauer). Lance Lynn (2.5) has turned into something, but it's hard to throw him on here just yet. Betts would've been here if he wasn't on last year's list.
Kiley McDaniel has worked as an executive and scout, most recently for the Atlanta Braves, also for the New York Yankees, Baltimore Orioles and Pittsburgh Pirates. He's written for ESPN, Fox Sports and Baseball Prospectus. Follow him on twitter.