Coming on the heels of Mike Trout's humongous contract extension, news broke that Alex Bregman and the Astros had agreed to an extension of their own worth $100 million, with Mark Berman first to report the deal. While the Trout contract is the biggest of all time, the Bregman deal is not without intrigue. Bregman, who was still a full year away from arbitration, is the first star-level player to sign a pre-arb contract extension in nearly five years. The last player at or above Bregman's level of production to sign a contract like this was Trout, who signed his six-year, $144.5 million contract back in 2014.
Since 2014, the number of contract extensions buying out free agent years has decreased. When Luis Severino signed his deal earlier this offseason, Jeff Sullivan ran the numbers on the quantity of extensions by offseason, providing this graph.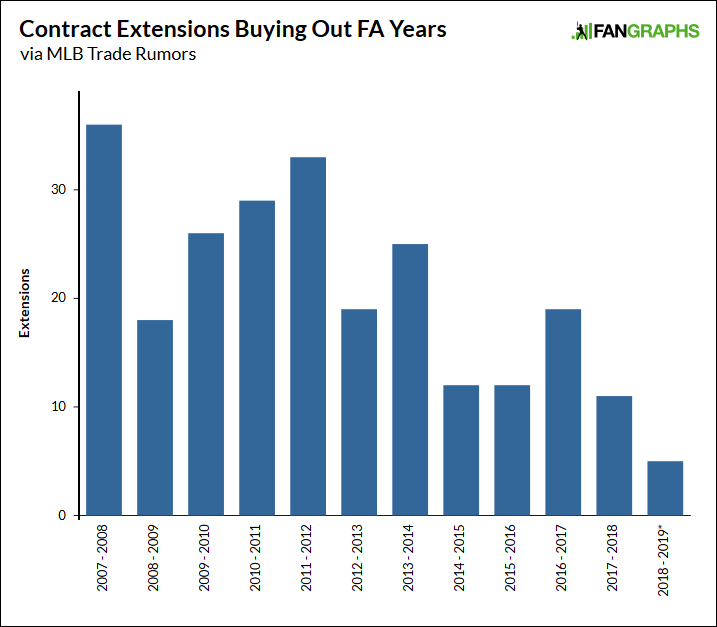 In the five years leading up to the 2014 season, there were about 25 or so extensions per season, and in the five years since, the numbers have dropped in half. Since Severino signed, we have had Jose Leclerc, and now Alex Bregman, but those extension figures aren't going up a ton this year. It isn't just that the number of extensions have gone down; the quality of players signing those extensions has declined as well. We saw Trout's big deal ahead of the 2014 season; the year before, Buster Posey, who was Super-2 arbitration eligible, signed an even bigger contract covering more seasons. It was Andrew McCutchen the year before Posey. Matt Carpenter and Jason Kipnis, who were several years older than Bregman but also coming off very good years, signed six-year deals with options guaranteeing themselves around $50 million each.
We haven't seen these types of extensions as much in the past five years. Two years ago, Dave Cameron wondered if the early extensions for stars were a dying breed.
Since the end of the World Series, eight players in the "0-3" service time bucket — meaning pre-arbitration players and Super-Two guys, all of whom are at least four years from free agency — have signed long-term extensions with their current teams. Piscotty rounded out the group, which also includes Rougned Odor, Jose Ramirez, Roberto Perez, Tim Anderson, Kevin Kiermaier, Ender Inciarte, and Odubel Herrera.

…

This group is a mix of players with a decent amount of risk (Odor, Anderson, Herrera), guys who weren't going to get paid for their skills in arbitration anyway (Kiermaier, Inciarte, Perez), and perceived lower-upside types who have performed well but aren't seen as future stars (Piscotty, Ramirez). Kiermaier is the only one who could currently be seen as a legitimate franchise player, and he's a defense-first guy who has had injury problems, so his market value might not be a great match for his overall value.
Jose Ramirez has become a star, but he wasn't one when he signed his deal guaranteeing him only around $25 million. The year before the article, the early extensions were limited to Kolten Wong and Gregory Polanco, while back in 2015, Juan Lagares, Adam Eaton, and pre-stardom Christian Yelich signed long-term deals. Last year, Felipe Vazquez, Paul DeJong, Scott Kingery, and Ketel Marte meant another star-less extension season, and so far this year, Jorge Polanco, Max Kepler, Whit Merrifield, Leclerc, and Brandon Lowe are signing early extensions.
The Alex Bregman deal not only keeps his current salary the same and helps the Astros for competitive balance tax purposes this season, but it provides Bregman a $10 million signing bonus to get him more money now, then covers three years of arbitration from 2020 through 2022 plus two free agent years in 2023 and 2024. The star-level early extension might not be extinct, but $100 million is a high price to pay to lock up just two free agent seasons.
Bregman's rise to stardom has been rather sudden. He was taken with the No. 2 overall pick in 2015 and had just a few hundred minor league plate appearances before appearing on prospect lists, with Keith Law ranking him the highest at 19th. A power surge in the first half of 2016 caused Law to make him the top prospect in the minors by midseason, while our own Eric Longenhagen gave him a 65 future value at the time, making him one of the five best prospects in baseball. There's not much time to build up hype for a prospect who hits the majors 13 months after his debut, but Bregman was immediately above-average and had another very good 3.5-WAR season in 2017 as the Astros won the World Series. Last year, he took another step forward with more walks than strikeouts, a near .400 OBP, a 157 wRC+, and 7.5 WAR in a campaign that would see him finish fifth in the MVP voting.
He turns 25 years old at the end of this month and his 5.5 WAR projection is fifth among all position players, trailing only Trout, Mookie Betts, Ramirez, and Francisco Lindor. Bregman is a star and one of the very best players in the game, but it is still unusual for the Astros to commit so much money for two free agent seasons. If we look at Betts' first-year arbitration salary from a year ago at $10.5 million as a comp, unless Bregman wins MVP, he's probably looking at somewhere in the neighborhood of $40 million for three years of arbitration. If Bregman were to win MVP in the next couple seasons, that figure could escalate to as high as $60 million or $70 million from 2020 through 2022. That means Houston is paying $25 million to $30 million per season for those free agent years, which won't even begin until four years from now.
Bregman probably wasn't desperate for money before this deal, having received $6 million to sign with the Astros a little over three years ago. Houston needed to come up with a guarantee that would change his life, and they did. Bregman is giving away one less year of free agency than Trout did in the deal he signed five years ago, but he now won't be a free agent until after he turns 30, which could significantly reduce his long-term earnings. Houston is making a large bet on Bregman, but they no longer have to worry about missing any of the young star's prime seasons. They won't have to decide after Bregman's age-28 season whether to offer him a 10-year contract and have pushed that decision down the road. The Astros aren't just paying $100 million, including $60 million for two free agent seasons, they are paying that guarantee so as not to pay another $200 million for a potential Bregman decline in his 30s. The guaranteed cost is large, but they are locking in a star for his prime without taking on the risk of his decline.
Craig Edwards can be found on twitter @craigjedwards.