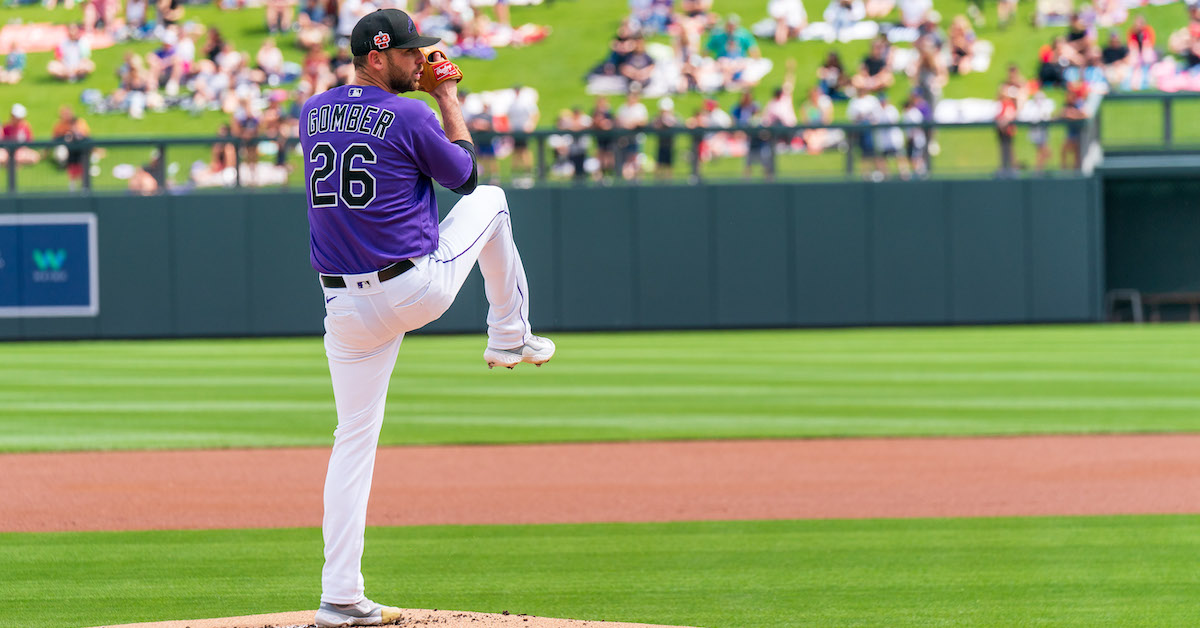 This is my third post about Rockies pitchers in the past seven weeks. We at FanGraphs try to touch on every corner of the league, but why on Earth would one writer feel compelled to spend so much energy on what's traditionally been the weak side of the ball for a team that's probably going to finish last in its division?
It's because I'm… you know what, obsessed is too strong a word. It's a little pointed. Let's say "fascinated" instead. I'm fascinated by the 30-year conundrum that is building a winning pitching staff on a team that plays in a unique environment.
Being a mile above sea level doesn't affect all sports in the same way; for instance, for speed skating, thinner air makes for less wind resistance and better ice conditions, which is why 20 of the 21 senior long-track world records recognized by the ISU were set on one of two high-altitude ovals. But a pitcher needs air resistance not only to slow fly balls down before they leave the yard, but to generate movement on breaking pitches. (Of course, pitchers make more money than speed skaters, and also don't have to wear those terribly unflattering full-body spandex suits on TV, so it's kind of a wash.)
The air is comparatively thin in Arizona as well, where Austin Gomber and the Rockies are preparing for the regular season. Chase Field is essentially tied with Truist Park for the second-highest elevation among major league venues. But it's nothing like Coors Field. The average atmospheric pressure in Denver is around 84 kPa, compared to about 97 in Atlanta and Phoenix and 101 at sea level. A difference of 13 to 17 kilopascals is a lot — I mean, that's 13,000 to 17,000 pascals!
What does that do to a pitched baseball?
"There's obviously a lot of layers to it. I don't think anybody's really figured it out," Gomber says. "That's kind of the fun thing about Coors Field is that depending on who you talk to, you're going to hear different things. But the numbers don't lie. The spin, vertical break, stuff like that is affected by altitude for sure."
Gomber would've heard plenty about Coors Field before it became his problem. The 29-year-old was one of five players the Rockies acquired from St. Louis for Nolan Arenado in February 2021, and two years after the trade, he has been the most successful by far.
In two seasons with the Rockies, Gomber has made 40 starts and 16 relief appearances, totaling 240 innings; his ERA over that span, 5.06, is partially the result of unfavorable park factors, but he also got knocked around more in 2022 than in 2021. His strikeout rate fell from 23.3% to 18.0%, and his opponent wOBA and xwOBA rose by 38 and 21 points, respectively.
Heading into 2023, Gomber is focusing on building his endurance so he can pitch more innings, but also refining his delivery to eliminate some bad habits he dropped into last season.
"I'm just trying to get more on line, get better direction, get everything going towards home plate," he says. "I think last year I was striding so far across my body at times it was really affecting the shape of my pitches."
Gomber, a left-handed starter with three useful secondary pitches, is part of a genus of pitchers who don't throw hard to begin with. And even with those considerations, his fastball, which usually sits around 91 mph, isn't going to blow by most major league hitters. So he needs everything else to work in order to be effective. That starts with the natural deception in his delivery, in which he hides the ball behind his back leg — a trait he says came about as a natural outgrowth of his most comfortable windup, rather than something he tries to do for its own sake.
Most starters who throw a changeup and two breaking balls, as Gomber does, will develop different approaches based on the handedness of the opponent. Against lefties, Gomber relies on his slider, throwing it almost half the time in 2022, while right-handed hitters see more of his changeup.
"I haven't been the best in my career at commanding the fastball to the arm side, but I've always been able to throw a changeup over there," he says. "So a lot of times in '21, my first year over here, my first real full season starting in the big leagues, we were throwing a lot of changes over there, just to try to establish that side of the plate. Then in the process that got some results where it was like, 'Hey, this is a pitch that we don't just have to throw to establish something, like I can throw this to get guys out.'"
This year, in addition to refining his delivery, Gomber hopes to add a new weapon to his arsenal: a two-seam fastball.
"I've been playing around with a two-seamer, throwing it in spring training. I think it'll be better once you get to Coors with the drag on it," he says. "But I'm just trying to find ways to tinker with my fastball to be able to throw the ball to the arm side and open up the changeup more. I've been a predominantly glove-side pitcher most of my career…I'm trying to get the whole plate back."
A two-seamer/changeup combo would also be less susceptible to the specific atmospheric conditions of Coors Field.
"I think changeups play better in Coors Field than they do on the road, at least for me, because everything is a little bit smaller shape-wise, so it's easier to keep stuff on the plate," Gomber says. "But yeah, if your game is to rip four-seamers with high spin at the top of the zone and then throw curveballs off of that, then that's a game plan that will have to be adjusted when you come to Coors Field."
One other thing Gomber has working in his favor is more support from the Rockies' analytics department, which he says has made more tools available to players over his two years and change with the organization. As he develops the two-seamer, Gomber is using tech as a check against what he's feeling in games and in his bullpen sessions.
"My four-seamer has good carry on the road, but when I get to Coors it comes down to league average. I'm in that hot zone," he says. "So I'm trying to see if I can get a fastball that gets below that. I'm not a guy that goes in [the film room] every single time I throw to break down everything I do. When you're searching for something, I do think there's something to be said for getting the feeling for it. But I just think it's way faster now with the technology. I need to get the feel to be able to be confident and take it into the game, but the numbers and the technology are allowing me to get that feel quicker."
Given Gomber's abilities, adding another fastball look to keep hitters off his changeup seems like as good a plan as any, given the hostile environment he works in. But he doesn't think there's any one way to tackle the altitude problem that's made life so hard on so many pitchers in the past 30 years.
"I've seen guys that have sinkers, I've seen guys that throw four-seam/slider, plenty of guys have success here. So I don't think there's one way to do it," he says. "I just think you have to be cognizant of what [the altitude] does to your stuff, and know what you can throw and when you can throw it. The biggest thing I've realized in two years here is pitch selection when you go home. You can throw all your pitches, you just have to throw them at the right time."
So one of the toughest problems in baseball, the question that occupies so much of my brain and has bedeviled the Rockies on and off since the franchise's founding? It has plenty of solutions. Finding the right one and implementing it is another story.
Michael is a writer at FanGraphs. Previously, he was a staff writer at The Ringer and D1Baseball, and his work has appeared at Grantland, Baseball Prospectus, The Atlantic, ESPN.com, and various ill-remembered Phillies blogs. Follow him on Twitter, if you must, @MichaelBaumann.