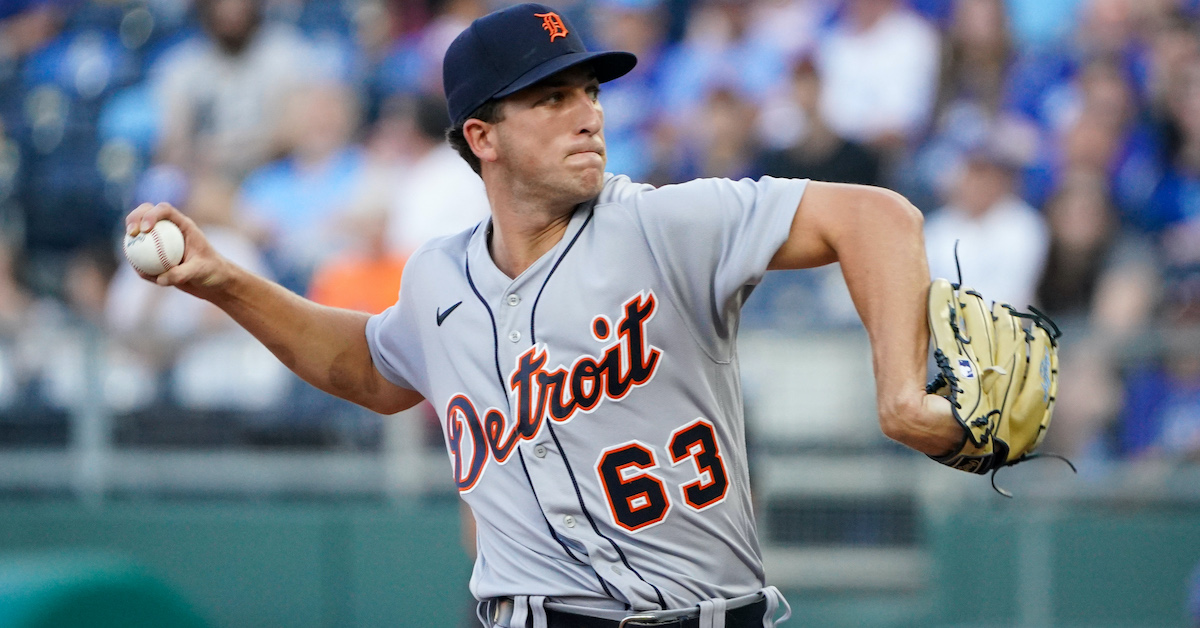 Beau Brieske had a promising rookie season with the Detroit Tigers, and he beat the odds in doing so. The 24-year-old right-hander lasted until the 27th round of the 2019 draft, where he was selected 802nd overall out of Division II Colorado State University-Pueblo. He entered pro ball on the heels of a junior season in which he logged a 5.42 ERA.
Brieske has improved exponentially since that time, and pitching analytics is one of the reasons why. Armed with a better understanding of how his stuff plays (and he's added to his arsenal, too), he made his big league debut in April, then went on to throw 81.2 innings before a forearm strain ended his season in mid-July. Brieske finished with a 4.19 ERA and a 4.97 FIP over 15 starts.
Brieske, who relies more on pitch-ability than on raw stuff, discussed his repertoire and approach shortly before going on the shelf with the injury.
———
David Laurila: What do you know about pitching now that you didn't when you signed your first professional contract? I'm guessing that might require a long answer.
Beau Brieske: "For sure. I have a lot better understanding of myself as a pitcher than I did at that time. With all the analytics… I mean, I had no idea what any of those were when I was coming out of college. I didn't really even know about spin rate, let alone all the other in-depth analytics that people use. Now I know a lot more about where my stuff plays.
"I also have a better understanding of sequencing certain pitches to get guys off-balance. I'm using effective velocity with my fastball, going in to low and away, then back in, maybe followed by a changeup low and away. Another big thing is learning where I can throw certain pitches to get a take, where certain pitches are better if I need a weak ground ball, and what to throw when I'm trying to get a punch-out.
"All of that stuff is continuing to grow for me, the learning about myself and my arsenal, and I'm trying to improve on a day-to-day basis. That's whether it's strictly internal feel, the eye test, or using analytics to, I guess you could say, 'hit certain points' where I can build my best arsenal. So yes, probably a long-winded answer. There has been a lot."
Laurila: What is your full repertoire right now?
Brieske: "What I'm going out with consistently is a four-seam fastball, a two-seam fastball, a changeup, and a slider. I'll mix in some curveballs, although I haven't thrown very many this year. It's something I still work on, but right now it's not fitting into my into my arsenal the way I want it to."
Laurila: In which way isn't the curveball fitting in?
Brieske: I'm not getting the reactions from hitters that I want, per se. But there have been flashes. When it's right, it's a quality pitch for me, so it's really just a consistency thing. I don't want to put too much on my plate as far as trying to hammer out two separate pitches, my curveball and slider, at the same time. My slider has developed a lot, and I'd rather try to master three pitches right now while continuing to work on the fourth. Hopefully that can become a quality pitch for me as well."
Laurila: Is the curveball a new pitch for you?
Brieske: "Yes and no. I came back from [the 2020 pandemic season] with a curveball, as well a slider that I didn't have when I first got drafted. I'd had a little slider, but with a different grip. That off-year, technically my second offseason, is when I made a huge jump in my game."
Laurila: Where did you work on the new pitches?
Brieske: "Honestly, it was just playing catch with a few of my boys, the guys I was training with. Whether we were throwing in a park or at the facility we went to, I was getting a bunch of feedback from them."
Laurila: I believe that your two-seamer is also relatively new, although you're still mostly four-seamers.
Brieske: "There are times where it's probably close to an even split, but yes, I throw predominantly fours. A big reason is that I have more command of it, but I do love to mix in the two-seam to keep guys off of my four. I think adding the two, which is new to this season, has opened up a lot of doors for me."
Laurila: How different are the movement profiles?
Brieske: "I get more arm-side run and a little bit less vert on my two-seam. It's not what you'd call a 'true bastard sinker,' but it definitely looks like a different pitch. I believe that the average [velocity] is a little bit slower as well. It's a pitch that can help me get ground balls, especially when hitters are geared up for the four. I've gotten some rollovers and balls off the end of the bat because it's hard for hitters to cover both pitches."
Laurila: Do you know what the actual numbers are, movement-wise?
Brieske: "My last start, I think I was 14 and 14 on my two-seam and then 18.6 and seven-something on my four-seam. So they are different, and eye-test-wise, they play off each other well."
Laurila: Knowing the numbers, do you work to increase them — the vertical and/or the horizontal — or do you mostly just go out there and do your thing?
Brieske: "More than anything, I know the foundation. Spin direction, spin efficiency, where stuff plays… but it's hard to chase the analytics on pitches. I'd rather focus on my feel and on the eye-test. You have to be able to make the distinction between those two things and the analytics. You can't focus only on the analytics, because there are guys who don't really have great analytical numbers, but they're great pitchers because of how their pitches work together.
"I feel that if you focus too much on the analytics, you can kind of dig yourself into a hole, because you'll never be satisfied with where they're at. So I mostly just try to focus on the internal feeling of my stuff. I'm trying to stay behind the four-seam fastball for as long as I can. I try to get out in front with my two-seam, as well as on my changeup. I try to rip down on my slider. That's my internal feel. How a pitch feels coming out my hand is what's most important to me, because I know what a good one feels like."
Laurila: Knowing where in the zone your pitches play most effectively is obviously important.
Brieske: "Yes, and it's funny, too, because you get all of this 'new school' information, and when you look at it you realize that it's similar to what you were taught growing up. You want to throw fastballs at the knees, low and away. You want to go up and in on guys to change their sights. You want to throw your breaking balls and changeups down. The blue zones on your pitches tend to support most everything you knew growing up. If you execute your pitches in certain parts of the zone, you're usually not going get hurt.
"The analytics are going tell you that, but at the same time, some people have unusual movement profiles, or their stuff plays differently. Some guys have sliders that play up into zone, so they're going to want to throw their sliders up. Knowing things like that are obviously beneficial. Lucas Giolito throws changeups up in the zone, because his changeup plays up in the zone. That totally goes against the grain of what you were taught. You need to know what works for you as an individual, but again, certain pitches in certain areas are going to play for most guys."
Laurila: Basically, you want the best of both worlds.
Brieske: "Exactly. A scout, back in the day, wouldn't call a pitch a 'high-vert fastball,' he'd say the guy has good life on his fastball. In that respect, the eye test is going to tell you something. I've seen guys that don't necessarily have the best stuff analytically, but they go out there and shove. What's most important is being convinced and from there, executing your pitches. Everything else is eyewash if you're not truly believing in your ability to make quality pitches and get outs. But it's a balance. I can build a better arsenal with the help of analytics but at the same time maintain an old-school approach where I'm just going out there and competing. My stuff is good enough to get outs. I just need to execute."
David Laurila grew up in Michigan's Upper Peninsula and now writes about baseball from his home in Cambridge, Mass. He authored the Prospectus Q&A series at Baseball Prospectus from December 2006-May 2011 before being claimed off waivers by FanGraphs. He can be followed on Twitter @DavidLaurilaQA.