Pitchers learn and develop different pitches, and they do so at varying stages of their lives. It might be a curveball in high school, a cutter in college, or a changeup in A-ball. Sometimes the addition or refinement is a natural progression — graduating from Pitching 101 to advanced course work — and often it's a matter of necessity. In order to get hitters out as the quality of competition improves, a pitcher needs to optimize his repertoire.
In this installment of the series, we'll hear from three pitchers — Brian Bannister, Andrew Cashner, and Rick Porcello — on how they learned and developed their changeups.
——
Brian Bannister, Boston Red Sox (VP/Pitching Development)
"Everyone starts that journey of trying to throw it slow, and in that process you choke the grip, you drag your back foot, you curl your toes — you do everything you can to make the pitch slower. But Zack Greinke will talk about how we had a teammate [in Kansas City] named Ramon Ramirez who threw his changeup 90 mph. He didn't even try to throw it slow. We watched him do it successfully. We watched Felix Hernandez do it successfully. We were always watching James Shields dominate with a power changeup. That's what we used to call it.
"Once we started realizing that your hand pronates more on a changeup than it can on a two-seamer, we could get the depth of an elite two-seamer by throwing our changeups as hard as possible. It added that element where it was almost a Brandon Webb sinker, but you're holding it with a changeup grip.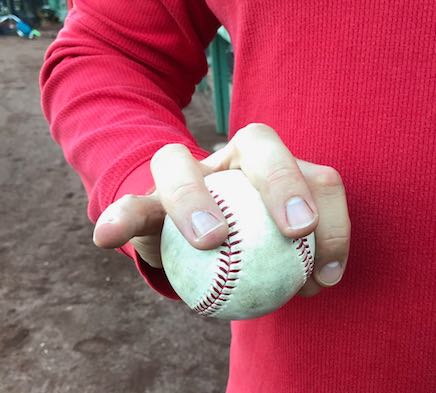 "I started doing that in 2008. I really started rethinking how I threw my changeup and how it fit into my mix. Because I threw so many cutters, which I did because I lacked fastball quality, that gave me a pitch I could throw back-foot to a righty. My groundball percentage went up after that became my sinker. A changeup with depth was my sinker.
"I remember throwing it to Miguel Cabrera, to Gary Sheffield. Eventually I threw it to David Ortiz. The first time I pitched at Fenway, Ortiz hit a home run off my changeup, but then when I pitched against him a few years later I struck him out a few times with the newer version.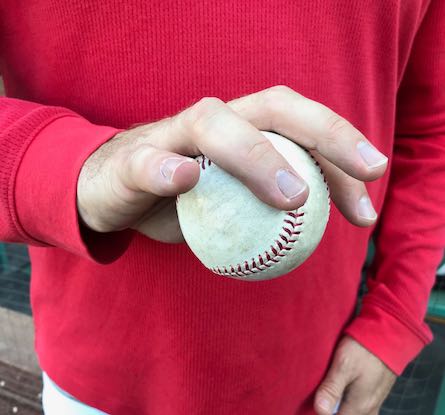 "I originally had a four-seam grip, but I realized that created backspin, which was bad. So I went to a two-seam grip and tried to see how much I could turn it over, how much I could pronate my arm — similar to how Max Scherzer describes his. I tried to think about how much depth I could put on it, instead of how slow I could throw it. That was the difference for me.
"I tried to throw it held between my thumb and ring finger. That was what differentiated it. My other fingers would kind of just rest on the ball. The magic was all happening with my thumb and ring finger, so when I threw it my thought was to have my ring finger directly above my thumb. I was very pronated on release, versus how if you throw a traditional four-seam your thumb kind of splits your middle and ring fingers, and your hand isn't as pronated."
Andrew Cashner, Boston Red Sox
"It's a pitch that's gotten better over the years. I would say it really came to life when I was with the Padres and working with Trevor Hoffman on it. He really taught me about extension. Just playing catch with him and getting to see what it's supposed to look like… and then when I went to Texas, I played catch with Cole Hamels every day and got to see his changeup. From that, my own changeup progressively got better.
"I didn't start learning a changeup until 2012. I really didn't pitch until my senior year of high school — I think I threw 12 innings in high school — but then in 2012, I learned one from [Padres pitching coach] Darren Balsley. He taught me a lot. Between him, Randy Jones, and Trevor Hoffman I figured one out. Really, it's just about selling the pitch with hand speed. Making it look like a fastball is the name of the game for a changeup.
"I grip it with my [index and pinky] fingers. I kind of sandwich it in between those two and just the throw the ball as hard as I can. My other fingers are sitting lightly on top; I don't know if my thumb is even on the ball. It wasn't anyone's grip. I've just kind of… everybody has their own grip, and I found one that's comfortable in my hand. Obviously, someone shows you a grip, but from there you work off of feel. It's not as though I'm reinventing the changeup, or anything like that."
Rick Porcello, Boston Red Sox
"I probably started trying a changeup when I was 12 or 13 years old. I learned how to throw a curveball around the same time. Prior to that I didn't generate enough arm speed to be able to throw a quality curveball or changeup, anyway. As much as anything it was about getting to that age where you start learning to throw other pitches besides a fastball.
"My dad and my brother taught me how to throw the curveball. The changeup, honestly, was kind of self-taught. I was always watching baseball games growing up — I used to watch every Mets game — and they'd show pitchers' grips. They'd have the camera pan in on the pitcher, and I'd see how guys held their circle changes, and other types of changeups. That's how I learned grips.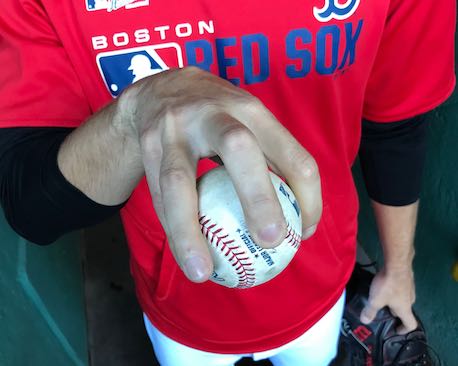 "When I was younger, the big changeup was Tom Glavine's circle-change. I couldn't throw it. It felt really uncomfortable for me to have the ball with these three fingers, so I ended up kind of sliding my pointer finger a little bit more on the ball; it wasn't completely curled around it. I would actually throw it off my index and middle finger when I was younger. I'd be holding it deep, almost like a modified palm ball. Eventually my hands got bigger and I got comfortable holding it, and throwing it, off my middle and ring fingers.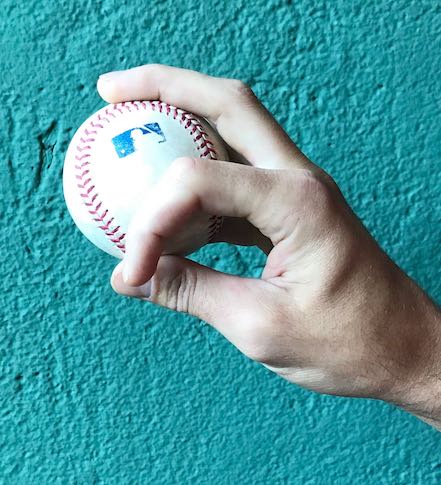 "I hold it relatively loose, because I want my wrist, and everything, to come through as loose as possible to get that sell. I want to make it look like a fastball, but with the velocity changed. When I'm going pretty good with it, I feel it rolling off the inside tips of my fingers. It's a loose wrist and I'm kind of feeling that natural turnover.
"One other thing is that I feel my stroke has to be a little bit shorter, or quicker, on my changeup than on my curveball or fastball. I focus on having as quick of an arm as possible when I'm taking the ball out of my glove. That generally helps me get my hand out front so that I can turn it over and release it right at the glove — maintain that thought process of fastball while having the dexterity out front to be able to get it to dive."
——
The 2018 installments of this series can be found here.
David Laurila grew up in Michigan's Upper Peninsula and now writes about baseball from his home in Cambridge, Mass. He authored the Prospectus Q&A series at Baseball Prospectus from December 2006-May 2011 before being claimed off waivers by FanGraphs. He can be followed on Twitter @DavidLaurilaQA.