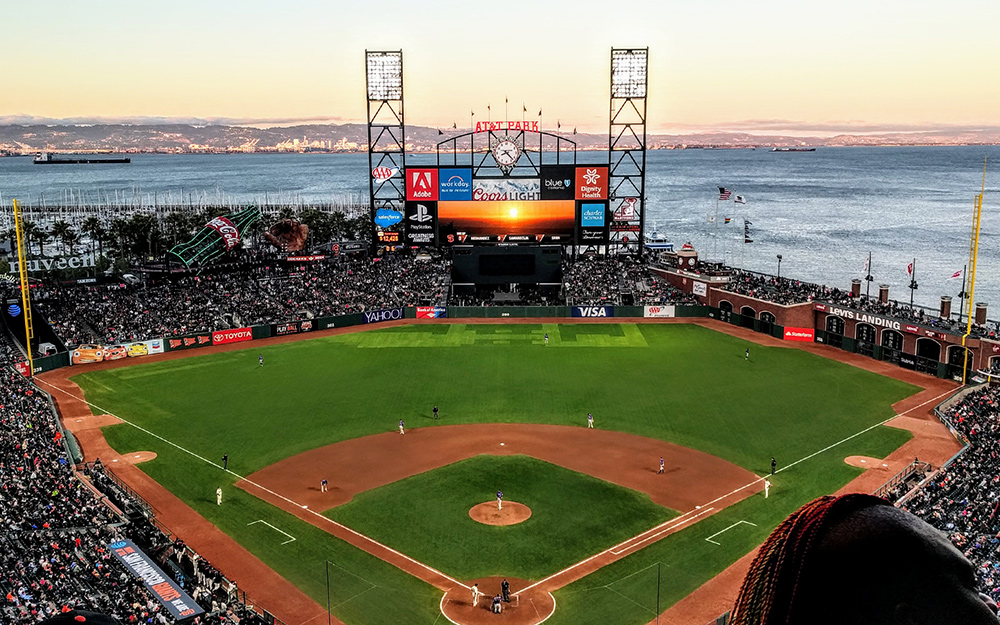 "No man is rich enough to buy back his past." – Oscar Wilde
With three World Series wins over the last decade, it would be a bit greedy for fans of the Giants to bemoan the team's current state too strenuously. San Francisco fell out of their even-year championship pattern in 2016 and finished the last three seasons with losing records. With the key players of the dynasty either past their prime or gone completely, the club's laudable goal of putting a quality team on the field every year has become a tricky one to fulfill.
The Setup
Unlike other formerly competitive teams such as the Tigers and Orioles, the Giants were in no mood to head full-bore into a rebuild in 2018. San Francisco rightly realized that the outfield was a major weakness, but the club struck out in their attempts to acquire Giancarlo Stanton, Christian Yelich, and Marcell Ozuna. Unable to be one of the teams pillaging the Marlins during that organization's latest payroll temper tantrum, the Giants picked up Andrew McCutchen in a trade with the Pittsburgh Pirates in return for Bryan Reynolds, Kyle Crick, and international bonus money. That trade doesn't look all that phenomenal in 2019 terms given the season Reynolds had, but it was a necessary one given San Francisco's 2018 goals. Evan Longoria was also acquired in the hopes he could bounce back to being the star he had been for most of his 20s.
As we all know now, 2018 firmly demonstrated that 2017's 64-98 record wasn't some horrifying outlier. While the Giants were clearly had not given up on competing, the team's attempts to stay under the luxury tax threshold made any October aspirations more difficult to achieve. There would be no Lorenzo Cain, no J.D. Martinez, and no Yu Darvish signed in free agency to reinforce the team's declining core. In any event, none of those signings would have salvaged San Francisco's 2018 campaign. McCutchen himself didn't even finish the season with the Giants, as he was sent to the Yankees at the August trade deadline.
San Francisco entered last winter with competitive aspirations, and a combination of a $10 million bump in the luxury tax threshold and $25 million in expiring contracts to Hunter Pence and Matt Cain gave the team a bit of breathing room to add to the roster. One big addition, though not of the roster variety, was that of Farhan Zaidi, formerly the GM of the Dodgers, as head of baseball operations. Zaidi wasn't brought in — at least at that point — to spearhead a full rebuild, and the Giants went after one of the offseason's top prizes in free agent outfielder Bryce Harper. The Giants offered Harper 12 years and $310 million, but Harper instead took Philadelphia's 13-year, $330 million offer.
After missing on Harper, the Giants ended up spending under $10 million in free agency, with the majority going to securing the return of Derek Holland. Holland was surprisingly adequate for the Giants in 2018, putting up a 3.57 ERA in 171.1 innings for 2.2 WAR, all bests for him since 2013. In an attempt to find someone who would be serviceable in the outfield, the team brought in Cameron Maybin, Craig Gentry, Gerardo Parra, Matt Joyce, Michael Reed, and Mike Yastrzemski in the hopes to score on a scratch-and-win.
The Projection
ZiPS was not enthused with San Francisco's offseason or its roster and projected the team to go 70-92 with a 0.4% chance of making the playoffs. Only the Marlins projected to be worse in the National League. Based on the Opening Day 25-man roster, ZiPS forecasted the entire outfield to fail to combine for even 2 WAR in 2019. There was some optimism in ZiPS for the state of the infield, but the projections were highly concerned about the innings totals of the good starting pitchers (Madison Bumgarner, Jeff Samardzija) and the quality of, well, everyone else. The computer did not buy Holland's comeback year, projecting him to go 7-8 with a 4.54 ERA for 0.5 WAR.
The Results
In the end, the Giants did beat the projections by a healthy seven wins, though it looked for a while as if they would fail to meet even their fairly negative prognostication; the rotation combined for a ghoulish 2-13 record with a 7.32 ERA in May. In a season in which balls were flying out of the park at a record pace, the Giants entered June hitting .220/.288/.363 and 28th in the league in home runs. Only a single starter, Brandon Belt, had a wRC+ above 90, and one of the team's few highlights was a player who I was surprised was even on a roster in 2019: spare 1B/3B/DH/PH/KFP Pablo Sandoval, hitting .287/.325/.583. The Giants picked up Kevin Pillar from the Blue Jays to cheaply buttress the outfield, but like the rest of the team, he struggled offensively and defensively.
At that point in the season, my feeling was that the Giants should blow up the team, collect the ashes, and then blow up the ashes. I'd like to say that I predicted the team would go 33-19 from June 1 to the trade deadline, but that would be a filthy, filthy lie. The offense started rolling, and even more shocking than the team finally scoring runs is that the name-brand veterans had nothing to do with it. If you had told me the Giants would go on a run-scoring rampage, I would have guessed that some combination of Buster Posey, Belt, Brandon Crawford, and Longoria got scorching hot at the same time. But by and large, most of those players continued not to play all that well. The Giants went full-on Bad News Bears without even Kelly Leak to thank.
Giants Hitters, June-July 2019
The pitching came around as well, although in less-surprising fashion; players like Bumgarner and Samardzija getting hot wasn't quite as shocking as Carl Yastrzemski's journeyman grandson showing major league-quality offense.
The summer surge was enough to get the Giants into a position where contending for a Wild Card spot was more than just mathematically possible. The result was an interesting dilemma at the trade deadline. Were the Giants buyers or sellers? A veteran team in win-now mode would typically be buyers under this set of circumstances, but the Giants had a problem as a potential trade partner: the prospects. San Francisco's farm system has improved in recent years, but it is very top-heavy, with much of the system's value tied up in the fortunes of Joey Bart, Heliot Ramos, and Marco Luciano. The secondary talent (and beyond) in the organization is still rather shallow, leaving the Giants in the awkward position where they either had to pay too much for a Robbie Ray or a Marcus Stroman, or simply didn't have enough to offer to acquire one.
The Giants ended up playing it rather safe at the deadline. They didn't add anyone who would push the team forward in the Wild Card race, only picking up Scooter Gennett from the Reds for a player to be named later. But they also didn't trade players outside of the bullpen, the only place the team really had the depth to survive some losses. Gone were Mark Melancon, Sam Dyson, Ray Black, and Drew Pomeranz, but the team retained Will Smith, Reyes Moronta, and Trevor Gott.
Unlike the Bad News Bears, the Giants didn't beat the Yankees or the Tuscon Toros or make a horrible movie set in Japan. A 22-32 finish ended the season, and the Giants fell to 10 games back in the Wild Card race by the end of August. While I still feel that the Giants were close enough to the Wild Card to justify trading Luciano or Ramos for the right pitcher, it wouldn't have been enough to even get them to .500.
What Comes Next?
San Francisco starts this offseason in a similar position to previous ones, with an aging core and a lot of wins to try to find in the winter. While bringing in Zaidi to spearhead a rebuild is what I would do, I don't own the San Francisco Giants or, in fact, any baseball team, unless American Express decides to be incredibly generous with my overdraft. The team still needs about two-thirds of an outfield, and the optimism ZiPS had for Posey and the infield proved to be misplaced. Bumgarner has gotten to the point where I think he's rather overrated, but he's also a pitcher the Giants can ill-afford to lose and can't replace in-house in the near future. The team already has $110 million in just six players (Longoria, Johnny Cueto, Posey, Samardzija, Belt, Crawford), but ZiPS only projects, on average, 2.2 of this group to even hit the two-win mark in 2020. A huge Cueto comeback would likely only replace Bumgarner rather than add wins to the team's baseline.
We can call this team about a 70-win squad based on what they have. Even assuming the total payroll to be somewhere around $140 million right now, I don't see where they can add 20 wins for $60 million this offseason, even if they trade one of their top three prospects. It's easy to have sympathy for an organization that is so motivated to avoid tanking a few seasons, one that decided to pay for their own damn ballpark rather than the taxpayers. Perhaps it's a lack of imagination, but I just can't picture a realistic path for them to enter 2020 as even a serious Wild Card contender. A full rebuild was always going to take a while, and I don't think the team has the stomach for it, but even if they did, not trading Bumgarner or Smith puts them that much farther back.
The Absitively, Posilutely, Way-Too-Early ZiPS Projection – Mauricio Dubón
Mauricio Dubón may seem like an odd choice to go with here, but it struck me as kind of unfair to project Joey Bart in this space given his record is full of various hand injuries. Heliot Ramos also had his share of injuries in 2019, and as for Marco Luciano, I try to not make ZiPS project based on Rookie ball data if I can help it. Dubón is interesting for two reasons: first, ZiPS has always been a fan of him, and secondly, because he's the prospect who's likely the closest to contributing in the majors. A player without a lot of raw power to speak of, Dubón may be a good fit for Oracle Park. I'm especially optimistic about Dubón based on his full recovery from a torn ACL in 2017, an injury that was more likely to affect his game than that of a plodding slugger.
ZiPS Projections – Mauricio Dubón
| Year | BA | OBP | SLG | AB | R | H | 2B | 3B | HR | RBI | BB | SO | SB | OPS+ | DR | WAR |
| --- | --- | --- | --- | --- | --- | --- | --- | --- | --- | --- | --- | --- | --- | --- | --- | --- |
| 2020 | .269 | .303 | .373 | 590 | 67 | 159 | 27 | 2 | 10 | 46 | 27 | 86 | 16 | 81 | 5 | 1.6 |
| 2021 | .272 | .309 | .386 | 559 | 65 | 152 | 27 | 2 | 11 | 46 | 28 | 84 | 15 | 86 | 5 | 1.9 |
| 2022 | .271 | .310 | .394 | 554 | 65 | 150 | 28 | 2 | 12 | 46 | 29 | 86 | 15 | 88 | 5 | 2.1 |
| 2023 | .268 | .308 | .387 | 488 | 57 | 131 | 24 | 2 | 10 | 41 | 26 | 77 | 12 | 86 | 4 | 1.7 |
| 2024 | .268 | .308 | .385 | 452 | 53 | 121 | 22 | 2 | 9 | 37 | 24 | 68 | 10 | 85 | 3 | 1.4 |
| 2025 | .265 | .305 | .385 | 434 | 50 | 115 | 21 | 2 | 9 | 35 | 23 | 63 | 9 | 85 | 2 | 1.2 |
I'd be lying if I said these were sexy results, but the Giants have a lot of holes to fill, and getting a second baseman who can bring vaguely league-average performance to the table leaves money for the Giants to make much-needed improvements elsewhere. I also would likely take the over on the projection; capturing the consequence of missing almost a whole year of development to injury recovery is difficult for any projection system. In addition, Dubón's a spray hitter with just enough power to take advantage of the deep nooks and crannies of the Giants' home park.
Dan Szymborski is a senior writer for FanGraphs and the developer of the ZiPS projection system. He was a writer for ESPN.com from 2010-2018, a regular guest on a number of radio shows and podcasts, and a voting BBWAA member. He also maintains a terrible Twitter account at @DSzymborski.