Pitchers learn and develop different pitches, and they do so at varying stages of their lives. It might be a curveball in high school, a cutter in college, or a changeup in A-ball. Sometimes the addition or refinement is a natural progression — graduating from Pitching 101 to advanced course work — and often it's a matter of necessity. In order to get hitters out as the quality of competition improves, a pitcher needs to optimize his repertoire.
In this installment of the series, we'll hear from three pitchers — Carson Fulmer, Lucas Giolito, and Clayton Richard — on how they learned and developed their changeups.
———
Carson Fulmer, Chicago White Sox
"I've always thrown a four-seam fastball, so early on I wanted to throw a four-seam changeup. I could never get enough velocity off of it, so I needed to come up with something else. What I came up with was kind of a fosh. This was about two years ago. But I couldn't find enough consistency in the zone — it would throw me into bad counts — so I kind of got away from it.
"This offseason, I went to Driveline and found a better grip. When I got in front of the cameras, they were like, 'Hey man, let's throw a couple of changeups.' I was messing around with it, threw a few, and they said, 'That's got some really good depth; that could be a really big pitch for you.' I was working with Kyle [Boddy] and Sam [Briend]. Sam's my guy. I worked with him a lot.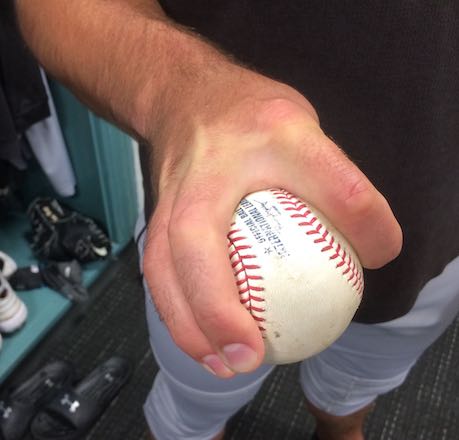 "The grip … now I choke it deep, and apply a lot of pressure to the ball with my middle and pointer fingers. I hold it pretty tight. Staying on top of it, I'm able to get between 10 and 12 mph off my heater. My old four-seam changeup was only five or six off. I also get the depth. It's a pitch that … in Triple-A, probably 95% of my strikeouts came on my changeup.
"An interesting thing that happened [at Driveline] is that Josh Tomlin and I were there at the same time, and our changeups spun on the same axis, but in different directions. The way he pronates it, or something — I forget exactly what it is — it jumps out of his hand differently than mine, yet has the same action. So the numbers, side by side, were pretty interesting. It was pretty cool to see."
Lucas Giolito, Chicago White Sox
"I first tried to throw a changeup in high school, and it didn't work. It was just a BP fastball. Tommy John surgery … I came back from Tommy John surgery (in 2013), and you know how it is with TJ; it's very, very regimented. You start at 30-40 feet and go from there.
"I started playing catch with a changeup grip. I would alternate between fastball-changeup, fastball-changeup. That was to get the feel for throwing one, and for maintaining arm speed when I did. I think playing catch with your changeup is super important for that. Of course, being in my TJ recovery, I was basically trying to regain the feel for the baseball in general. At the same time, I injected the changeup right into that.
"I worked on finding the right grip. It was always a circle change for me — that's what's most comfortable — and it was always between a four-seam and a two-seam. I would kind of go back and forth. And then last year … here's another story. Last year, I had to be in the bullpen for emergency relief. Our last turn in the rotation, none of our starters got deep, so on my bullpen day, instead of throwing a bullpen, I was in the bullpen, just in case the game got out of hand.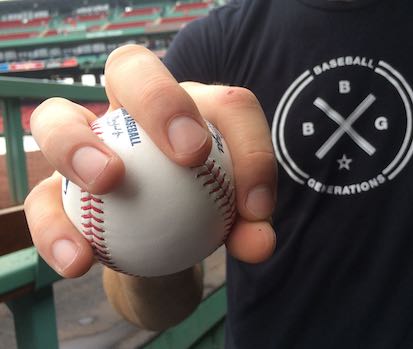 "I'm not used to being in the bullpen, so I was super bored. I was just hanging out. Then I figured I should do something productive, so I picked up a baseball and started messing around with grips. I was nice-and-easy throwing the ball off the wall. I was playing catch with myself. And I was really focusing on my four-seam changeup versus my two-seam changeup, because at that point I was throwing both, and both were inconsistent.
"Through that process — just throwing the ball against the wall, over and over — I was like, 'You know what? If I hold my two-seam changeup like this, it feels pretty good.' It was also coming out consistent. That's when I kind of cemented in the, 'OK, two-seam circle change; that's my pitch.'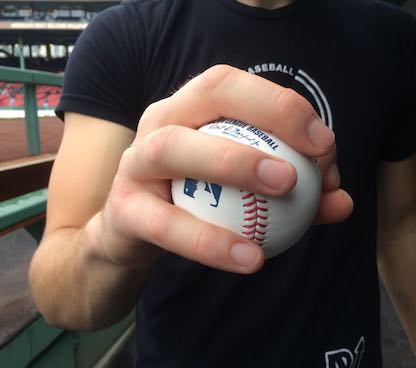 "The big velo difference [14 mph slower than his fastball] has been there since the get-go. I think it's just because I have big hands and long fingers, and have the ball deep in my hand. Just recently … we have those slo-mo cameras now, the Edgertronics, and I was looking at my pitches. If you see my changeup release, when the ball is coming out of my hand it's like I'm pushing it with my middle finger and my ring finger. It comes off those two fingers last — my middle finger very last, off the inside part. I don't feel it when I'm throwing — I'm just trying to throw it like a fastball — but it comes all the way off my fingers, and at the very end gets pushed off my middle finger. I think that takes away spin, and helps create the big speed differential."
Clayton Richard, Toronto Blue Jays
"I started throwing a changeup a long way back. It would have been pre-high school, and at the time it was pretty much, 'How slow can I throw it?' I didn't have any method, or knowledge of how to do it. I just threw the ball slower. That's not exactly the best method.
"I could never really get a feel for a traditional circle. A summer-ball pitching coach with the Indiana Bulls taught me a split change, and I went with that through high school, college, and into pro ball. It was useful, but then after I had my shoulder issues, my arm angle dropped a little bit. The usefulness of my change disappeared.
"What happened is that my sinker gained more action. That brought my changeup closer to my sinker in terms of movement, and the velocity difference wasn't enough to compensate for that. If you look at my changeup now, it actually drops less than my sinker. It's slower, but it's a bad combination of movement patterns. Even if the hitter gets out ahead, it stays up a little bit and allows his barrel to get to the ball. That's basically why I'm not throwing changeups right now.
"I've tried other grips. The difficulty isn't necessarily finding a changeup that looks good by itself; it's finding one that looks good relative to my sinker. That's the difficult part. Changeups are only as good as your fastball. You need that differential."
——
The 2018 installments of this series can be found here.
David Laurila grew up in Michigan's Upper Peninsula and now writes about baseball from his home in Cambridge, Mass. He authored the Prospectus Q&A series at Baseball Prospectus from December 2006-May 2011 before being claimed off waivers by FanGraphs. He can be followed on Twitter @DavidLaurilaQA.