The Yankees' 8-3 loss in Game 4 of the ALCS did not eliminate them, but between their missed opportunities early (stranding five runners in scoring position in the first five innings) and their sloppiness late (four errors over the final four innings), the game had an air of finality about it. Nowhere was that more true than in the case of CC Sabathia, who departed due to a shoulder injury in what will stand as the final appearance of a 19-year major league career that may well be capstoned by a plaque in Cooperstown.
On Friday morning, the Yankees announced that Sabathia had experienced a subluxation of his shoulder joint and replaced him on the roster with righty Ben Heller. The move means that he would not be allowed to be reactivated for the World Series, almost certainly a moot point given the condition of his shoulder, to say nothing of the Yankees' precarious position. Sabathia, who appeared to be in good spirits during a pregame press conference on Friday despite pain that he described as "pretty intense," said that he would "maybe get an MRI after we get back from Houston" and that he doesn't know yet whether he will need surgery.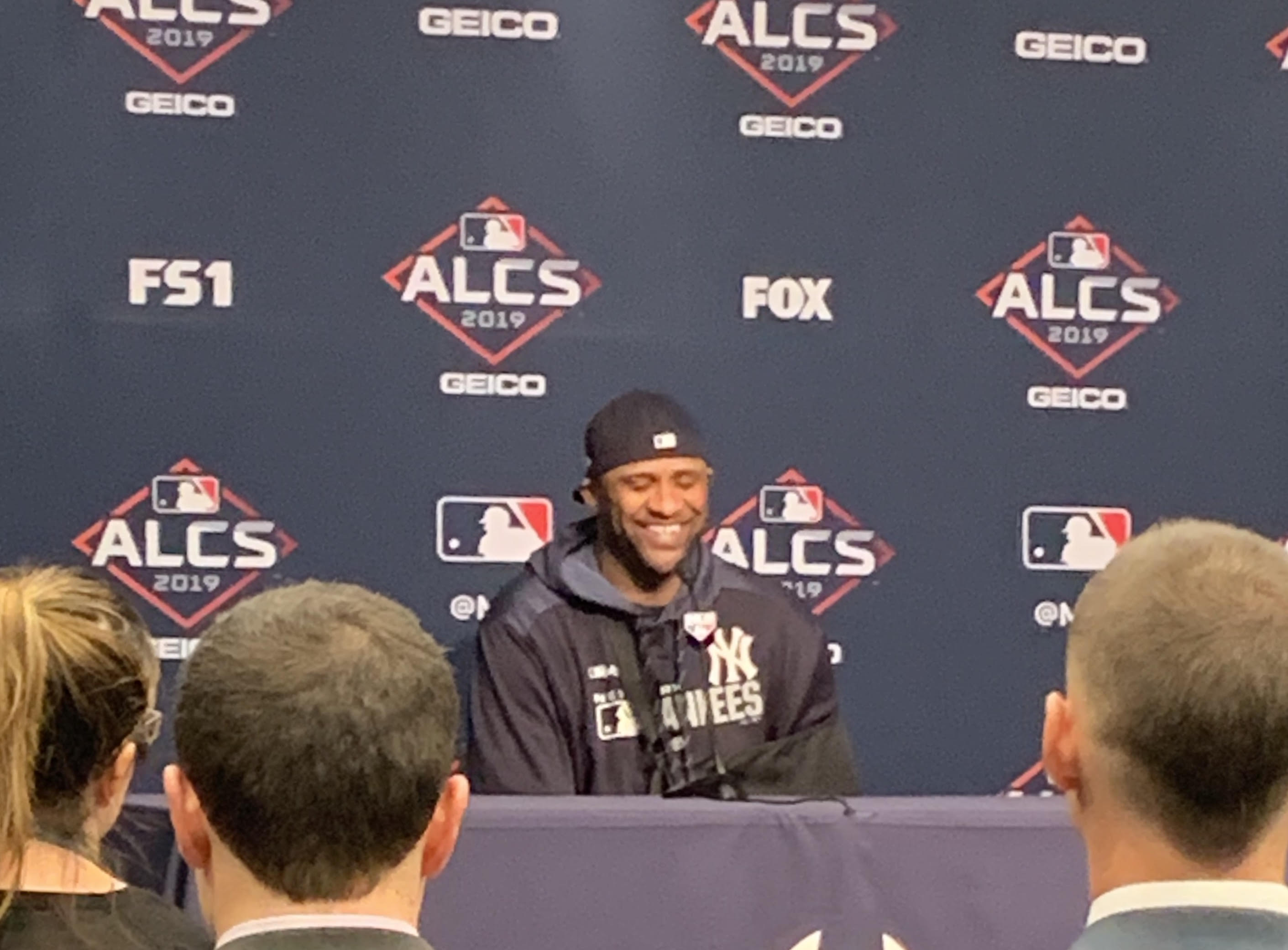 Dropped into a difficult situation in his second relief appearance of the series and just the fourth of his career — runners on second and third with no outs in the top of the eighth, with the Yankees already down 6-3 — Sabathia was victimized by the first of Gleyber Torres' two errors when Yordan Alvarez's chopper deflected off the second baseman's right hand as he positioned himself to throw home; Alex Bregman scored on the play, and Alvarez was safe at first. After retiring Carlos Correa on a soft liner to right field, one in which Aaron Judge nearly doubled Yuli Gurriel off second base, Sabathia hit Robinson Chirinos on the left elbow with a pitch, loading the bases. He got Aledmys Diaz to pop up to shallow right, keeping Gurriel from scoring, but after missing inside on a 1-1 cutter to George Springer, Sabathia grimaced, and both manager Aaron Boone and head athletic trainer Steve Donohue came to the mound.
According to Sabathia, his shoulder popped during his last pitch to Diaz: "I just felt like when I released the ball, my shoulder kind of went with it." In other words, he pitched through a partial separation when he faced Springer, throwing a first-pitch cutter that reached 91.2 mph.
After throwing one warm-up pitch to check if he could continue, Sabathia told Boone and Donohue, "I'm done," shook his head, and then departed to a heartfelt ovation from the Yankee Stadium crowd as well as both dugouts. The FS1 broadcast showed both Springer and Gerrit Cole paying their respects, then a slump-shouldered Sabathia covering his face with his glove, understandably overcome with emotion but — and maybe this is just a scribe projecting — ever so slightly tipping his cap to the crowd even as he did. It wasn't easy to watch, and you're by no means obligated to, but here's the whole scene:
"I think that's what got me more emotional than actual injury," said Sabathia of the ovation. "Just hearing the fans and the way that they were cheering me and it was just — makes me feel good. Makes me feel like I made the right choice 11 years ago. I love these fans. I love this organization. It was just awesome to hear that and get that on the way out."
Sabathia's shoulder injury was just the latest in a series that frequently interrupted the now-39-year-old southpaw's final season. He got a late start in spring training while recovering from a pair of surgeries, one a stent in his heart to clear an artery that had 90% blockage, the other the fourth arthroscopic surgery on his arthritic right knee in eight years. He began the regular season on the injured list and then made returns in late May, late July, and late August due to recurrent soreness in the knee, which required draining and some combination of shots to inject cortisone, platelet-rich plasma, and synthetic lubricant into the joint. As Sabathia detailed on Friday, just getting his body prepared to throw a 15-minute bullpen session required a two-and-a-half-hour regimen "from hot tub to training room to weight room, different treatments and things like that… That's the part of it that sucks."
After making the first relief appearance of his major league career on September 24 in preparation for his October role, Sabathia experienced a bout of shoulder soreness that kept him off the Division Series roster. Overall, his absences limited him to 22 starts and 107.1 innings, the second-lowest totals of his career. His various maladies cut into his velocity and affected his command; he pitched to a 4.95 ERA and 5.66 FIP with 0.4 WAR. In early August, amid his third IL stint, Sabathia told reporters that the pain in his knee had been constant for the past five years: "It's always the same. If I had to scale it on a scale of one to 10, it's always an eight, and when it's bad it's 10."
For all of his injuries, Sabathia's season was not without highlights. He threw five shutout innings in his April 13 return against the White Sox. He became just the third left-hander and 17th pitcher overall to reach 3,000 strikeouts for his career on April 30, and notched his 250th win against the Rays — a team with whom he had engaged in a multi-year feud — on June 19. Five days later, he struck out a season-high nine against the Blue Jays while getting his 251st and final win.
With this year's All-Star Game taking place in Cleveland, where Sabathia pitched from 2001 to mid-'08 before being traded to the Brewers, AL manager Alex Cora, who played with Sabathia in 2005, invited his former teammate in an honorary capacity. The ensuing tribute included giving the AL squad a pregame speech, throwing out the ceremonial first pitch to Sandy Alomar Jr., and making a ninth-inning trip to the mound for an additional ovation. The Yankees feted him as well on September 22, prior to their final home game of the regular season.
Amid the injuries and the mileage put on his arm over the course of 3,577.1 regular season innings plus another 130.1 in the postseason, Sabathia evolved from being a power-pitching workhorse with a mid-90s fastball to a crafty lefty with a cutter (learned from former teammates Mariano Rivera and Andy Pettitte), giving his career a second wind. From 2016-18, he pitched to a 3.76 ERA (88 ERA-) and 4.31 FIP (98 ERA-) in 480.1 innings, a showing aided by his late-2015 adoption of a bulky brace for his right knee as well as a courageous, public confrontation with alcoholism that kept him off the roster when the Yankees qualified for the 2015 Wild Card game (which they lost to the Astros). Sabathia's battles with his body, both on and off the field, won him a universal respect that went well beyond what he earned via his six All-Star appearances, Cy Young Award, and various milestones.
Said Judge in a somber Yankees clubhouse following Thursday's game:
"I don't know the severity of what's going on with him, but you can never say that man never gave his all. Every single time he went out there, you had to rip the ball or rip his jersey off to get him off that mound. He got everything out of that arm and that's a warrior right there. That's why he's been the leader of this team for so many years and that's why he has so much respect around the game and in this stadium. It was tough to see. But that's our leader, man, he left it all out there."
Said Astros manager A.J. Hinch, who caught Sabathia during spring training in 2002, the pitcher's second season with the team:
"I hate to see that for him, I hate to see that for the sport, and we hope he's okay. Our entire dugout was on the top step paying our respects to him trying to gut it out.

"…I know he's been banged up. You can see the impact he's had on numerous players on our team and me and everybody else that we have so much respect for him that in the middle of a heavyweight bout of playoff baseball we all can keep our senses about us and pay our respects to what his effort was."
The most stirring words regarding Sabathia's plight came from Joe Girardi, who managed the pitcher from 2009-17 with the Yankees, a stint that included the franchise's 27th championship in their first year together. Sabathia had arrived in New York via a seven-year, $161 million deal in December 2008 after carrying the Brewers to their first playoff berth in 26 years; Girardi was already on the hot seat after his first year as the Yankees manager resulted in the team missing the playoffs for the first time in the Wild Card era. After the Yankees stormed to 103 regular season wins, Girardi tabbed Sabathia as his Game 1 starter for all three rounds of the playoffs; the big lefty delivered the goods and then pitched well on three days of rest in Games 4 of both the ALCS against the Angels and the World Series against the Phillies; the Yankees won in six.
On the set of MLB Tonight, Girardi addressed Sabathia directly and teared up in the process, calling him "as tough as any man I was ever around" and "the guy that I always wanted on the mound when we needed a win":
Girardi is hardly the only person within baseball who speaks of Sabathia as an eventual Hall of Famer. From former opponents such as Rickey Henderson and John Smoltz (whom he passed for 16th on the all-time strikeouts list on September 12) to Boone, as well as countless teammates and members of the media, the feeling throughout the industry is that he'll someday be elected. Sabathia will be eligible for the 2025 Hall of Fame ballot, and while he's a bit short in the JAWS department, his milestones and the esteem with which he's held will probably win the day.
That day will be a joyous one. For now, at least in the Bronx, it's bittersweet, but the Yankees hope that their fallen teammate can inspire them, as scheduled Game 5 starter James Paxton told ESPN's Marly Rivera:
"CC has had an amazing career, and it was too bad to see him get hurt like that. But it's also just a testament to just the heart he has for this team, going out there and giving us everything he's got until the last pitch."

"I have to go out there and do my thing. I have to attack these guys and go to battle for my team, and give everything out there, just like CC did."
Friday's press conference closed with a reporter asking Sabathia about his favorite part of pitching. As last words go, his answer was worthy of a bronze plaque:
"I always felt like being the pitcher, the game stopped and started on me. And I kind of felt like I was in control all the time, and that was just the best part about it. 50,000 people in the Bronx and shit don't start until I'm ready."
Brooklyn-based Jay Jaffe is a senior writer for FanGraphs, the author of The Cooperstown Casebook (Thomas Dunne Books, 2017) and the creator of the JAWS (Jaffe WAR Score) metric for Hall of Fame analysis. He founded the Futility Infielder website (2001), was a columnist for Baseball Prospectus (2005-2012) and a contributing writer for Sports Illustrated (2012-2018). He has been a recurring guest on MLB Network and a member of the BBWAA since 2011. Follow him on Twitter @jay_jaffe.