Yordan Alvarez is the favorite to win the AL Rookie of the Year Award. He completely demolished opposing pitching this year, first in Triple-A (170 wRC+), then in the majors (178 wRC+) after being called up in early June. Between the two levels, he launched 50 home runs while showing elite plate discipline. But this October, he's been a non-factor for the Astros.
He showed some life against the Rays, going 6-for-19 with three doubles in that five game series. But against the Yankees, he's been completely shut down. He collected his first hit of the Championship Series last night, a broken bat single off Chad Green. He's reached base just three other times against Yankees pitching, drawing two walks and reaching on an error. Overall, he's slashing just .206/.270/.294 in nine postseason games.
What's even more concerning is his elevated strikeout rate. He struck out just over a quarter of the time he came to the plate during the regular season. That's jumped up to 37.8% in the postseason. During the regular season, Alvarez never had a nine-game stretch as poor as this one.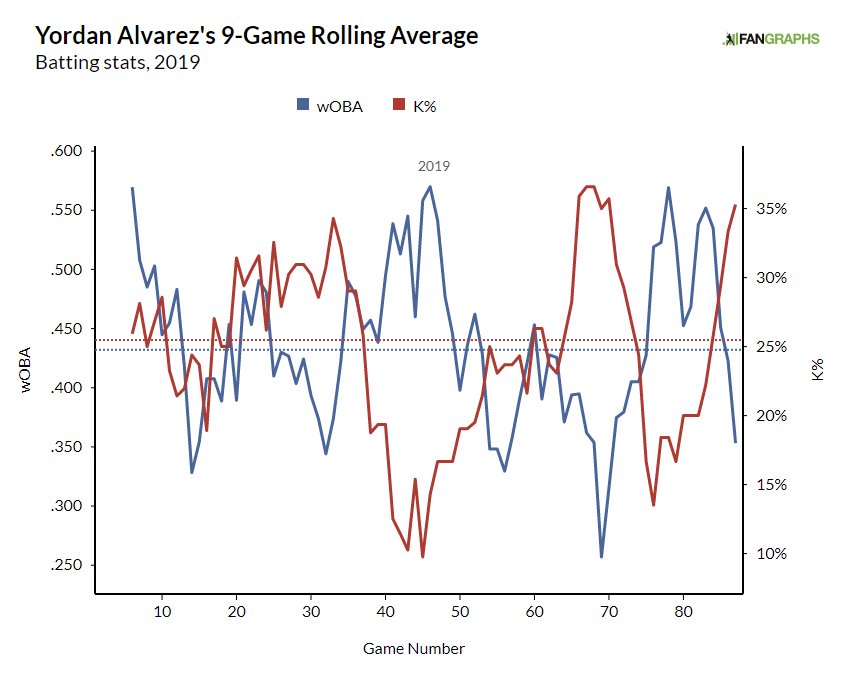 There was a nine-game stretch ending on September 6 during which he posted a strikeout rate of 36.6%. But he also launched three home runs over that span, something he hasn't been able to do during the postseason. Obviously small sample caveats apply here, but it appears as though both the Rays and the Yankees have found similar approaches to neutralizing the 22-year-old rookie.
During the regular season, Alvarez saw a fastball 58.8% of the time, no matter the pitcher's handedness. He posted an excellent .454 wOBA off all types of fastballs but that's dropped to .174 in October. The pitch quality he's facing in the playoffs is certainly higher — the average fastball velocity he's seen in the postseason is three miles per hour faster than in the regular season — but he was able to handle hard fastballs just fine before. He had a .379 wOBA against fastballs thrown harder than 95 mph in the regular season.
He's also seen an increase in the number of fastballs thrown against him, up to 64.8% in the postseason. And it looks like both the Rays and Yankees have a common approach with their heaters.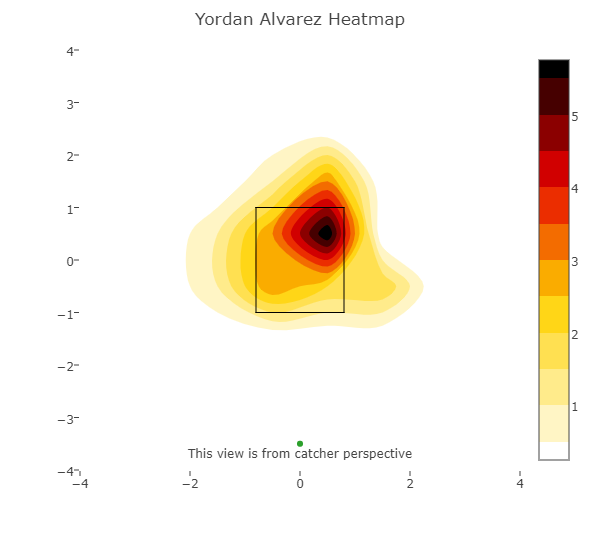 In the GIF above, Luis Severino busts Alvarez up and in with a 95 mph fastball. Alvarez can't get his powerful arms extended and pops up harmlessly to left. In a September article examining his outstanding year, Ben Clemens wrote about Alvarez's ability to pull the ball with power:
"Here's a random, tossed-off statistic for you. When Alvarez pulls the ball in the air, he bats .868 with a 2.421 slugging percentage. … Your mind will logically go to small sample sizes and regression here, and that's not unreasonable. Consider this, though: Alvarez's xwOBA is a robust .963 on these balls, second only to Joey Gallo. He hits them, on average, 100.3 mph, good for sixth in the league. He's barreling up nearly half of them, 43.2%. In other words, Alvarez might be getting marginally lucky when he pulls the ball in the air, but for the most part he's hitting the ball too hard to need luck."
Most of those pulled fly balls and line drives during the regular season came off pitches in the middle of the plate or down and in where he can drop the barrel of his bat or get his arms extended. By pitching him up and in, the Rays and Yankees have prevented Alvarez from taking advantage of his greatest strength. He's only pulled four batted balls in the air during the playoffs, three line drives and a lazy fly ball.
Along with struggling to catch up with the heat, he's seen plenty of left-handed pitchers during the playoffs. Of the 20 (!) different pitchers he's faced in the postseason, nine of them have held the platoon advantage. But he never really showed much of a platoon split during the regular season — a .422 wOBA against lefties vs. a .437 wOBA against righties. He's been abysmal against left-handers in October, going 2-for-12 against them with 8 strikeouts. They're pairing their fastballs up and in with breaking balls low and away and he's flailing away at them.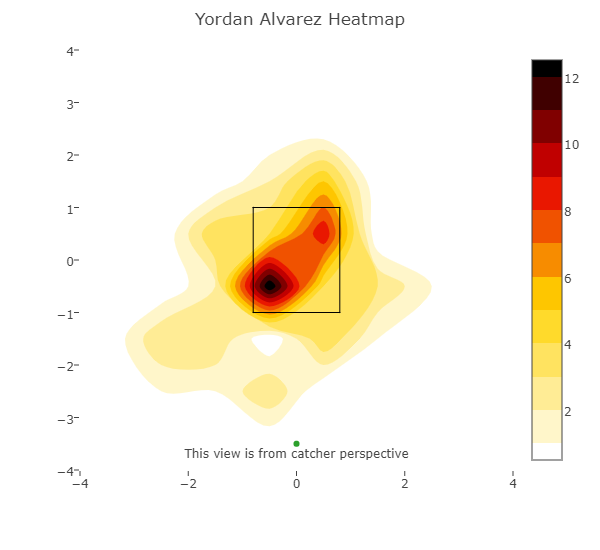 His overall whiff rate is up eight points in the postseason, from 38.5% to 46.4%. He isn't seeing a huge increase in the number of breaking balls from left-handers, but he simply isn't making contact when he does get a bendy pitch. His swinging strike rate against breaking balls has increased from 15.6% in the regular season to 23.7% in the playoffs.
Alvarez's struggles have forced Astros manager A.J. Hinch to move him down a spot in the lineup, from fifth to sixth. With James Paxton on the mound for the Yankees tonight, he'll probably see more of the same: hard fastballs up and in, breaking balls low and away. Slumping in the postseason is never ideal and it'll be challenging to break out of it tonight. But the Astros will continue to put their rookie sensation out there, hoping he'll start showing off his massive power sooner rather than next year.
Jake Mailhot is a contributor to FanGraphs. A long-suffering Mariners fan, he also writes about them for Lookout Landing. Follow him on Twitter @jakemailhot.