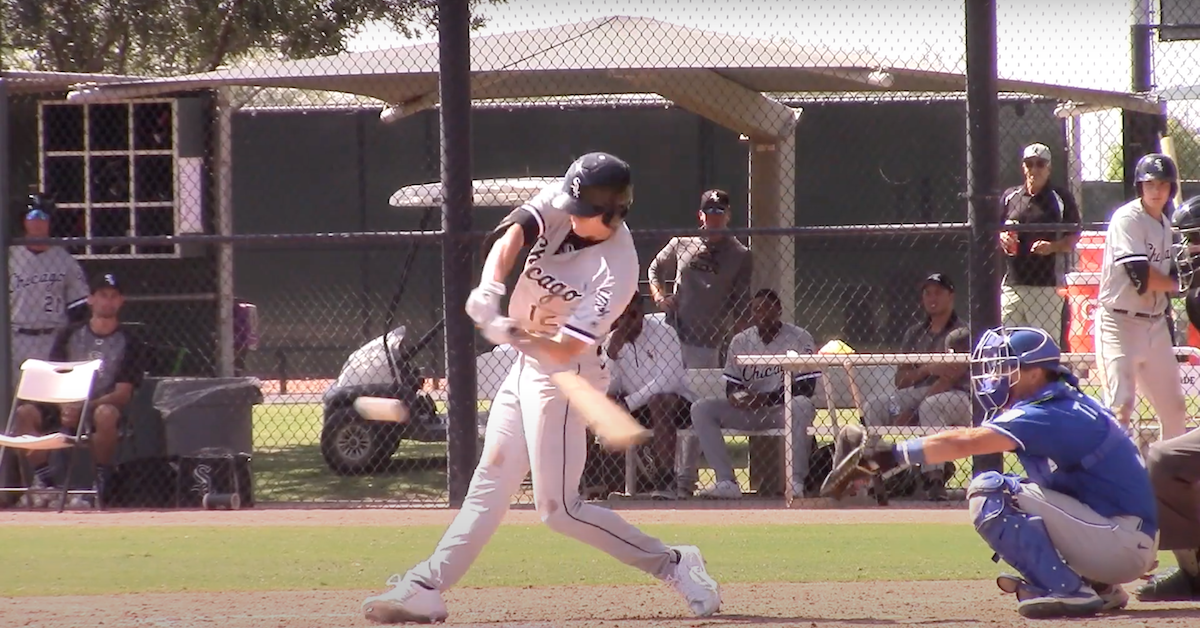 Top Prospects Series
Below is an analysis of the prospects in the farm system of the Chicago White Sox. Scouting reports were compiled with information provided by industry sources as well as my own observations. This is the third year we're delineating between two anticipated relief roles, the abbreviations for which you'll see in the "position" column below: MIRP for multi-inning relief pitchers, and SIRP for single-inning relief pitchers. The ETAs listed generally correspond to the year a player has to be added to the 40-man roster to avoid being made eligible for the Rule 5 draft. Manual adjustments are made where they seem appropriate, but I use that as a rule of thumb.
A quick overview of what FV (Future Value) means can be found here. A much deeper overview can be found here.
All of the ranked prospects below also appear on The Board, a resource the site offers featuring sortable scouting information for every organization. It has more details (and updated TrackMan data from various sources) than this article and integrates every team's list so readers can compare prospects across farm systems. It can be found here.
Reading Options
Position Filter
All
All
C
1B
2B
SS
3B
LF
CF
RF
SP
SIRP
MIRP
Other Prospects of Note
Grouped by type and listed in order of preference within each category.
Contact-Oriented Middle Infielders
Alsander Womack, 2B
Moises Castillo, SS
Loidel Chapelli, 2B
Jordan Sprinkle, 2B
Wilber Sanchez, SS
Womack, son of Tony, is a 5-foot-9 bowling ball out of Norfolk State who has plus bat-to-ball feel and (duh) advanced on-field acumen. Castillo has a well-rounded collection of 40-grade tools and is the best shortstop defender of this group. Like most of Chicago's many Cuban signees, Chapelli, 21, spent his first season in the DSL and the trustworthiness of his line is clouded by his age relative to the other DSL players. He is speedy and has above-average feel to hit, but we're talking about one of the smaller prospects in all of baseball here. Sprinkle (scoop, there it is) had a huge underclass season at UC Santa Barbara and made Collegiate Team USA in 2021. But he regressed in his draft year and looks like a low-SLG second baseman, though his hit tool is good enough to stay on him at this level. Scout support for little Wilber Sanchez, who's like Castillo only several levels behind, is drying up after he had looked good on the backfields in 2021.
Guys Who Throw Hard
Lane Ramsey, SIRP
Declan Cronin, SIRP
Theo Denlinger, SIRP
Jason Bilous, SP
Zach Cable, SIRP
Edgar Navarro, SIRP
Ramsey missed time in 2021 with biceps tendinitis and in '22 with an elbow strain, but by Fall League he was back to throwing in the mid-90s and flashing a plus, vertical slider. He has virtually no history of throwing strikes and was passed over in the Rule 5, but if the strikes click even a little bit, he's definitely a big league reliever. Cronin is a pitch data fave with a 93-94 mph heater that features tail and uphill plane, and his slider has plus raw spin. Denlinger has a plus fastball, sitting 94-96 with big movement. His slider looks good on paper but in-person scouts see it as very vulnerable. Bilous has a plus changeup but struggles to get into favorable counts where he can use it. He's on the 40-man as a four-pitch spot starter. Cable barely pitched in 2022, but I don't have notes on his injury. When healthy he was 95-98 for me, a great undrafted find by the Sox despite his scattershot control. Navarro has a decent sinker/slider combo and works in the mid-90s, but strikes are an issue for him, too.
Slow-Burning Youngsters
Dario Borrero, 1B
Erick Hernandez, OF
Borrero, 19, is a gigantic-framed, lefty-hitting first baseman with a good early career bat-to-ball track record. Hernandez, 17, is a rare non-Cuban, high-profile international pickup for this org. He spent 2022 in the DSL as a loose, medium-framed prospect who could grow into a host of average tools.
Lefties
Gil Luna, MIRP
Andrew Perez, SIRP
Tommy Sommer, SP
Tyler Schweitzer, SP
Trey Jeans, SIRP
Luna looked like another great late-round Four Corners find for Chicago, as he showed a velo boost almost immediately after he was drafted, but knee and elbow issues kept him out for most of 2022. Perez's slider is death to lefties, but he really struggles to command his 93-95 mph fastball. An old-for-A-ball lefty, Sommer sits just 89 but throws a ton of strikes with his fastball, changeup and slider, with both secondaries missing plenty of bats even though his slider is of the extreme low-spin variety. He's tracking like a depth arm. Schweitzer, the team's 2022 fifth rounder, has been up to 96 but sits 89. His fastball has sneaky in-zone utility, and his curveball has enough depth to give him a second potential finishing pitch. He threw a Koshien-esque 143 pitches in the 2022 MAC Tournament Championship game, a contest that was also delayed by rain. Jeans is an older, deceptive lefty with a long arm swing and an above-average, plus-spinning downer breaking ball.
System Overview
There's good news and bad news. The bad news is that this system remains extremely shallow, one of the thinnest in all of baseball, as the White Sox continue to develop pitching en masse. The good news is that the very top of Chicago's farm has rebounded quickly after several integral parts of the current big league club graduated in succession in 2020 and '21. After the two Top 100 hitters at the system's apex, there are several key role-playing bats who are quite near the big leagues, though some of them come with volatility.
That volatility extends into the pitchers running through the 40+ FV tier and at the very top of the 40s, and a big test of Chicago's ability to actualize pitching will be ironing out the issues in that group. Finding sustained impact velo from Norge Vera, adding a third pitch and hopefully coaxing more arm strength out of Cristian Mena, and making relevant alterations to Peyton Pallette's fastball shape are key among them. The upward trend of Colson Montgomery and Bryan Ramos into the Top 100 moves this farm system's total valuation from $87 million at the end of the season to roughly $136 million now. That's still likely to fall in the bottom third of baseball if historical rankings are any indication, but it's a sizable step in the right direction.
The White Sox tend to deviate from international scouting norms, often eschewing early verbal deals with top Dominican or Venezuelan prospects and saving their bonus pool for late-market prospects, typically ones coming out of Cuba. They give up some control on player quality by proceeding this way, and end up at the mercy of whoever comes free from Cuba during a given signing period, but they've tended to make out pretty well, from Alexei Ramirez to José Abreu to Luis Robert Jr., and soon hopefully Ramos and Vera.
White Sox prospects tend to have poor plate discipline but good feel to hit, though many of them have room for that in their profile because they're viable middle infield defenders. This is especially common among their international signees.
In the draft, relatively new amateur scouting director Mike Shirley seems willing to take high-priced gambles on high school pitching and also has a penchant for guys who are close to home in the Midwest. Noah Schultz ($2.8 million, out of Illinois) checks both boxes.
Eric Longenhagen is from Catasauqua, PA and currently lives in Tempe, AZ. He spent four years working for the Phillies Triple-A affiliate, two with Baseball Info Solutions and two contributing to prospect coverage at ESPN.com. Previous work can also be found at Sports On Earth, CrashburnAlley and Prospect Insider.