And the winner for the hallowed title of the second-most impactful free agent signing of February 28, 2019 goes to … the Toronto Blue Jays, who inked Clay Buchholz to a one-year, $3 million deal that could include another $3 million in incentives. Yes, the move — which won't become official until he passes a physical, no small matter given his injury history — is a fair bit behind that of the Phillies' record-setting agreement with Bryce Harper in terms of both money and impact, but it could easily pay off, as the 34-year-old righty showed flashes of brilliance during his stint with the Diamondbacks last season.
Buchholz, who was limited to just two starts in 2017 — with the Phillies, before they were a twinkle in Harper's eye — due to a partially torn flexor pronator mass that required surgery, began last year working on a minor league deal in the Royals' camp. He made three starts for the team's top two affiliates at the outset of the season, then exercised a May 1 opt-out clause and landed with the Diamondbacks, whom he helped to keep in contention for a playoff spot. In 16 starts spanning from May 20 to September 8, he threw 98.1 innings with a 20.6% strikeout rate, 5.6% walk rate, 2.01 ERA, 3.47 FIP, and 1.9 WAR — calling to mind similarly tantalizing partial-season performances with the Red Sox in 2013 and '15. Alas, his performance was interrupted for a month (from late June to late July) by an oblique strain; he then suffered another flexor strain in mid-September, and was shut down for the year after receiving a platelet-rich plasma injection.
Those were just the latest highs and lows of a rollercoaster 12-year major league career for the former supplemental first-round pick. While Buchholz's talent has been evident from the point that he threw a no-hitter in his second major league start (Red Sox vs. Orioles, September 1, 2007) and entered the next year ranked number four on Baseball America's Top 100 Prospects list, he's also been prone to falling into funks, with full or partial seasons with ERAs and FIPs in the high fours and low fives.
And then there are the injuries. At the major league level, Buchholz has never made 30 starts in a season, or even taken 20 starts in back-to-back seasons. He's thrown enough innings to qualify for the ERA title just three times, in the even-numbered years from 2010 to 2014, and his injuries have often arisen at the most inopportune times, particularly during his tenure in Boston. Any hopes of him repeating his first All-Star season in 2010 (173.2 innings, 2.33 ERA, 3.61 FIP, 3.0 WAR) were dashed the following June, when a stress reaction in one part of his back led to a stress fracture in another, knocking him out for the remainder of the season. His 2013 campaign began with a 9-0, 1.71 ERA line through 12 starts, but came with allegations — from Blue Jays broadcasters — that he was loading up the ball. Even amid that controversy, he made the All-Star team again, and might have started the All-Star Game itself and contended for the Cy Young award had a bout of shoulder bursitis not sidelined him for three months, though he did return in time for the team's October championship run. After a dreadful 2014, he was back on track through the first half of '15 when a flexor strain shut him down.
Overall, he's shown a definite pattern in terms of month-to-month availability (and, to a lesser extent, performance):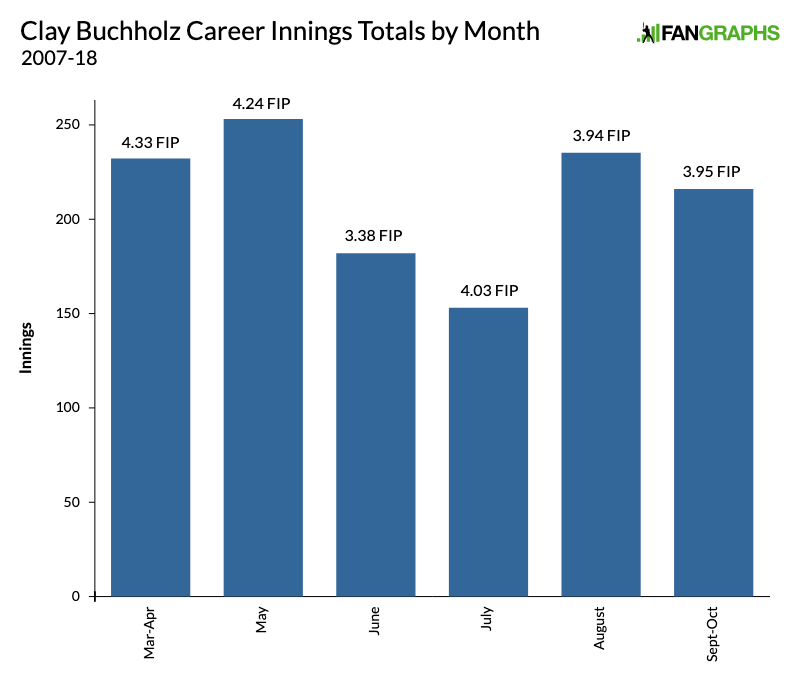 Over the last four Julys, Buchholz has tossed just 37 innings, roughly 10% of his total in the 2015-2018 span, something to consider given that the Blue Jays could deal him to a contender in July or August if he pitches well and survives that long. The team is in rebuilding mode, forecast for just 75 wins at this writing. As I noted last week in connection to knuckleball-throwing Ryan Feierabend, the front three of Toronto's rotation — namely Marcus Stroman, Aaron Sanchez, and Matt Shoemaker — totaled just 238.1 innings in the majors last year due to injuries. Fourth starter Clayton Richard, who was lit for a 5.33 ERA and 4.68 FIP while soaking up 158.2 innings with the Padres, was described by general manager Ross Atkins as being "guaranteed" a starting job as well, but he's recovering from surgery on both knees, is being brought along slowly this spring, and doesn't have nearly the upside of Buchholz. Ryan Borucki, a 24-year-old lefty who made 17 major league starts with respectable results last year (3.87 ERA, 3.80 FIP, 1.7 WAR) entered camp as the leading candidate for the fifth spot, ahead of Sean Reid-Foley, Sam Gaviglio, and Trent Thornton; all four have minor league options remaining. Save for Stroman, none of the aforementioned pitchers is a threat to throw 200 innings, so there should be room for Buchholz to show his stuff so long as he remains upright.
As for that stuff, Buchholz's fastball is down about 4 mph from his peak; last year, he averaged 90.7 mph according to Pitch Info. He's got a pair of very effective pitches in his cut fastball, which he threw 24.6% of the time (0.1% higher than his four-seamer) and changeup (16.9%). Batters slugged .300 without a homer against any of his 90 cutters they put into play last year, and hit .129 and slugged .194 on the 62 changeups they put into play. Meanwhile, they whiffed on a career-high 17.2% of the cutters and on 19.2% of the changeups.
Statcast-wise, Buchholz's .299 xwOBA placed him in the 67th percentile among pitchers with at least 300 balls in play, comparable in that regard to the likes of Luis Severino and Kyle Hendricks (.296), Kyle Freeland (.297), J.A. Happ (.300), Zack Greinke and Rich Hill (both .302). Likewise, his .303 mark over the past four seasons is in the 69th percentile among pitchers with at least 1000 balls in play.
All told, this is a low-risk move for the Blue Jays, who on the same day added depth to their bullpen (if not nearly so much impact) by signing reliever Bud Norris to a $3 million deal. One way or another, Buchholz probably isn't going to last the entire season in Toronto, but then he doesn't have to in order for this to work out for both sides.
Brooklyn-based Jay Jaffe is a senior writer for FanGraphs, the author of The Cooperstown Casebook (Thomas Dunne Books, 2017) and the creator of the JAWS (Jaffe WAR Score) metric for Hall of Fame analysis. He founded the Futility Infielder website (2001), was a columnist for Baseball Prospectus (2005-2012) and a contributing writer for Sports Illustrated (2012-2018). He has been a recurring guest on MLB Network and a member of the BBWAA since 2011. Follow him on Twitter @jay_jaffe.