Pitchers learn and develop different pitches, and they do so at varying stages of their lives. It might be a curveball in high school, a cutter in college, or a changeup in A-ball. Sometimes the addition or refinement is a natural progression — graduating from Pitching 101 to advanced course work — and often it's a matter of necessity. In order to get hitters out as the quality of competition improves, a pitcher needs to optimize his repertoire.
In this installment of the series, we'll hear from three pitchers —Colten Brewer, David Hernandez, and Ryan Yarbrough — on how they learned and developed their cutters.
———
Colten Brewer, Boston Red Sox
"It started happening in the [2016] offseason that I got Rule-5'ed to the Yankees. When I got to spring training, they said, 'Hey, the reason we got you is that we noticed some cut on your fastball; we like that.' I was like, 'Oh, really?' I'd been five years with the Pirates, and they didn't really use that analytical side to baseball. As a result, I didn't really know much about myself until I got with the Yankees.
"That offseason I'd worked out at a place called APEC, in Tyler, Texas. They were using a Driveline system. Going to a new team, I wanted to show up in spring training in the best shape possible, so I spent a month and half there. That's where the wheels started turning.
"In the spring, I started throwing more balls in to lefties, and was watching the ball work. From then on I started having natural cut on my fastball. I said, 'I'm going to use this.' With the Pirates I'd been more of a sinker guy — I thought arm-side run was better — but after I got to the Yankees I started ripping fastballs as hard as I could, and they were cutting.
"The Yankees didn't have me doing anything different with the pitch. They really just showed me videos of Mariano Rivera, and how he used his cutter, working both sides of the plate. I never changed the grip on my [four-seam] fastball; I just tried to make the hand positioning work, staying through the pitch and ripping down. Fortunately, my ripping down and throwing the ball as hard as I can results in it cutting."
David Hernandez, Cincinnati Reds
"I finally discovered how to throw a cutter in 2016. I started that season in Triple-A. Going into spring training I wanted to work on a cutter, so I was kind of messing with it, trying to get it right. The blessing of being in Triple-A was that I could develop it more so down there, as opposed to learning on the fly in the big leagues.
"When you're in Triple-A, you are [battling to get back to the big leagues], but in my situation I was trying to get a feel for the pitch. In the big leagues you need to be throwing the pitches you're comfortable throwing. Triple-A gives you an opportunity to take a step back and either work on things, or add things. I took that time. I was down there for three weeks, and before that I had six weeks of spring training, so I had around two months to work on a cutter. I made it into a usable pitch at this level.
"The organization didn't know what I was working on. I didn't actually tell anybody besides my catcher. I told him, 'Hey, I'm going to work on this pitch while I'm down here; I'd like to throw it more than my curveball.' At the big-league level, I couldn't have done that.
"The pitch is really a hybrid cutter-slider. It's in the middle of the two, and they actually asked me, 'What do you want it to be called?' I said, 'Whatever.' They said, 'We'll go with cutter.' That's how it gets logged.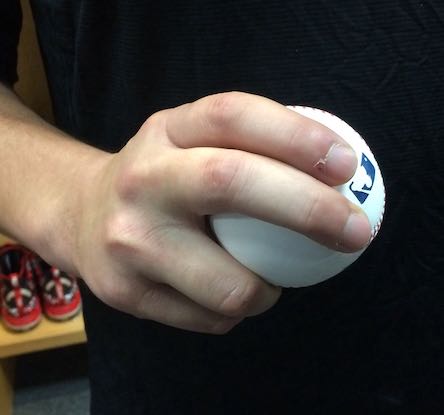 "Grip-wise, I'm more on the horseshoe — I'm offsetting my fingers on the seams — with a fastball delivery. At the release, I'm pulling down with my middle finger to get side spin. In a way, I'm holding more like a cutter and releasing it more like a slider. I'm kind of getting some slider action, and I've called it a slider, but again, they call it a cutter. Either way, it's helped me prolong my career."
Ryan Yarbrough, Tampa Bay Rays
"I started learning it a couple of years ago, kind of right after I got traded here from the Mariners. That was in January of 2017. When you first come to a new place, they want to see how you use your stuff; they want to get a good understanding of what you do. From there they said they wanted me to have a shorter, harder breaking ball. What I'd had was a bigger, slider-curveball — whatever people want to call it — and they wanted me to add another dimension.
"I talked to a couple guys in the organization, and began working on it. The cutter started developing. After awhile, using it all through Triple-A, and then last year in the big leagues, it's become a pretty big weapon for me. With how my fastball runs, it helps keep hitters honest.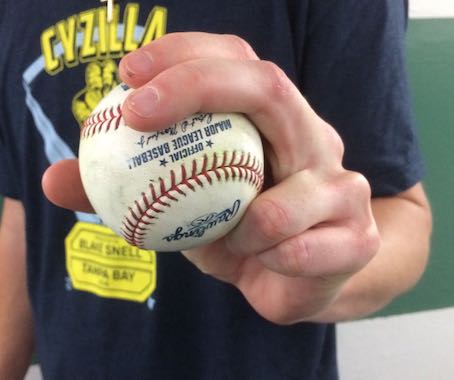 "Figuring out the grip … my thumb is so far underneath on my fastball, and I wanted to make my cutter as close to my fastball as possible, so my thumb is underneath on my cutter as well. I'm essentially just offsetting the grip a little bit around the horseshoe. That's helped me get that little cut to it.
"You need a grip to be comfortable, and you also need to see results. I was lucky enough to have Kyle Snyder [as a pitching coach] in Triple-A when I first came over, and I've obviously had him here the last two years. We're building on that relationship, understanding how it moves, and how it plays.
"We have a lot [of technology-based data], although personally, I'm a guy who likes to keep things very simplistic. But they will tell me things like, 'Hey, it's getting a little too much like your fastball; let's turn it a little more to get some more movement.' Stuff like that. There's some give and take throughout the course of the year, depending on how it's looking."
——
The 2018 installments of this series can be found here.
David Laurila grew up in Michigan's Upper Peninsula and now writes about baseball from his home in Cambridge, Mass. He authored the Prospectus Q&A series at Baseball Prospectus from December 2006-May 2011 before being claimed off waivers by FanGraphs. He can be followed on Twitter @DavidLaurilaQA.