Pitchers learn and develop different pitches, and they do so at varying stages of their lives. It might be a curveball in high school, a cutter in college, or a changeup in A-ball. Sometimes the addition or refinement is a natural progression — graduating from Pitching 101 to advanced course work — and often it's a matter of necessity. In order to get hitters out as the quality of competition improves, a pitcher needs to optimize his repertoire.
In this installment of the series, we'll hear from three pitchers — Corbin Burnes, Ty Buttrey, and Steve Cishek — on how they learned and developed their sliders.
———
Corbin Burnes, Milwaukee Brewers
"Coming out of high school I was mainly fastball-curveball-changeup. When I got to college, my coach approached me and said, 'Hey, what do you think about throwing a slider?' I was all for it. My fastball had a little bit of cutting action, so if we could kind of extend that cut, it would make for a good deception pitch off my fastball.
"I've tinkered with grips a little over the years. What I've come to is basically … it's like my four-seam fastball, but with a little pressure adjustment. Originally it was going to be more of an extended cutter — we were going to try to keep it hard — but the more I threw it, the more it turned into a slider. That was more natural for me.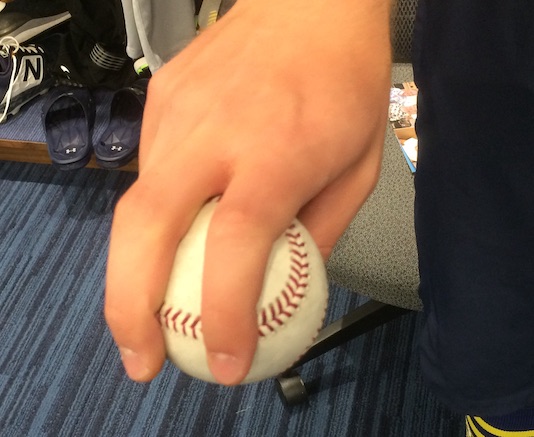 "I didn't originally know what was going to work best. Again, I was a freshman in college. But I'd always watched guys like Mariano Rivera and Kenley Jansen, and they had that cutter. I thought that if I could throw hard, and have that cutting action, maybe I could dominate. That was my original thought. It simply turned into more of this slider, with depth.
"The way I throw it changed a little bit in spring training of 2017. I switched the grip. My junior year of college, and my first year in pro ball, it was more off my curveball than my fastball. Now it's the same grip as my fastball, but with the extra pressure from my middle finger. That's the only difference.
"I remember seeing an interview on TV — I don't recall who it was with — and he basically threw his slider with a fastball grip. I thought, 'OK, how about if I just throw a fastball, add a little grip pressure, and see what happens.' The velocity went up from when I threw it more like a curveball. Instead of being in the 83-85 [mph] range, now it was 86 to 90-91. It turned into the slider I have today."
Ty Buttrey, Los Angeles Angels
"It's a pretty crazy story. I threw a spiked curveball in high school, a knuckle curveball, and I threw it in my first year of professional ball as well. It started kind of loosing its shape a little bit — it didn't have the same break — so that pitch transformed into a traditional-grip curveball. I just threw it with two fingers instead of spiking it.
"I didn't have success with that, so I went back to my old [spiked] curveball. Then I lost the feel for that again, so I tried throwing a slider. My slider started two-seaming — it broke the other way — and that led me to just focusing on my fastball and my changeup. But I wanted to have a breaking ball. I wanted to have a pitch that was going away from righties, and that I could back-foot to lefties. To do that, I had to really work on my hand positioning.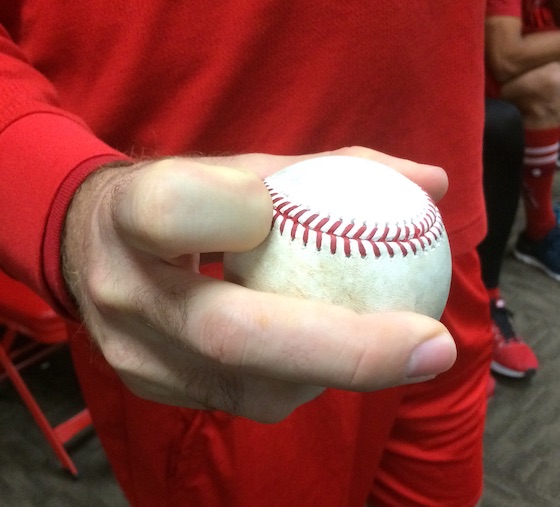 "When I'd been coming through with my breaking ball, everything was late. My body was out in front, and my arm was lagging behind. That was causing me to not get through the baseball. So what I basically did was go back to the very beginning, to the pitch I threw in high school. This was last year.
"I was fine-tuning it when I got traded over here [from the Red Sox in late July]. The pitching coach in Triple-A was like, 'Ty, let's try to throw that with more power.' So, same pitch, different side of the baseball, and since then it's been a better pitch. I'm able to throw it harder and be more consistent with it.
"It's been seven years. I threw this curveball and thought I'd never lose it. Sometimes that's just how baseball is. One day you're doing something, and another day you wake up and have no idea why it's different. You have to get back to the basics. My pitching coach might laugh about this, but I think curveball in my head — that allows me to get on top of it — but the spin that comes out is slider spin. When people ask me which pitches I throw, I say fastball, changeup, slider. But again, I'm thinking curveball. That's just how baseball players are. We're mental. We have to trick ourselves sometimes.
"If you look at the slow motion, it's a slider coming out of my hand. It doesn't have that pop. That's the good thing about a spike. Actually, for me it's more of a knuckle. It kind of just comes right off that, and doesn't have to go over those fingers. That's what gives you that pop when you throw a curveball — it has to come over the fingers — and hitters can see that. So, to be clear, I started spiking it again last year, but that was a two-seam spike, a two-seam knuckle. After coming to the Angels, I basically moved it up on the four-seam. Like I said, it's crazy."
Steve Cishek, Chicago Cubs
"My first year in pro ball, I had a terrible slider — I couldn't throw it at all — and that carried over into my second year. In 2008, after a Low-A season in which I got destroyed, I went to instructional league. Stan Meek, one of the scouts with the Marlins, suggested that I try spiking it. I tried that, learned to throw it like a cutter, and it started working. From there I started learning how to locate it, and how to manipulate it to have a little more break. It just stuck. For whatever reason, that grip stuck for me.
"I don't spike it with my fingernail. I hold it with the pad of my pointer finger, and my middle finger and thumb do all of the work. The middle finger is on the horseshoe, the upside down horseshoe. I think my arm angle helps me generate a lot of spin. I don't know what my spin rate is, but what I understand from hitters, and from catchers I've thrown to, it bites pretty good when I stay on it. I think I'm able to spin it better using those two fingers.
"Being able to change shapes on a pitch kind of changes day to day, to be honest with you. How long did it take to figure out how to do that? To throw a punch-out slider, maybe a couple of years? Whenever I change my eyesight — my target — a slider won't bite as much. I know how to take something off when I need to.
"If I'm throwing an 0-0 slider to a righty — nowadays, because I don't throw it as hard — it breaks a little bit more. I have to pretend that I'm starting it at the guy. Even though it may not look like it on TV, that's what I'm thinking. Conversely, if I'm trying to bury it, I'm starting it middle-in so that it stays low and down. I'm able to get a little more on it that way. I'm able to drive it. That's the word I'm looking for. I'm able to drive it down."
——
The 2018 installments of this series can be found here.
David Laurila grew up in Michigan's Upper Peninsula and now writes about baseball from his home in Cambridge, Mass. He authored the Prospectus Q&A series at Baseball Prospectus from December 2006-May 2011 before being claimed off waivers by FanGraphs. He can be followed on Twitter @DavidLaurilaQA.