A few weeks ago, the Cubs ended months of waiting by signing Craig Kimbrel to be their closer. Due to the lack of a spring training, Kimbrel was sent down to the minors for a bit to make sure he could still pitch. In Triple-A Iowa, Kimbrel made four appearances and pitched 3.2 innings. He struck out four of the 14 batters he faced, walked just one and gave up a lone run on a solo homer. The Cubs, satisfied that he was well enough to face major league hitting, called Kimbrel up yesterday.
After the Braves jumped out to a 6-1 lead, it didn't look like Kimbrel's services would be needed. But the Cubs stormed back with eight runs across innings four through six and the new Cubs' closer was asked to come on for the save in the ninth inning, protecting a 9-7 lead. The first batter to the plate was catcher Brian McCann. After taking a 98 mph fastball at the bottom of the zone for strike one, McCann fouled off three more fastballs. Then Kimbrel tried to drop in his curve:
McCann was obviously displeased, but the pitch might have been even closer to the strike zone than the box on the television suggested, as it did look to catch the corner. Kimbrel threw seven curves among his 20 pitches. As for the movement on the pitch, it was in line his numbers from last season, though its drop yesterday and last season wasn't quite as big as it had been in the years prior.
After the McCann strikeout, Kimbrel threw two 97 mph fastballs right down the middle to Johan Camargo, who fouled both of them off. Kimbrel followed with a curve in the middle of the plate and Camargo grounded out to second base. Kimbrel's fastball velocity ranged from 95.5 mph to 97.6 mph, with an average right in between those two figures. As to how that velocity has compared to previous seasons, here's his game-by-game velocities since 2016: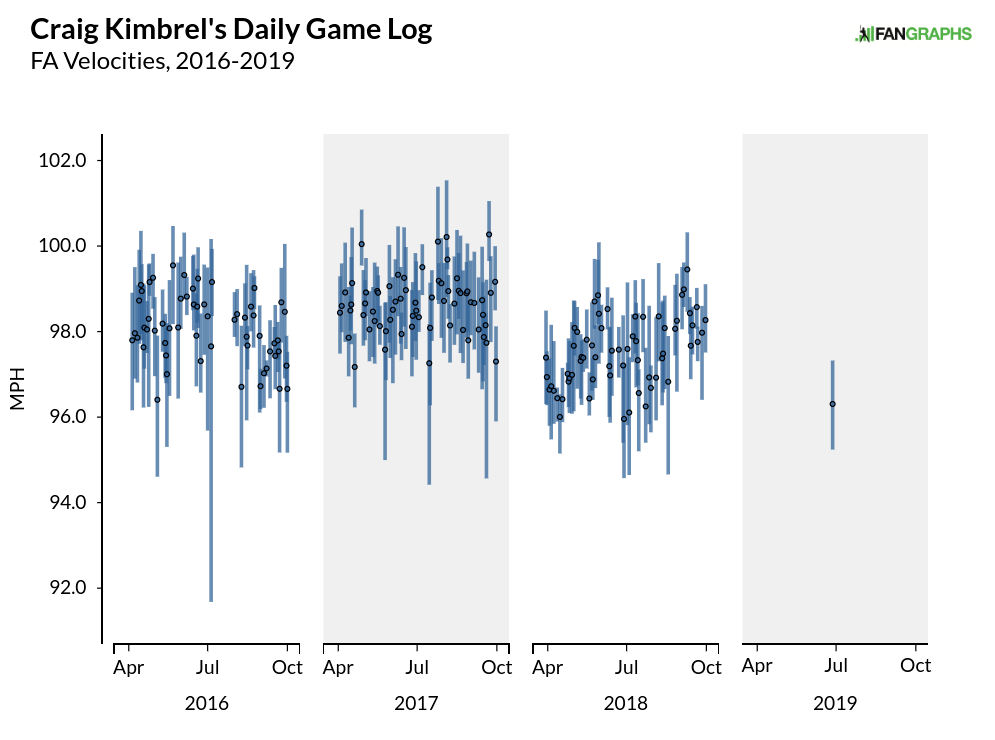 That 2017 season is a bit of an outlier for Kimbrel, as he's traditionally been right around 97 mph for his career. Kimbrel's first outing is a bit on the low side, but it doesn't look too different from his performance at the beginning of last season. Kimbrel was still effective last April, striking out 34% of batters while walking 9%, and would go on to see his velocity increase and to have a fine season, though not one as good as his three-WAR 2017 or his dominating Braves years at the beginning of the decade.
After Camargo, Kimbrel alternated between the curve and fastball to Ronald Acuña, Jr. After a 3-2 fastball was fouled off, Kimbrel's curve hung up a bit and the Braves' young star hit a ground rule double down the left field line. With Dansby Swanson up and Freddie Freeman looming on deck, Kimbrel seemed to lose control a little bit, throwing Swanson four straight balls, with the last three fastballs not coming close to the plate at all, as seen in the chart from Baseball Savant below: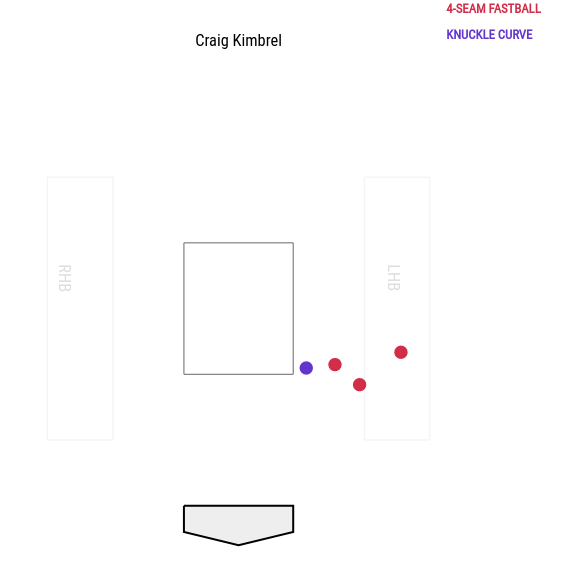 With the winning run at the plate, Kimbrel had thrown 19 pitches, which matched his high during his four-game stint at Iowa. Here's Freeman's ISO heat map on the season: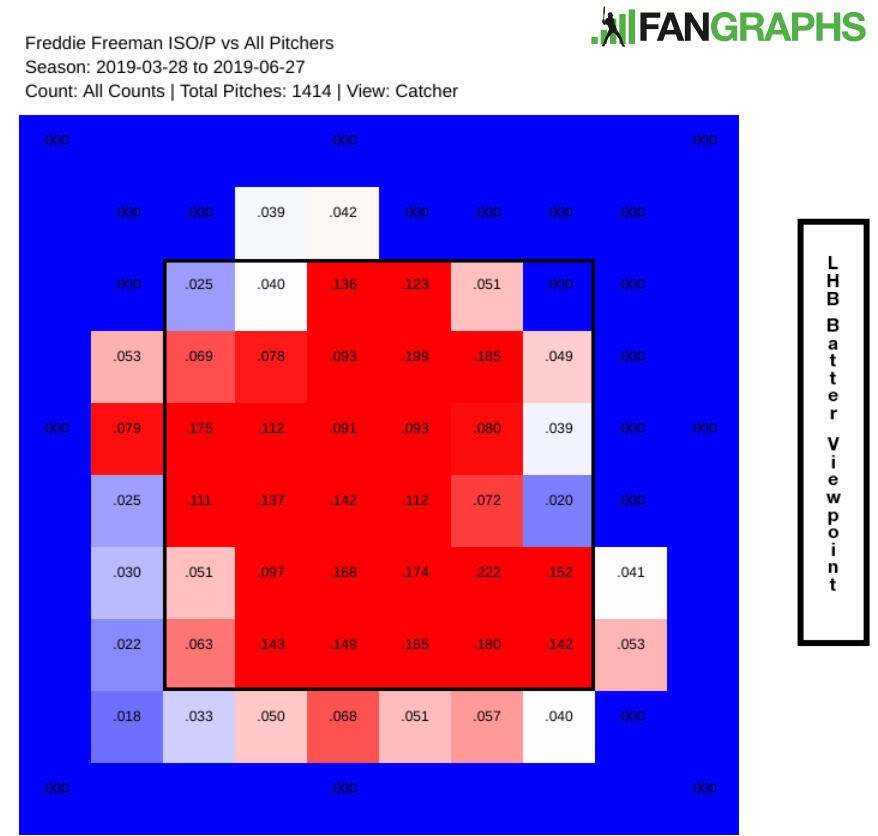 The middle of the plate is out. Anywhere at the bottom of the strike zone is out. Low and inside is dangerous, but a pitch inside below the hands might tie Freeman up. Kimbrel unloaded a fastball in a potentially dangerous spot:
That inning could have gone very differently and Freeman might have just missed a pitch he could drive, but Kimbrel got the pitch just inside enough to get the job done. He only induced one swing and miss, though only one ball left the infield and he gave up no fly balls. The velocity was basically there, though the command needs some fine-tuning. For his first outing, Kimbrel looked pretty good and on track to pitch a lot like he did last season. At 31 years old, it might be too much to ask for Kimbrel's dominating form from his 20s to return, but he certainly looks to be well positioned to stabilize a Cubs bullpen that was in real need of help.
Craig Edwards can be found on twitter @craigjedwards.