News broke last night that Rays' prospect Brendan McKay will make his debut on Saturday; Marc Topkin of the Tampa Bay Times had the initial report. The reasons for Tampa calling up McKay, who was ranked 14th overall this spring by Eric Longenhagen and Kiley McDaniel before moving up to 11th on THE BOARD in the post-draft update this month, are threefold. First, the Rays need a pitcher Saturday. As Topkin noted in his piece, Ryan Yarbrough pitched three innings in last night's 18-inning win over the Twins, and he won't be able to take the bulk of the innings tomorrow as originally planned. Second, the Rays are in what should be an incredibly close race for the playoffs and need every competitive advantage they can get. And third, tying into the second, McKay is a very talented pitcher who gives the Rays the best shot at winning.
Before getting to McKay's talents, let's first examine the competitive landscape in the American League. Much has been made of the parity in the National League, with nearly every teams having some shot at the playoffs halfway through the season. The top-heavy nature of the American League has made for a bunch of haves and have-nots, with only a handful of teams having a realistic shot at the playoffs. Looking at the playoff odds, the Rays are one of those teams: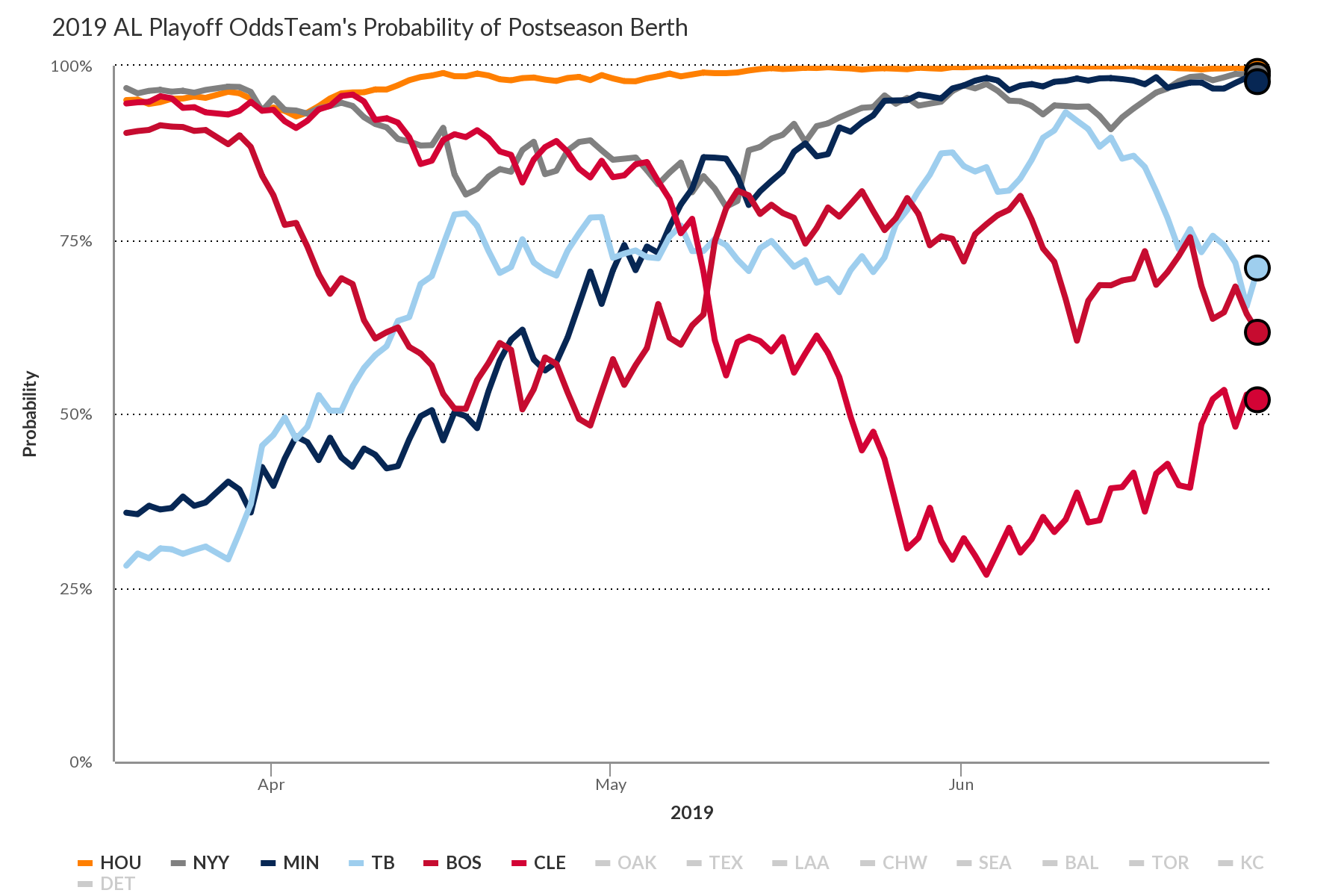 The Yankees, Astros, and Twins are seen as near locks for the postseason with the Rays, Red Sox, and Indians all with a good chance at October baseball. There are six teams above, but only five teams make the playoffs. To provide further color regarding just how close the Wild Card race could be, here are those teams' projected win totals: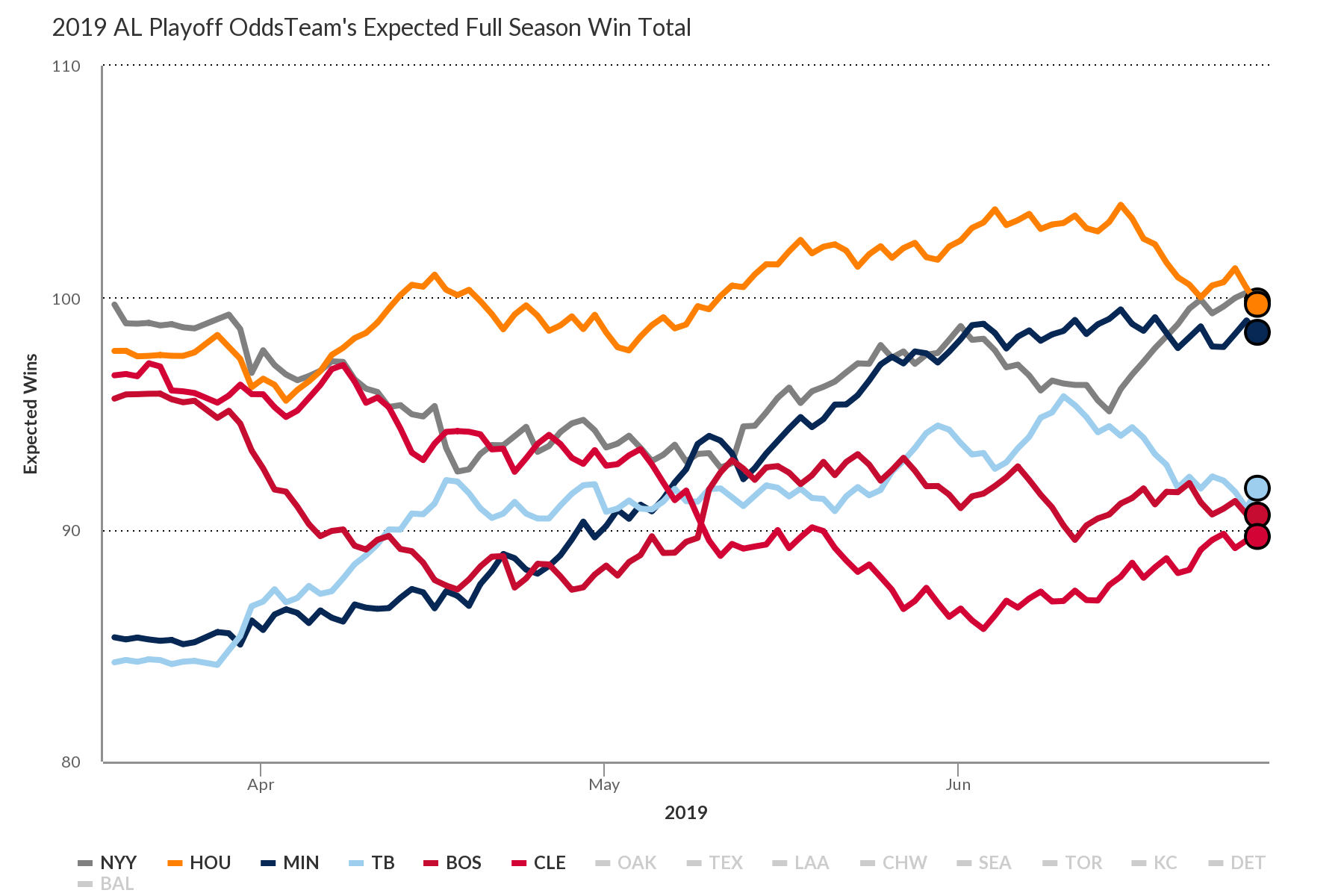 Very little separates Tampa Bay from Boston and Cleveland at the moment. And while the Rangers, Angels, and A's might not have great playoff odds individually, they are all within a few games of the wild card lead, or, in the Rangers' case, are one of the two wild card leaders at the moment. Collectively, those three teams take out one of the three presumed contenders one out of every five times. All of the above is a somewhat convoluted way of saying that every win is incredibly important for a Rays team trying to make the playoffs for the first time in six seasons.
Enter Brendan McKay. The lefty from Louisville was the fourth overall pick just two years ago and after getting his feet wet with 20 innings that season, McKay had an injury-shortened 2018 due to an oblique injury, but dominated Low- and High-A in 78.1 innings of work. This is what Longenhagen and McDaniel had to say about McKay's progress entering this season:
McKay leaned on a low-to-mid-90s fastball and didn't have trouble navigating lineups because of his above average to plus command of the pitch. A plus-flashing curveball is his best secondary offering, but his cutter and changeup are both above-average, giving him No. 2 or 3 starter upside, and he's not a long way off from reaching it.
McKay tore through Double-A, striking out 62 batters in 42.1 innings while only allowing nine walks with a 1.30 ERA. At that time, Longenhagen wrote him up in a prospects report:
McKay's stuff is not especially nasty — he was 91-95 last night — but his fastball plays up because of good extension. All of his pitches look the same coming out of his hand, and he has shockingly good feel for pitching even though his attention has been split between the mound and the plate for much of his career. If he keeps dominating Double-A hitters like this, it's fair to start considering him as a potential big league option sometime this year.
McKay moved up to Triple-A at the end of May and in five five-inning stints, he's struck out 28% of batters, walked just 7%, and only given up three earned runs. The Rays current rotation of pitchers-who-pitch-most-of-the-innings-in-games consists of Blake Snell, Charlie Morton, Yonny Chirinos, Ryan Yarborough, and Jalen Beeks. With Tyler Glasnow currently shut down, the back portion of the rotation isn't as strong as it was at the beginning of the season. McKay would provide an immediate upgrade.
In the bad news/good news department, it is probably necessary in an article like this to deal with the issue of service time manipulation. That's the bad news. The good news is that manipulating service time doesn't seem to be a real issue here. McKay had never pitched above High-A before the season started and had a truncated season a year ago. There wasn't clamoring for him to make the Opening Day roster and the Rays have promoted him quickly. But Tampa don't necessarily deserve a round of applause, either, as McKay was going to be needed at some point this season, so calling him up now versus later makes little difference for service time considerations.
Given McKay's injury issues last season, the Rays are going to monitor his innings closely. The lefty has pitched 66.2 innings this season. If he were to pitch five innings tomorrow and five innings at some point in the Yankees' series before the All-Star Break, he would have 76.2 innings pitched with 71 games left in the Rays' season. Pitching five innings every sixth game would give McKay 12 starts and under 140 total innings ahead of the playoffs. Because of the club's use of bulk relievers after Ryne Stanek starts games, the Rays are uniquely situated to let McKay continue to start every sixth say like he has so far this season. Adding another benefit, McKay is a two-way player who could pinch hit or potentially take an occasional start at designated hitter. While he struggled at the plate to start the season, he's hit .265/.400/.551 with a 141 wRC+ in just 60 PA since jumping up to Triple-A and the major league baseballs (both his hitting and pitching stats can be found on his player page).
As for his potential impact, our Depth Chart projections give McKay a solid 4.11 FIP and 3.97 ERA, with a strikeout an inning under three walks per nine innings. For comparison's sake, here's a table showing projections for McKay as well as a handful of starters who might be on the trade block over the next month.
Brendan McKay and Trade Targets
On talent alone, McKay's projections place him ahead of Marco Gonzalez and Madison Bumgarner, and right behind Matthew Boyd and Mike Minor, with the latter two potentially not available. McKay's innings limit his value somewhat, but if he can pitch 80 innings the rest of the way, he'll have a bigger projected impact than any of the players above if traded right at the deadline. Nothing precludes the Rays from tapping into their vast farm system to get one of the pitchers above as well, but McKay's impact could be huge in Tampa Bay's quest for a playoff berth. McKay might not be Shohei Ohtani with the bat, but contributing as a hitter and pitcher is a rarity at the big league level and ratchets up the excitement level even more than a typical top prospect promotion would.
Craig Edwards can be found on twitter @craigjedwards.