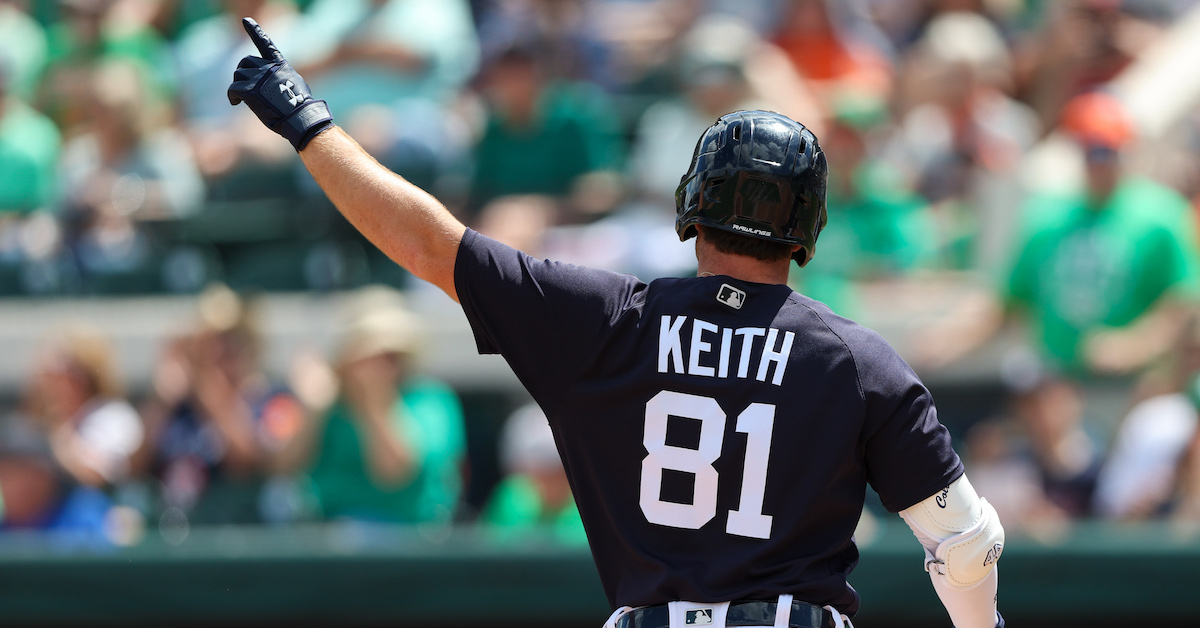 Top Prospects Series
Below is an analysis of the prospects in the farm system of the Detroit Tigers. Scouting reports were compiled with information provided by industry sources as well as my own observations. This is the third year we're delineating between two anticipated relief roles, the abbreviations for which you'll see in the "position" column below: MIRP for multi-inning relief pitchers, and SIRP for single-inning relief pitchers. The ETAs listed generally correspond to the year a player has to be added to the 40-man roster to avoid being made eligible for the Rule 5 draft. Manual adjustments are made where they seem appropriate, but I use that as a rule of thumb.
A quick overview of what FV (Future Value) means can be found here. A much deeper overview can be found here.
All of the ranked prospects below also appear on The Board, a resource the site offers featuring sortable scouting information for every organization. It has more details (and updated TrackMan data from various sources) than this article and integrates every team's list so readers can compare prospects across farm systems. It can be found here.
Other Prospects of Note
Grouped by type and listed in order of preference within each category.
Catching Depth
Eliezer Alfonzo, C
Mike Rothenberg, C
Clayton Campbell, C
Alfonzo is a compact switch-hitter who is tough to strike out, but his tools are otherwise below-average across the board. Rothenberg is a switch-hitter with above-average bat speed and below-average feel to hit. Campbell is a huge teenager from New Zealand who has natural opposite field power.
One-Tool Bats on the Fringe
Wenceel Pérez, 2B
Manuel Sequera, 2B
Jose De La Cruz, OF
Mario Feliciano, LF
Luke Gold, 2B
Pérez is only a defensive fit at second base, but his 50-hit and 30-power combo, even with plate discipline, isn't enough for him to be an everyday player there and he doesn't have the defensive versatility to be a utilityman. Sequera has performed from a bat-to-ball standpoint so far, but he lacks obvious big league athleticism. De La Cruz has ridiculous power for a 21-year-old in an outfield corner but the hit tool projects short of a role there. Feliciano is a bounce-back candidate who, though currently injured, has moved out from behind the plate and to left field. I was a big Luke Gold guy before last year's draft, but he looks surprisingly lost against pro pitching so far. He could be a bulky, power-hitting part-time second baseman if things come together.
Young Arms, Likely Relief Fits
Marco Jimenez, RHP
Dylan McCall, RHP
Carlos Pena, LHP
Ulices Campos, RHP
Edgardo Ibarra, LHP
Jimenez, 23, was struggling to command 95-97 mph heat and a good slider prior to being shut down with injury not long before publication. He's the hardest thrower in Lakeland. McCall, 19, is a huge, 6-foot-8 projection prospect signed as a 2022 undrafted free agent out of Fort Collins, Colorado. He was up to 91 with a slow, vertical breaking ball in high school. Pena, 24, is a little lefty who has struck out a ton of guys early on with West Michigan using a vertical fastball/curveball combo that likely profiles in low-leverage relief long-term. Campos, 21, has been sitting 93-96 with highly variable strikes in Lakeland. Ibarra, 19, is another compact lefty with a short, deceptive arm stroke, low-90s velo, and a good vertical breaker.
Young Hitters with Upside
Javier Osorio, SS
Samuel Gil, SS
Carlos Pelegrin, OF
Osorio, 18, signed for $2.2 million in 2022, then had a rough DSL debut as the youngest player on the roster. Twitchy and lithe with above-average bat speed, he badly needs to get stronger. Gil, also 18, signed for $1.25 million in 2022 and is more of a skills-over-tools type. Pelegrin is one of the more projectable young hitters in the system at a lanky 6-foot-3. He's currently hitting near the top of Lakeland's order.
Other Notable Relievers
Elvis Alvarado, RHP
Braden Bristo, RHP
Blake Holub, RHP
Trevin Michael, RHP
Adam Wolf, RHP
Alvarado is a converted outfielder who has hopped around to a few different orgs at this point. His fastball averaged 97 mph last year but it plays down and so he tends to take a slider-first approach. He's currently on the IL. Bristo is currently on the 40-man after flowing to Detroit from Tampa on waivers. He's a cutter-heavy reliever without a real plus weapon. Holub is part of the late-game relief contingent in West Michigan, where he works with a riding 94 mph fastball and vertical breaker. Michael will show you 96 and a plus slider. The 2022 10th rounder is already 25 and got a quick hook to High-A from Lakeland. Wolf is a soft-tossing, low-slot lefty with a slider who could be a situational lefty in a pinch.
System Overview
The Tigers have struggled to fill their system with above-average hit tools. Be it their big international signees or the large conference college performers who they tend to take in the draft, there is only one above-average hit tool projected in this entire system (Danny Serretti). It's strange because a mechanical through line in the system is the ultra-short, shallow load that usually prevents hitters from being long into the hitting zone. Yet even though many of the hitters above use a short load, they have issues making contact. Hit tool issues threaten huge swaths of this system, including most of the high-upside hitters. Even Jace Jung's in-zone contact rates are pretty pedestrian. It's been a big enough issue that a change to the club's approach to drafting and signing hitters should probably occur under the new regime.
Lots of pitchers in this system end up with a delivery similar to the one Ty Madden has adopted, where they sit deep into their back side and use a shorter arm action. Joey Wentz and several of the lower-level arms have similar mechanical elements, they're just most noticeable on Madden because he now looks so much different than he did in college.
This system is below average. The near-ready high-end role player group (anyone in the 40+ tier or above) is about average, and the likes of Parker Meadows and Justyn-Henry Malloy should be up to help support the platoon-heavy cause relatively soon, but the system lacks any modicum of depth in the way of high-end players. For a team that's still in a rebuilding phase to only have 12 40+ FV prospects or better is not good. There are a few players on expiring deals (Michael Lorenzen, Matthew Boyd) who might net something at the trade deadline, but not so much as to move the needle on the system's evaluation. The Tigers need to do well in the next couple of drafts to avoid treading water behind Cleveland and Minnesota (at least) in this division for the foreseeable future.
Eric Longenhagen is from Catasauqua, PA and currently lives in Tempe, AZ. He spent four years working for the Phillies Triple-A affiliate, two with Baseball Info Solutions and two contributing to prospect coverage at ESPN.com. Previous work can also be found at Sports On Earth, CrashburnAlley and Prospect Insider.