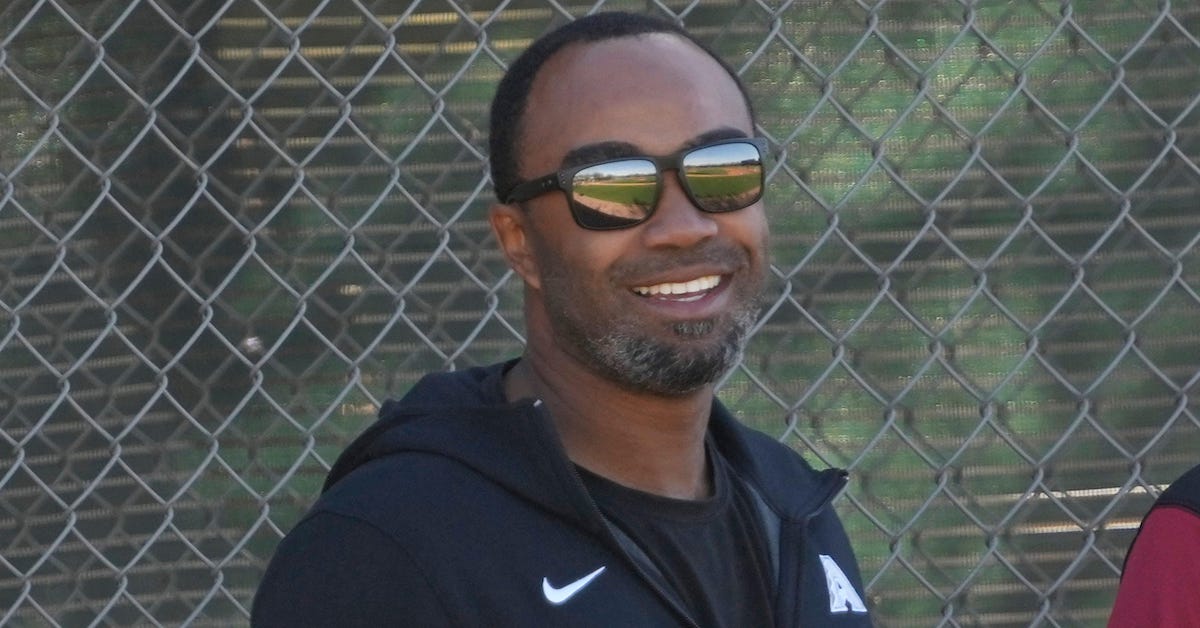 The Arizona Diamondbacks currently have one of baseball's best farm systems and an improved player development system is playing a big role in its success. Led by Josh Barfield since 2019, the department has seen the likes of Corbin Carroll and Alek Thomas make their big league debuts in just the past year, and other high-ceiling prospects — Jordan Lawlar is among the notables — are coming fast. Moreover, the pipeline includes not just position players, but also promising pitchers. Playing in a powerhouse division that includes the Dodgers, Giants, and Padres, the D-backs will be counting on their young core as they strive to reach the postseason for the first time since 2017.
Barfield discussed a few of the team's top prospects, and a pair of under-the-radar players to keep an eye on, in a recent phone call.
———
David Laurila: You had a relatively short playing career. Looking through the lens of your current job, how might you have been better developed?
Josh Barfield: "That's a good question. I think having a better understanding of what I did well, the areas that I struggled in, and spending more time on [the latter]. A lot of times, guys will… it's always fun to work on the things you're good at, but I think the best players — the most talented ones I've been around — have done a really good job of recognizing their weaknesses and attacking those areas on a daily basis. Offensively, defensively, whether it's a movement efficiency… training today is just so much more individualized compared to 20 years ago when I was coming up."
Laurila: Addressing weaknesses is obviously important. At the same time, so is optimizing what you do well.
Barfield: "Yes, but there is so much information now, especially when it comes to hitters and what they do well and don't do well. If you don't work on the things that you struggle at, you will get exposed — and you get exposed quicker than ever in today's game. There used to be that adjustment period where the league would have to figure you out, and now they might have 1,000 at-bats of you in the minor leagues and a really good idea how to attack you from day one. You can't sneak attack people anymore."
Laurila: There is a school of thought that a hitter needs X number of at-bats, and a pitcher X number of innings, in the minors. Where do you stand on that?
Barfield: "I think everybody is different. If you were to put that stipulation on a Juan Soto, or a Corbin Carroll, you would probably stifle their developmental a little bit. Those guys were ready. There are other guys that maybe get rushed to the big leagues a little too soon. Like I said about being exposed quickly, they haven't had time to close up some of those holes, so they end up getting sent back down to work on them. So, I think it's different for every guy. Corbin Carroll… I don't know if he had much more than 600 minor league plate appearances, and he was definitely ready to go up there and compete."
Laurila: You've told me that Grady Sizemore was probably the best all-around player among your former big league teammates. How similar are Corbin Carroll and Sizemore?
Barfield: "It's funny you ask that because Grady is actually working with us now — he's working with our outfielders and some of the hitters, specifically on the minor league side — and the other day I was talking about comps with someone. I said that if Corbin was 6-foot-3, a lot of people would probably compare him to Grady. There is the explosive athleticism, the ability to affect the game on the bases, in the field, at the plate… and he's got more power than a lot of people realize, both raw power and game power. So yeah, I think it's a pretty fair comparison."
Laurila: How good is Jordan Lawlar?
Barfield: "He's really good. The thing that's so impressive about him and Corbin is that they are very mature for their age and very hard workers. Obviously, they're talented, but the way they go about their business is impressive. These guys can handle a lot of information, and… we talked about working on weaknesses, and they want to work on the things they're not good at. They want to be great at everything.
"We've been able to move Jordan pretty quickly. He killed the rehab [from labrum surgery], showed up ready to go, and really never looked back. In his first full season, he touched three levels, then the Fall League, and he handled himself well at all of them. There were some little fluke injuries here and there, so he missed a little time, but other than that, it's been a pretty smooth ride for him so far."
Laurila: Does Lawlar remind you of anybody?
Barfield: "You know, it's hard to put comps on guys. I've heard the Derek Jeter comp, and maybe that's not too far off. He's just a really good athlete. He's a gifted hitter who controls the zone and uses the whole field well, and he's already got some power; I think he's going continue to grow into more power. He's also one of the best baserunners, and definitely the best basestealer, we have in our system. He stole almost 40 bags last year, even with missing a decent amount of time."
Laurila: A better basestealer than Corbin Carroll?
Barfield: "If you put them in a race, I think Corbin gets him. But in terms of who gets the best jumps, the best reads… and he's a really good slider. All of the little things. He's a really gifted basestealer. I wouldn't be surprised to see him stealing 30-plus bases consistently in the big leagues."
Laurila: He's not nearly as high profile as Carroll or Lawlar, but Blaze Alexander interests me. Reading about him, I have a comp in mind.
Barfield: "I'm curious what yours is, because I've heard one and think he has a chance to end up being better. Blaze has been a great story. He was drafted in 2018 out of high school, and you could see the talent from day one. But like we talked about, how many at-bats a guy needs is going to be different. For him, it took a little longer, which is fine, especially for high school kids. He and Alek Thomas came in at the same time, and Alek kind of shot through the system, while Blaze has kind of gone step by step. But he really made strides last offseason in his maturity, his preparation, and his focus.
"We started to see his tools play consistently in games, both offensively and defensively. Defensively, he's gone from a guy who would flash some tools — he's always had a big arm from short — and now he's showing that he can consistently make the routine plays, and the web gems as well. Offensively, he really closed up some holes. There's definitely some raw power in there. The comp I've heard is Charlie Culberson, but I think he's going to be a better player."
Laurila: The comp I had in mind is Nick Ahmed.
Barfield: "That's interesting. I hadn't heard that one, but I think we would take Nick Ahmed's career if that's what Blaze ends up being. But he's got a chance to be a dynamic player. Because it's taken him a little bit longer than some of the other guys, he's maybe been overlooked, but we're really excited to have him. He's on the 40-man now, so he's not far away from getting an opportunity to show what he can do."
Laurila: Jumping over to pitchers, Ryne Nelson and Brandon Pfaadt are guys who have gone from being under the radar to being strong candidates for the starting rotation. The organization's pitching development deserves some credit.
Barfield: "From the amateur side, we've done a really good job of identifying talented arms, and good athletes too. I think that's one of the common threads with a lot of these guys. Nelly went to Oregon as a shortstop. Drey Jameson, Tommy Henry, Pfaadt… these guys are good athletes who really like to compete. I think they've done a great job with… whether it's refining deliveries, like with Nelly — the question mark on him coming out of college was the command, and he's done a great job [improving] that. He's always had the elite fastball with carry, and now he's refining his breaking ball, which is going to give him another solid weapon.
"Brandon Pfaadt is special. I think we'd all be lying if we said we knew how special he was going to be coming out of the draft. We knew we liked him. One thing he's done is transform his body. He was kind of a bigger body — maybe softer as a kid — and now he looks tremendous. He's really leaned up, and is also stronger than he was before. He's always had an elite ability to throw strikes — he commands all three pitches — but the fastball velo has jumped. His slider is better than it was when we got him, and his changeup is even better. He's done a really good job, and our staff has done a really good job, with refining his stuff. He's right there, knocking on the door."
Laurila: Who has the best stuff in the system?
Barfield: "That's a tough one. Best command is definitely Pfaadt. If you're talking best fastball and are going carry — best fastball life — it's probably Nelson. If it's who's got the best arm, I'd say probably one of Drey, or [Luis] Frias, or Yilber Diaz. They come to mind. If you're saying best secondary, Bryce Jarvis is up there. I know the numbers haven't really played out in games yet — not the way you would draw it up — but if you go raw secondary stuff, his is as good as anybody in the system. We've got some talented guys right now."
Laurila: Before I let you go, who should people know about — either a pitcher or a position player — who is maybe flying under the radar?
Barfield: "There are a lot, but [Crisofer] Torin is one that's worth keeping an eye on this year. I think he'll move pretty quickly up the prospect charts. He's still 17, and he dominated the DSL. If you go look at his numbers, the bat and strike zone control are ridiculous. And he's got a really good shot to stay at shortstop, which is something I have pretty high bar for. He'll exceed that bar. The defense is going to be really good."
David Laurila grew up in Michigan's Upper Peninsula and now writes about baseball from his home in Cambridge, Mass. He authored the Prospectus Q&A series at Baseball Prospectus from December 2006-May 2011 before being claimed off waivers by FanGraphs. He can be followed on Twitter @DavidLaurilaQA.