Pitchers learn and develop different pitches, and they do so at varying stages of their lives. It might be a curveball in high school, a cutter in college, or a changeup in A-ball. Sometimes the addition or refinement is a natural progression — graduating from Pitching 101 to advanced course work — and often it's a matter of necessity. In order to get hitters out as the quality of competition improves, a pitcher needs to optimize his repertoire.
In this installment of the series, we'll hear from three pitchers — Dylan Bundy, Cory Gearrin, and Dereck Rodriguez — on how they learned and developed their changeups.
———
Dylan Bundy, Baltimore Orioles
"I'd tried a circle change, and throwing with these two fingers [the middle and ring], but I never could do it. First of all, it doesn't make sense to throw with those two fingers when you don't throw any other pitches with them. You throw every pitch with the [middle and pointer], and your thumb, right? I kind of got around to, 'Why try it?'
"I decided to spread my fingers over the two seams — this was in 2016 — and while I don't know if you'd consider it a split, I call it a split. Some people only consider it a split if you full on choke it. For me it's not a choke so much as a spread. When you bring your thumb up, really far up to the side of the ball, that way you get the action. If your thumb is underneath the ball, you get more straight drop, if that makes sense. You're throwing against your thumb.
"I first threw a four-seam [changeup] — same grip, same spread — but then, two years ago… actually, no. Last year was the first time I started doing a two-seam grip instead of a four-seam grip. My thought process had been to try to make it look exactly like my heater, because I thought hitters could read spin, but I was told that hitters can't make up their minds on spin that quick. I was told, 'Don't worry about that; don't worry about the spin, worry about the action.' That's when I went to the two-seam split-change.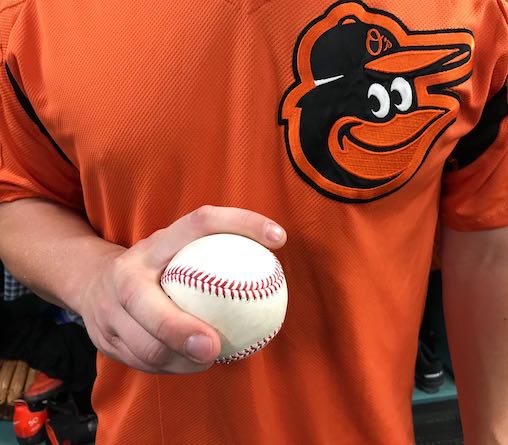 "Basically, my index finger is on one seam, and the middle finger is just off the other seam. I try to not cross my face with it. You're going to, no matter what, but I try to think, 'Don't cross my nose with it.' Whether that means more pronation… I don't know. But if I feel like I'm crossing my face with it, I get less action. I'm more likely to yank it, or throw it up and in.
"Velocity wise, it is what it is. I've tried to slow it down a few times, but that's really hard unless you completely change the grip. You have to let the grip that you do have slow the speed down. If you start slowing your arm, or your body, that's something hitters will notice. It will take away the [deception]."
Cory Gearrin, New York Yankees
"I didn't start throwing a changeup until professional baseball. I was sinker-slider all through college, but when I got to pro ball — I came up with the Braves — I was told that I needed to develop a changeup. And I did need that to combat lefties, for sure.
"They brought in a guy named Gene Garber. He's a former Brave, a big changeup guy, and he'd been a low arm slot guy, like me. Gene talked to me a lot about how he used his changeup, and also how he held it. He held it really funky. He held his changeup with the inside of a knuckle, like on the back side of his middle finger. Really crazy. I tried that, and there was just no way. At the same time, that kind of opened my eyes to different ways to throw it.
"I started messing around with grips. Initially, I held a four-seam, kind of across the horseshoe. I got comfortable throwing that pitch, but the further along I got in the minor leagues, the more I realized, 'You know what? I'm throwing sinkers and sliders, and then a four-seam changeup.' Good hitters can see spin, right? So I adjusted to throwing more of a true, two-seam spin changeup to give it a similar look to my fastball.
"It's not a traditional circle. It's kind of… I had a pitching coach who used to call it a fosh, or a Vulcan, or something like that. It's not a Vulcan, though. It's more off my middle two fingers. The thumb and finger are kind of off to the side, but not like a true circle. It's kind of like how my thumb will be with my fastball, kind of more off to the side.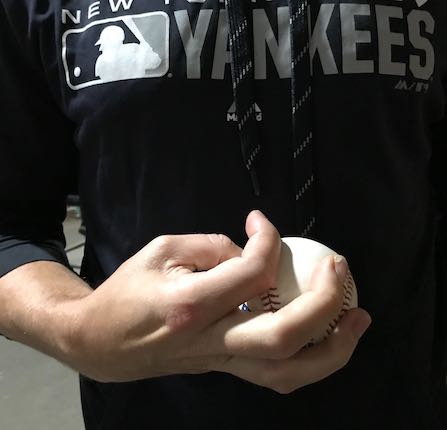 "I don't pull straight down on it. I try to throw it just like my sinker and get that same kind of rotation. My fingers are offset. I want to pull off the same seam that I do with my sinker, so I try to line it up that way when it comes off. The exact same action."
Dereck Rodriguez, San Francisco Giants
"Outside of a fastball, a changeup was the first pitch I learned how to throw. Right from the start, it was a matter of repetitions, just to get a feel for it. Now it's a circle change, your standard two-seam circle, and I learned it from my dad [Ivan Rodriguez]. Originally it was more of a splitter variation. But after not even a full month of pitching… I mean, learning a splitter right off the bat was maybe not the best idea. Obviously, I was making a transition [from a position player to a pitcher].
"I started pitching in 2014. That's when the whole process started. Growing up, my parents had never really wanted me to be a pitcher. My dad always wanted me to just run around, and play any other position. I guess he felt that pitchers, early on… arm problems, and stuff like that. I only pitched seven innings when I was in high school. All I threw was straight fastballs. Back then I threw almost the same as… actually, I probably threw a little harder in high school. I was whippier. I used to just blow it by kids.
"My changeup actually depends a lot on my fastball. If I'm kind of all over the place that day with my fastball, my changeup is probably not going to be there. It's very dependent on my fastball release point. The velo on it tends to fluctuate. The changeup I want on most days is 81-84 [mph], but some days it's 84-86. I prefer having the bigger separation.
"Again, the first changeup grip they taught me was more of a splitter. My dad didn't like it — he was concerned about my elbow — and I felt like it was kind of weird, anyway. So we changed it up to a circle change. The grip is middle finger and ring finger over the two seams, and my thumb is right underneath the ball. Then I place the other two right next to it, and try to throw it as hard as I can with the middle and ring [fingers]. I hold it loose, like an egg. My dad taught me the basic grip, but from there everything else was me playing around with it. From that, I came up with what I've got."
——
The 2018 installments of this series can be found here.
David Laurila grew up in Michigan's Upper Peninsula and now writes about baseball from his home in Cambridge, Mass. He authored the Prospectus Q&A series at Baseball Prospectus from December 2006-May 2011 before being claimed off waivers by FanGraphs. He can be followed on Twitter @DavidLaurilaQA.