Pitchers learn and develop different pitches, and they do so at varying stages of their lives. It might be a curveball in high school, a cutter in college, or a changeup in A-ball. Sometimes the addition or refinement is a natural progression — graduating from Pitching 101 to advanced course work — and often it's a matter of necessity. In order to get hitters out as the quality of competition improves, a pitcher needs to optimize his repertoire.
In this installment of the series, we'll hear from three pitchers — Dylan Cease, Tyler Duffey, and Buck Farmer— on how they learned and developed their curveballs.
——
Dylan Cease, Chicago White Sox
"I first learned a curveball when I was 12 or 13 years old. I think a coach probably taught me, but it's tough to say that far back. I do know that I didn't throw a whole lot of curveballs back in the day; it was mostly fastballs.
"When I got to pro ball, it took me… I really didn't know anything about how to throw one. I had to figure out how to throw it like a fastball, how to get it to stay on a fastball plane, how to throw it with arm speed. At first I wanted to baby it. It kind of had a loop in it. I needed to work on things like the shape, and how it came out of my hand.
"It was a regular curveball until last year when I got to Double-A and changed to a knuckle curve. I was talking to Dane Dunning. I liked the shape of his curveball. I said, 'I feel like mine is a little loopy; how do you do that?' He showed me his knuckle curve grip, which I'm pretty sure he got from James Shields — indirectly from James Shields — and throwing it like that added a bunch of extra spin and drop.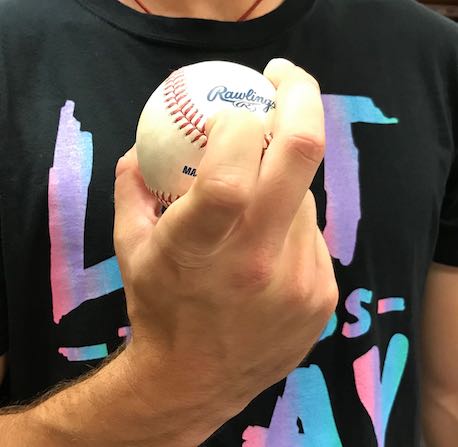 "Really, I'm just throwing it like a fastball. I'm… actually, I don't want to say I'm throwing it like a fastball. I'm definitely turning it. At the same time, it's like a fastball until I'm popping it at the end.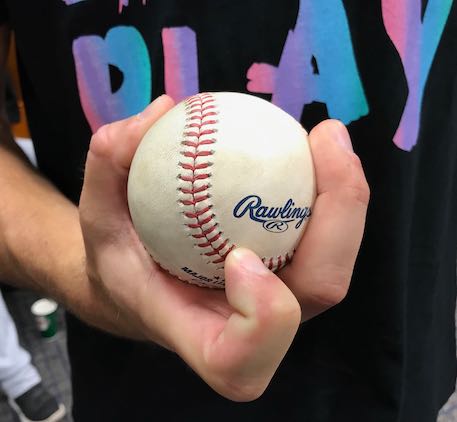 "Before last year, I didn't really know what I was going to get, if it was going to bounce or be a strike. From continuing to throw it, it's like my body knows how to do it now. While I changed the grip — and that did make it better — all of the reps I've gotten have been just as important. Another big thing was picking one or two things to focus on — not focusing on eight different things — and letting my body do the work. Now that I know how to do it, it's just like riding a bike. Knock on wood."
Tyler Duffey, Minnesota Twins
"My curveball was taught to me by a guy named Nathan Mitchell, back when I was around 12 or 13. He pitched all the way up to Triple-A with the Cubs, and before that at the University of Houston. My dad worked with his uncle and through that he pretty much became my pitching coach when I was growing up.
"When I was in high school my arm slot was lower, so my curveball had a lot of side-to-side, almost like Rog (Taylor Rogers] — his kind of break — with more of a slurvy, two-plane break. I've gotten away from some of the horizontal. I was still a low-three-quarters guy until fairly recently, but now that they have me getting on top of the ball better, I'm getting more vertical; my breaking ball is pretty much straight down. There may be a little right-to-left, but it's a negligible amount.
"A big change came this spring, with Wes Johnson coming in [as the new pitching coach]. He had a plan laid out for us. We all have our strengths and weaknesses and we've made it a point to capitalize on those strengths. I've gone pretty much strictly to four-seams, which has created a lot of useful movement that plays up in the zone. Being able to throw fastballs in that spot has made my curveball play up.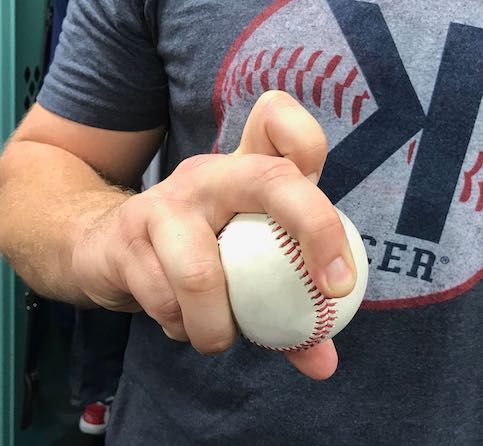 "Over time I've messed with the velo on it, and now it's 85-86 [mph] on a good night. That's almost like a slider, but I'm not thinking slider — I'm thinking of staying behind the ball and spinning it. And while I'm able to vary the velo from the mid-70s to the mid-80s, the vertical break is actually very similar. The speed change doesn't change the break. The Twins have basically said, 'If you throw that hard one, you can throw it as much as you want, whenever you want.'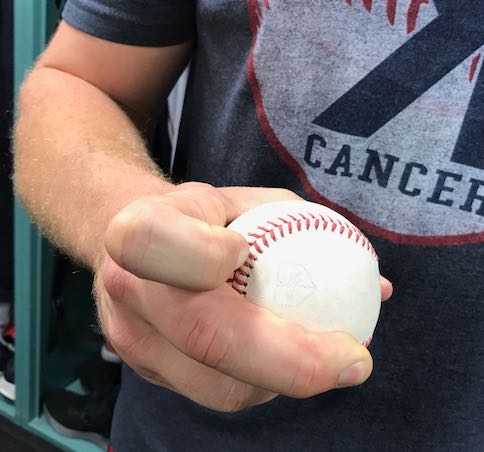 "When I do want to take a little off… I'm still getting into a power position — everything in my mechanics — and still finishing through it. The only way I can describe it would be that I kind of dead-fish my arm in back. So, once I get over the top of it I'm still spinning it, but I'm not really ripping through the ball to create that velocity. I don't think it's noticeable.
"When I come in, I tell the catchers, 'If you want a slower one, put down a two; if you want a harder one call a three.' That way they know if I'm going to rip one in there, or if I'm going to maybe swing one on the corner. We may change the look, depending on the count, and the reports we have on the hitter."
Buck Farmer, Detroit Tigers
"The development of my curveball is kind of a weird story. I was told to stop throwing it. This was after I got drafted and was doing my last the bullpen in short-season. I'd been throwing it all year, along with a slider, and they told to choose one or the other. Really, what they were telling me was to bang the curveball. I'd initially learned it in Little League, and it was my go-to pitch in high school, so when I was told to stop throwing it I was like, 'This might not work out too good.'
"What was problematic is that I never really had separation in speeds. My changeup was hard, my fastball was kind of hard, and my slider was also kind of hard. So when I got up here I had more downfalls than positives. They said, 'Why don't you ever throw a curveball?' I said, 'I used to, but they told me to stop throwing it.' I'd essentially gone from 2013 all the way up to 2017 without it.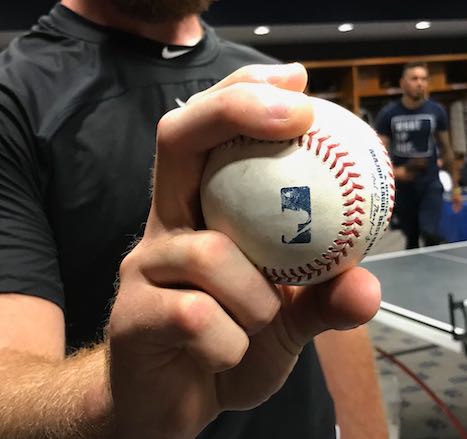 "It was a different curveball when I started throwing it again. I'd developed since 2013 and maybe my arm slot had changed a little bit. And really, from having gone three or four years without throwing it, I kind of had to figure out how to hold it again. Once I did figure out how to hold it, and how throw — the mentality I take to throwing it — it started to click. That said, there was a lot of trial and error involved.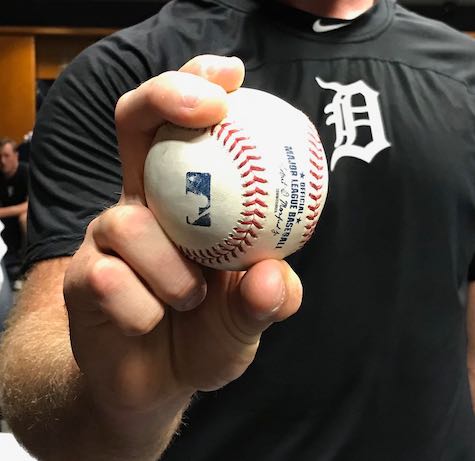 "The old one was bigger. I wouldn't call it a 12-6, but it would kind of pop up and be more of a sweeping curveball. The one I have now is later. It almost resembles a slider, but it doesn't have slider speed. I can tunnel this one better, and at the same time keep the velocity down.
"For me, my curveball is kind of like my changeup in that it's a mentality. On any pitch, 98% of the work is done out in front. A lot of guys with curveballs that pop up try to throw the ball from back here, whereas my mentality is 'fastball, fastball, fastball,' and then it's curveball. Your hand action changes at the end. The important thing is to not cast it like a fishing pole, but rather to work it out in front."
——
The 2018 installments of this series can be found here.
David Laurila grew up in Michigan's Upper Peninsula and now writes about baseball from his home in Cambridge, Mass. He authored the Prospectus Q&A series at Baseball Prospectus from December 2006-May 2011 before being claimed off waivers by FanGraphs. He can be followed on Twitter @DavidLaurilaQA.