It doesn't take an ardent reader of FanGraphs or a great appreciator of advanced statistics to understand that Cody Bellinger is having an incredible season. Twenty home runs and a .377 batting average will get you noticed by anybody and everybody. However, appreciating the type of work and the numbers available at this site might aid in understandings and enjoying just how good Bellinger has been. Devan Fink wrote about it here not too long ago. Mike Petriello added his insight. Travis Sawchik's analysis is out there. Sam Miller offered some context and so has Ginny Searle. If you favor more traditional outlets, Andy McCullough of the LA Times is on the case as well. Rather than build on the already good work of others, let's take up a different task: Let's try to get Cody Bellinger out.
As a pitcher, strike one is incredibly important. When pitchers get to 0-1 this season, batters are putting up a 63 wRC+, but if the hitter gets ahead 1-0, those swinging the bat have the advantage and put up a 128 wRC+. So what happens when a pitcher gets ahead of Cody Bellinger? It doesn't matter at all. This season, Bellinger is putting up a 207 wRC+ in the 111 plate appearances when he falls behind on the first pitch. That mark slightly undersells the "advantage" of trying to get ahead of Bellinger, as he's 10-for-18 on the first pitch with four homers, a triple, and two doubles. There really aren't any counts where pitchers gain an advantage and keep it throughout a plate appearance against him.
Cody Bellinger By Count
| Through* | PA | wRC+ | Rank |
| --- | --- | --- | --- |
| 0-1 | 111 | 207 | 1 |
| 1-0 | 108 | 186 | 28 |
| 0-2 | 38 | 169 | 2 |
| 1-1 | 99 | 183 | 4 |
| 2-0 | 54 | 194 | 68 |
| 1-2 | 61 | 108 | 14 |
| 2-1 | 66 | 202 | 26 |
| 2-2 | 55 | 129 | 19 |
| 3-2 | 36 | 284 | 2 |
*Numbers include PA results after the designated count has been reached.
Getting to a 1-2 or 2-2 count is better than not, but he's still been one of the best in the game in those counts, and his 127 wRC+ with two strikes ranks fourth in baseball this season. Bellinger has been pretty close to the same great hitter in any count. When the count has been 0-2 this season, he has just one swinging strikeout on pitches outside of the zone, and on the 15 pitches in the zone, he's swung at 13 and only whiffed twice with five fouls and three hits in six batted balls.
Getting ahead might help a little, but the benefit isn't great. Sending a barrage of lefties at Bellinger might seem like a good idea, but so far this year his 190 wRC+ against lefties ranks seventh in all of baseball, including right-handed hitters. Has Bellinger struggled with any types of pitches he's seen this year? Not really.
Cody Bellinger By Pitch Type
| Pitch | Pitches | BB% | K% | SwStr% | wRC+ | pVAL/C* |
| --- | --- | --- | --- | --- | --- | --- |
| Fastball (FA) | 311 | 9.3% | 15.1% | 9.7 % | 228 | -3.7 |
| Changeup (CH) | 139 | 14.7% | 11.8% | 14.4 % | 273 | -5.7 |
| Slider (SL) | 118 | 10.3% | 17.2% | 10.2% | 141 | -1.9 |
| Sinker (SI) | 113 | 12.5% | 12.5% | 5.3% | 237 | -2.3 |
| Two Seam (FT) | 92 | 17.4% | 13.0% | 3.3% | 111 | -1 |
| Cutter (FC) | 65 | 21.4% | 0.0% | 9.2% | 317 | -5 |
| Curveball (CU) | 60 | 20.0% | 20.0% | 5.0% | 247 | -4 |
| Splitter (FS) | 42 | 12.5% | 12.5% | 14.3% | 97 | 0.8 |
| Knuckle Curve (KC) | 16 | 0.0% | 16.7% | 6.3% | 398 | -15.5 |
*Numbers are relative to the pitcher, so negative is good for a hitter.
He's whiffed on a decent amount of changeups but absolutely crushed some others. He might only be average so far on splitters, which he's been thrown just 42 times. There's nothing really here. What about location? Is there a spot where Bellinger struggles? Let's start by looking at Bellinger's outs. He's made an out 125 times, though just 31 strikeouts. The other 94 times, he's put the ball in play, though a lot of those are actually hard outs. When Bellinger has made contact and been out, his xwOBA is .329, which ranks first in the game among players with at least 75 batted ball outs and well above the league average of .214. To get a handle on Bellinger's weak balls in play, I looked at the 41 batted balls with an xwOBA of under .200. This is where those pitches were thrown, per Baseball Savant.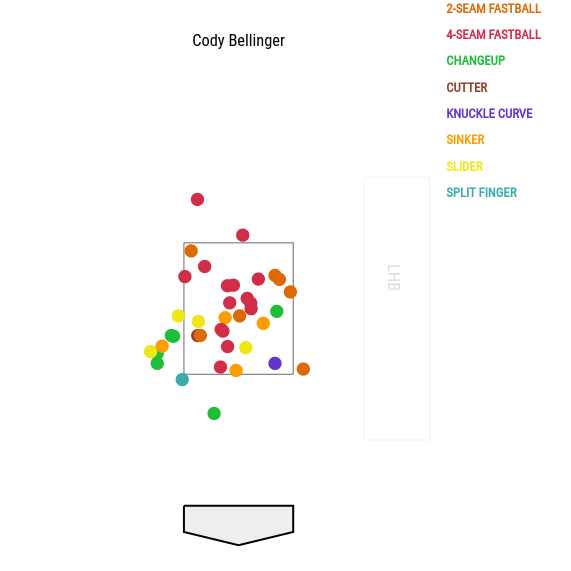 We've got a lot of fastballs in the zone and some breaking pitches low and away outside of the zone. Might that be an effective strategy? Probably not. Here's a heatmap showing Bellinger's SLG/P on fastballs.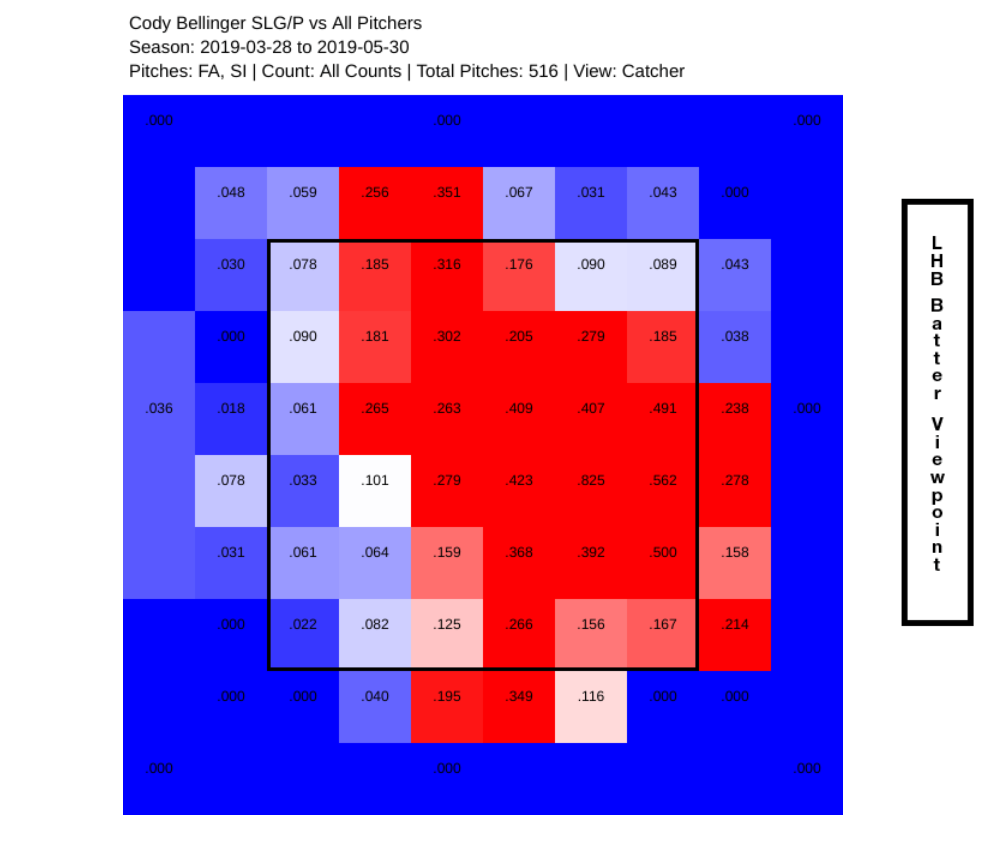 The location of most of those fastballs where Bellinger got out matches the location of where Bellinger crushes the ball. Bellinger might have made weak contact on some of those pitches, but it doesn't happen that often. Throwing fastballs anywhere near the middle of the zone is generally a bad idea. There are a few cold zones up there, though. The first one we can look at is in the upper inside corner. If a pitcher can get it under the elbow, Bellinger isn't likely to do damage and the pitch will be a strike, right? Not so much. Here's Bellinger's called strike % by zone.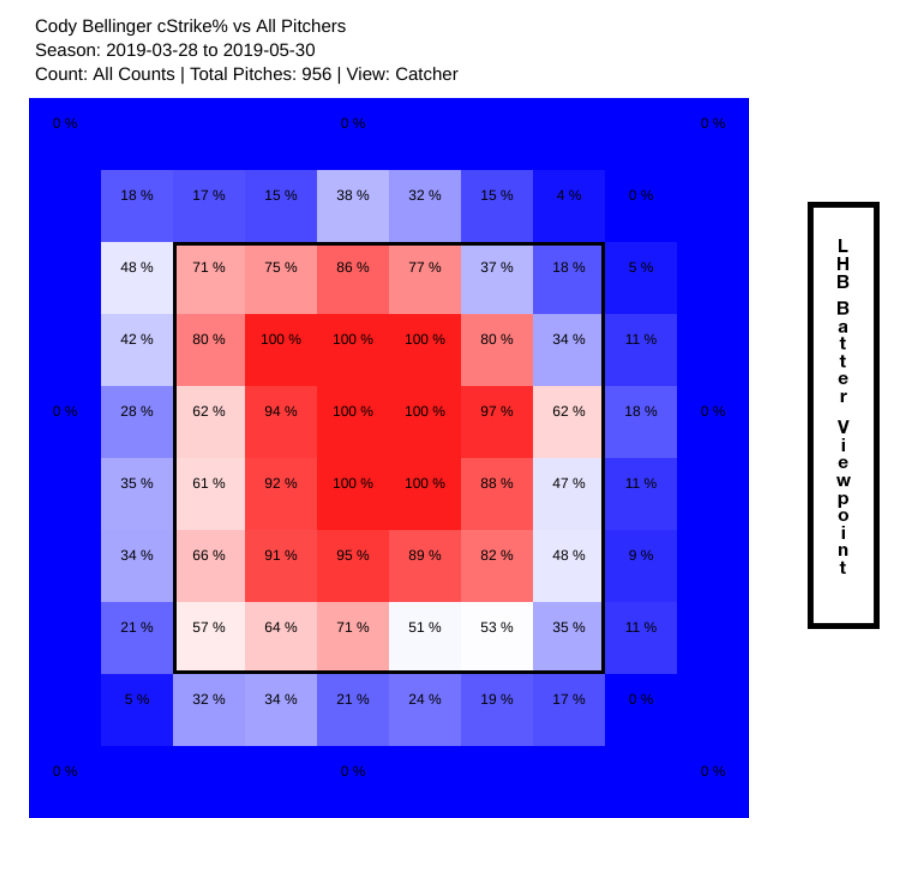 A pitcher can throw it under the elbow in the strike zone, but it isn't going to be called a strike. Here's Bellinger taking a pitch against Tyler Mahle.
That pitch isn't unique. It's a representative example of the pitches taken by Bellinger in that area. Comparing the two heatmaps above, we do see the top outside corner as a potential cold zone and a place where if Bellinger doesn't swing, it will be called a strike. It should be noted that the outcomes up and away are decent against Bellinger only for fastballs. When he's seen breaking pitches up there, he's destroyed them.
The problem then is that in looking at the heatmap, Bellinger has only seen 23 fastballs in the upper-third, away-third section. He has whiffed on six of those pitches, which is good for a pitcher. He's only taken four pitches there, and three have been called for strikes, which is also good. He's fouled off seven pitches, which isn't bad. Of the six balls in play, Bellinger's gotten just a single hit. He also sent a fastball 360 feet the opposite way for a very long out and hit a ball 100 mph just a little too high. Maybe those just-misses can be seen as part of a strategy based on location, but more likely, they were just misses that easily could have been homers. Fastballs up and away isn't a terrible strategy, but they invite swings, and those swings could lead to some pretty bad outcomes.
Based on what we've seen of Bellinger's cold zones on fastballs low and away and the small set of breaking pitches low and away that induced weak contact, our final and only real potential area to get Bellinger out is low and away. Here's Bellinger on non-fastballs low and away.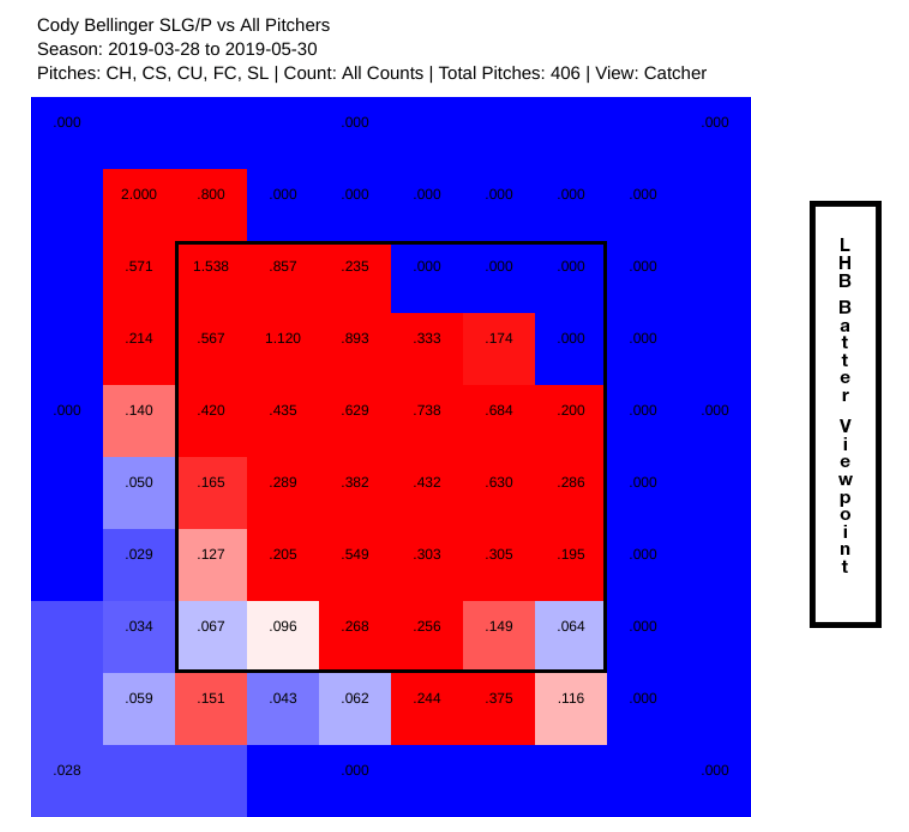 We see that cold area on the top inside corner, but those don't get called for strikes. We see a slightly cool area inside and low, but it is surrounded by areas that are very red. Up and away with a non-fastball is a non-starter. Low and away, we see another area where Bellinger is less than fantastic. The reasons why these areas are cold for Bellinger on fastballs as well as offspeed and breaking pitches are different. Look at Bellinger's swing percentages by area on fastballs (left) versus breaking and offspeed stuff (click for full size).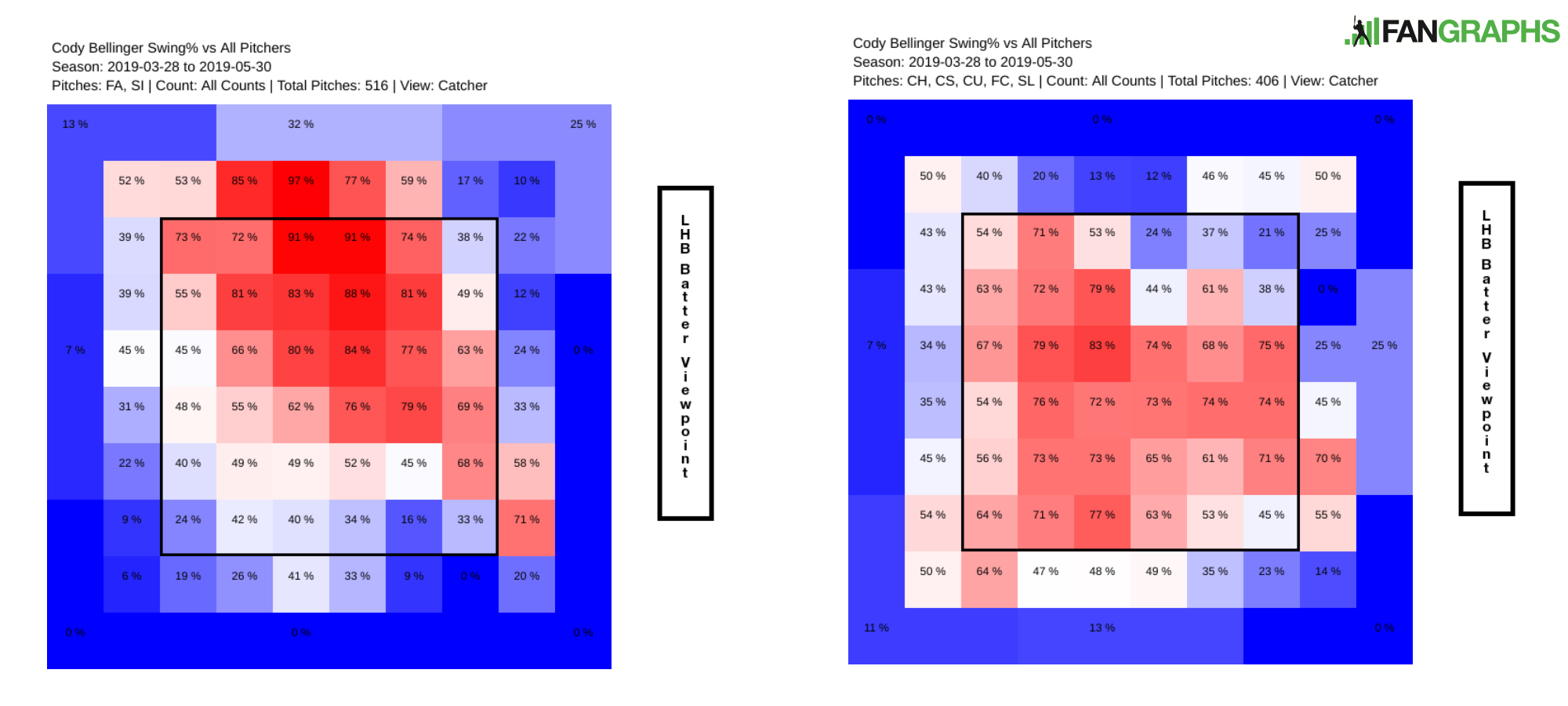 Bellinger simply chooses not to swing at fastballs low and away. If a pitcher can hit his spot, like Chris Archer below, Bellinger gets caught looking.
In the low-and-away third of the strike zone, Bellinger has seen 42 fastballs and taken 20 for strikes. Only one pitch has been taken for a ball. He's whiffed on six of 21 swings, fouled 11 balls off, and gotten two singles to go along with a couple flyouts. The vast majority of outcomes in this part of the zone have been positive for pitchers against Bellinger. As for the non-fastballs, we can see that Bellinger is swinging at more of those pitches in the zone, though he's still taken 6 of the 27 pitches for strikes. Of the 21 swings, he's whiffed seven times (five on changeups), fouled off eight pitches, and hit two singles along with a flyout, a groundout, a popout, and a lineout. Again, the vast majority of the pitch outcomes are good ones. Here's another Archer pitch, this time a change.
When the pitch is low and away, Bellinger is either taking it, fighting it off to get another pitch, or he's whiffing on it. He doesn't chase many pitches outside of the zone. He's controlling the inside part of plate by standing nearly on top of it, getting to pitches low in the zone and nailing the pitches in the strike zone. He's hitting a ton fly balls and line drives and rarely going the opposite way. His strengths have been too much for pitchers to overcome at this point in the season, but he's not without weakness. There's a narrow portion of the strike zone low and away where Bellinger isn't annihilating the competition.
That weakness might not last long, as Bellinger can adjust to pitchers just as they are adjusting to him. That adjustment might make Bellinger just slightly less good elsewhere and provide pitchers with some reprieve. While it's easier said than done, focusing on that area of the strike zone might be the only way to get Bellinger out right now absent a stroke of luck.
Craig Edwards can be found on twitter @craigjedwards.