At 2018's trade deadline, the Pittsburgh Pirates made a surprising move, picking up underperforming Chris Archer from the Tampa Bay Rays in return for Tyler Glasnow, Austin Meadows, and the ever-popular Player To Be Named. Once that latter nom de guerre was revealed to be Shane Baz, it meant that all three players heading to Florida were names of serious prospectage. In Eric Longenhagen's top prospect list for the Pirates going into 2018, Meadows and Baz ranked No. 2 and No. 3, respectively. Glasnow, who didn't qualify for the list due to service time, ranked second the year before.
How did I feel about this trade last year? At the time, I thought it was eminently reasonable for both sides. My argument was that the Rays would have been hard-pressed, even in sorta-contention, to turn down this kind of return given that the team's long-term win condition is an assembly line of impact prospects.
For the Pirates, I argued that if this was part of a change in approach to more of a short-term, win-now approach in the offseason, this move could be justified, even with the team having a similar path to winning as the Rays do. This kind of bold, win-now or win-soon attempt (along with picking up Keone Kela from the Rangers) was something that was missing from the Pirates in recent years when the strength of their roster was at its peak.
The Pirates did not end up pushing their chips this offseason, though their signing of Jordan Lyles looks way better so far than I ever expected. But the winter moves were largely the kind of low-impact, solid-value moves the team has excelled at. They've even done well in several of these so far, with Francisco Liriano currently sitting at a 2.73 FIP and Melky Cabrera at .339/.375/.471 (though admittedly BABIP-aided).
These are the types of moves that win at chess, trading your movement-hampered bishop for your opponent's strongly placed knight or giving up having both bishops to weaken their pawn structure. The problem is, that's frequently not enough in baseball. Looking up at the league with fewer financial advantages and a division in which every single other team was in win-now mode, the Pirates didn't need value trades, they needed to put an opponent's rook in their pocket when the latter went to the bathroom.
Where I'll definitely have to eat some crow is the fact that Glasnow and Meadows have developed much more quickly than expected. It turns out that they were actually already win-now players and the Pirates didn't know that. And even worse, it's Archer struggling in the here and now, with a worrying walk rate.
Even more concerning is that the increase in walk rate is largely earned. While walk rate stabilizes quickly, it doesn't mean that every change in walk rate is an ability, as it's a general rule of thumb. In Archer's case, unfortunately, it is. Batters are swinging less and it's almost entirely the out-of-zone pitches they're refraining from offering at.
It's not yet in the public ZiPS projections, but I have a model to help identify walk outliers using the plate discipline stats, which I refer to as zWalk (more can be found in the article I wrote about Aaron Nola). And yup, Archer's walk rate is where it should be. The Pirates appear to have bought a project rather than an ace.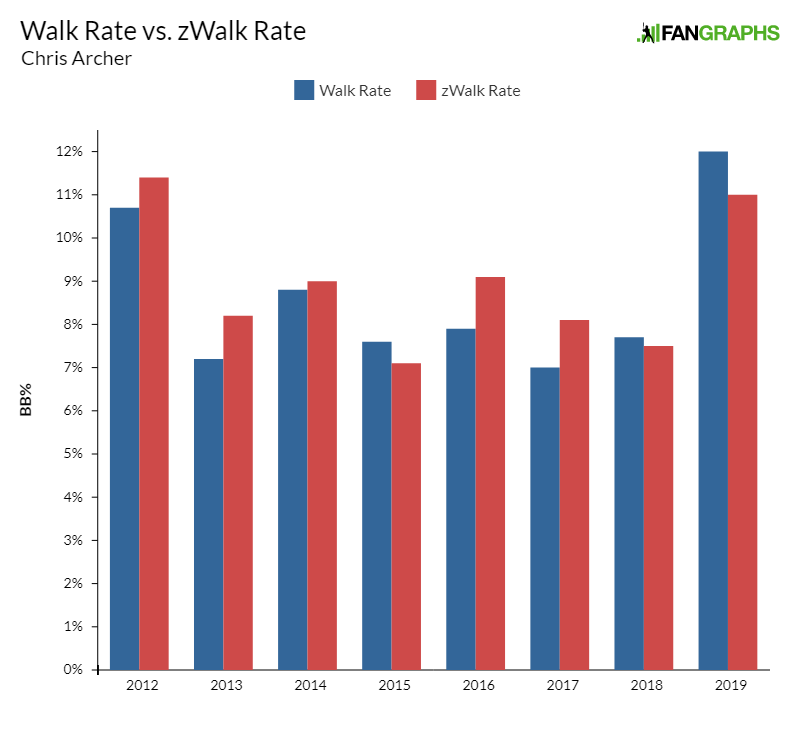 Similarly, Glasnow's walk improvement also looks real. zWalk does think that he's not quite a pitcher who should have a walk rate quite as low as the 1.7 BB/9 he's paused at while on the IL and in fact thinks that his 3.1 BB/9 with the Rays last year is a more realistic number.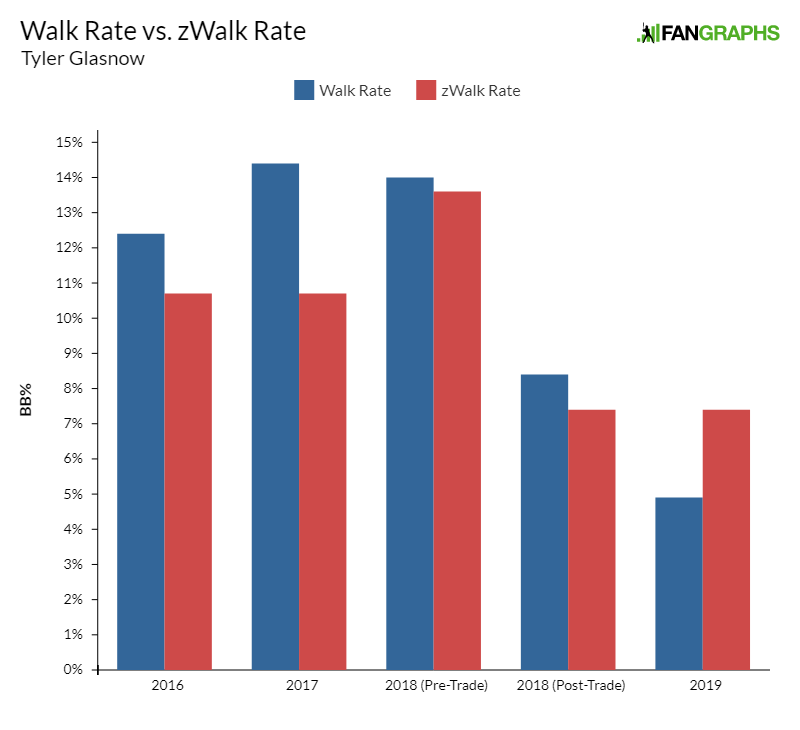 If anything, it puts Glasnow's performance before and after the trade in even sharper contrast. One of the most important plate discipline numbers for a pitcher's walk rate is that first-strike percentage, and Glasnow's jumped from 52% in Pittsburgh in 2018 to 65% after joining the Rays.
And it appears that this is consistent with an active change in approach. David Laurila talked with Rays pitching coach Kyle Snyder in August of 2018 about this very subject.
"We've talked about being aggressive to large areas of the strike zone, especially early in the count, in terms of early-count zone rates. We've talked about his breaking balls — they're very similar in terms of their break values, with his slider being the harder of the two — and how to use those. We haven't talked about anything mechanically. He made an adjustment in Pittsburgh, about a week or two before we acquired him, and he's picked up right where he left off. Things have continued to fall into place.
ZiPS obviously can't talk to a pitching coach, but the improvement was enough that ZiPS was confident enough to project Glasnow at a 3.89 ERA for the Rays as a starter, which would not have likely disappointed the Rays. Obviously, he was crushing that number before his trip to the IL.
Archer-for-Glasnow is now looking like a straight-up loss for the Pirates. Unfortunately, there were two other prospects in that trade, and while Baz is still in the low minors, Meadows has been just as dangerous.
One can understand why the Pirates let Meadows go. Injuries had been an issue and his .261/.323/.384 line in the minors in 2017 was on the light side. While he had acquitted himself well in a midseason callup, the Pirates felt they had outfield depth to spare. But like Glasnow, Meadows found a new gear in Tampa, first hitting .344/.396/.771 for the Durham Bulls (with no BABIP-inflation issue).
Before the thumb injury, Meadows was clocking in at .351/.422/.676. He has added 25 points of OPS since returning.
Get ready to cringe a bit, Pirates fans, per the Derek Bell variety, because there's one chart to go: the ZiPS estimation of the future WAR at the time of the trade and where it stands now. Note this also leaves Baz off, as I don't like projecting A-ball pitchers if I can get away with not doing so.
ZiPS WAR Projections – Archer Trade
| Player | Time of Trade | Entering 2019 | Now |
| --- | --- | --- | --- |
| Chris Archer 2019-2021 | 9.9 | 9.4 | 8.5 |
| | | | |
| Tyler Glasnow 2019-2023 | 8.3 | 11.7 | 17.4 |
| Austin Meadows 2019-2024 | 9.5 | 11.0 | 15.5 |
| Subtotal | 17.8 | 22.7 | 32.9 |
The projections for the trade were hardly amazing, but under the right circumstances, there was justification for the Pirates if they got the best player in the trade and swapped value for tempo, getting their future contributions for Archer condensed into the 2019-2021 period. But just since the trade, the Rays are projected to have added 15 wins resulting from Meadows and Glasnow improvements. That might sound like a lot, and it is; the error bars remain large, but that center moving that much, that quickly, for two prospects in a trade is an unusual development. Meadows staying healthy has been difficult for him, and even without showing structural damage, Glasnow's absence with a forearm injury creates an additional element of risk, but the Rays have a lot of spare room to win this trade.
For the Pirates, the Archer deal may not have looked like a disaster at the time, but it's looking like one now. Hindsight is 20/20 — I absolutely would have traded Lou Brock for Ernie Broglio in 1964 — but like an Angel Hernandez strike zone, history isn't always fair.
Dan Szymborski is a senior writer for FanGraphs and the developer of the ZiPS projection system. He was a writer for ESPN.com from 2010-2018, a regular guest on a number of radio shows and podcasts, and a voting BBWAA member. He also maintains a terrible Twitter account at @DSzymborski.