Hitting the ball over the fence in San Diego can be difficult, though not quite as difficult as it used to be after the team changed the dimensions in 2013. Similarly, hitting the ball out of the park to center and the opposite field is generally a more difficult task for hitters. Around 60% of home runs this season are pulled by batters, while only 15% of dingers are hit to the opposite field. These difficulties have proved to be of little consequence for 23-year-old Franmil Reyes.
The young slugger's statistics can leave you slightly underwhelmed when compared to his imposing figure and powerful bat. Reyes has a 120 wRC+, which is good but not great, and his defense in the outfield keeps his WAR at 0.8 on the season. Reyes doesn't walk a ton, he strikes out a bit too much, and he doesn't add anything on the basepaths, but he can do this:
Fourteen of Reyes' 19 homers have gone out to center or the opposite field. That figure is the most in baseball and two clear of Christian Yelich and Peter Alonso, and includes five homers to the opposite field. Ten of those 14 homers have come in Petco Park, one of the more difficult stadiums for lefties to hit homers, and they have the advantage over Reyes in being able to pull the ball to right field. Trying to hit homers to the opposite field is generally not advisable, but for a man of Reyes' size and power, it's a worthwhile strategy. And when Reyes hits the ball in the air to center or the opposite field, he hits the ball harder than anyone in the game, per Baseball Savant:
Non-Pull Power Exit Velocity Leaders
SOURCE: Baseball Savant
Line drives and fly balls to center and opposite field with minimum 50 such balls in play.
It should come as no surprise then, that Reyes is one of the game's leaders in wRC+ on balls hit to center or the opposite field:
Non-Pull wRC+ Leaders
SOURCE: Baseball Savant
Batted balls to center and opposite field with minimum of 50 such balls in play.
It's not that Reyes doesn't pull the ball. His spray chart from this season shows pulled homers and a whole lot of ground balls: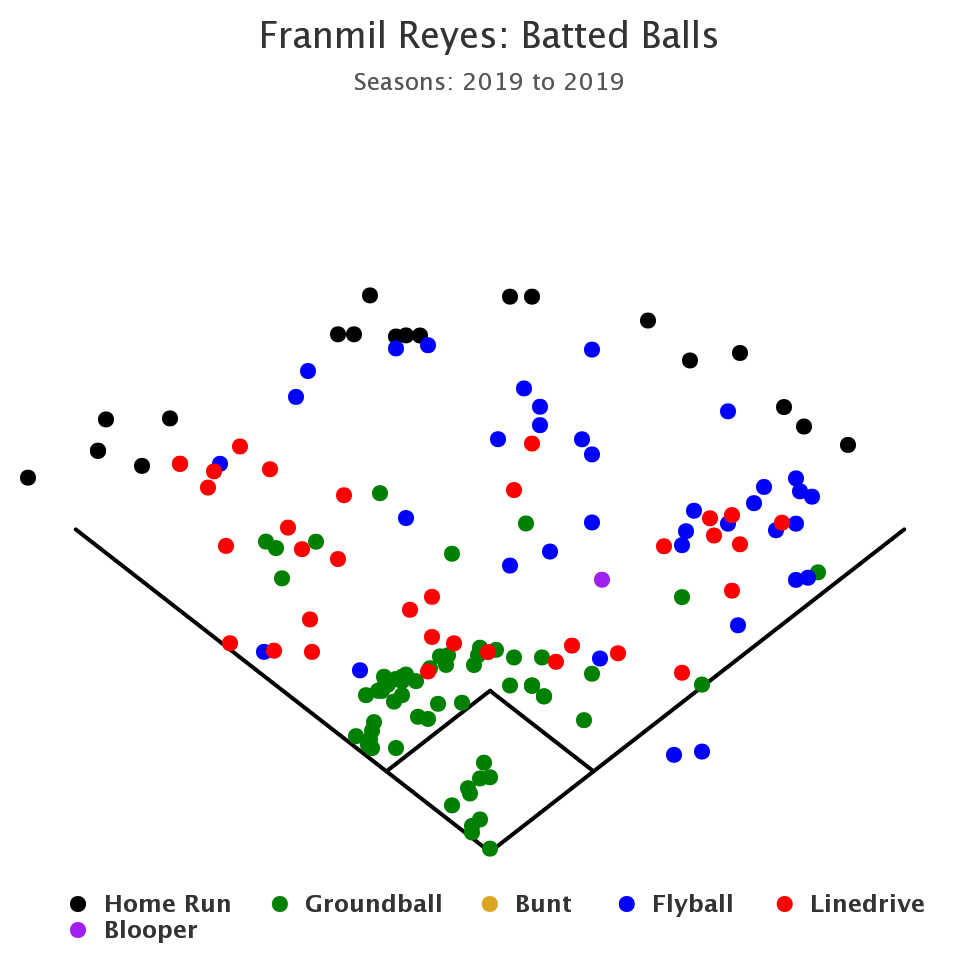 When we compare Reyes' batted ball profile to last year's, we might assume he's pulling the ball less, but the number of balls he's pulled has actually gone up over last season. When we split up groundballs and fly balls into the direction they are hit, we can see where Reyes has changed:
Franmil Reyes Batted Ball Percentages
| | Pulled GB% | Pulled FB% | Center GB% | Center FB% | Oppo GB% | Oppo FB% |
| --- | --- | --- | --- | --- | --- | --- |
| 2018 | 21.5% | 6.6% | 22.1% | 12.2% | 5.5% | 11.0% |
| 2019 | 21.6% | 5.4% | 15.5% | 15.5% | 2.7% | 15.6% |
Does not include line drives.
When we look at the balls Reyes is pulling, we don't see a difference from a year ago. Where he's made changes is to balls to center and the opposite field. A year ago, groundballs up in the middle and to the opposite field made up around 28% of all his batted balls, while fly balls to the same locations accounted for 23% of batted balls. This season, grounders up the middle and to right are only 18% of his batted balls, while 31% are fly balls to center and right. He's also hitting more line drives to left field. More fly balls to center and right plus more line drives to left have helped Reyes to his solid season thus far, though his overall hitting line is still below where he was last season.
In 2018, Reyes struggled for much of the year before turning it on in August and September. During the final two months of last season, Reyes hit .318/.385/.548 with a 155 wRC+. He took a walk 10% of the time and only struck out in 22% of his plate appearances. Reyes was hitting very well, but his line was supported by a .367 BABIP that wasn't going to sustain itself, even if he did hit the ball hard. While Reyes ended the season with a 129 wRC+, Statcast's xwOBA indicates Reyes might have been the benefit of some good luck as his .360 wOBA came with a .331 xwOBA, only slightly above average for a non-pitcher. This year, Reyes' numbers have gone the opposite direction. While his .357 wOBA matches the results from last season, his xwOBA is .386, so Reyes might not be getting all of the benefits of his hard contact. In addition to those improvements, Reyes had pretty drastically changed his approach. His swing percentage on pitches out of the strike zone is similar to last season at a little over 30%, but his 15 percentage point jump on swings in the zone is the most dramatic leap in the game, as the graph below shows: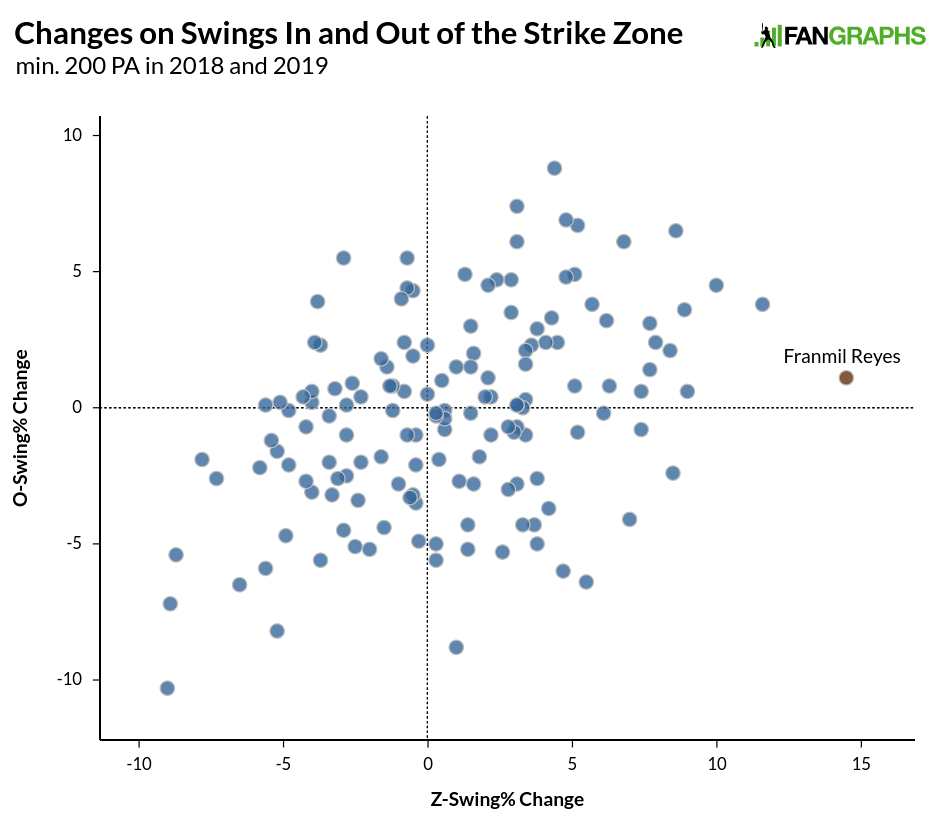 All those swings aren't going to give him huge walk numbers, and he's still going to strike out a fair amount, but swinging at strikes should allow him to get to his power, and no matter where he's pitched, he's hitting the ball hard and in the air when he makes contact. Reyes is putting himself in position to get to his power, which is his best attribute. In Reyes' 500-plus career plate appearances, his lower-than-average walk totals combined with higher-than-average strikeout rates as well as prodigious power, a decent BABIP, and good overall numbers felt fairly unique. Using our +Stats section of the leaderboard, I looked for seasons since 1960 where a player was similar relative to the league, like Reyes has done so far. These were the players within 10 of Reyes in strikeouts, walks, ISO, BABIP, and wRC+:
Franmil Reyes Comps Using +Stats
What Reyes is doing now looks a lot like Alfonso Soriano's Cubs' years. Early in his career, his walk rates were considerably lower, which excluded those seasons from consideration. Only Murcer, Edmonds, and Gonzalez were 25 and under when they had their Reyes-like seasons. That's a pretty good group to be comped with, though Murcer and Edmonds are both left-handed. Reyes has plenty of time to adjust and send his career on a higher trajectory. As he gets more dangerous, his walks are likely to rise, and he will have to continue working on his defense to be a more complete player. As for the homers, Greg Vaughn's Padres record of 50 long balls in a season is probably safe, but it's not entirely out of reach. Forty-two homers, which would put Reyes second on the Padres, seems very reachable, as he could join Phil Nevin, Ken Caminiti, and Adrian Gonzalez as the only Padres to hit at least 40 homers in a single campaign.
Craig Edwards can be found on twitter @craigjedwards.