The Yankees snuck into first place in the AL East by dint of last weekend's series win over the Rays, and they've since widened their lead to two games by steamrolling the Orioles in Baltimore, bashing 13 home runs during their four-game sweep — four of them by Gleyber Torres in a pair of multi-homer games, and three by Gary Sanchez, on Monday, Tuesday, and Wednesday. Neither was in the lineup for Thursday afternoon's contest, but both came up big while pinch-hitting in the ninth inning of a tie game, with Torres walking and scoring the winning run, aided by Sanchez's single.
Of Sanchez's three homers, the biggest of in terms of significance — if not distance — was Monday's three-run shot off Mychal Givens, which broke a 7-7 tie and sent the Yankees to victory in a game they had once trailed, 6-1:
That one had an estimated distance of 389 feet. If it's distance you crave, here's Wednesday's massive 440-footer off Dan Straily:
Thanks in part to a front-loaded schedule in which the Yankees have already played 12 of this year's 19 matchups against the Orioles, who are on pace to obliterate the team record for home runs allowed (258, set by the 2016 Reds), Sanchez has hit nine of his 15 homers against Baltimore, including three in one game on April 7; 10 of Torres' 12 have come against these bad Birds as well. Either player could challenge the single-season record for homers hit by one player against another team, held by Lou Gehrig, who hit 14 against the Indians in 1936. Gehrig did that in a 154-game season, but in an eight-team league in which the Yankees played Cleveland 23 times. Here's the record for the division play era (1969 onward):
Most Home Runs vs. One Team in a Season Since 1969
SOURCE: Baseball-Reference, https://www.mlb.com/news/yelich-chasing-gehrig-for-most-hr-vs-opponent
According to the Elias Sports Bureau, this is the first time since 2001 that teammates have each hit at least nine homers against one opponent; the Giant's Barry Bonds and Rich Aurilia did that against the Diamondbacks.
For Sanchez, this week's binge was the first time he'd homered in three straight games since August 22-24 2017; he's done it four times in his career, including a four-game streak in September 2016. Not only did he not do it at all last year, he never homered in back-to-back games during what was a lost season. A recurrent groin strain limited him to 89 games, including just three between June 25 and the end of August, and he hit just .186/.291/.406 (89 wRC+) with 18 homers. He was maligned for his defense as well, never moreso than for failing to hustle after a passed ball on July 23, while playing through groin tightness in what turned out to be his final appearance before a 37-game absence.
So yes, 2018 was a forgettable season. Though a left calf strain landed him on the injured list for 11 games this past April, he's been one of the league's heaviest hitters, batting .276/.350/.675 for a 163 wRC+. Because of the time he missed, he's about 16 plate appearances short of qualifying for the batting title, but even so, he's tied with Joey Gallo and Alex Bregman for second in the league in homers behind George Springer's 17. Among AL players with at least 130 plate appearances, his slugging percentage is second, his wRC+ sixth.
Admittedly, those numbers are distorted somewhat by Sanchez's demolition of the Orioles, against whom he's hit .341/.396/.875 in 48 PA, which amounts to 35% of his plate appearances this year. Against the rest of the majors, he's hit a more modest .241/.326/.519 in 89 PA, but that slugging percentage would still rank sixth among catchers with at least 80 PA, with his 119 wRC+ eighth. His big numbers against Baltimore aren't coming off the board, but they're worth keeping in mind when comparing Sanchez to the rest of the league, or to his own previous performance.
Still, his batted ball stats right now — small-sample and skewed as they may be — are in rarefied air:
Sanchez's 94.6 mph average exit velocity is fourth in the majors behind Joey Gallo (96.9), Josh Bell (96.0), and Christian Yelich (94.8). Only one player has posted a higher full-season average, namely Giancarlo Stanton at 95.9 mph in 2015.
Sanchez's major leauge-leading average launch angle of 24.7 degrees has been exceeded only twice in seasons with at least 80 batted ball events, both times by Ryan Schimpf (30.1 degrees in 174 batted ball events in 2016, and 30.4 degrees in 97 batted ball events in 2017). An all-or-nothing slugger with an extreme fly ball tendency and a 33.2% strikeout rate, Schimpf homered 34 times in 527 PA across those two seasons while hitting a lopsided .195/.317/.492 (113 wRC+).
Sanchez's .757 xSLG is first in the majors 74 points ahead of the highest full-season mark, set by J.D. Martinez in 2017. Meanwhile, his .461 xwOBA is fifth, and five points ahead of the highest full-season mark, set by Miguel Cabrera in 2016.
Sanchez is doing this all with just a.250 BABIP, which is still 53 points better than last year's mark (.197, the fifth-lowest since 1995 among those with at least 300 PA in one season). Here it's worth noting that his 2018 slash stats were far worse than his Statcast batted ball metrics suggest; his combination of average exit velocity and launch angle (90.4 mph and 14.2 degrees, respectively) produced a .222 xBA (36 points higher than his actual average), .456 xSLG (55 points higher), and .342 xwOBA (38 points higher). Between some bad luck and his lack of speed (or, as some have charged, hustle), he lost some hits and some extra bases.
Nonetheless, Sanchez's heavy-hitting performance shouldn't be too surprising, given that he owns the third-highest rate of home runs per plate appearance since 2016:
Highest Home Run Rate, 2016-19
Minimum 1,000 plate appearances
In 2019, Sanchez is doing all of this damage with the majors' most extreme groundball and fly ball rates (19.5% and 58.6%, respectively):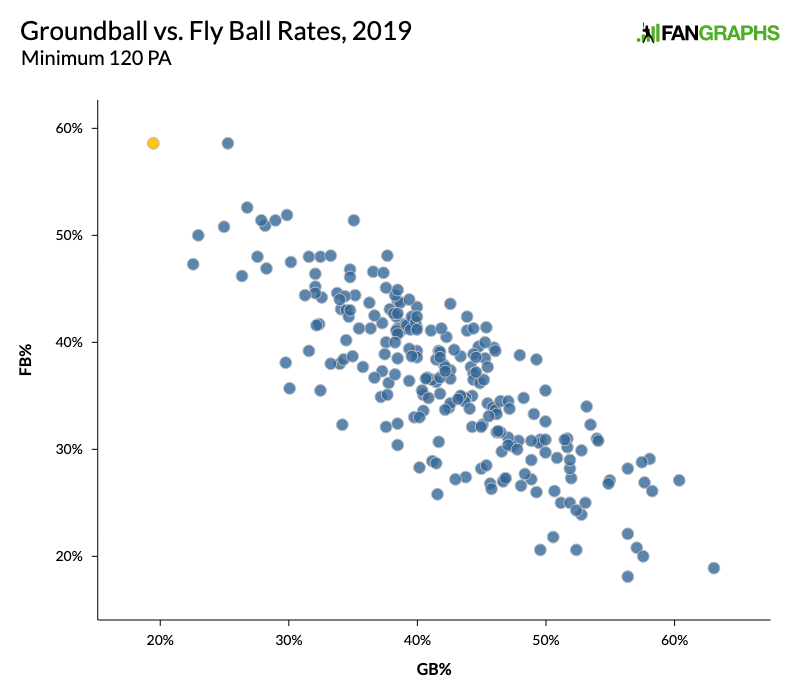 He's the yellow dot, in case that wasn't already apparent; in case you were wondering, the guy to his right, virtually tied in fly ball rate, is Jay Bruce. Last year, Sanchez's rate was 42.9% on both types of batted balls. He produced a preponderance of grounders everywhere but up in the strike zone, which isn't the case this year: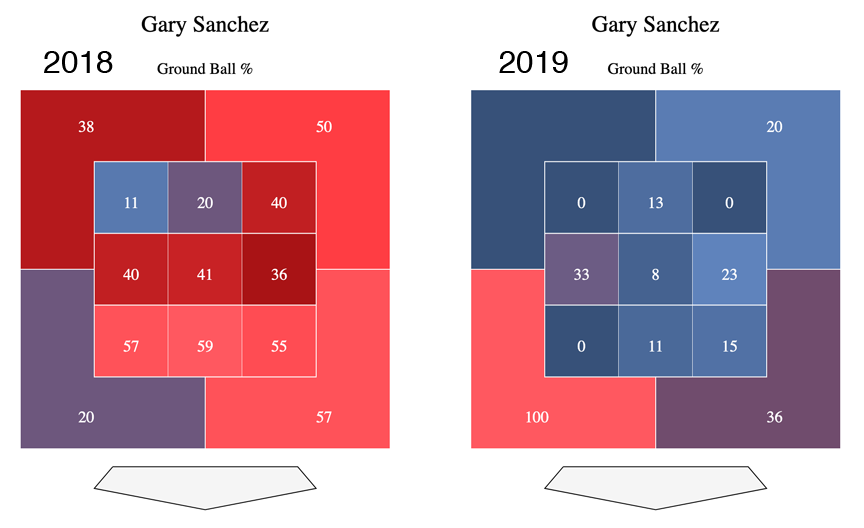 As a result, pitchers haven't had many places to hide: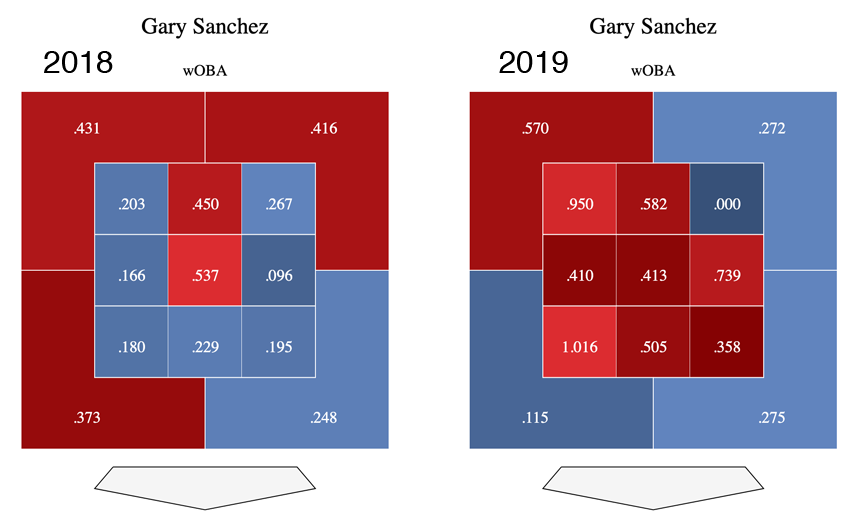 As for his defense, Sanchez has taken an inordinate amount of grief from the New York media over the years when it comes to his pitch blocking, not entirely undeservedly. Via Baseball Prospectus' catching metrics, he was 71st out of 73 catchers with at least 1,000 called strike chances in blocking runs (-3.1 runs), and last year, he was 81st out of 82 at the same cutoff (-4.3 runs). He's been only slightly subpar in that category thus far this year (-0.6 runs, 29th out of 43), but his framing has eroded, from 16th in 2017 (7.2 runs), to 23rd in '18 (3.3 runs) to 41st in '19 (-5.8 runs). Our new framing metrics tell a slightly different tale, albeit one that ends up in the same basement: from -0.7 runs in 2017 (36th out of 66 catchers with 200 innings caught) to 2.7 last year (25th out of 69) to -4.8 this year (27th out of 29).
How much of all of this is the ground shifting beneath Sanchez's feet, I can't say; as Jeff Sullivan pointed out about a year and a half ago with regards to BP's numbers, year-to-year framing correlations have eroded over time, with the possibility that teams are teaching their catchers to frame better forming one explanation; if that's the case, it may not be Sanchez getting worse so much as the rest of the majors catching up. Jared Cross' measures of correlation when he introduced FanGraphs' new metric were much higher, but he did not break out individual year-to-year pairs (e.g., 2016 to '17) as Sullivan did.
Regardless, that's an area where Sanchez appears to be giving runs back relative to the league, albeit in a relatively small bite when compared with the offensive advantages he has provided over the average catcher. Last year, backstops produced a collective wRC+ of 84, the lowest mark since 2007, and Sanchez, for as bad as he was, still beat that. This year's collective wRC+ from catchers is 91, the highest mark since 2014, and Sanchez is far enough beyond that to wash away that framing run deficit. Even with time missed, his 1.3 WAR is sixth among catchers thus far.
Small samples and skewed schedules aside, the big news is that at a time when the Yankees have had to forge ahead with a makeshift lineup lacking their top five home run hitters from last year's record-setting season due to injuries (Stanton, Judge, Aaron Hicks, Didi Gregorius, and Miguel Andujar — a group that has combined for six homers this year, five by Judge), Sanchez has stepped up to power the Yankees to the top of the AL East. The Kraken is back.
Brooklyn-based Jay Jaffe is a senior writer for FanGraphs, the author of The Cooperstown Casebook (Thomas Dunne Books, 2017) and the creator of the JAWS (Jaffe WAR Score) metric for Hall of Fame analysis. He founded the Futility Infielder website (2001), was a columnist for Baseball Prospectus (2005-2012) and a contributing writer for Sports Illustrated (2012-2018). He has been a recurring guest on MLB Network and a member of the BBWAA since 2011. Follow him on Twitter @jay_jaffe.