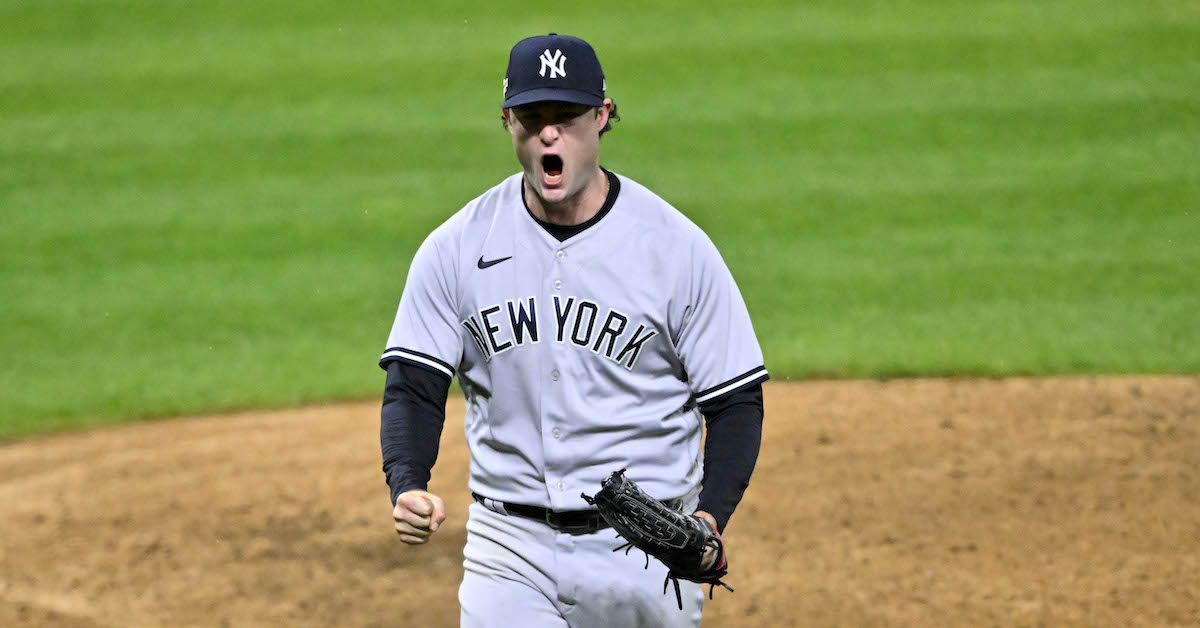 I don't like this title any more than you do. It just sounds so wrong. The guy with the largest contract signed by a pitcher in the history of the game is underrated? The New York Yankees ace isn't being given his due? Preposterous! I might as well say no one watched the Super Bowl, or that we aren't paying enough attention to weather balloons these days.
But uh… it's true. I don't have to like it and you don't have to like it, but Cole is still one of the best pitchers in baseball, despite falling somewhat out of that conversation of late. He wasn't even the most talked-about Yankee starter last year – that'd rightfully be Nestor Cortes. So consider this a Cole puff piece.
To begin, let's consider our Depth Charts projections. These projections blend ZiPS and Steamer to produce rate statistic forecasts for every player. From there, Jason Martinez projects playing time, and those playing time projections cross with the rate statistics to produce overall projections. Cole sits in a tie for third place in projected WAR for 2023:
Top Pitching Projections, 2023
This shouldn't be particularly surprising. He's produced the ninth-most WAR among pitchers in the past two years, the ninth-most in the past three years, the third-most in the past four years, the third-most in the past five years… the point is, he's consistently been one of the best in the game. While 2022 represented a down year, his overall body of work remains excellent.
What's more, his 2022 swoon seems exaggerated to me. It represented his worst ERA since his Pittsburgh days, but luckily we have multiple statistics to describe pitching performance. I like to take a mosaic approach, looking at as many as I can and taking a rough average, and if you think of it that way, Cole's 2022 looks pretty dang good.
Let's start with his ability to generate strikes, the coin of the realm when it comes to pitching. He'll likely never match his ludicrous 2019 peak, but he's still squarely within his career norms across the board, and that's leaving out the five blah years he spent in Pittsburgh:
Gerrit Cole, Strike Generation
| Year | Chase% | Contact% | SwStr% | CSW% |
| --- | --- | --- | --- | --- |
| 2018 | 32.1% | 71.5% | 14.1% | 31.8% |
| 2019 | 35.0% | 66.3% | 16.8% | 33.9% |
| 2020 | 35.2% | 69.1% | 15.3% | 31.5% |
| 2021 | 35.4% | 70.3% | 14.5% | 32.1% |
| 2022 | 34.9% | 70.2% | 14.3% | 31.9% |
Those are just numbers, but here's some context. He was 10th in baseball in swinging strike rate among pitchers who threw 100 or more innings and fifth in CSW%, the percentage of pitches that result in either a called or swinging strike. He had the eighth-lowest contact rate in baseball to boot. Sure, these are all correlated statistics, but the point remains: pitching is about missing bats, and Cole missed bats at an elite level last year.
Limiting walks? He did that too. In his career, he's walked 6.4% of opposing batters, an excellent number for a pitcher who works deep counts and hunts strikeouts. In 2022, he walked 6.3% of opposing batters. From 2018 through 2021, that number stood at 6.5%. In other words, Cole isn't giving up mountains of free baserunners in pursuit of his strikeouts. He's annually near the top of the K-BB% leaderboard, and wouldn't you know it, he was fourth there in 2022, behind only Spencer Strider, Shohei Ohtani, and Max Scherzer.
All kinds of ERA estimators agree. His SIERA was a sterling 2.77. His xFIP, which regresses home run rate, was an identical 2.77. His xERA was in the 71st percentile, a low but still excellent mark given his contact management issues last year. His expected ERA per Cameron Grove's Pitching Bot app was a sterling 3.06, a top-10 mark in the game. All of these have different inputs, but they tell a similar story: Cole racks up piles of strikeouts without surrendering many baserunners.
Yeah, yeah, yeah, I can hear you Yankees fans grumbling already. We know Cole is good when no one puts the ball in play. His issue in 2022 was what happened when hitters made contact, not how frequently they did so. So let's investigate those batted balls and see if we can learn anything from them.
To be more specific, I looked at home runs. Cole allowed 33 of them, the most in baseball. Some of that is because he pitched 200 innings (Oh yeah! He's durable too!), but it's an unavoidable fact that 33 is a lot of homers.
Eleven of those home runs came on pitches right down the middle. Is Cole just winging the ball down the pipe and hoping batters miss? That could definitely explain the lack of walks coupled with the surfeit of homers. There's just one problem with this narrative: data. In 2022, 473 pitchers threw at least 500 pitches. Of those, 329 ventured over the middle of the plate more frequently than Cole. He finished in a virtual tie with Zac Gallen (career-low 9.1% HR/FB mark) and Jeffrey Springs (9.6%). Those two rates barely combine to Cole's 16.8% mark.
Fine then – maybe he's waiting until he's down in the count to lob in meatballs, pairing bad location with hitters looking to drive a fastball. That would explain Cole's problems – except, again, he didn't do that. Of the 285 pitchers who threw at least 250 pitches while down in the count, 169 threw over the heart of the plate more frequently than he did. Here, he's in line with Rich Hill, who allowed a 10.1% HR/FB rate despite throwing a fastball nearly 10 mph slower. Or how about former cross-town neighbor Taijuan Walker, who allowed a 9.6% HR/FB mark? The point is, Cole's home run luck doesn't seem to be caused by some inability to locate.
Is some pitch type getting victimized in particular? Not exactly. Roughly half of the home runs he allowed came on his fastball, which is right in line with the league as a whole. Now, he did allow a shocking number of homers on four-seamers thrown 96 mph or faster; when opponents put them into play, they turned into homers 50% more frequently than the league as a whole. It wasn't even just a case of fat pitches, either. Sometimes you have to tip your cap:
As an aside, why have an eight-foot-tall center fielder if they can't jump and catch that one? Aaron Judge, I demand more home run robberies from you.
Some pitchers are homer-prone. But no one is this homer-prone. Pitcher home run per fly ball rates mean-revert heavily; I investigated this exact question in 2020 and found that hitters exert far more control than pitchers over what happens after the ball is in play. You probably know that – lots of FanGraphs articles drive home that observation in one form or another – but I'd be remiss not to mention it here again.
Consider it this way – our projection systems still think that Cole will be homer-prone in 2023. They think he'll allow 25 homers, a top-20 mark in baseball. That's almost as many as he allowed in 2019 – in Houston, in the homer-happiest year in baseball history. That's a strikingly large projection, only one homer short of what we expect from Germán Márquez, who famously pitches in Denver. And again, those projections think he'll be among the best five pitchers in the game.
At the risk of beating a dead horse, Cole is a great pitcher. He's great because he's hard to hit, and because he doesn't walk many batters anyway. He can do that because he has great stuff. You know that, I know that, I'm not breaking any ground here – but now we can say that with a bit more precision. For instance, Cole's fastball was the nastiest in baseball in 2022 per Pitching Bot's stuff grade (on a 20-80 scale), and top-five after incorporating command:
To give you a sense of what these metrics are, they use pitch-level data such as speed, movement, spin rate, and release point to construct an algorithmic stuff grade, and location data by count to come up with a location grade. For the most part, they're telling us what we already know about who has the best pitches. Cole has the nastiest fastball. Ohtani has the best slider (the best stuff and elite command — does that sound like something you might be interested in?). Framber Valdez's curve almost breaks the scale, checking in at a 78 out of 80. Oh yeah – Ohtani has the best sinker, at least by stuff grade. That guy is pretty good.
But hey, maybe you're not into 20-80 scales, or simply want another robot's opinion. How about Eno Sarris and Max Bay's Stuff+? Cole finished tied with Ohtani for the best Stuff+ in baseball last year, and tied with Kevin Gausman for best overall Pitching+, which combines stuff and location. Per that metric, he had the best fastball and slider in the game last year, and a comfortably plus curveball as well.
How many different models do you need to tell you that Gerrit Cole is great? The answer isn't particularly relevant, because however many you're hoping for, you'll probably be able to find them. People who quantify baseball for a living look at what Cole did last year and see one of the best pitchers in the game.
As Michael Ajeto noted, Cole's fastball wasn't as deceptive as his previous high standards, but he seemed to take a step in the right direction at the end of last year, and it scored highly on all these measures anyway. Per yet another wonderful pitching resource, Alex Chamberlain's pitch similarity tool, the fastballs Cole's most resembled in 2022 were 2021 Zack Wheeler and 2019 Jacob deGrom. That's pretty good company!
Perhaps I'm rambling at this point. Perhaps Cole isn't actually underrated; maybe I'm reading too much into sports talk radio and the exasperated mood of Yankees fans. Maybe I just like pitch modeling. If nothing else, Cole is an object lesson. Great pitchers? They're great in a ton of different ways. The more analysis you do, the more ways you can quantify pitching, but the key point is clear. Cole is excellent for a whole truckload of reasons. Focusing on just one or two of them risks missing what's right in front of our eyes.
Ben is a writer at FanGraphs. He can be found on Twitter @_Ben_Clemens.