With the announcement last week that MLB would suspend spring training and delay Opening Day by at least two weeks, to say that the season's future is uncertain would be an understatement. The most optimistic of scenarios — one in which the United States' response to COVID-19 is suddenly and remarkably better than that of other, similar countries — had major league baseball resuming on April 9. The CDC has now recommended the postponement or cancellation of events with 50 or more people for the next eight weeks, which would prevent even spring training games. Update: MLB has announced further delays with a mid-May start the earliest possible date to begin the season in abiding by CDC guidelines. The two-week delay was merely be the first, with an unknown number of weeks of the season lost. The league's announcement that spring training facilities would be shuttered, and that many players would be returning home, points to a much longer delay; a second spring training will almost certainly be required to allow players time to ramp back up. Some executives are simply hoping for games at some point in May, per Jon Heyman. We don't yet know how many games the league will play this season, but we can use potential start dates, with a few October regular season weeks and some summer doubleheaders baked in, and attempt to determine how many games the sport might lose as the country attempts to contain this pandemic.
Shorter regular seasons in baseball have been incredibly rare. While the work stoppages in 1994 and 1995 might be fresh in the minds of some, 23 MLB seasons have been played since then. Ronald Acuña Jr., Cody Bellinger, Rafael Devers, Jack Flaherty, and Juan Soto weren't even born when the start of the 1995 season was delayed. The graph below shows the total number of MLB games played in every year since 1903, the year of the first World Series: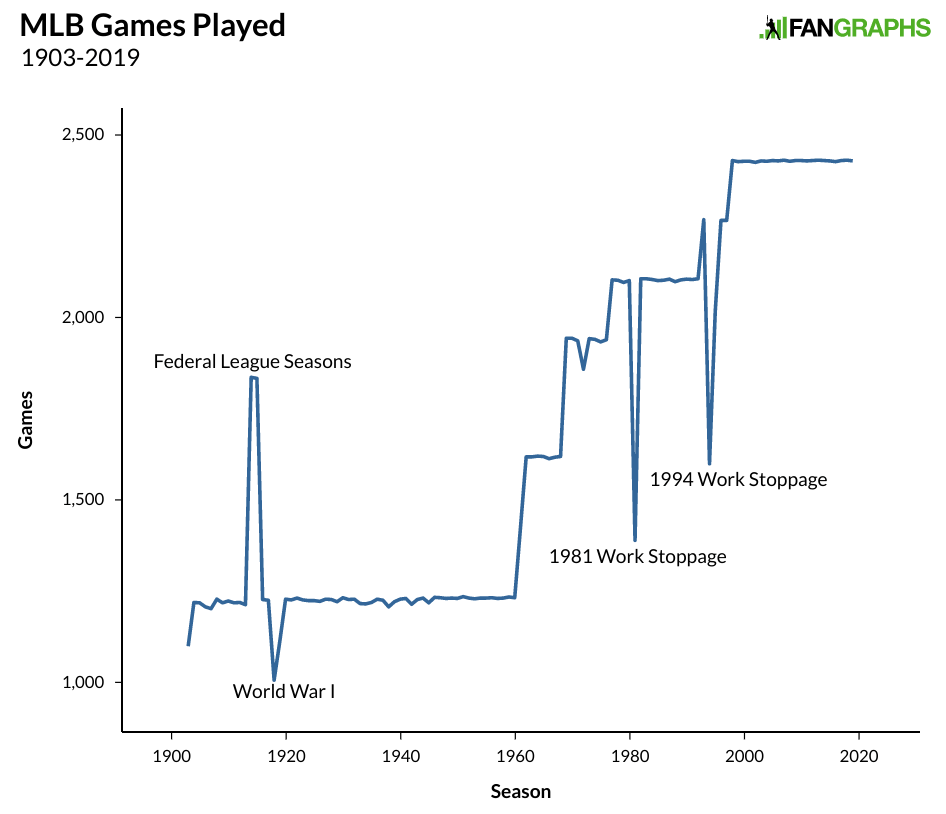 MLB has been playing roughly 2,400 games every year since expansion in the 1998 season, which saw the addition of the Rays and Diamondbacks to the league. In terms of games played, there hasn't been a period this consistent since the pre-expansion era that began after World War I and lasted until 1961, when MLB began to expand beyond 16 teams to the 30 we have today. The Federal League competed with the American and National Leagues in 1914 and 1915 before folding and eventually losing an antitrust suit. By looking at games per team per season, the shortened seasons become even more obvious: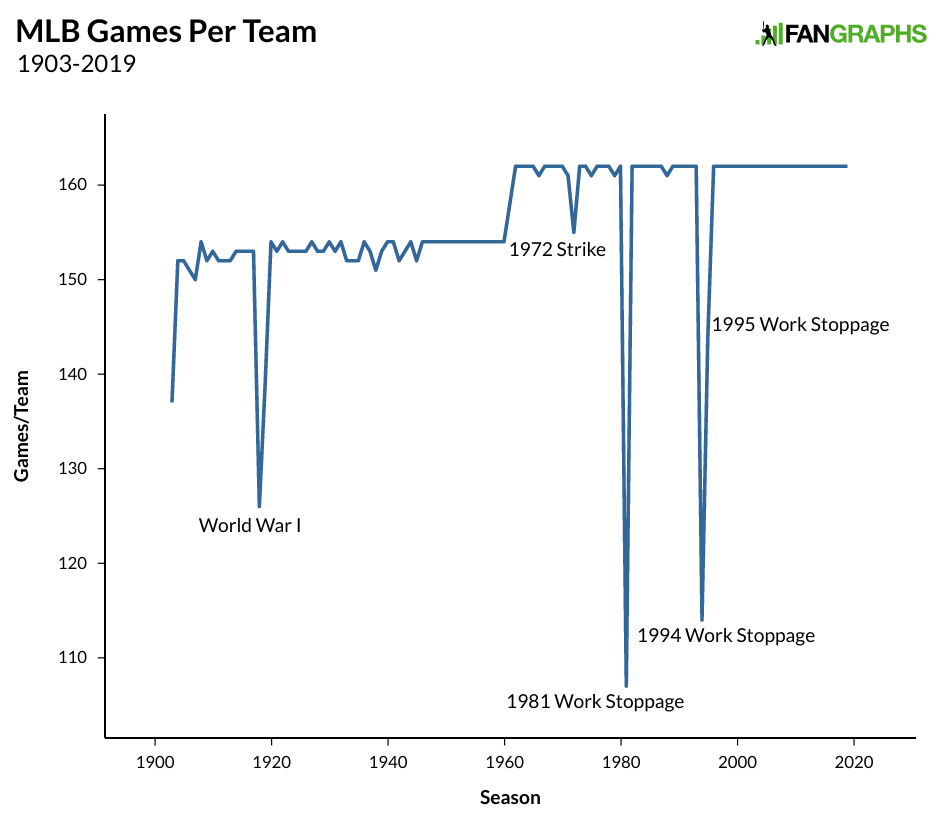 In 1918, MLB played fewer games as the conflict in Europe grew; a short schedule was continued into the 1919 season as well. Teams played essentially 154 games until expansion in 1961 and 1962 raised the number of games to 162. In the last 100 years, only three seasons have been shortened:
In 1972, the players' strike lasted a week and a half and the games were not made up, with teams averaging 155 games each.
In 1981, a player strike wiped out much of June and all of July as teams averaged just 107 games per season, the lowest total in MLB history since the advent of the World Series.
A strike in August 1994 ended the season at just 114 games per team.
The work stoppage in 1994 continued into the following season, resulting in a 144-game schedule in 1995.
As for how many games we'll miss this season, let's start just by looking at the schedule and potential start dates. The amount of time between now and the return to camp will dictate how long players will need to get ready for the season, with a longer break meaning more time being necessary to get ready. In 1995, there were three weeks between the end of the strike and the start of the season, so it is difficult to imagine a period longer than that being necessary to get ready for the season.
The table below shows a variety of start dates from Memorial Day weekend through the fourth of July, with a final date just after the currently scheduled All-Star Game. The first reasonable Opening Day given recent spread of the virus and the states' response, the CDC recommendation, and the necessity for another training period is May 21, eight weeks after the originally scheduled start of the season. In that scenario, players would need to be able to come back to spring training at a minimum by May 11, providing around 10 more days of preseason ball, which is about how many days the players had in 1981 after the midseason stoppage.
In the table, the number of games missed is based on the World Series champion Washington Nationals' schedule:
Potential Games Missed Due to COVID-19
| Season Start | Games Missed | Games Remaining |
| --- | --- | --- |
| May 21 | 48 | 114 |
| May 28 | 54 | 108 |
| June 4 | 61 | 101 |
| June 11 | 67 | 95 |
| June 18 | 73 | 89 |
| June 25 | 80 | 92 |
| July 2 | 87 | 85 |
| July 16 | 97 | 75 |
Without a change to the schedule, any delay beyond Memorial Day would result in the shortest season in well over 100 years. The most likely potential change would be making the regular season two weeks longer, with games stretching into October. That brings with it the risk of some very cold baseball, particularly if a cold-weather team makes the World Series, though late-March and early April aren't much different from late-October and early November. By adding those two extra weeks, the potential schedule looks like this:
Potential Games Missed Due to COVID-19 (10/11 Season End)
| Season Start | Games Missed | Games Remaining | Season Ends 10/11 Games Missed | Max Games Possible |
| --- | --- | --- | --- | --- |
| May 21 | 48 | 114 | 36 | 126 |
| May 28 | 54 | 108 | 42 | 120 |
| June 4 | 61 | 101 | 49 | 113 |
| June 11 | 67 | 95 | 55 | 107 |
| June 18 | 73 | 89 | 61 | 101 |
| June 25 | 80 | 82 | 68 | 94 |
| July 2 | 87 | 75 | 75 | 87 |
| July 16 | 97 | 65 | 85 | 77 |
If the season is pushed to Memorial Day, 120 games might be possible. If the season can't start by the second week in June, we will be looking at a season shorter than the 1981 campaign. If MLB were to extend play by four weeks beyond the season's originally scheduled end, we could end up dealing with some very cold playoff games and for the also-rans, a bunch of empty stadiums in the middle of October as the regular season winds down. That said, an extra four weeks would buy the sport a lot more games this season:
Potential Games Missed Due to COVID-19 (10/25 Season End)
| Season Start | Games Missed | Games Remaining | Season Ends 10/25 Games Missed | Max Games Possible |
| --- | --- | --- | --- | --- |
| May 21 | 48 | 114 | 24 | 138 |
| May 28 | 54 | 108 | 30 | 132 |
| June 4 | 61 | 101 | 37 | 125 |
| June 11 | 67 | 95 | 43 | 119 |
| June 18 | 73 | 89 | 49 | 113 |
| June 25 | 80 | 82 | 56 | 106 |
| July 2 | 87 | 75 | 63 | 99 |
| July 16 | 97 | 65 | 73 | 89 |
A Memorial Day weekend start would get more than 80% of the schedule played if the regular season went until near the end of October, but it is hard to envision playing much more than that with the information we have now. There is the possibility of packing more games into the schedule by increasing the number of doubleheaders, but it's unclear how feasible that scenario might be. While many aspects of a shortened season will need some negotiating between the players and the union, the current CBA allows for just one pre-scheduled day-night doubleheader — which allows for two games and two sets of fans in attendance — and three twi-night doubleheaders — in which two games are played, with one in the afternoon followed immediately by another at night — per season. The latter might get more games in, but isn't especially desirable by teams, as they won't be able to split attendance. The most feasible split doubleheader day is likely Saturday, but a night game Friday followed by a doubleheader Saturday across nine hours followed by a day game Sunday isn't likely to go over well with the union, and could result in a decline in the quality of play due to playing four games in under 48 hours. Adding a few doubleheaders here and there is probably feasible during the summer, but packing in a dozen might be a bit much, and all without much benefit for the players, teams, or fans.
Baseball seems very likely to lose some number of games that it won't be able to make up over the course of the season. Given how quickly the course of COVID-19 is changing, attempting to guess exactly how many seems like an exercise in folly right now. But just as we are experiencing a pandemic the scale of which is unprecedented in our lifetime, this baseball season is likely to be without precedent as well.
Craig Edwards can be found on twitter @craigjedwards.