Over the last decade, we've seen a change in the demographics of baseball, with playing time shifting away from older, declining veterans toward younger players still in their prime. There's a good reason for that, as each new generation of player entering the majors has been getting better and better relative to their older peers. Baseball's owners have capitalized on this development — those younger, better players are also much cheaper. And teams have not reinvested those gains elsewhere on their rosters, as major league payrolls have stagnated the last few seasons while amateur talent expenditures have become hard-capped. Given the emphasis on younger players, it might be reasonable to believe that when it comes to fielding a winning team, payroll matters less than ever. But that hasn't been the case this season.
This piece marks the fifth season during which I've taken a look at the standings in August and compared them to Opening Day payrolls (2015, 2016, 2017, 2018) and for the most part, the relationship between Opening Day payrolls and wins has been relatively low. I've used the Pearson correlation coefficient "r" to track the strength of the relationship between the two and from the end of the strike through 2011, the average correlation per year was .45. In the last seven seasons heading into this season, though, the correlation coefficient between the two was higher than .31 only once, when it was a high .62 back in 2016.
In past years, I've noted that while individual season correlations have remained low, looking at either sustained spending or using Forbes franchise valuations to gauge a team's overall financial might tends to show that the relationship between spending, wealth, and winning remains strong. That logic remains for this season, and indeed, the relationship between wins and payroll trails only that of 2016 season this decade: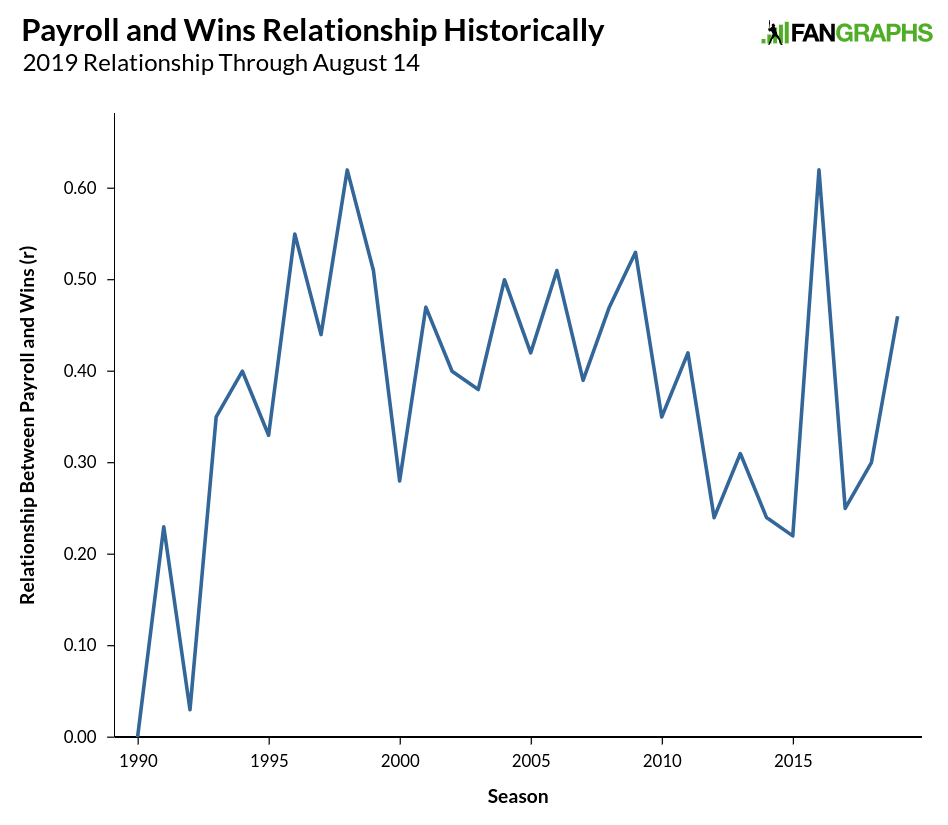 While it's possible that relationship could dip back down next season, or could even drop some by the end of this season, this year looks a lot more like the late-90s and early 2000s than the rest of the current decade. Two years ago, I wondered if the leveling of the front office playing field resulting from more teams becoming analytically-minded might lead to money playing a bigger role:
The biggest correlation with wins is always going to be talent, and there are a lot of ways to amass talent, but it certainly seems possible that, as teams reach a sort of analytical parity, that money can help be a deciding factor.
At the time, I also believed that increased salaries would mean more teams approaching the luxury tax threshold, which would result in an even more level playing field. But the leveling off of all salaries has still meant a disparity between teams. One standard deviation among major league Opening Day payrolls this season was $44 million, which is no different than it was back in 2013 and 2014. Perhaps because payrolls have remained so far apart, even with declining salaries and a greater emphasis on analytics in the front office, we are seeing money play a bigger factor in wins and losses.
This is what the scatter plot of wins and payroll for this season looks like: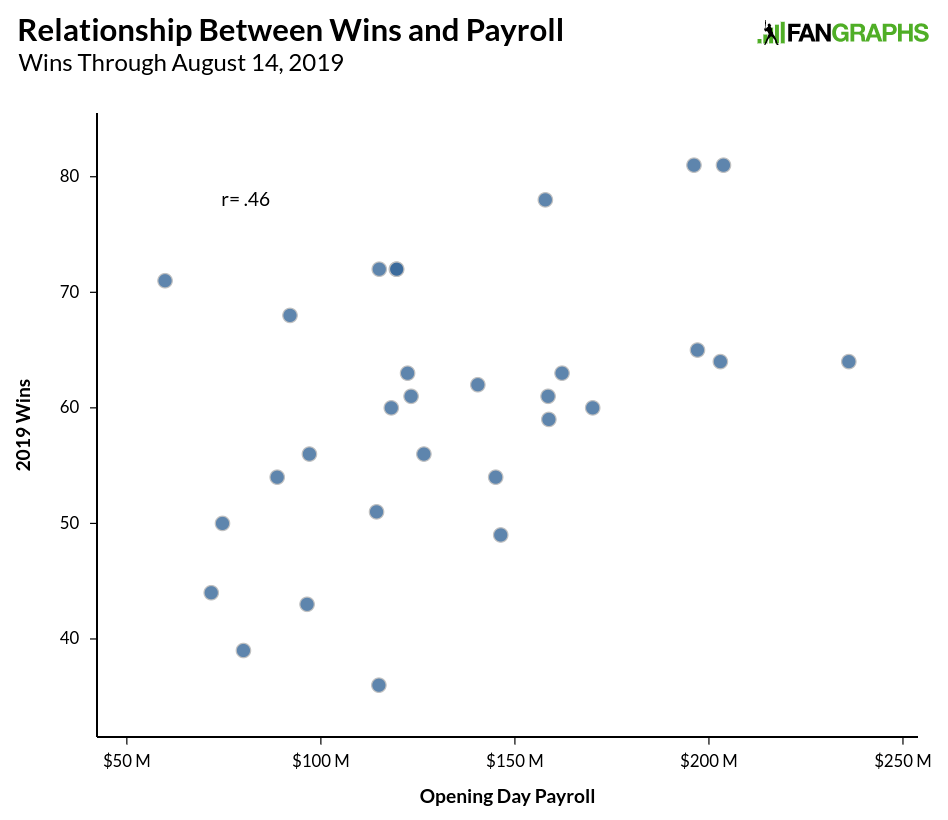 With only 30 data points, it might be hard to make out, but there's a general trajectory up and to the right. To put a greater emphasis on these data points, I'll take the same plot and highlight two squares. One highlighted square will be teams at roughly a .500 or better winning percentage and a higher than average payroll. The second square will have teams under .500 with a below average payroll. If money matters, we'd expect more data points in the highlighted squares and fewer outliers outside of the boxes: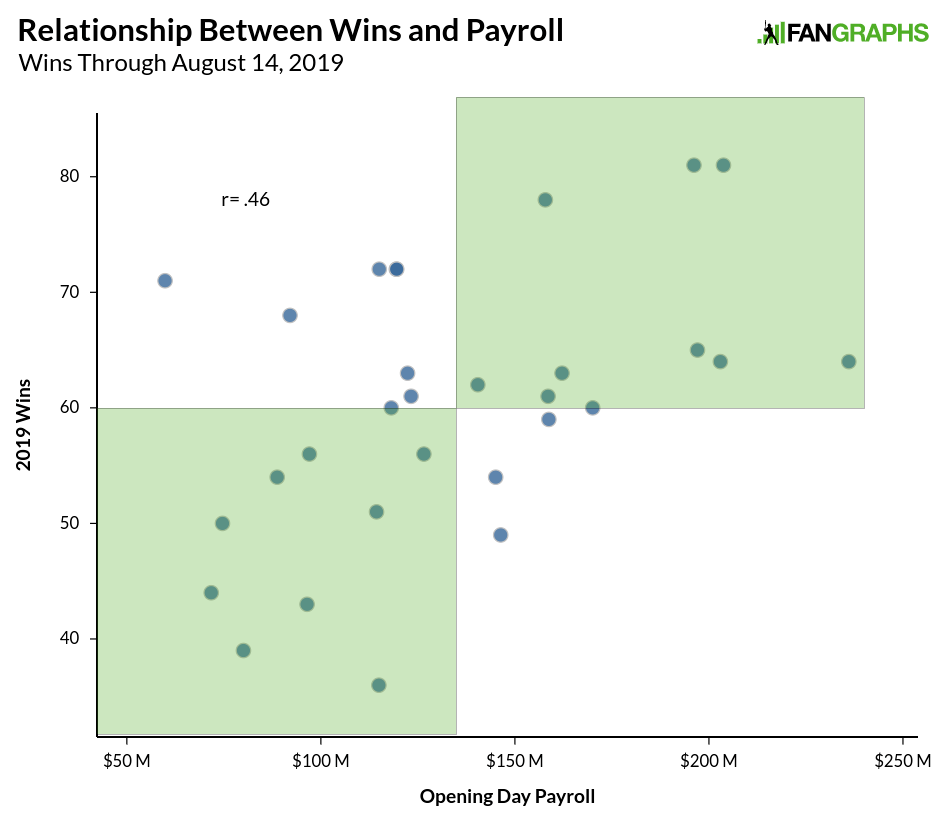 There are 18 points in the squares, 10 outside the squares (Minnesota and Cleveland overlap each other), and two that are on the line. What's interesting here is that there are a decent number of good teams with low payrolls; teams don't have to spend money to win. Tampa Bay, Oakland, and Cleveland are all pretty good examples of this. The outliers in the upper left are the teams the Commissioner points to when he tries to claim that payroll doesn't matter. But when we look at the bottom right portion of the graph, that argument rings a little hollow. If money didn't matter, shouldn't there be a lot more bad teams spending money? Of the 13 teams with payrolls above average, only two are actually bad this year (Seattle and Colorado), and they are only a little above the average. Every other above-average spender has put together an at least average team. You might not need to spend money to win in the current environment, but it is hard to spend money and lose.
When we look at the trends over the past few years, the relationship between payroll and wins is even more apparent: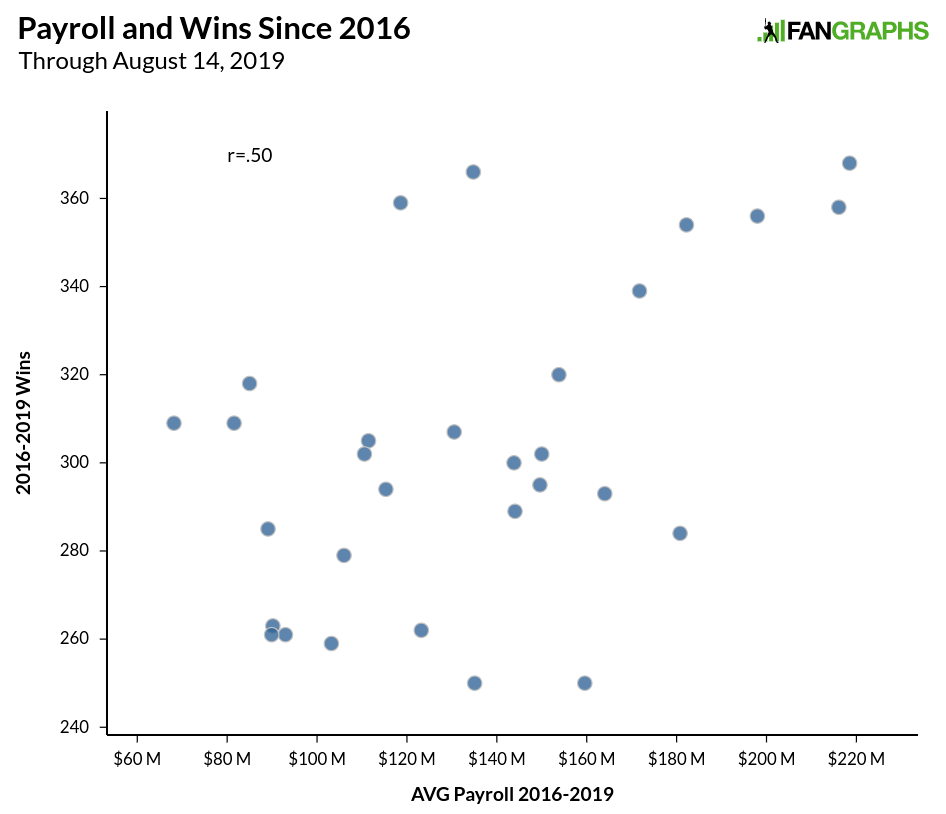 Over the last four years, there are seven franchises that have continually fielded very good teams. Six of those seven have had above-average payrolls, and five of those teams are among the top six spenders in the game. There are 17 teams above that have averaged under $140 million in payroll over the last four seasons. Two of those teams were good, another eight were in the 76-86 win-range, and seven teams were bad-to-terrible during those years. Of the 13 teams with payrolls above $140 million, five were good, seven were in that 76-86 win-range, and only the Tigers were awful.
The data looks the same when we factor in Forbes' franchise valuations: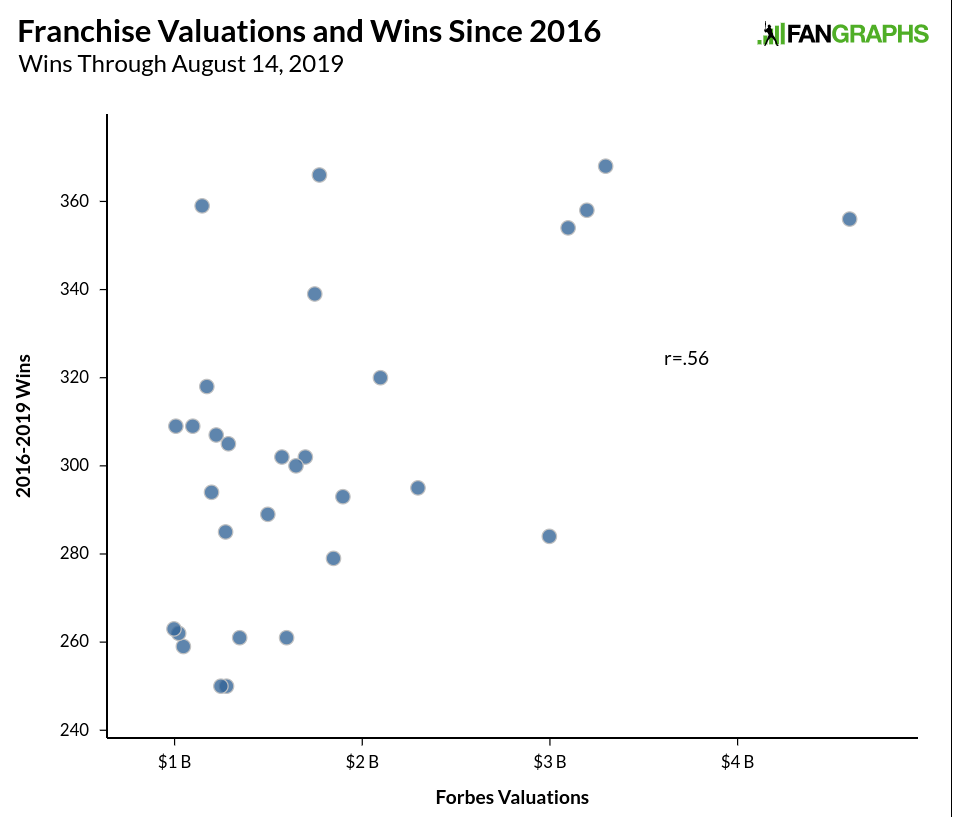 The most valuable franchises in the sport comprise four of the six top spots when it comes to wins over the last four years. The valuations are a bit jumbled in the middle with so may teams in the $1 billion to $2 billion range, but the overall relationship is present. The information above isn't meant to pit smaller market teams against bigger market teams. With teams like the Yankees, Dodgers, and Cubs all artificially lowering their spending to the competitive balance tax threshold or around it, the great middle class of teams easily could have increased their spending to get closer to the tax amount and win more games. We've seen Houston sustaining their success by increasing payroll while Philadelphia is winning more games in part because they've increased payroll back to the levels where they were nearly a decade ago.
Most teams have opted to stay in their same spending zone relative to the top spenders. It is harder to find good players in free agency, but teams that are successful in free agency win more games than those that avoid it. Whatever the reasons behind a team spending or not spending money, the teams that spend more win more, and that's been more true this season than in nearly every year this decade despite the rise of more young and inexpensive talent.
Craig Edwards can be found on twitter @craigjedwards.