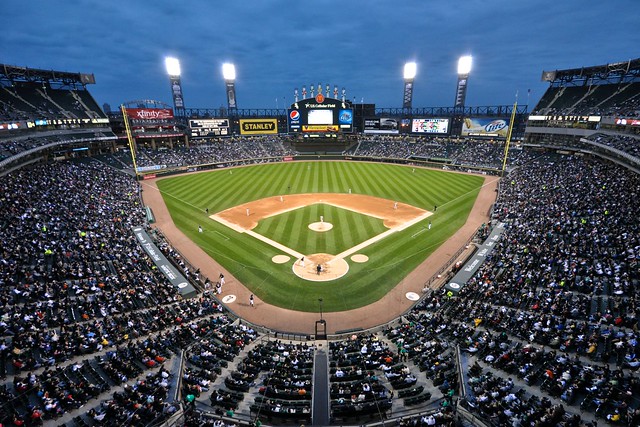 The Chicago White Sox are a franchise that can just taste the end of their rebuild. While they didn't always move every veteran they could, they got top-shelf returns for Chris Sale, Adam Eaton, and José Quintana. The winning part tends to be the fun part, and the Sox play in a division with two teams that are in much worse shape, and two good teams that don't spend aggressively. In front of this backdrop, you can almost feel the White Sox's eagerness to throw their winter clothing to the back of the closet.
The Setup
From a transaction perspective, 2018 wasn't quite as action-packed for the White Sox as prior years had been, largely because most of the team's old core had already been traded to other teams. Jose Abreu was essentially the last remnant of the pre-rebuild White Sox, but the team didn't move him for two significant reasons. First, the market for sub-elite first base/corner outfielder types has collapsed in recent years, and with Abreu 31 and dropping from his previous numbers, it was unlikely a return would be impressive. The other stumbling block to an Abreu trade was that Chicago didn't actually want to trade him. Abreu's a well-respected player in the clubhouse and popular with fans, as well as a mentor to Yoán Moncada, so if you're not going to do better than, say, a 26-year-old Double-A reliever, why not keep him?
As I've discussed in the past, one of the disappointing things about the team's 2018 was how few questions they really answered about their talent. Moncada looked like the same extraordinarily talented but up-and-down player at the end of 2018 that he appeared to be at the beginning. Neither Tim Anderson nor Yolmer Sánchez took a step forward, nor did much of the back of the roster, and the Daniel Palkas and Adam Engels failed to make much of a case for more significant roles. And the player who showed the most progress, Michael Kopech, was ruled out for the 2019 season after needing Tommy John surgery before 2018 had even wrapped.
Without knowing what to make a lot of their talent, the White Sox didn't engage in much offseason wheeling-and-dealing, instead choosing to mostly hunker down for 2019. There was one big exception, however: the hunt for Manny Machado. For the future of the White Sox, this was one of the most promising signs.
"But Dan, I thought you hate rebuilding teams picking up veterans! I'm sure I've seen about 300 snarky tweets on this subject from you in the last…week or so!"
I do tend to criticize teams jumping the gun, but not in this case. I was quite hard on the Padres for going after Eric Hosmer years before the team was ready, for example. Signing Manny Machado, however, is very different than bringing in Hosmer; Manny Machado is a terrific baseball player. It's hard to develop a Machado, and given his youth and ability, the White Sox could have reasonably expected him to be a star through an entire generation of talent.
In an attempt to give Machado additional reasons to come to Chicago, the team even acquired his brother-in-law, Yonder Alonso, and signed a friend of his, Jon Jay, to a one-year contract. (Of course, a more competitive offer would likely have been a more compelling inducement than any combination of friends or family.) While I'm unaware of any connection between Machado and Kelvin Herrera, who signed for two years and $18 million, I'm just going to imagine that they own a racehorse or a Popeye's franchise together or something.
The Projection
ZiPS projected the White Sox for the same 68-94 record it spun for the Royals and Tigers. The projections saw a lot of things to like about Chicago's roster, but believed the team's major league talent base was just too thin and raised too many questions to forecast for more. Cobbling together a playoff-bound rotation still looked like a proposition that was a few years off, with Carlos Rodón getting the only two-WAR projection among the pitchers. ZiPS was especially grumpy about the outfield, and justifiably so given how it turned out.
The (very, very, very) preliminary 2020 projections pushed the White Sox near 80 wins, much faster than either the Royals or the Tigers, but the computer remained pessimistic about the short-term.
The Results
Entering 2019, the three starting pitchers ZiPS projected with the most career WAR remaining were Michael Kopech (before considering Tommy John surgery), Carlos Rodón, and Dane Dunning. The season got off to a cruel start, with Dunning needing Tommy John surgery in March and Rodón following suit in May. Alonso and Jay both bombed in Chicago, combining for -2.2 WAR, with neither establishing any kind of trade value. Daniel Palka failed to hit for a three-year-old's weight, let alone his own. Reynaldo López's FIP turned out to be a better predictor of his 2019 ERA than his actual ERA was, and Dylan Covey only managed a single quality start in a dozen opportunities.
Now that we've gotten the low points out of the way, the White Sox did learn a lot about their team, some of the lessons were pretty darn good. By the end of the 2018 season, the franchise seemed to be nearly at their wit's end about how to turn Lucas Giolito around. Gio shocked baseball by being a legitimate Cy Young contender after turning his changeup into his primary weapon. More on that projection down below!
Another mystery seemingly solved in 2019 was the fate of Yoán Moncada. Moncada impressed early in 2018, finishing April with a .267/.353/.524 line and a position near the top of the leaderboards in exit velocity. I was convinced back then that we were witnessing the Moncada breakout his raw talent suggested was possible. Instead, he hit .228/.306/.372 with only 11 homers against 172 strikeouts the rest of the season.
The puzzle was how Moncada could have such lousy plate discipline stats with such a cautious approach. He struck out 217 times despite being among the 20 best hitters in 2018 at avoiding swinging at pitches outside the strike zone. There never was anything wrong with Moncada's ability to identify pitches, only his ability to actually hit the ones he wanted to.
He didn't find the solution, but he did find a way to mitigate the issue. Instead of trying to be Joey Votto, Moncada decided to be more aggressive at the plate in 2019.
The intention this spring is to be more aggressive to avoid getting called out on strikes. A keen eye for the strike zone is something to build on, but he admittedly was too picky and took too many third strikes last season.

"This year I will be more aggressive in my at-bats," he promised. "I'm going to try to keep my same approach, but be more aggressive with the borderline pitches, defend the strike zone better, and make more contact. I learned from last year. It's something I can improve, and elevate my offense to another level."
And that is precisely what he did. Moncada didn't become Vladimir Guerrero, but he swung at more borderline pitches and as he remained one of the hardest-hitting players in baseball, he reaped the benefits despite his contact rate not improving. He lost some walks, but he gained 75 points of batting average and 65 points of isolated power, netting him his first career five-win season (assuming he doesn't play below replacement-level for the final two weeks of the year). Moncada's .395 BABIP probably isn't sustainable, but with his power/speed combination, ZiPS think he's a .340-.350 BABIP guy at this point. I think the White Sox ought to be happy with the Chris Sale trade even if Kopech never returns.
Tim Anderson likely won't hit .330 again, but he's taken enough of a step forward that Chicago will likely pick up his 2023 and 2024 options someday. And after a slow start, Eloy Jiménez established himself as a real source of power in the majors, even if it is increasingly likely he ends up as a designated hitter long-term.
Moncada, Jiménez, and Giolito weren't just run-of-the-mill fringe prospects, but elite ones who were supposed to be the foundation of the team's future. That they've mostly answered their questions in a positive fashion is a giant leap forward for the team's rebuild compared to last season.
What Comes Next?
There's still more work left to do, but it has to be a morale boost that the team's actually seeing some of their most prominent young players improve. I don't think the White Sox are quite where the Braves were entering 2018, as they don't have quite the same depth of major league talent or minor league prospects. But they're getting closer, and I think they've arrived at the point where major league free agency actually gives the team real options and hard choices.
Should they go all-in on hot stove season? If by all-in we mean going after a Gerrit Cole or Anthony Rendon or possibly an opted-out Stephen Strasburg, I'd have to say absolutely! I don't think they're yet at the point where they should start looking at third-tier, fill-in types, like your Jordy Mercers or Mitch Morelands.
That being said, the White Sox are close enough now that they should still take an opportunistic approach to free agency. For example, James McCann has been terrific in 2019, but he'll also be 30 in 2020 and is unlikely to have a .350 BABIP ever again. McCann's at least demonstrated he can start for a major league team, but if the White Sox see a similar situation to last winter's, when Yasmani Grandal only got a one-year contract after an All-Star season, they should jump in and punish teams for their excessive thrift. The team's unlikely to be a top-tier wild card contender in 2020, but I think a real playoff run will easily be within the margin of error of their projections.
And let's also not forget that additional reinforcements from the minors are on their way. Despite Jiménez and Dylan Cease's graduation off THE BOARD, the team's farm system ranking only dropped from sixth to 12th. Luis Robert's a lot less speculative a prospect than he was a year ago after destroying the minors, Kopech and Dunning will eventually return, and Nick Madrigal is about as good a prospect one can be with almost no power.
The Absitively, Posilutely, Way-Too-Early ZiPS Projection – Lucas Giolito
What's the worst projection that ZiPS has ever given? I was actually unsure of the answer to this question coming into 2019, as I've never been motivated to narrow down the most embarrassing ZiPS blooper ever. But now I am sure: Lucas Giolito. ZiPS was a ginormous digital fan of Giolito as a prospect, but fell completely out of love in 2018, turned off as you would be if your dining companion on a first date mostly wanting to describe the details of their colonoscopy. A Cy Young-level season from Giolito was past the 99th percentile; it was closer to the 99.9th percentile.
What's perhaps even more shocking about Giolito is that there's no red flag in his stats that screams fluke. There are no BABIP shenanigans, no freakishly low HR totals, no awkwardly confusing near-balk windups, and no secretly awful exit velocities. Giolito's doubled his strikeout rate, nearly cut his walks in half, and even added two ticks back to his fastball. Lucas Giolito is not a Philip Humber reboot. He's been an elite pitcher the old-fashioned way: crushing opposing batters with his superior awesomeness.
ZiPS Projection – Lucas Giolito
| Year | W | L | ERA | G | GS | IP | H | ER | HR | BB | SO | ERA+ | WAR |
| --- | --- | --- | --- | --- | --- | --- | --- | --- | --- | --- | --- | --- | --- |
| 2020 | 14 | 9 | 3.20 | 30 | 30 | 174.3 | 140 | 62 | 19 | 55 | 206 | 130 | 4.0 |
| 2021 | 15 | 9 | 3.20 | 30 | 30 | 177.3 | 141 | 63 | 20 | 55 | 211 | 130 | 4.1 |
| 2022 | 14 | 8 | 3.18 | 29 | 29 | 169.7 | 135 | 60 | 19 | 52 | 204 | 130 | 3.9 |
| 2023 | 13 | 8 | 3.17 | 26 | 26 | 156.3 | 124 | 55 | 17 | 48 | 187 | 131 | 3.6 |
And if I'm wrong? Call it 80% ZiPS's fault, 20% Carson Cistulli's.
Dan Szymborski is a senior writer for FanGraphs and the developer of the ZiPS projection system. He was a writer for ESPN.com from 2010-2018, a regular guest on a number of radio shows and podcasts, and a voting BBWAA member. He also maintains a terrible Twitter account at @DSzymborski.