Pitchers learn and develop different pitches, and they do so at varying stages of their lives. It might be a curveball in high school, a cutter in college, or a changeup in A-ball. Sometimes the addition or refinement is a natural progression — graduating from Pitching 101 to advanced course work — and often it's a matter of necessity. In order to get hitters out as the quality of competition improves, a pitcher needs to optimize his repertoire.
In this installment of the series, we'll hear from three pitchers — Madison Bumgarner, Emilio Pagan, and Jacob Waguespack— on how they learned and developed their cutter/sliders.
———
Madison Bumgarner, San Francisco Giants
"I pretty much find myself saying 'cutter-slider,' just so there's no confusion. I originally wanted to call it a slider, but it ended up with most people calling it a cutter. Movement-wise… in relation to my fastball it's kind of like the speed of a cutter, but it moves a little more like a slider. Sometimes it will be a little shorter, though.
"I started throwing it 2010. I'd just got sent down from spring training and there was a guy named Horacio Ramirez, a left-hander from Mexico. He was there. He was an older guy who knew how to pitch, and he threw a cutter. I didn't really have any off-speed pitches at that time; I basically didn't throw anything all through the minor leagues, and then … I threw an actual slider, but it was no good at all. When I got to the big leagues in 2009 I threw it some, but it wasn't no good.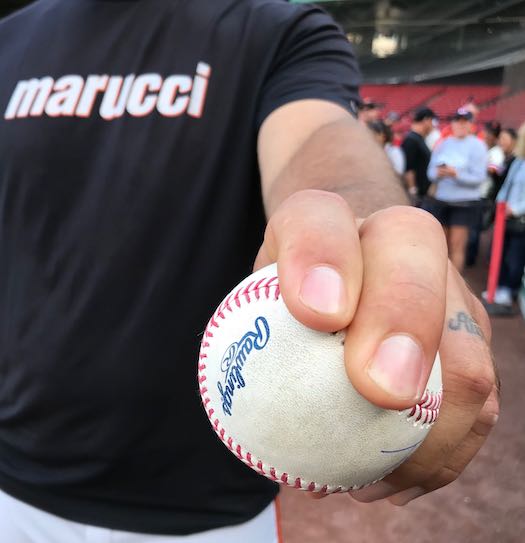 "I was sitting in the stands, charting, and Horatio threw a cutter. I saw how good it worked for him, so I asked him about it. This was maybe a month or two into Triple-A. We played catch in the outfield a day before I started. Back then I would sometimes cut my fastball by accident — it's always been easier for to get my ball to go that way, as opposed to having run to it — so I thought it would be pretty easy to learn. Anyway, we were in center field talking — I threw some with him out there — and it felt like I picked it up like that, so I ended up throwing it in the game the next day. It worked good, and kind of took off from there.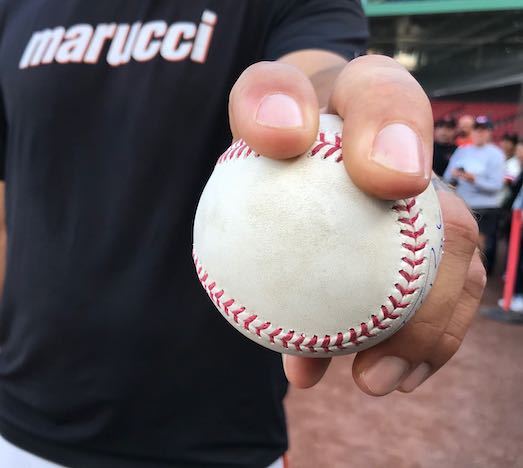 "Horatio's grip… he just threw it like a fastball. I tried that and it worked pretty good, but then the next day I talked to Pat Rice, my pitching coach at the time, and he showed me another grip that he thought might work better for me. I basically just went to the other side of the horseshoe. Of all the pitches I've thrown, that's the only one I picked up that was pretty much the next day."
Emilio Pagan, Tampa Bay Rays
"I actually call it a cutter, just to keep my intensity up on the pitch so I can throw it with a little harder velo — but it's probably got more slider action to it than it does cutter action. I actually didn't throw a slider at all until I got to pro ball. Then it was very inconsistent, so I went to more of a cutter type grip. With any pitch, you play around with grips and find one that works for you. And again, I try to keep my intensity up, trying to get more velo.
"I talked to Ryan Yarbrough about it. We were teammates together in the Seattle system, and he kind of showed me the cutter he developed when he got over here. I took that and tweaked it a little bit, and made it my own. The difference from his grip is kind of just where the horseshoe is in my hand, or maybe how much I'm on the side of the ball. I stay behind the ball pretty well with my fastball, so I'm getting on the side of the ball to create that action, maybe a little bit more than he is.
"I'm not a big move-my-thumb guy. A lot of pitchers play around with that, but for the most part my thumb is underneath the ball. I can't tuck it. I know Max Scherzer is a big tuck guy, but when I do that, the ball just doesn't feel good in my hand. The big thing for me is having it feel good, and from there trying to create the movement.
"We've looked at it — things like high-speed slow motions, where my hand is at release, and stuff like that. But the Rays do a good job of not overdoing those things. They give you the information, but then if everything looks good there's no need to keep looking. I mean, I'm just trying to throw it as hard as I can and have it move a little bit off the bat path. That's really it."
Jacob Waguespack, Toronto Blue Jays
"When I was in rookie-ball with the Phillies, I wasn't really putting enough pressure on the ball with my fastball. One of the coordinators said, 'Hey, why don't you grip it like this and get more backspin on it.' I was like, 'Hmmm, maybe that will help out my offspeed.' At the time I wasn't throwing a cutter. So I turned my fingers a little bit, and gripped it like he'd told me to grip the fastball, and that's how my cutter developed. Before that I'd never thrown one.
"By not putting enough pressure on the ball, what I mean is basically the way you kiss your fingers against it. I was too loose, and not driving the ball down in the zone. When you put more pressure on it you're going to get more backspin and stay on top of it. I'd never heard that, but one of the coordinators in Philadelphia taught me and it ended up helping my cutter. Now my cutter is my best pitch.
"All I'm really doing is turning the ball a little bit. I grip both of them pretty much the same, although I do grip my cutter a little harder than my fastball. It's basically the same thing, just a couple of touches and feels.
"Basically, I hadn't had a good offspeed pitch so I was kind of messing around with things. Other guys were throwing cutters and I was like, 'Hmmm, let me see if this new grip I learned on my fastball — the way I throw it — will help me learn a cutter. Again, I just turned my fingers a little bit, saw the movement I got, and started throwing a cutter. This was four years ago.
"I've since learned a slider, as well. Like with the cutter, it's mostly about keeping fastball arm speed and letting the grip do the work. The difference is that with the slider I'm trying to pull it down, while the cutter I'm just throwing like a fastball. My slider goes more down, and my cutter, while it does go down a little, is more across."
——
The 2018 installments of this series can be found here.
David Laurila grew up in Michigan's Upper Peninsula and now writes about baseball from his home in Cambridge, Mass. He authored the Prospectus Q&A series at Baseball Prospectus from December 2006-May 2011 before being claimed off waivers by FanGraphs. He can be followed on Twitter @DavidLaurilaQA.