The Rangers beefed up their infield depth over the weekend, signing third baseman Todd Frazier to a one-year contract. The former Reds All-Star will be guaranteed at least $5 million, with a base salary of $3.5 million in 2020 along with a $1.5 million buyout if the team doesn't pick up his $5.75 million option in 2021.
Adding Frazier is just the latest addition to a team that has been slowly reconfiguring its roster for contention over the last 18 or so months. Adding Frazier to the infield gives the team flexibility to deal with their remaining roster questions in ways that the returning Danny Santana does not. With Delino DeShields gone to the Indians in the Corey Kluber trade, Santana figures to get playing time in center field, making him less available on the infield.
Ronald Guzmán as the starting first baseman presents a significant lineup problem, for whom Frazier represents a fallback. Even if Guzmán doesn't lose his job completely, the fact that he's hit .179/.242/.315 against lefties in the majors leaves Frazier as a compelling timeshare candidate — he has a.246/.322/.491 career line against lefties. Frazier's no longer a Gold Glove candidate at third base, but he's solid enough at the hot corner to give the Rangers a free hand to play Nick Solak at second — Rougned Odor doesn't have the longest rope — or in the outfield.
Frazier was looking nearly done early in 2019; at one point in late May, he was hitting .205/.262/.333 with four homers against 26 strikeouts. Frazier recovered to finish at .251/.329/.443 with 21 homers and 1.9 WAR, but his plate discipline varied wildly, with 30-game stretches with an O-Swing% that ranged from down around 20% to up around nearly 40%. Very rarely do you see such a clean relationship between a player's plate discipline and their overall performance.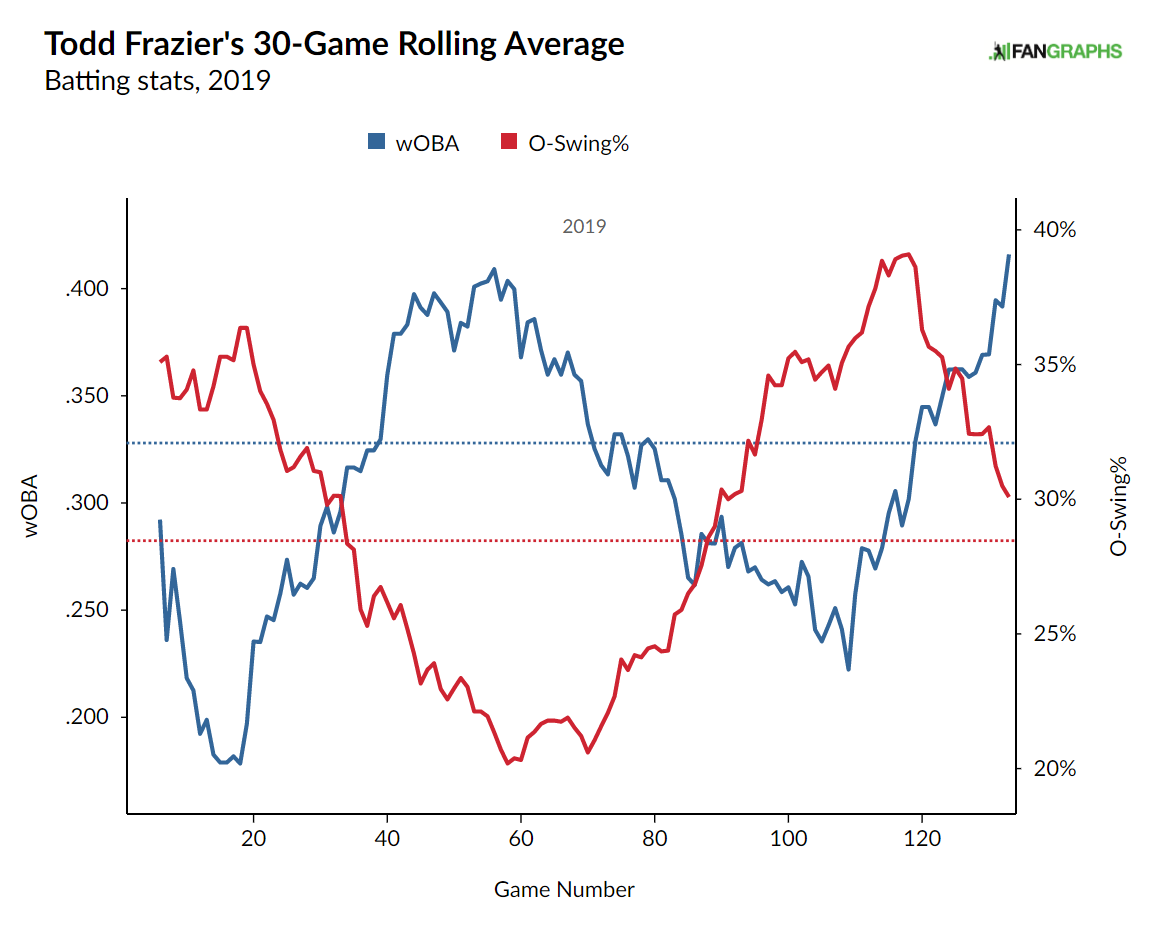 It's hard for a contract like this one to go too wrong; if Frazier is toast, he doesn't make so much that cutting him would be embarrassing for the front office. The main way I could see this contract going badly is if the Rangers aren't creative about finding playing time for Nick Solak, and Frazier's presence cuts heavily into his at-bats. Solak's more likely to be on the team in three years than Frazier is, so you want to make sure you're exploring all of what he has to offer, a chance he certainly earned given his late-season .293/.393/.491 line in 33 games.
At the price, the Rangers aren't paying Todd Frazier to revisit his prime, during which he had two four-win seasons and another year in which he slugged 40 homers. In his limited role, he'll be a plus for Texas in 2020.
ZiPS Projection – Todd Frazier
| Year | BA | OBP | SLG | AB | R | H | 2B | 3B | HR | RBI | BB | SO | SB | OPS+ | DR | WAR |
| --- | --- | --- | --- | --- | --- | --- | --- | --- | --- | --- | --- | --- | --- | --- | --- | --- |
| 2020 | .247 | .331 | .437 | 442 | 63 | 109 | 19 | 1 | 21 | 76 | 49 | 107 | 4 | 96 | 0 | 1.2 |
Dan Szymborski is a senior writer for FanGraphs and the developer of the ZiPS projection system. He was a writer for ESPN.com from 2010-2018, a regular guest on a number of radio shows and podcasts, and a voting BBWAA member. He also maintains a terrible Twitter account at @DSzymborski.