As you might have already heard, RosterResource will be transitioning its baseball content to FanGraphs over the next few months. Effective today, the 30 depth charts can be found here.
Our first version is close to an exact replica of RosterResource, with a few important improvements. The load time is much faster, and player names link to the corresponding FanGraphs player page. In addition, the minor league power rankings, plate appearances, and innings will be updated daily as opposed to weekly.
In case you're unfamiliar with RosterResource, here's the lowdown. I created the site just over 10 years ago. It was initially called MLBDepthCharts but was renamed RosterResource a few years later. The idea was that the site would be an easy-to-read, visual interpretation of a team's 25-man roster and organizational depth throughout the entire year. It has evolved over time, but at a pace that was never fast enough for me. With the move to FanGraphs, you should expect to see a cross-pollination of data and features from both FanGraphs and RosterResource in the hopes of bringing you a more useful product.
Here is most of what you can learn by visiting a RosterResource depth chart right now.
Player Info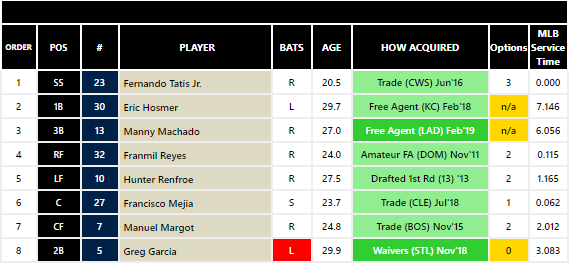 How Acquired

The darker green background indicates players acquired since end of 2018 season.

Options Remaining (pre-2019) and Rule 5 eligibility (pre-2019)

Both are indicated in the "Options or R5 Status" column

MLB Service Time (pre-2019)
Original Signing Info, Prospect Rankings, and Power Rankings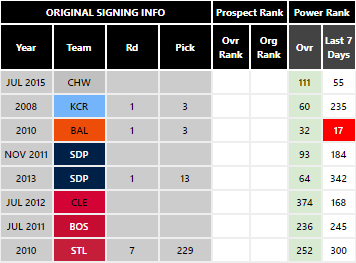 Draft/Signing Info
Prospect Ranking (updated FanGraphs overall and organizational rankings via THE BOARD)

The TOP PROSPECTS section at the top of the page shows pre-season rankings.

Power Rankings (overall and recent performance)

A RosterResource ranking based on year-to-date production using several weighted categories.
Lineup Information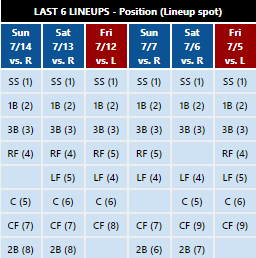 Last six lineups
Projected platoons
Starting Rotation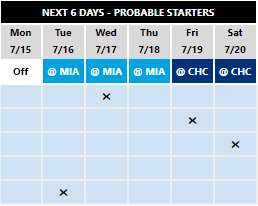 Upcoming match-ups for the next six days
Bullpen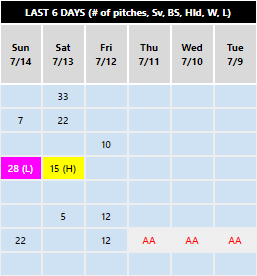 Role, bullpen usage for the previous six days
Injured List

Status, retroactive date, injury/surgery, injury/surgery date
Paternity, Bereavement, Restricted list status is also indicated where appropriate
Minor Leaguers You Should Know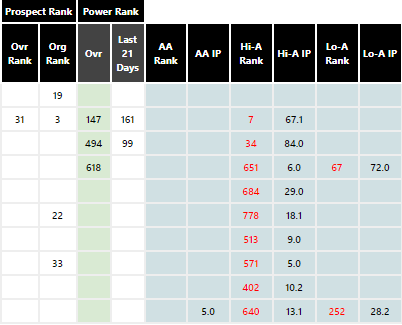 MiLB power rankings (overall, by level, last 21 days)

A RosterResource ranking based on year-to-date production using several weighted categories, including age and level.

Separated by level during regular season
Separated by primary position during offseason
"Minor Leaguer You Should Know" criteria:

On 40-man roster
Is a top prospect (based on THE BOARD)
Was a high draft pick
Has had least an average performance during the previous season
Players can be added/removed during the season
We should note that the FanGraphs depth charts, that have previously been found on this site either on the team pages or within the projected standings page, will not change. These depth charts have projected playing-time for the remainder of the season and serve a different purpose than the RosterResource's depth charts, which reflect the current state of a team's roster. So a sharp difference could arise if a player is injured or in the minors but is expected to get a lot of plate appearances throughout the year. The FanGraphs depth charts would show a high percentage of expected playing time, while the RosterResource depth charts would have the player in Triple-A or on the injured list.
While we think we've created a faithful reproduction of the RosterResource depth charts in this initial phase, there is always a chance we missed something. If you find anything that's incorrect, or something that's not working, please let us know in the comments.